Lion District 19D spans more than 700 miles, stretching from Mattawa, Washington, north to Prince George, British Columbia.
Our clubs and members support a variety of programs that provide necessary assistance to those in need in our communities. We volunteer thousands of hours every year to help make our communities better places to live and raise a family.
---
Come to District 19D Spring Conference 2018!
Don't despair... winter is almost over and spring will be just around the corner, so it's time to gear up for Lions Spring Conference.
This year we'll be gatherin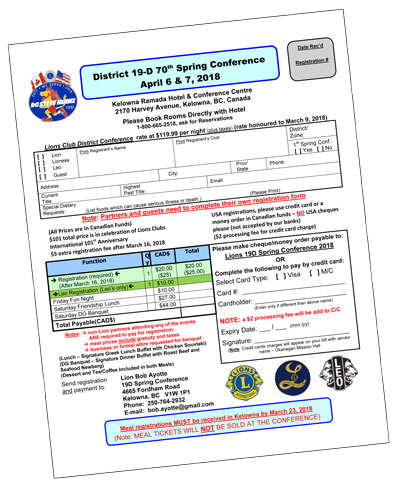 g in beautiful Kelowna, BC at the Ramada Hotel & Conference Centre, April 6th and 7th. Come for the cameraderie, inspiration, learning and fun! Click here for a printable Registration Form.
Read the February Newletter for more information.
Sign your club up for Contests and Awards - only those signed up by March 3rd will be judged.
---
For more information about Lions Clubs, go to www.lionsclubs.org
Updated February 5, 2018
Lions Clubs International is the world's largest service club organization with more than 1.4 million members in approximately 46,000 clubs in more than 200 countries and geographical areas around the world.