WELCOME TO DISTRICT 2-T2
District 2-T2 includes 22 counties in the Panhandle-South Plains region of Texas. We have more than 1,300 members in 41 clubs who are dedicated to serving their communities and meeting humanitarian needs.
"We Serve and You Can Too!"
---
FIRST CABINET MEETING SET FOR JULY 21 AT TEXAS BOYS RANCH
District Governor Terry Hawkins invites all 2-T2 Lions to attend the first 2018-2019 Cabinet Meeting, Saturday, July 21, at Texas Boys Ranch! The meeting is hosted by the Lubbock Redbud Lions Club.
Officer training for Presidents, Secretaries, Treasurers, and Zone Chairs is set for 8:30 a.m. Registration for the meeting begins at 9:00 a.m. and the Cabinet Meeting starts at 9:00 a.m.
Among the agenda items is discussion and possible action to approve the "Camp Bark and Brew" district project. In addition, District Governor Hawkins will outline Lions Clubs International and District 2-T2 goals for the year!
We encourage each club to attend and pick up their 2018-2019 District Directories. This will help save postage costs.
During the meeting, there will be a "Working Brunch." The cost per person and RSVP information is being finalized. It should be available in the next few days.
Hope to see you July 21 at Texas Boys Ranch!
---
IT'S A NEW LIONS CLUB YEAR -- WEBSITE UPDATE IN PROGRESS!
We are updating the District 2-T2 website for the 2018-2019 Lions fiscal year. During this time, some links may not work or may still have information from the 2017-2018 year. We appreciate your patience as we revise these pages!
---
LITTLEFIELD EARLY RISERS CRUISE NIGHT & CAR SHOW
The Littlefield EarlyRisers Lions Club has a nostalgic cruise night planned for July 20 and a car show set for July 21.
People are invited to bring their lawn chairs and refreshments to downtown Littlefield and set up along Phelps Avenue from 8-10 p.m. to enjoy vehicles from model year 1978 and older. Downtown shops and restaurants will be open during the event. There will also be music and a live band at the pocket park.
There is a $30 fee to enter the cruise. The first 100 to register receive a free T-shirt and dash plaque.
A car show will be held from 1-4 p.m. in front of Lowe's Construction office on Hall Avenue. This is a free event. There is a $15 entry fee. Those attending the car show can vote ($1 per vote) for the "Best of Show" award.
A "Hot Wheels" car race will be held in conjunction with the Car Show. Youngsters 12 and under can race their Hot Wheels or Matchbox car in a bracket elimination and win prizes.
Contact Lion President Mitch Grant at (806) 724-5231 or email mitch.grant2611@yahoo.com for more information.
---
JULY 2018 DISTRICT NEWSLETTER ONLINE!
Be sure to read the July 2018 issue of THE WINDMILL for information about the July 21 District Cabinet Meeting, the June 16 Idalou Lions Club charter night, and much more!
---
DISTRICT 2-T2 NOW ON FACEBOOK!!
You'll want to follow District 2-T2 on its new Facebook page.
CLICK HERE to go to the page!
---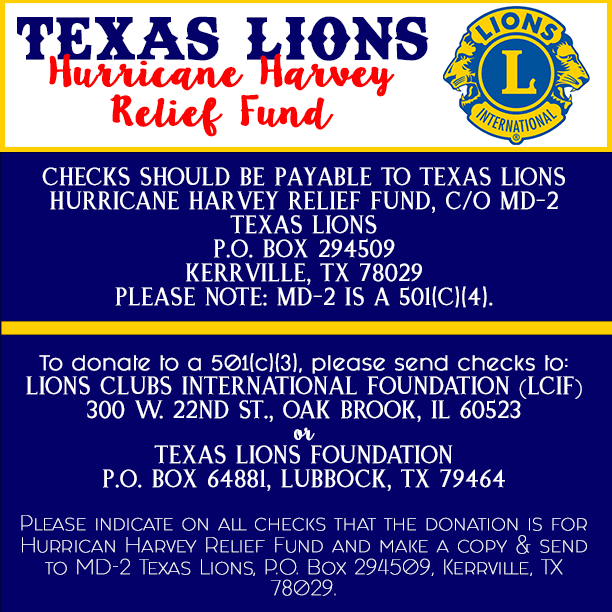 ---
2017-2018 DISTRICT 2-T2 GOALS
To initiate district-wide projects relating to hunger and diabetes. These can include preparation of food boxes during the holidays, assisting local Meals on Wheels, and participation in the American Diabetes Association's annual Diabetes walk.
To have all clubs involved in service projects that meet the needs of their community.
To have all clubs support the Texas Lions Camp at Kerrville.
To have all clubs participate in the Lions' Legacy Centennial Project.
To improve new member orientation and service involvement of new members throughout the district.
To provide training opportunities for club and district officers.
---
Lions Clubs International is the world's largest service club organization with more than 1.4 million members in approximately 46,000 clubs in more than 200 countries and geographical areas around the world.