WELCOME TO DISTRICT 2-T2
District 2-T2 includes 22 counties in the Panhandle-South Plains region of Texas. We have more than 1,300 members in 41 clubs who are dedicated to serving their communities and meeting humanitarian needs.
"We Serve and You Can Too!"
---
IDALOU LIONS CLUB CHARTER NIGHT SET FOR JUNE 16
The newly-reorganized Idalou Lions Club will hold its Charter Night banquet, 6:30 p.m., Saturday, June 16, at the Methodist Church, 518 Chestnut, In Idalou.
Dinner is $15.00 per person and the guest speaker is PID M. P. (Mike) Butler of Kerrville.
PLease RSVP to Damon Cooley (jdamonc1975@yahoo.com) or by calling PDG Dan Pope at (806) 790-7811 no later than June 13.
Gifts are welcome to help this new club get started!
We look forward to seeing you June 16 as we welcome the newest Lions Club in District 2-T2!
---
DISTRICT 2-T2 REMEMBERS ROBERT M. (BOB) RUIZ
MSG (Ret.) Robert M. (Bob) Ruiz of Lubbock died May 28. He was 87. A celebration of life service will be held at 1:00 p.m., Saturday, June 9, at Resthaven Funeral Home Abbey Chapel.
Ruiz retired from the U.S. Army after 30 years of service. He earned the following awards: Korean Service Medal, Good Conduct Medal Eighth Award, United Nations Service Medal, National Defense Service Medal with First Oak Leaf Cluster, Combat Infantryman Badge, Army Commendation, Air Medal, Republic of Vietnam Campaign Medal with "60" Device, Six Overseas Service Bars, Bronze Star Medal with Third Oak Leaf Cluster, Bronze Star Medal with "V" Device, and Republic of Vietnam Gallantry Cross Unit Citation with Palm, Nine Service Stars.
Ruiz held several positions in District 2-T2, including Cabinet Secretary. He was a long-time member of the Lubbock Redbud and Lubbock Crossroads Lions Club. Ruiz was also a Life Member of the Great Plains Lions Eye Bank and the Texas Lions Camp.
CLICK HERE for his full obituary.
Survivors include wife, Jeanette; three daughters; seven grandchildren; one great-grandson; and a sister.
In lieu of flowers the family is requesting memorials be made in his honor to: St Jude Children's Research Hospital or the Wounded Warriors Project.
---
NEW MEMBER ENTRANCE FEES WAIVED IN JUNE 2018
To close out our incredible Centennial Celebration in style, we're waiving entrance fees for new Members who join between June 7 and June 30!
For more than 100 years, we've delivered hope and change to the world. Now, as we prepare for an innovative second century of service, there has never been a more exciting time become a Lion, and we want to make it as easy as possible for new members to join us.
So how does it work?
Invite family and friends to join your club between

June 7 and June 30

.

Report your new member to Lions International by

11:59 p.m. CDT

on

Saturday, June 30

.

Save money when your club billing automatically reflects this special

promotion

Earn a Centennial Sponsor Pin for inviting a new member, and wear it with

pride.
This is a limited offer that does not apply to new members added prior to June 7 or after June 30, 2018. No exceptions will be approved. Charter and transfer charter fees do not qualify for this special waiver. If you have any questions, please contact membershipdev@lionsclubs.org
Invite your family and friends to join the greatest service organization in the world as we write the history of our second century together.
Sincerely,
Dr. Naresh Aggarwal
Your International President
---
REDBUD LIONS DEDICATE BENCH FOR LEGACY PROJECT
Members of the Lubbock Redbud Lions Club braved a May 17 thunderstorm with hail to dedicate the club's park bench Legacy project at Higinbotham Park. Special guests for the ceremony were District Governor-Elect Terry Hawkins and her dog, Jack.
The club was chartered in March 1969 in the Redbud Square addition of West Lubbock. PDG Lion James Osborne is the last remaining Charter Member of the club. After dedication of the bench, club members had a picnic meal of hamburgers and all the trimmings.
Congratulations Redbud Lions on this Legacy Project!
---
PCC BERNIE GRADEL INDUCTED INTO TEXAS LIONS HALL OF FAME
PCC Bernie Gradel of the Lubbock Lions Club was inducted into the Texas Lions Hall of Fame at the MD-2 Texas LIons State Convention in Corpus Christi.
He served as President of the Lubbock Lions Club; District 2-T2 Governor; and MD-2 Council Chairman. He currently serves as Chief Operating Officer of the Texas Lions Foundation.
His nomination states that "his is a life lived in service, and one of quiet, persuasive leadership that has positively impacts the lives of countless people across the South Plains and throughout the entire State of Texas."
Other inductees include: the late PDG William G. (Bill) Driscoll, District 2-T3; PDG John Tramp, District 2-X3: PDG Sam Pantusa, District 2-A2; PDG Tony Braddick, District 2-S2; and PDG Jessie Bryan, District 2-S5.
Congratulations PCC Bernie!
---
DISTRICT 2-T2 NOW ON FACEBOOK!!
You'll want to follow District 2-T2 on its new Facebook page.
CLICK HERE to go to the page!
---
DISTRICT 2-T2 CONVENTION WAS A BIG SUCCESS!
The April 27-28 District 2-T2 Convention, hosted by the Lubbock South Plains Lions Club, was a great success! We'll have more info and photos a little later on!
Our congratulations to the following:
District Governor Elect Terry Hawkins -- Lubbock Lions Club

First Vice District Governor James Belk -- Plainview Lions Club

Second Vice District Governor Ted Boyd -- Lubbock Redbud Lions Club

2018-2019 District Queen -- Carlye Winfrey, representing Seminole Lions Club.

2019 Convention City -- Lubbock, TX

Texas Lions Camp Director -- Joe Freeman, Lubbock Redbud Lions Club

Dist. 2-T2 Lions Hearing Bank Director Reg. 3 -- Gary Smith, Lubbock South Plains

Dist. 2-T2 Lions Hearing Bank Director Reg. 8 -- Paul Scivally, Shallowater Lions Club

Great Plains Lions Eye Bank Region 1 -- Scott Crenwelge, Snyder Lions Club

Great Plains Lions Eye Bank Region 4 -- Billy Gilson, Ropesville Lions Club

Great Plains Lions Eye Bank Region 7 -- Lonnie Kirk, Lubbock Redbud Lions Club
---
APRIL 2018 WINDMILL NOW AVAILABLE
CLICK HERE to learn more about registration and meal RSVP deadline for the April 28 District Convention; new members added in 2017-2018; the MMM challenge; protecting our planet; and much much more!
---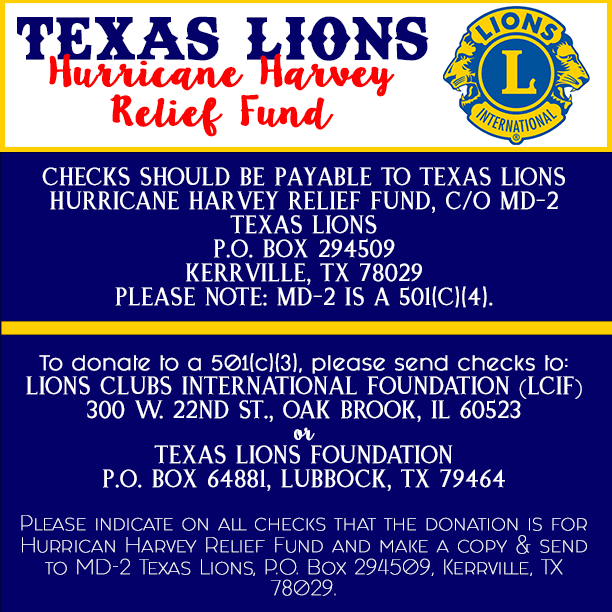 ---
2017-2018 DISTRICT 2-T2 GOALS
To initiate district-wide projects relating to hunger and diabetes. These can include preparation of food boxes during the holidays, assisting local Meals on Wheels, and participation in the American Diabetes Association's annual Diabetes walk.
To have all clubs involved in service projects that meet the needs of their community.
To have all clubs support the Texas Lions Camp at Kerrville.
To have all clubs participate in the Lions' Legacy Centennial Project.
To improve new member orientation and service involvement of new members throughout the district.
To provide training opportunities for club and district officers.
---
Lions Clubs International is the world's largest service club organization with more than 1.4 million members in approximately 46,000 clubs in more than 200 countries and geographical areas around the world.