WELCOME TO DISTRICT 2-T2
District 2-T2 includes 22 counties in the Panhandle-South Plains region of Texas. We have more than 1,300 members in 43 clubs who are dedicated to serving their communities and meeting humanitarian needs.
"We Serve and You Can Too!"
---
OFFICIAL DISTRICT 2-T2 2018 CONVENTION CALL
The annual District 2-T2 convention shall be held on the 28th day of April 2018 in Lubbock, Texas. Each chartered club in the district must be in good standing with Lions Clubs International, MD2, and the district, with all dues paid by April 13, 2018.
Each chartered club in good standing with Lions Clubs International and its district (single or sub- and multiple) shall be entitled to one (1) delegate and one (1) alternate for each ten (10) members, who have been enrolled for at least one year and a day in the club or major fraction thereof, of said club as shown by the records of the international office on the first day of the month last preceding that month during which the convention is held. The major fraction referred to in this section shall be five (5) or more members.
Each certified delegate present in person shall be entitled to cast one (1) vote only for each office to be filled by, and one (1) vote only on each question submitted to, the respective convention.
Each Past District Governor, Past International Director and Past International President who is a member of a Club in the District shall have full delegate status independent of the Club delegate quotas herein specified.
All eligible delegates must be members in good standing of a club in good standing in this district. Delinquent dues may be paid, and good standing acquired up to fifteen (15) days prior to the close of credential certification for this convention.
/s/ Vance Gipson, District 2-T2 Governor
---
DISTRICT 2-T2 NOW ON FACEBOOK!!
You'll want to follow District 2-T2 on its new Facebook page.
CLICK HERE to go to the page!
---
DISTRICT 2-T2 CONVENTION -- APRIL 27 & 28, 2018!!
You'll want to make plans to attend the District 2-T2 Convention to be held April 27-28 in Lubbock!
FRIDAY, APRIL 27:
SATURDAY, APRIL 28: (First United Methodist Church, 1520 13th, Lubbock
Necrology Service

District Cabinet Meeting

Lunch and Entertainment

District Elections

District Queens Contest

Second "Newlywed Game" Contest

District Governor's Banquet and Entertainment
Watch the District 2-T2 Facebook page for the latest information!
CLICK HERE for the District 2-T2 Convention Registration Form.
CLICK HERE

for the District 2-T2 Golf Tournament Registration Form

.
CLICK HERE

for the District 2-T2 Queens Contest Application Form. Clubs with queens contest candidates need to print the form, fill it out by hand, and submit it prior to April 16, 2018. (Revised 1-21-2018)
---
APRIL 2018 WINDMILL NOW AVAILABLE
CLICK HERE to learn more about registration and meal RSVP deadline for the April 28 District Convention; new members added in 2017-2018; the MMM challenge; protecting our planet; and much much more!
---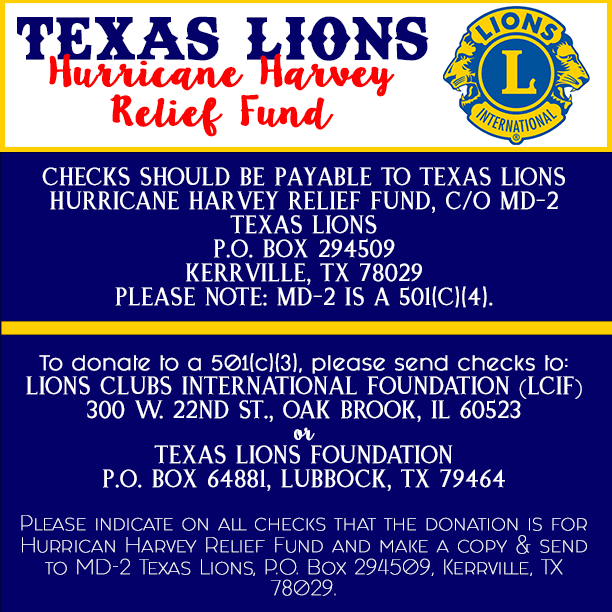 ---
2017-2018 DISTRICT 2-T2 GOALS
To initiate district-wide projects relating to hunger and diabetes. These can include preparation of food boxes during the holidays, assisting local Meals on Wheels, and participation in the American Diabetes Association's annual Diabetes walk.
To have all clubs involved in service projects that meet the needs of their community.
To have all clubs support the Texas Lions Camp at Kerrville.
To have all clubs participate in the Lions' Legacy Centennial Project.
To improve new member orientation and service involvement of new members throughout the district.
To provide training opportunities for club and district officers.
---
Lions Clubs International is the world's largest service club organization with more than 1.4 million members in approximately 46,000 clubs in more than 200 countries and geographical areas around the world.