25th April, 2015 is the day of 3rd Annual District Convention Day Of District 325B1, Nepal.
After long preparation for main District event of our District 325B1, Nepal, the host Clubs and District have given full effort to make this event an interesting and meaningful to all Lions and Leos. They prepared many new and innovative ideas for this event.
At morning 7.00 am all lions from Nepal gathered at World Heritage Site, Hamunandhoka Durbar Square, Basantapur for Peace March. More than 2000 Lions, Leos and other guests participated with all leaders of lionism of Nepal. The peace march was started by flying pigeons, a symbol of peace, from MCC, DGs, PMCC, PDGs, VDGs and Guests in front of Dasaavtar Dewal (Temple) which was destroyed by disastrous Earthquake. The parade was led by traditional Newari Dhime ( Newari orchestra ) and all participants followed the Band . The huge mass entered inside the core city of the Kathmandu via Ason and the Local people welcomed by offering traditional Sagun ( By Offering Egg and Fish ) where the houses were very much damage and some casualties by the Earthquake.
9.00am
The peace march entered in the main convention place and the Lady Lions welcomed all the participants. After the Breakfast the Convention started on 10.00am with almost 2000 Lions and leos participation. The program was started by Necrology ceremony and the host Clubs welcomed all Lions leaders and Guests by preforming Traditional Kumari and BajraYogini Dance. After Dais call chief guest the Most respectable Honorable chairman of Constitutional Assembly of Nepal Suvash Newang and almost all of Lions leaders from Nepal ( All four District's GLT Area Leader, ID Endorsee Sanjay Khetan MCC Lion Bharat Dhungel along with all four DGs, PMCC, PDGs, VDGs) were seated on the dais. District Governor Lion Bhugol Sherchan had meeting Called to order and the convention continuously going on. The program was fully Digitalized and Worldwide Live broadcast via Microsoft Innovation Centre also with Live telecast by Arniko TV, Nepal.
11.56am
The program was continuing. The school students were preforming ice breaking dance on Nepali patriotism song " Yo Nepali Sira Uchali" and all the participants were watching on pin drop silence when the disastrous earthquake struck. All participants showed their patience and left the hall without any accident. and remaining program was conducted outside the hall and we have successfully elected District Governor Lion Dhurba Bahadur Thapa, 1st Vice District Governor Lion Bal Krishna Burlakoti and 2nd Vice District Governor Lion Dhan Raj Acharya for Lionistic year 2015-16 the election was witness by all the past district governors, Multiple Council Chairperson and GLT area leader Lion Sanjay Khetan.
In this mass gathering and after Disastrous Earthquake, Lions and Leos were actively involved to Search and rescue action. Lion and Leos gave their full effort in this disastrous moment. In this moment we had a call from LCIF Chairperson Barry J. Palmer to announce for catastrophe US$ 100,000 and published Designated grants from LCI.
Convention host Clubs Team and District 325B1, Nepal took an immediate action in search and rescue and relief action. The committee decided to use collected amount of convention in earthquake disaster relief and search & rescue and provided Tents, tarpaulin, Medicines, Gloves, masks, Water purifier, emergency Sanitation Kits to Earthquake Victims.
Thanks to all Lions and Leos who have helped to earthquake victims by full heart even though they are also victims.
E-Newsletter - Special Edition : http://lionsclubs325b1.org/slideshow/2887Newslettet-%20Earthquake%20Special%20.pdf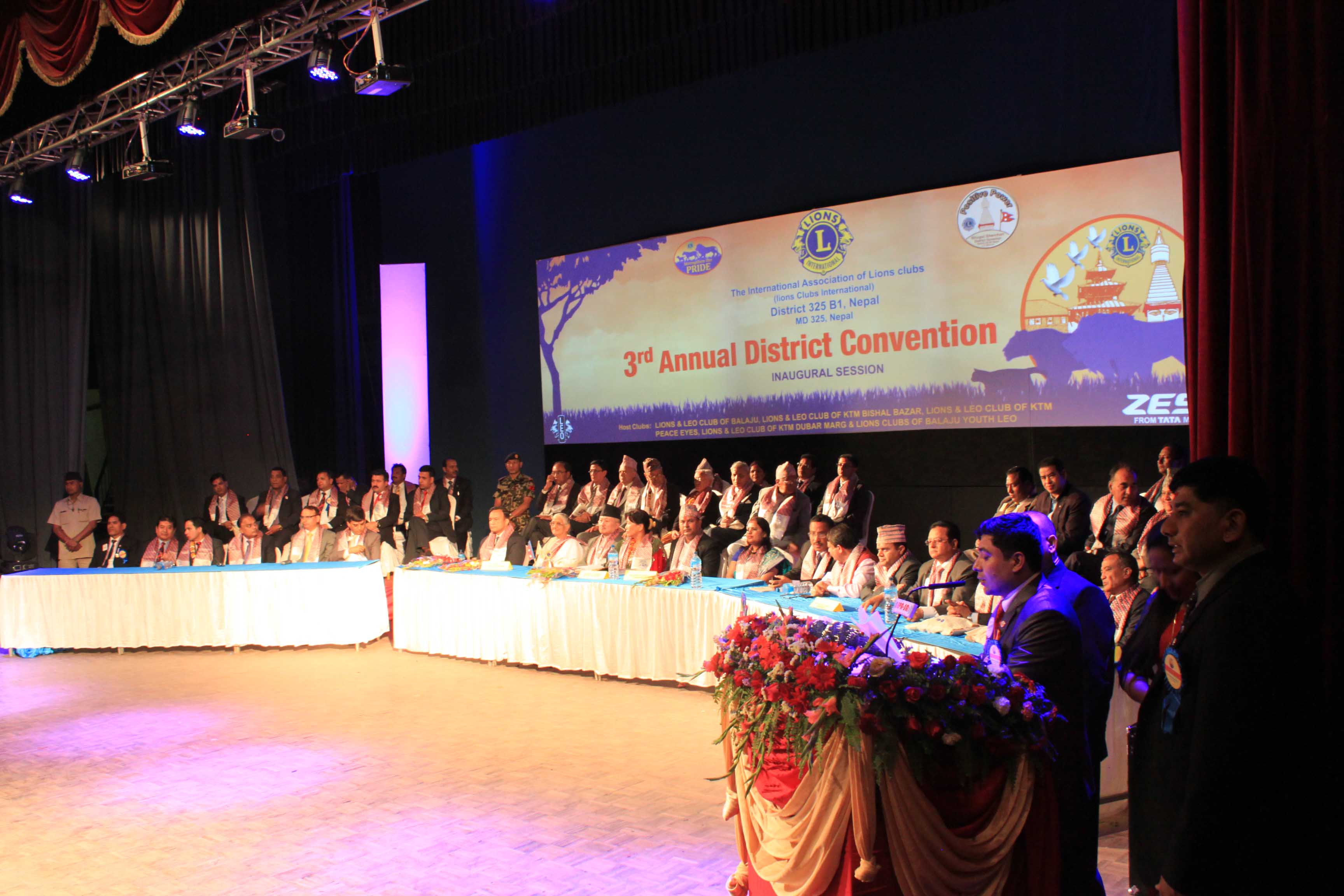 Lions Clubs International is the world's largest service club organization with more than 1.4 million members in approximately 46,000 clubs in more than 200 countries and geographical areas around the world.