2016 - 2017
GOVERNOR BOB SUSAETA
---

"Joining Hands in Service"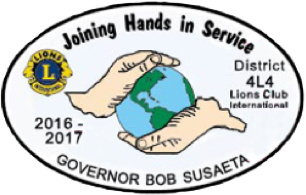 District 4-L4 is made up of Lions Clubs throughout Orange County and portions of Los Angeles and San Bernardino Counties. We have over 1300 members in 35 clubs with our oldest clubs dating back to 1921 and our newest club less than a year old.
Lions meet the needs of local communities and the world. Our 46,000 clubs in every corner of the globe make us the world's largest service club organization. Our individual clubs are different in many ways, but we all share a core belief in service to our communities.
Whenever a Lions club gets together, problems get smaller. And communities get better. That's because we help where help is needed - in our own communities and around the world - with unmatched integrity and energy.
Everywhere we work, we make friends. With children who need schoolbooks, with seniors who need transportation and with people we may never meet.
We're led by talented, dedicated volunteer leaders from around the world. The work of Lions worldwide is supported by the Lions Clubs International Foundation (LCIF), which helps to fund Lions humanitarian projects.
The International Headquarters for both Lions Clubs International and LCIF is in Oak Brook, Illinois, USA.
Multiple District 4 website http://md4lions.org/home.php
Lions Clubs International is the world's largest service club organization with more than 1.4 million members in approximately 46,000 clubs in more than 200 countries and geographical areas around the world.