COUNCIL CHAIRPERSON, Lion Keith Zeutschel welcomes you to the MD5 Web Site!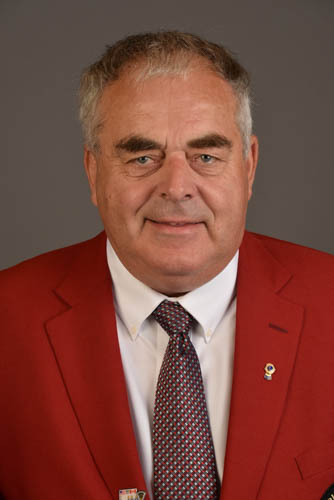 Council Chair Keith Zeutschel was born in Bismarck, ND and grew up on the farm near Judson, ND. It is these early years that taught Keith the many lessons of life that have helped him succeed later. After completing High School in New Salem he went on to college at North Dakota State University where he received a BS degree in Business Management. He joined the Army during the Vietnam era and served his country. After his service he returned to Fargo, ND where he worked for Kmart for the next 44 years.
He married Linda Hanson of Fargo in 1972. They are the proud parents of their wonderful children, Lori, Chad, and Jonathan and one Granddaughter Sara.
Keith joined the Horace Lions in 1995 and has remained a member there for 23 years. He has served on the Board of Directors for many years and has been President three times. He has worked with many of the activities sponsored by the Horace Lions and also worked with the Planning Committee for the 2015 MD5 Convention in Fargo. He served as a Zone Chair before working his way through the 2nd VDG, 1st VDG and District Governor positions. He is a graduate of the Great Plains Lions Leadership Institute and attended the USA/Canada forum in 2016.
His motto during his years as District Governor and still today as Council Chair is:
A LIONS SERVICE IS NEVER ENDING
As MD5 Council Chair, I will strive to continue the dedicated service that those who have served in this capacity have shown. As we face the years ahead and changes in our Service as Lions both internationally and locally, may we always be ready to discuss ways to improve. Membership growth is always a challenge but lets be sure that we also pay attention to those who have served so as to keep these dedicated members. Retention of current members needs to be addressed by continually interacting with each member in your club, district, and multiple district.
---
MD5 is looking to fill the MD5 GLT (USA) Co-Coordinator position to complete the term of PDG Doug Scheller.
Click this link for the description of Multiple District GLT Coordinator
Please send all applications and questions to :
MD5 COUNCIL CHAIR
PDG Keith Zeutschel
(c)701-799-4997
MD5 COUNCIL SECRETARY
PDG Ken Peters
(c)306-536-3294
Youth Camp Scholarship Application
Lions Clubs International is the world's largest service club organization with more than 1.4 million members in approximately 46,000 clubs in more than 200 countries and geographical areas around the world.