COUNCIL CHAIRPERSON, Lion Marie Anne Ben welcomes you to the MD5 Web Site!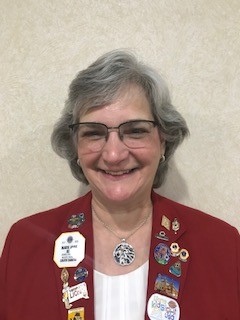 2019-2020 COUNCIL CHAIRPERSON
MULTIPLE DISTRICT 5
Lion Marie Anne Ben
Spouse: Moses Ikiugu
16 E Bloomingdale St
Vermillion, SD 57069
(h)605-624-9352 (c)605-670-0673
(w)605-658-6282
marie.ben@usd.edu
Marie Anne is originally from Hatboro, Pennsylvania. She has a Bachelor of Science degree in special and elementary education and M.S. degree in Educational Development and Learning Strategies.
Throughout her life, Lion Marie Anne has been involved with service organizations and serving as
a leader. She has served as a girl scout, a special needs camp counselor, an education association
leader, peer coach, and board representative for several organizations. Marie Anne understands
the need to serve as a leader and facilitator.
In Lions since 2006, she has served as a club president, secretary, treasurer and on committees, as 5SE Zone 8 chair and district governor 2018-2019. She has attended three LCI conventions and has been a club delegate to fall forums and state, MD5 and LCI conventions. She works at the University of South Dakota as Coordinator-Enrollment & Marketing Services.

She also enjoys time with her spouse, Moses Ikiugu, traveling, family, gourmet food and flying an airplane.
Lions Clubs International is the world's largest service club organization with more than 1.4 million members in approximately 46,000 clubs in more than 200 countries and geographical areas around the world.