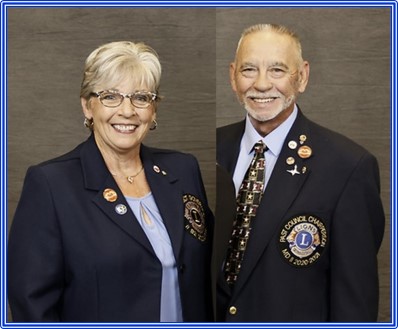 District 11-B2
District Governor Julie Mayuiers
Past Council Chair Jeff Mayuiers
Three Rivers Lions Club
23250 Van Resort Drive, Mendon, MI 49072
C: 269.254.1938
jumayuiers@gmail.com
"Keep One"
Over the past several years we have had International Presidential Themes such as:
* Service From the Heart * Kindness Matters
* We Serve Through Diversity * Just Ask One
* Dignity, Harmony, Humanity
This year IP Brian's personal theme is "Together We Can" and he is counting on all Lions everywhere to work together. IP Brian knows we can accomplish anything we want to, with determination and a positive attitude….and we will be AWESOME doing this.
We all serve with our hearts every day we wear our Lions pin proudly.
Everyone knows that showing a little kindness goes a long way.
Lions are diverse as we do not discriminate for race, religion, marital status, mental or physical ability. Lions show a welcoming climate and embrace differences and offer respect in their words/actions/thoughts of all people.
Just think how large our organization would be if every member just asks someone to join the largest service organization in the world…we would double in size….AWESOME!!!
We bring dignity to others through humanitarian service.
Clubs are struggling to retain members and obtain younger members. Every club needs to engage new members immediately upon their induction. Have their sponsor mentor them so they don't feel left out. Ask them what their interests are so you can see what committees they would like to join.
I'm asking that we all work together to accomplish our goals and I ask that you "Keep One". Don't let a member get left out in the weeds by not engaging them, this is one of the biggest reasons we hear that Lions leave your club.
I look forward to seeing everyone soon!!! Remember I'm only a phone call or email away if I can assist you in any way.
Thank you for all that you do!! DG Julie
DOWNLOADS:
Standard Club Constitution & By-Laws
100 Ideas to Recruit New Lions
__________________________________________
Click these links for addtional information
Lions of Michigan Service Foundation
For more about Lions Clubs, go to www.lionsclubs.org
Lions Clubs International is the world's largest service club organization with more than 1.4 million members in approximately 46,000 clubs in more than 200 countries and geographical areas around the world.