DISTRICT 20-E1 PROJECT
St. Peter's Soup Kitchen has been serving the West Side Community of the City of Rochester since 1982. Their mission is to strive to build a stronger community by welcoming all in need, treating everyone with love, and attempting to eradicate hunger in downtown Rochester NY.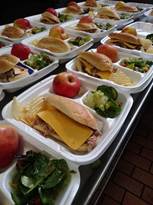 The kitchen started out as a once-a-week Saturday soup and sandwich program. Today it serves a well-balanced and nutritional lunch, including all the recommended food groups, to an average 130 people a day, Monday through Friday. The kitchen benefits from a partnership with Food Link and the generosity of area grocers such as Wegmans, Trader Joes, the University of Rochester and individuals in securing food for our lunches and pantry. Guests come from all walks of life; many have troubles with addiction, mental illness, physical illness, lost homes, and low wage earnings. St Peter's is a non-referral agency meaning anyone who walks through our doors is welcome to share in a meal.
During this time guests are welcome to take food off the neighbors table, and each guest leaves with some sort of sweet treat that has been donated to us by various grocery stores throughout the Rochester area.
Guests are also able to use the phone and request copy or fax services, as well as inquire about other services and resources available to them throughout the Rochester area.
During the Covid-19 shutdown, the kitchen is prohibited from opening our dining room, but that hasn't stopped them from serving our neighbors who are hungry. They are serving on average, about 130 lunches per day and operate a walk up service in the parking lot. In addition, they are still operating the Pantry program to provide groceries to those in need.
While food donations have continued during this time, in order to provide the lunches, the kitchen has had to purchase take out containers using almost 1 case per day costing about $70.00 a week and other supplies.

If you care to donate, they need napkins, 10 oz. soup cups with lids, paper lunch bags and individual packets of salt and pepper, ketchup, mayo and mustard. They were not prepared to do daily takeout meals but have had some wonderful donations that have given them the ability to serve in this fashion. Please call ahead if you plan on donating items so they can confirm the need.
St Peter's Soup Kitchen
Mailing address:
PO Box 11031 - 681 Brown Street - Rochester, NY 14611
585-235-6511
Location:
681 Brown Street
Rochester, NY 14611
*Entrance and Parking is around the back of the building.
Website:
https://stpeterskitchen.org/

Lions Global Cause Hunger
Our Strategic Objective
Ensure all community members have access to nutritious foods.
We serve to improve human flourishing. We see how the global hunger and nutrition crisis bears upon our local communities and believe true community improvement depends on the thriving of its members.
District 20E1 Lions Club Challenge
Lions,
During this time of Covid-19, many individuals and families are impacted by growing food insecurity. While our clubs have been consistently working to help those in our immediate areas, there are many families in the Rochester area that do not have the benefit of Lions support. As harvest begins, I would like to challenge our 39 clubs to reach out in a small way to make a big difference in the fight against hunger.
St. Peter's Kitchen is a 503c nonprofit organization working to meet the needs of those people in the city of Rochester experiencing hunger. (See attached info sheet) For over 30 years they have been providing nutritious, balanced lunches to the needy in Rochester. With the advent of Covid-19 they have had to switch from serving inside to take out only. This has created an additional financial burden to the kitchen. If within the next 3 months each club could pledge to donate at least $100 we could fund the purchase of take out containers needed to provide lunches for a year!
Please carefully consider joining in this local fight against hunger. For questions, feel free to contact: Kendall Lion Helen Unterborn at:

hunterborn@rochester.rr.com or 585-734-8727.
Checks can be made payable to: MD20-E1 Please write on your check MD20-E1 Hunger project
Please send all donations to:
CT Jan Infantino
9730 Highland Avenue
Dansville NY 14437
Please send donations by December 1 so that we can make a district presentation to the kitchen before the year ends.