District Governor Grant Kahlbaugh welcomes you to the Lions 5NE web site!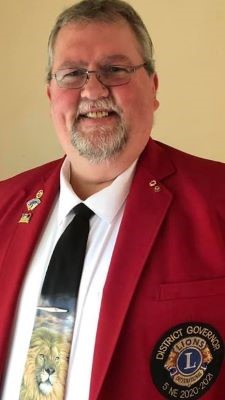 Grant was exposed to Lions International early in his life when he attended the 1984 International Convention in San Francisco at the age of 13. In March 1991, he became a member of Lions.
Presently, Grant is a member of the Grand Forks Red River Lions Club. He has served as club president, vice president, secretary, LCIF coordinator, Club Administrator and has been a club director. Grant has been active over the years in club projects and activities. At the district level, Grant has served as a regional chair and zone chair and was appointed as the 5NE 2nd Vice District Governor at the District Cabinet Meeting in Feb 2018. At the 2018 State Convention was elected as 5NE 1 st Vice District Governor Elect to begin that term on July 1 st , 2019. At the 2019 State Convention he was elected as the District Governor Elect to begin that term on July 1 st , 2020. Grant has worked most of his career as a security officer for many companies, eventually becoming the owner of his own security company. He currently works at the University of North Dakota under the Department of Emergency Management as an Operations Center Specialist and volunteers at the Red Cross. He
enjoys being an amateur radio operator and trips to the lake.
Grant Married his wife Cheryl in January 1994 and shared their lives together for 23 years in marriage until Cheryl recently passed from this life on May 2nd, 2017. Grant was inspired by his father, Past DistrictGovernor Lion Elwin "Al" Kahlbaugh who recently passed from this life on October 18 th , 2019. Grant's theme for his year will be "Generations of Service".
Lions Clubs International is the world's largest service club organization with more than 1.4 million members in approximately 46,000 clubs in more than 200 countries and geographical areas around the world.