MD 19 - I

District 19 - D History

District 19–D, one of the original five districts forged in 1947 when Lions Clubs International District 19 became Multiple District 19, serves Lions and Leo clubs located in the heartlands of the Province of British Columbia, Canada and State of Washington, U.S.A. As of July 1, 2023, District 19-D and the Northern part of District 19-E, which includes Clubs in British Columbia and Northern Washington, have become District 19-I.
2023 - 2024 LEADERSHIP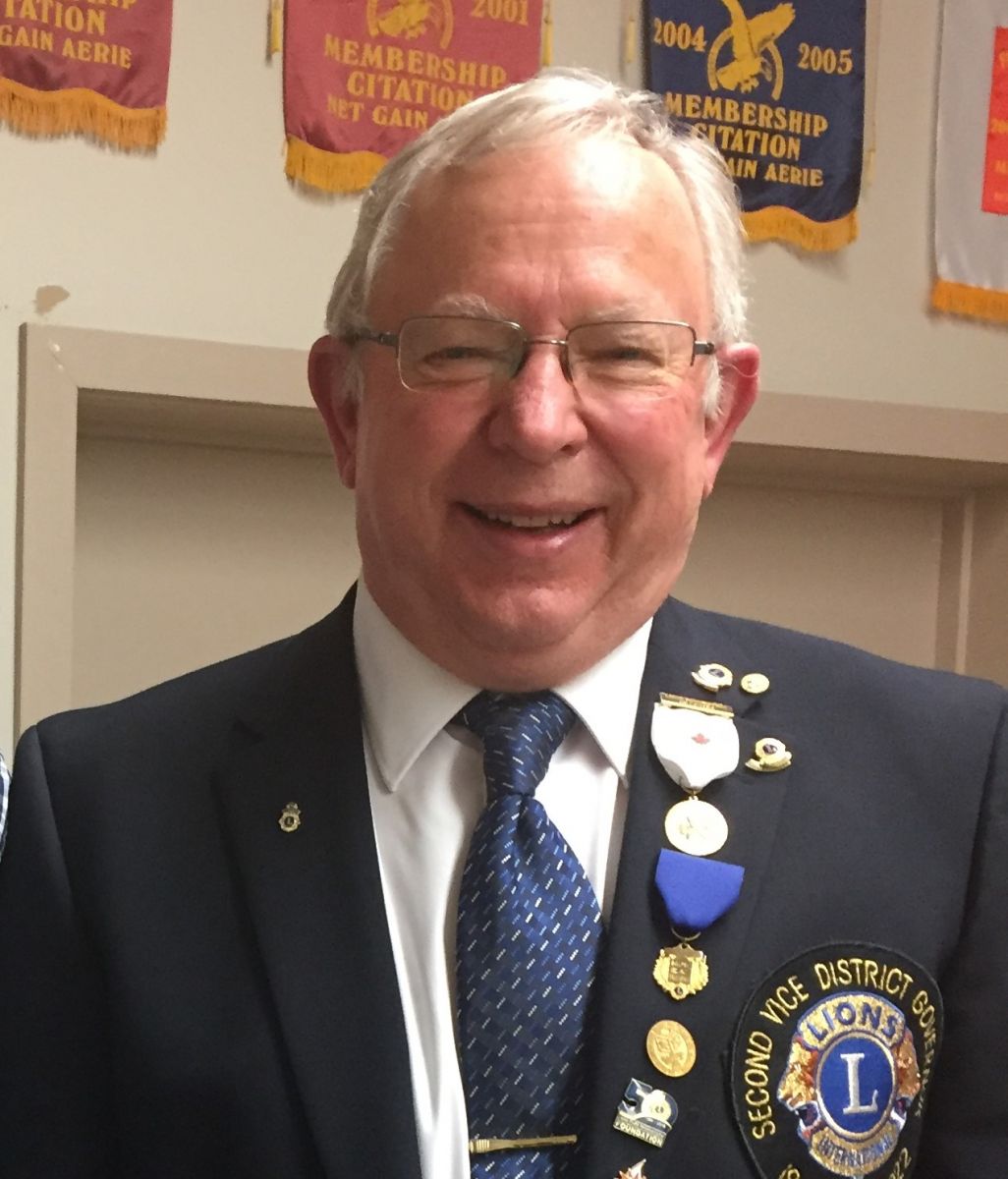 District Governor Michael Livingstone
Michael was the GMT for the years 2019 - 2021. He started his volunteer career as a youngster working on the family farm; where it is customary in small communities to help your neighbors.
He joined the Barriere Leo Lions Club during his grade 11 and 12 years in school and carried his volunteer approach with him. In 1979 he became the charter secretary of the brand-new Okanagan Falls Lions club and is the only remaining charter member.
Michael was born in Hazelton, BC; raised in Chinook Cove and has celebrated over 41 years of marriage to his wife, Val. He has been retried for the over 7 years after working in the logging industry and in commercial transport operating equipment.
If he has spare time, he can be found with Val, enjoying camping with their trailer; kayaking, golfing and gardening.
1st Vice District Governor Jennifer Edgar
District 19-I 1st VDG Jennifer Edgar
The Nelson (BC) Lions Club welcomed me as a new member in 2018, joining my husband PDG Paul Bogaard, we enjoy serving as a couple. I served as Secretary (3 years), Vice-President, and currently Treasurer for 2023-2024. I received Secretary of Excellence and Lion of the Year Awards. During 2022-2023, I served as Regional Zone Chairperson for District 19E North, responsible for 5 Zones. I thoroughly enjoyed meeting new Lions and visiting Clubs in this role. For this work I was awarded the President's Medal at the final District 19-E Convention. As a Medical Laboratory Technologist (43 years), I enjoy working in rural Interior Health Authority hospital laboratories, including in Nelson, Trail, Castlegar, New Denver, Kimberley, and Cranbrook. I was also fortunate to work in Sydney, Australia in the early 1980's. I also took time away from the Laboratory to work in various other fields. Visual Design in Forestry, Commercial Truck Dispatch and Quality Assurance, and Bookkeeping. With my husband, we share 5 adult children and 2 grandchildren. Travel remains a strong interest. Paul and I recently traveled to Scotland and London, and usually spend several weeks in Mexico every year. We enjoy camping at own spot in Mirror Lake near Kaslo. I am pleased to serve Lions of District 19-I as 1st Vice District Governor 2023-2024.
2nd Vice District Governor Charles (Chuck) Robinson
I was born and raised in Washington State for most of my life. I lived in Idaho for 5 years. And spent 4 years in the US Navy. I served in Vietnam aboard USS Midway. My wife Georgina and I were married in 1971. We Have 1 son and 1 daughter, 5 grandchildren 1 great grandchild. We owned and operated a NAPA Auto parts store for 21 years. We love camping in our RV. We also like to travel by car around our great country. I am looking forward to visiting with the clubs in the Okanogan this Lions year. I became a lion in 1998 and have served in most of the offices of the Lake Chelan Lions club in our new numbered zone 7.. Our DG team is very excited to work with everyone in District I.
Immediate Past District Governor Debbie Allan

Brian and Debbie were introduced to Lions through their daughter Christine who was a Leo with the Kamloops Leos. After driving her to many events, as well as lending a hand at some projects, they joined the North Kamloops Lions in June of 2000. Their granddaughter, Hannah, is now a Leo-Lion with the North Kamloops Lions Club.
As a member of the North Kamloops Lions, Debbie has held many offices: President (2005), Treasurer (twice), and held the office of Secretary many times over the years. Over the past 22 years, Debbie has sat on many committees with their club including the Children's Christmas Party, Hospitality Room committee for DG Wanda (2020) and many others. She has taken Leadership training. She was Zone Chairperson for 2 years before stepping into the position of 2nd Vice DG, then 1st Vice DG and now DG.
SERVICE CHAIR PDG JOYCE STEVENS
I send summer greetings to all the District 19 I Lions. I am so excited to start our new Lions year as District 19 I, and now we have new Zone Designations. I will be serving as your District Service Chairperson, and in that role, I will assist clubs with both the reporting of the service that you complete, but also offer suggestions for adding new service projects that other clubs are already doing. Last spring I asked 19 D clubs to send me a description of a service project that their club embraces, and there were several great ones. I will summarize those that were sent and I will email that summary to each club sometime in August. In the meantime, it's not too late to share a project that your club is involved with. Send me your descriptions, along with a few photos, so Lions can see how the project unfolds. It is helpful to include how long it took to plan the project, how many Lions were involved with the planning, and with the actual doing the project. If it was also a fundraiser, include how much $ was raised, and where the funds were donated. Some projects are only service oriented, some are only raising funds, but there are some that fit both categories, such as providing coffee to travelers at rest areas. The service of providing coffee to keep travelers alert but they often give an unsolicited donation for the coffee which becomes a fundraiser. How many clubs are involved with some form of a 'community clean up'? This is good environmental service. Please report that service on MyLion. If you have any questions about entering service on MyLion, PLEASE reach out to me. I am happy to coach anyone through the process, usually over a phone call. Enjoy the rest of summer. PDG Joyce Stevens, Leavenworth Lions Club jstevens98826@gmail.com 509-670-7527 I
Zone Chairpersons for the 2023-2024 Lions Years are;
I1 - Lynda Devenish - Golden & District,
Fairmont & District
Lake Windermere, Wasa
I2 - Ted Tull - Elkford, Sparwood
Fernie, Sand Creek
I3 - Larry Finley - Creston Lions Club, Mark Creek
Creston, Kootenay Lake
I4 - Jennifer Edgar (acting) - North Pend Oreille Valley
Salmo, Nelson, Kootenay
Slocan
I5 - Jennifer Edgar (acting) - Northport, Rossland
Beaver Valley
I6 - vacant - Ephrata, Mattawa Desert
Aire, Moses Lake, Moses
Lake Lioness Lions,
Othello, Quincy Valley
I7 - Lyle Markhart - Wenatchee Central Lions Club, Lake Chelan, Mansfield,
Tonasket Okanogan
Valley, Waterville,
Wenatchee Valley
I8 - vacant - Penticton, Oliver,
Okanagan Falls, Midway
Greenwood Kettle River
I9 - Steve Sweeney - Peachland Lions Club, Kelowna
Okanagan Mission,
Westbank
I10 - Willem Roell - Enderby Lions Club, Armstrong, Lake
Country, Winfield, Lumby,
Vernon
I11 - Leona Pryor - Sorrento Lions Club, Chase, North
Kamloops, Barriere, North
Shuswap, Valemont
I12 - Debbie Bostock (acting) - Logan Lake, Kamloops
Brock Central, Kamloops
Aberdeen, Kamloops
Paddlewheelers, Ashcroft​
I13 - vacant - 100 Mile House, 108 Mile
House, Forest Grove,
Quesnel, Prince George,
Williams Lake
For all other cabinet members visit the "Contact Us" page.
Lions Clubs International is the world's largest service club organization with more than 1.4 million members in approximately 46,000 clubs in more than 200 countries and geographical areas around the world.