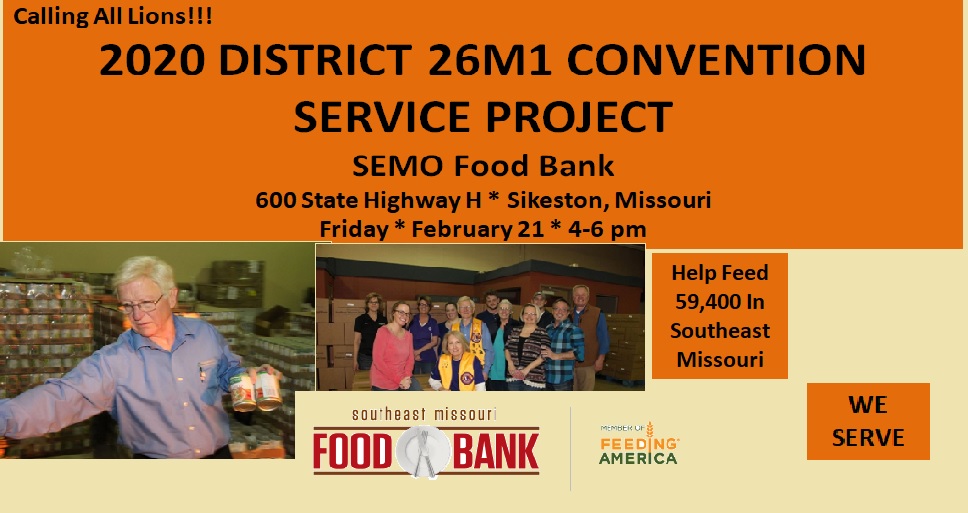 Please join us in helping sort and box at SEMO Food Bank. Let District Governor Lion Rodney McConnell know at (573) 380-7875...
We are saddened to announce the passing of First International Vice President of Lions Clubs International Lion Judge Haynes Townsend, Tuesday, December 17. Visit https://www.facebook.com/judgehaynestownsend/ to see more about this amazing Lion's life.
NEWSFLASH !!!- The results are in! Click on the Photo Gallery (left side of page) to see this year's winner of the District 26M1 Peace Poster Contest!
IMPORTANT!!! Reporting of Service Activities has moved from MyLCI over to MyLion. Click here for the video showing how to enter all of the wonderful things your Club does. Don't worry, it's okay to brag a little

https://www.youtube.com/watch?v=kP3498MrHxE&t=6s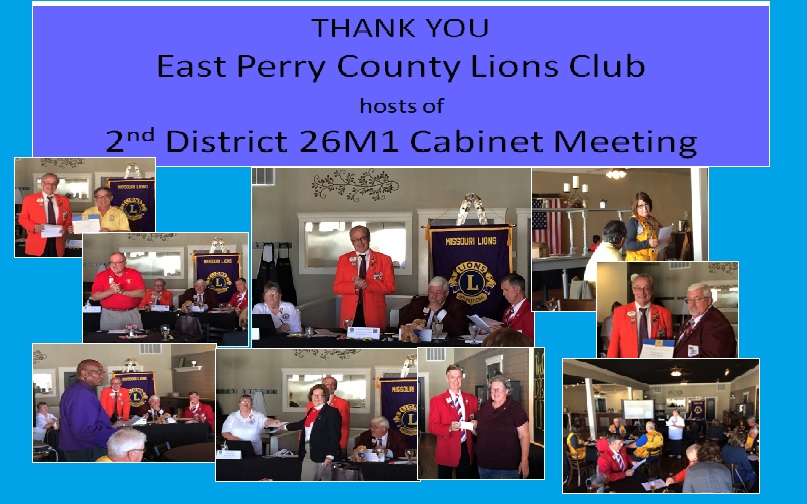 District 26M1 Governor Lion Rodney McConnell appreciates the great time afforded attendees of the 2nd District Cabinet Meeting, hosted by the East Perry County Lions Club! A lot of great stories, sharing of ideas and hands on instruction took place. District 26M1 is SERIOUS ABOUT SERVICE!
District Governor Lion Rodney McConnell and Missouri Lions Council Chair Lion Walter Hamer appreciate the hard work from the Sikeston Lions delivering a fun and informative Missouri Lions Council of Governors Meeting, October 25-26!
The team serving District 26M1 for the 2019-2020 Lion Year are:
District Governor Lion Rodney McConnell, Sikeston Lions Club
First Vice District Governor Lion Scott Sattler, Perryville Lions Club
Second Vice District Governor Lion Jerry Reaves, Malden Lions Club
Cabinet Secretary Lion Jennie Mosher, Rolla Lions Club
Cabinet Treasurer Lion Allen Taylor, Cape Girardeau Evening Lions Club
Lions Clubs International is the world's largest service club organization with more than 1.4 million members in approximately 46,000 clubs in more than 200 countries and geographical areas around the world.