District Governor Luis Coca and his wife Janice welcome you to the Lions 5NE web site!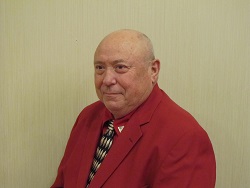 District Governor Luis Coca has lived in many places in his life time because his father was career military. Luis entered the military in 1967 as a Security Policeman and made it his career. He has served in many foreign countries and combat zones during his tenure. He retired from the Air Force as a E-7/Master Sergeant at Minot Air Force Base ND.
With the background he gained in the military, he chose his next career in law enforcement. He has been a patrol sergeant, shift supervisor, criminal/narcotics investigator and chief of Police is two small towns. Although currently retired from law enforcement, he still works a couple a shifts a month to help local police departments.
Lion Luis is also an ordained pastor serving at the Kief Liberty Baptist church in Kief ND. The church is very active within the surrounding area to include working at Camp Bentley, in Drake ND. He also serves as the Salvation Army representative for Pierce County in Rugby ND.
Lion Luis became a member of the Rugby Lions Club in 2010. He has filled positions in his club from director, 2nd and 1st Vice President and President. He has also served as a Zone Chair for 5NE, Zone 1A. He was selected as "2014 Rugby Club Lion of the Year" and recipient of the prestige's Lions International Award of Melvin Jones Fellowship in 2015.
Since being a lion, he is active in his club with Project Joy, Music in the Park, Blood Drive and much more. He has also planned, organized and directed Rugby's Lions Club Charity Golf event, which was very successful. He is looking forward to being the District Governor for 5NE in 2016 and working with the entire Multi-District in upcoming years. His motto is "Pride", which is an acronym for "Professional Results In Daily Efforts".
Lions Clubs – Ready to Help, Worldwide
Whenever a Lions club gets together, problems get smaller. And communities get better. That's because we help where help is needed – in our own communities and around the world – with unmatched integrity and energy.
The World's Largest Service Club Organization
Our 46,000 clubs and 1.35 million members make us the world's largest service club organization. We're also one of the most effective. Our members do whatever is needed to help their local communities. Everywhere we work, we make friends. With children who need eyeglasses, with seniors who don't have enough to eat and with people we may never meet.
Hosts Needed for International Youth Camp (Click below for details)
Hosts are needed for the International Youth Camp
Lions Clubs International is the world's largest service club organization with more than 1.4 million members in approximately 46,000 clubs in more than 200 countries and geographical areas around the world.