District Governor Rob Lein and his wife Carla welcome you to the Lions 5NE web site!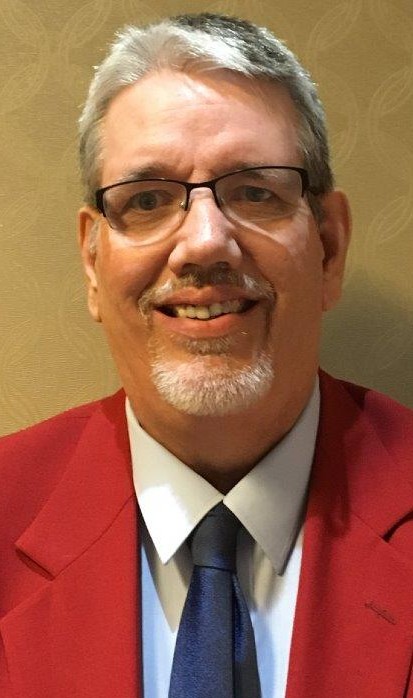 Rob grew up in Wing, ND, where his parents owned a grocery store. His dad, Ray Lein, was very much involved in Lions, and was inducted into the North Dakota Lions Hall of Fame. Rob's uncle, Lindy Lein, was also inducted into the North Dakota Lions Hall of Fame.
Rob attended two international conventions and numerous MD5 conventions as a boy. He attended Bismarck State College and Minnesota State University Moorhead, and then embarked on a 28-year career as a sportswriter. He changed his career to a salesman for Pepsi 11 years ago.
Rob is married to Carla, also a Lion, with three grown children and four grandchildren. Technically, Rob is a stepdad and stepgrandpa, but he considers those children and grandchildren his own. Rob and Carla are celebrating their 25-year wedding anniversary during his district governor term.
Rob first joined the Williston Lions Club, then joined the North Star Lions and Bismarck Lions. He was club president of the Bismarck Lions and then became a zone chairman. He became a district governor with the Bismarck Lions for District 5NC in 2003-04. Rob and Carla moved to Fargo with one month left as a district governor and joined the Fargo Lions at the end of his term. Both Rob and Carla have been very active in the Fargo Lions and District 5NE.
His motto for his year as DG is "Service with a Smile," as Rob as witnessed the joy we have when
we serve. He recognizes that not only do 'WE SERVE' as our Lions motto says, but we have fun
serving.
Lions Clubs – Ready to Help, Worldwide
Whenever a Lions club gets together, problems get smaller. And communities get better. That's because we help where help is needed – in our own communities and around the world –unmatched integrity and energy.
The World's Largest Service Club Organization
Our 46,000 clubs and 1.35 million members make us the world's largest service club organization. We're also one of the most effective. Our members do whatever is needed to help their local communities. Everywhere we work, we make friends. With children who need eyeglasses, with seniors who don't have enough to eat and with people we may never meet.
International Youth Camp Scholarship Application
Lions Clubs International is the world's largest service club organization with more than 1.4 million members in approximately 46,000 clubs in more than 200 countries and geographical areas around the world.