District Governor Kathy Clemens welcomes you to the Lions 5NE web site!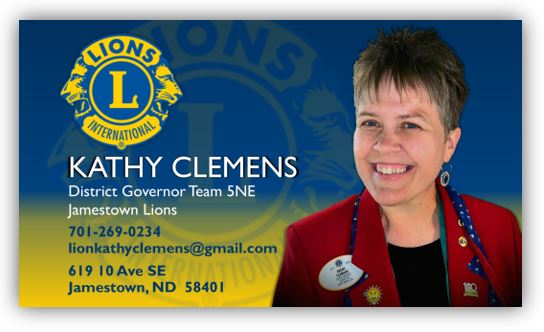 Lion Kathy grew up in Hatton, ND on the family farm. She graduated from Hatton High School in 1994 and went on to graduate with a Bachelor of Arts degree from Jamestown College (now the University of Jamestown) , majoring in Business Administration and Accounting. During her senior year of college, she was offered an internship at Central Sales, Inc., a family owned farm equipment dealership in Jamestown. 21 years later she is still employed at Central Sales as the controller.
It was at Central Sales that Kathy first learned about Lions. Her boss, Lion Fran Romsdal , was a very active member of the Jamestown Lions Club and invited her to her first meeting. Kathy became a member of the Jamestown Lions in 2010. She served as President of her club for 2 years and treasurer for 2 years. She was the treasurer for District 5NE for 3 years and has also served as a zone chair. She is a graduate of Great Plains Lions Leadership. She attended the USA/Canada Lions Leadership Forum in Columbus, Ohio in 2018 and is currently working on her Bachelors through the Lions University. In 2018-2019, she received the International President's Certificate of Appreciation.
Kathy has a large extended family and spends as much time with them as possible. She has 5 nieces and 1 nephew that she loves to spoil. One of her proudest Lion's moments to date was inducting her youngest brother, Korey, into the Fargo Gateway Lions Club!!
Kathy's motto for her year is "Service Creates Sunshine". As Lions, we are all about service and the service we provide brings "sunshine" into the lives of others. Our service also brings sunshine to ourselves by the good works that we do.
She is extremely excited to serve as District Governor for District 5NE. She looks forward to working with so many AMAZING Lions over the next year!
Lions Clubs – Ready to Help, Worldwide
Whenever a Lions club gets together, problems get smaller. And communities get better. That's because we help where help is needed – in our own communities and around the world –unmatched integrity and energy.
The World's Largest Service Club Organization
Our 46,000 clubs and 1.35 million members make us the world's largest service club organization. We're also one of the most effective. Our members do whatever is needed to help their local communities. Everywhere we work, we make friends. With children who need eyeglasses, with seniors who don't have enough to eat and with people we may never meet.
Lions Clubs International is the world's largest service club organization with more than 1.4 million members in approximately 46,000 clubs in more than 200 countries and geographical areas around the world.