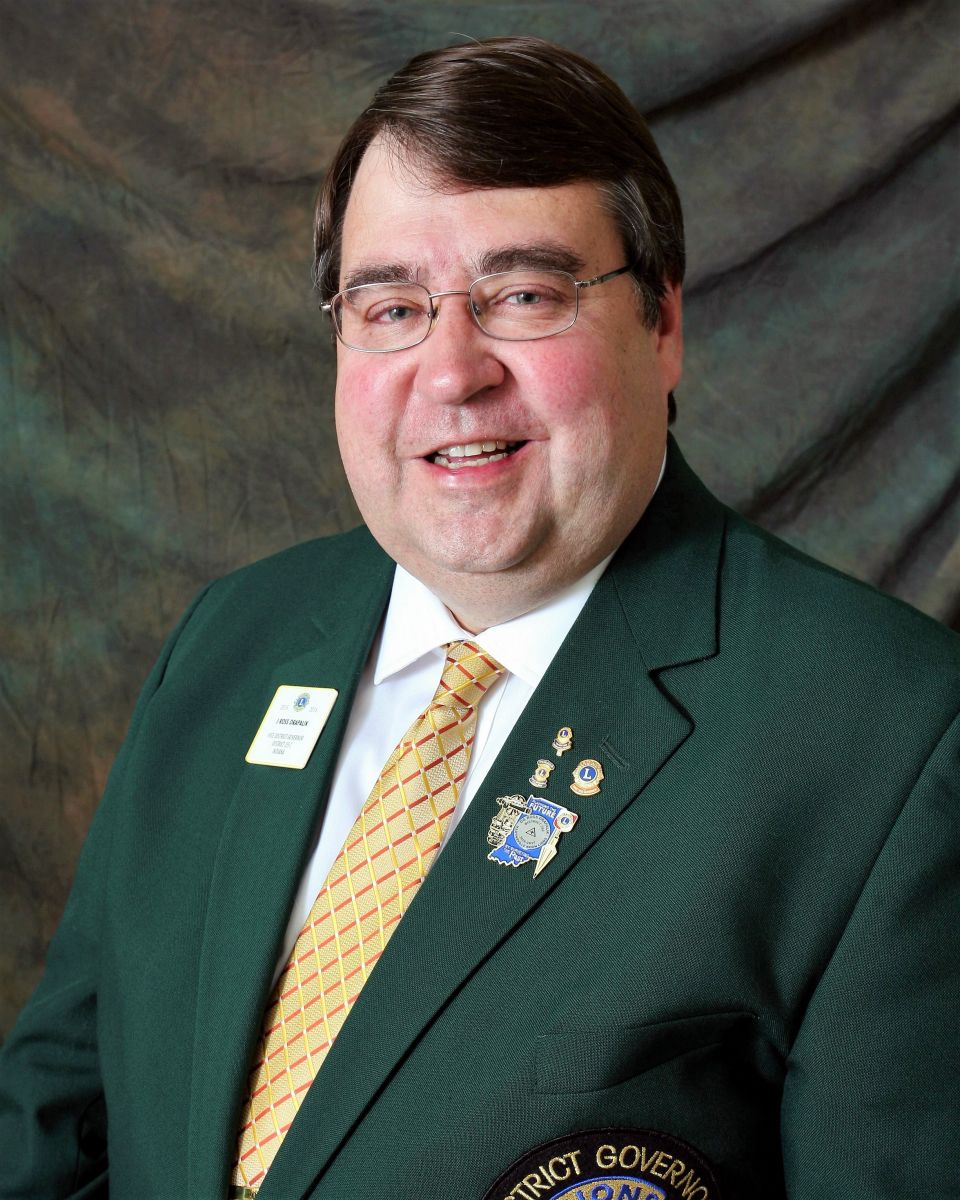 MD-25 Council Chair
Council Chair 2017-2018
Ross Drapalik
A New Century of Lionism – Back to the Basics
As we enter our second century of Lionism, we as Lions will be returning to the basics of service. International President Naresh Aggarwal's theme for this year is simply "WE SERVE."
This is a departure from the past international presidents of recent years who have had various themes for each year. PIP Robert Corlew's theme last year was "New Mountains to Climb" and PIP Jitsuhiro Yamada's theme was "Dignity, Harmony, Humanity" the year before that. Our own PIP Wayne Madden's theme was "In a World of Service".
Although each of these themes have been a little different, they all spoke to our organization's motto of "WE SERVE", and that is what we as Lions are called to do.
At the International President's Reception on the evening of the closing of the 100th Lions Club International Convention in Chicago, each attendee was given one of International President Aggarwal's presidential themed pins. To no ones surprise the "WE SERVE" theme was prominent, but these pins were a little different. They were actually more 3-dimensional then in the past and depicted a multi-faceted head of a lion.
On first glance the lion had the edges of a stealth fighter jet; but on closer examination, the edges were more like facets of a precious jewel with each facet representing a different type of service we provide.
For the past three years, the Centennial Service Challenge has focused on four specific facets of service: Engaging our Youth, Sharing the Vision, Relieving the Hunger, and Protecting our Environment. This year, a fifth facet will be added with the addition of Halting Diabetes.
Lions Clubs International's goal was to serve 100 million people in the original four areas from 2014 through 2018 goal, and this goal was surpassed early in 2016-17. The goal now has been raised to serve 200 million people worldwide per year by the year 2020.
So, how does Lions Clubs International know how many people our clubs are serving? The answer is really quite simple – each time a club adds an activity to its Service Activity Report using MyLCI, the number of people served are tallied.
The problem is that internationally only around 44% of the clubs are filing these reports each month; and with the exception of one district, the average is less than 30% in MD25 (Indiana) filing each month. Basically, if all Lions Clubs would file their reports, we probably have already surpassed 200 million people per year.
My challenge to each of the clubs in Multiple District 25 (Indiana) this year is to focus their efforts on our motto of service and to report what you are doing. There is no reason why we should not have every club in Indiana earn at least 1-gem in 2017-18.
"WE SERVE"
Council Chair Ross Drapalik
Lions Clubs International is the world's largest service club organization with more than 1.4 million members in approximately 46,000 clubs in more than 200 countries and geographical areas around the world.