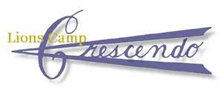 Lions Camp Crescendo a 501c3 non-profit organization, dedicated to the enhancement of the quality of life for youths, especially those with disabilities.
Outdoor Facilities
Ten marching fields
Thirteen open air pavilions
Junior olympic swimming pool (42 x 84) with handicap lift - lifeguard furnished, daily swimming Basketball court
Residential Facilities
Dormitories for more than 500 (bunk beds)
Heated and air conditioned buildings
Separate lodge accommodations for directors and staff are available
Cafeteria serving 300, with two serving lines
Good food and flexible menu planning
Other Facilities and Considerations
Student Center activity building with snack bar - reasonable pricing Instructors and counselors if needed
Medical staff available, if needed
Night watchman available, if needed
Lions Camp Crescendo
PO Box 607
1480 Pine Tavern Road
Lebanon Junction, KY 40150
(502) 833-3554
(502) 833-4427 (24 Hour Access)
1-888-879-8884 (Toll Free)
Our Wish List (Things We Need)
• 18 Volt Cordless Drill
• Digital Thermostats
• Pick-Up Truck (Replace 1988 Truck)
• 20# Copy Paper
Volunteers Needed!
Volunteers are always wanted and welcome throughout the year.
• Nurse, EMT or Paramedic (1 Week) • Cafeteria • Maintenance and Cleaning • Newsletter or other large mailings • Grounds Work (mowing, weed-eating, trimming bushes) • Student Center/Concession • Plus many other items, based on your talents and skills • Club work days may be scheduled by calling camp.
Contributions
Lions Camp Crescendo, Inc. is a 501c3 non-profit organization.
All gifts are tax deductible.
Checks should be payable to:
Lions Camp Crescendo, Inc.
PO Box 607
Lebanon Junction, KY 40150
The Living Tree of Humanitarian Service
The tree is located on a wall in the front of the William V. Land Memorial Lodge. It was designed and produced by Mitch Ensor, of Lebanon Junction, Kentucky. To share in the happiness of providing service to others, donations are cumulative and may be made over time toward the purchase of a leaf as follows:
Bronze Leaf - $200.00 Silver Leaf - $1000.00 Gold Leaf - $5000.00
Ruby Stone - $10,000.00 Diamond Stone - $25,000.00
Memorial Board
To place an individual on the Memorial Board, (which is displayed in the main room of the William V. Land Memorial Lodge) submit $100 or make multiple donations totaling $100 or more in memory of a Lion, Lioness, Leo, friend, relative, or loved one.
Honors Board
To place an individual on the Honors Board, submit $100 along with documentation concerning the reason the individual is being honored. Some individuals have been recognized for outstanding service, while others have chosen to recognize Birthdays, or other special days such as Father's Day or Mother's Day by making a donation in honor of someone special. A plate will be engraved as specified and installed on the board which is displayed in the main room of the William V. Land Memorial Lodge.
Debt Reduction
The loan on Lions Camp Crescendo's property resides with the Peoples Bank of Bullitt County. The property includes 187.89 acres and numerous buildings. If you or your club would like to help reduce/eliminate the debt, please send your tax deductible gift in the form of a check with a notation to apply it to debt reduction. Bank loan balance is $140,454 In addition to the bank balance, there are 26 notes with various individuals and clubs at 4.5% for a total of $367,000.00 Donations may also be designated to help with the expenses of the free camps for: Blind or vision impaired children Deaf or hard of hearing children Children affected by HIV/AIDS Children in Foster Care Sponsor a camper or help fund one of the free camps $126.00 Building improvement projects.
Fund Raising Programs
1. Recycling Program
Aluminium Cans Printer Ink Jet and Laser Cartridges (All brands, excluding compatible brands) Cell Phones ( Collecting cartridges and cell phones to help the camp makes a great club or company project.)
2. Kroger Gift Card Program
$5.00 Cards will be sold and as the card holder adds money and uses the card to purchase all items from Kroger (EXCEPT SERVICES) , the camp will receive a 4% rebate from Kroger. For more information, call or email the camp.