Welcome to Texas District 2-E1. We are glad your are here!
Looking for us on the map isn't hard. We are just to the right of the Panhandle of Texas. Our district is made up from 54 clubs located in towns and cities throughout the 23 counties we serve;
With over 1.6 million Lions, we are part of the largest service club organization in the world. Our mission is to Serve Others, We make a difference in our Communities, and our World. If you are interested in finding a group of people who want to make a difference, you've found us. Please take a look at our When & Where We Meet page to find a club near you. You have a warm invitation to join us!
Our District Officers 2022-23
District Governor - Wayne Cooper
Immediate Past District Governor - Carolyn Stroud
1st Vice District Governor - Darla Flatt
2nd Vice District Governor - Tim Renfro
District Secretary - Cindy Watson
District Treasurer - Gary Sult
Latest News!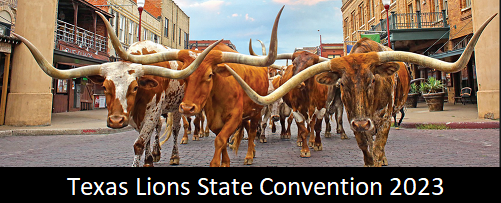 Follow the adventures of Little Gary on facebook. See where he goes next.
Texas Childrens Lions Camp Wood Project Diagram
Grass Roots Lion Award for 2022 Deadline for submission is March 20, 2022. Application's will be sent if requested to Email: txd2e1@gmail.com
2023 District 2-E1 Convention in Stephenville, Texas. Recommended Hotels.
Voting Creditionals for 2023 District Convention
2022-2023 Global Membershp Approach
2022-2023 District Club Listing
Archived News!
2019-2020 State Service Projects
Multimedia
*** Note (Please refresh your browser to load the latest information from this page. Edited 6-15-22) ***
District 2E1 Map
(Edited 5-22-2022)
Lions Clubs International is the world's largest service club organization with more than 1.4 million members in approximately 46,000 clubs in more than 200 countries and geographical areas around the world.