---
WELCOME TO DISTRICT 2-T2!
District 2-T2 includes 22 counties in the Panhandle-South Plains region of Texas. We have more than 1,100 members in 38 Lions Clubs who are dedicated to serving their communities and meeting humanitarian needs.
"We Serve and You Can Too!"
---
Urgent!
Please note the phone numbers to RSVP for October 21st Cabinet Meeting were wrong in the Windmill.
Please RSVP to PDG Fredda at (325) 776-2119 or (325) 725-3493. You can also RSVP with Lion Carolyn at (325) 574-5206
---
Shallowater Lions Club
Harvest Festival
October 14th, Shallowater, Texas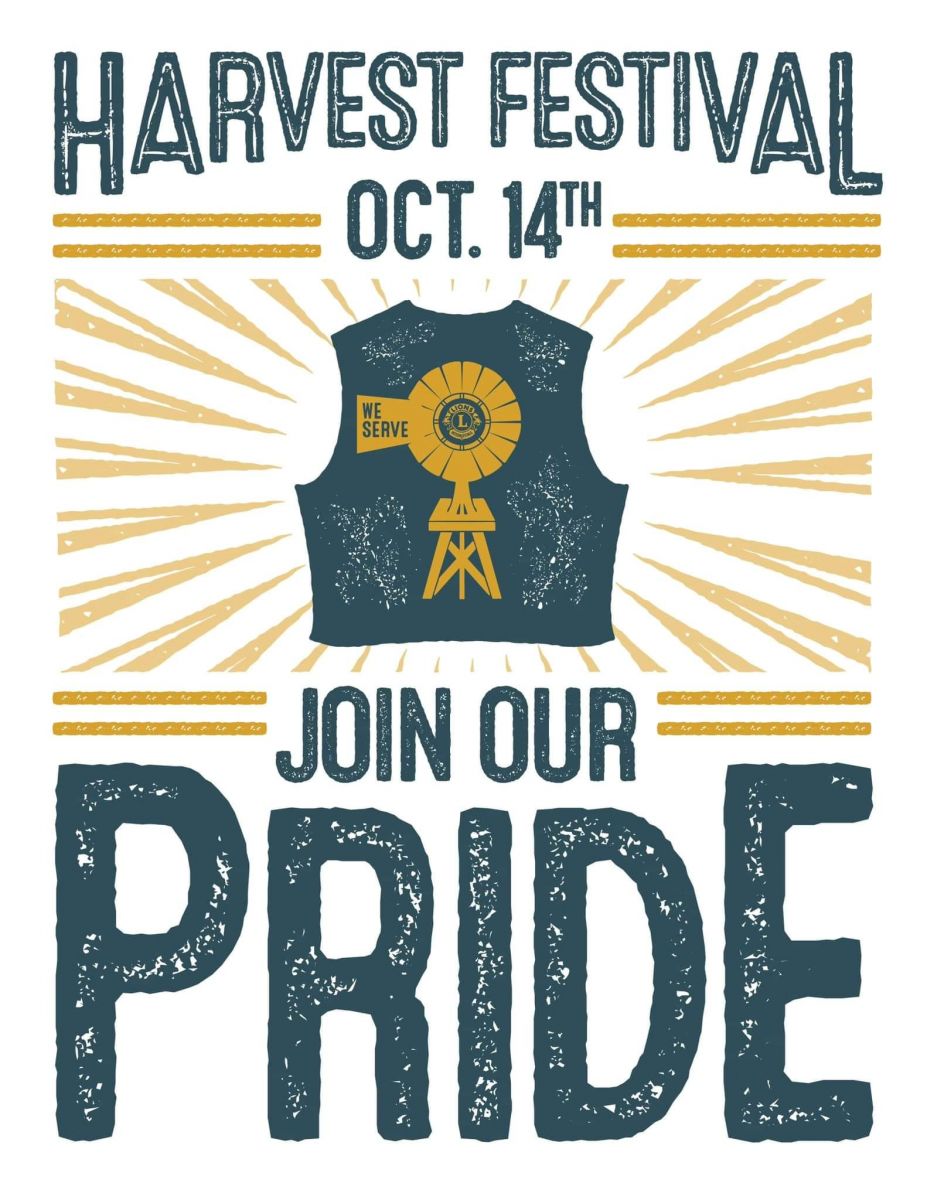 ---
Second District 2-T2 Cabinet Meeting
Saturday October 21st, Roby, Texas
The Roby Lions Club and District Gov. Chris Edwards invite you to attend the second District 2-T2 Cabinet Meeting, Saturday, Oct. 21, in Roby.

All Lions in District 2-T2 are invited to the meeting which will be held at the First Baptist Church, 107 N. College Street, in Roby.

Registration begins at 9:00 a.m. with the session starting at 9:30 a.m. Lunch includes fried chicken and ham, along with fixings, and cost is $15 per person.

Please RSVP by Tuesday, Oct. 17, to PDG Fredda Buckner (Roby Lions Club).
She can be reached at 806-725-3493 or 325-776-2261 (home) or by email at pdgfredda@sbcglobal.net.

As a service project, those attending the Cabinet Meeting should bring school supplies and non-perishable canned goods. Roby-area students desperately need the supplies since the community's Dollar General Store was destroyed by a storm this summer.
---
| | |
| --- | --- |
| | Click Here for the October 2023 |
---
MEET THE NEW DISTRICT 2-T2 GOVERNOR!
District Governor - Lion Chris Edwards
Brownfield Noon Lions Club
---
PARTING COMMENTS FROM
IMMEDIATE PAST DISTRICT GOVERNOR DOUG McDONOUGH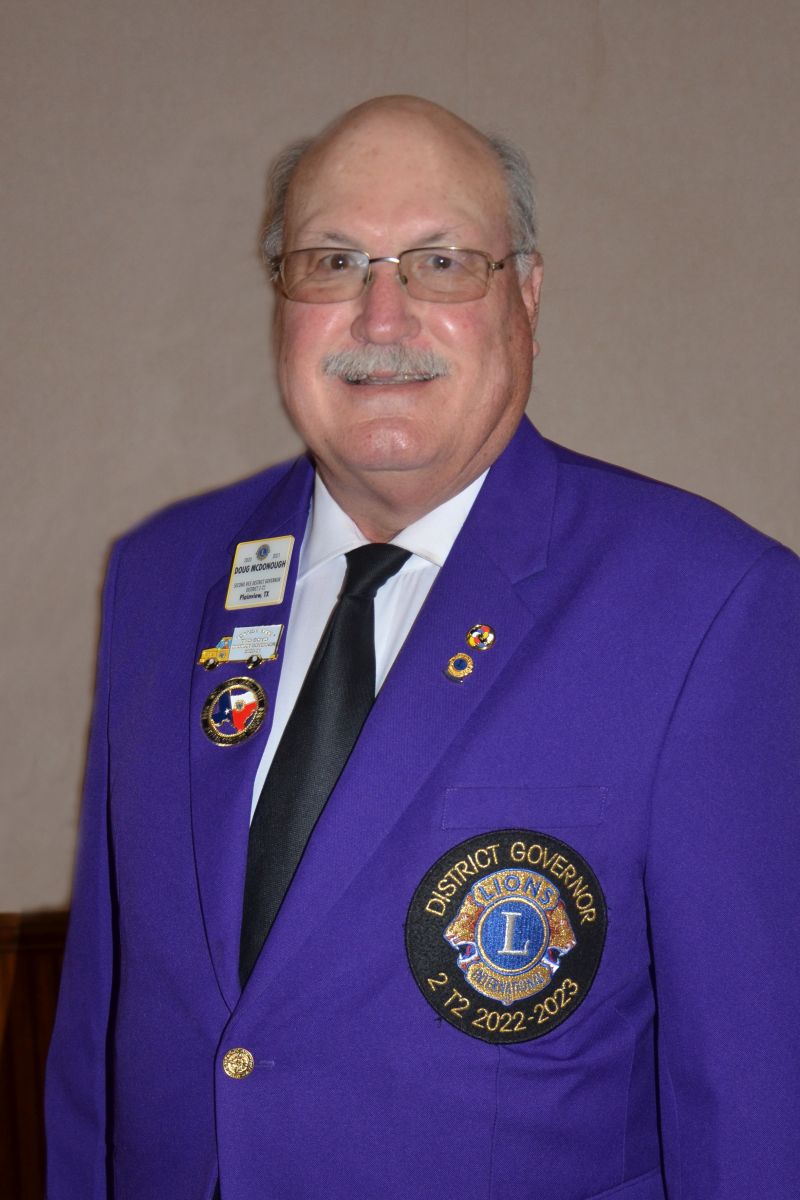 As we transition from one Lion Year to the next and a new leadership team, 2022-23 International President's most recent weekly message is worth sharing with my fellow Lions in District 2-T2.
When you love what you do as much as we do, you can't help but share that joy everywhere you go. And this year, I am so amazed at all the incredible ways that you have shared your service and the joy of being a Lion.
"I am so proud to have been a part of this extraordinary year of innovation, optimism and generosity. Your service has made a difference in the lives of millions of people around the world. And I want you to continue to share the joy, the fun and the incredible pride of being a Lion everywhere you go.
"Let's make a great day. That's the message I've closed my letters with and those are the words I want you to remember. Because together, we have made a great day for so many people around the world. And Together We Can make a great day for so many more.
"It has been an incredible joy and the greatest honor of my life to serve you as international president.
Make a great day,
Brian Sheehan,
Immediate Past International President
President Theodore Roosevelt, speaking in 1910 at The Sorbonne in Paris, offered a worthy example of how we as Lions should conduct ourselves in our mission of serving humanity through service. This excerpt from his "Citizenship in A Republic" speech is known as the "Man in the Arena." Let's take its message to heart.
"It is not the critic who counts; not the man who points out how the strong man stumbles, or where the doer of deeds could have done them better. The credit belongs to the man who is actually in the arena, whose face is marred by dust and sweat and blood; who strives valiantly; who errs, who comes short again and again, because there is no effort without error and shortcomings; but who does actually strive to do the deeds; who knows great enthusiasms, the great devotions; who spends himself in a worthy cause; who at the best knows in the end the triumph of high achievement, and who at the worst, if he fails, at least fails while daring greatly, so that his place shall never be with those cold and timid souls who neither know victory nor defeat."
Lions of District 2-T2, make a difference in someone's life today, and every day with your service. Strive to do your best while maintaining a spirit of fellowship and fun. Remember to ask someone to join in our mission of service. Together we can, and together we will.
God bless the Lions of District 2-T2 and especially DGE Chris Edwards, FVDGE Jake Bentley and 2VDGE Vohnya Tongate. It's been a true pleasure serving as your District Governor this past year and I look forward to even bigger and better things in the months and years to come.
IPDG Lion Doug McDonough
---

Texas Lions Foundation
In this past year, Texas Lions Foundation has awarded Emergency Grants of $3000 each to New Boston, Bogata, Daingerfield, Orange, and League City Lions for Tornado relief and to Cameron for ice storm relief.
Humanitarian Grants were awarded to Caldwell Burleson County Lions for a new water fountain for a park and to Sherman Noon and Sherman Lions for playground improvements to make it handicap accessible.
---
DISTRICT 2-T2 Opportunities for Youth
Winners of the 2023 District 2-T2 Opportunities for Youth Contests were:

Drug Awareness Speech -
Chasity Benson - Roby Lions
Diabetes Essay -
1st - Ava Grace Falls, Ropesville Lions,

2nd - Jaime Flores
Outstanding Youth -
1st - Oluwanifemi (Rose) Olaniran - Lubbock South Plains

2nd - Jaime Flores
The first place winners are eligible to move on to the State Level and all received scholarships.
---
Julian C. Hyer Youth Exchange
Julien C. Hyer Youth Exchange is coming back to District 2-T2 July 17 -- 21. District Lions need to begin volunteering to keep campers and show our encouragement for this project. If you are interested in hosting an exchange student, or helping in any other way, please reach out to PDG Peg White Neyland
---
PAST ISSUES OF THE WINDMILL!
CLICK HERE to read/download the May 2023 issue of THE WINDMILL.
CLICK HERE to read/download the July 2023 issue of THE WINDMILL.
---
MEET INTERNATIONAL PRESIDENT
DR. PATTI HILL
CLICK HERE
to meet our 2023-2024 Lions Clubs International President Dr. Patti Hill of the Edmonton Host Lions Club of Edmonton, Alberta, Canada
---
Lions Clubs International is the world's largest service club organization with more than 1.4 million members in approximately 46,000 clubs in more than 200 countries and geographical areas around the world.