WELCOME TO DISTRICT 2-T2!!
District 2-T2 includes 22 counties in the Panhandle-South Plains region of Texas. We have more than 1,100 members in 38 Lions Clubs who are dedicated to serving their communities and meeting humanitarian needs.
"We Serve and You Can Too!
---
FIRST CABINET MEETING SET FOR JULY 31 IN LUBBOCK
District Governor Ron Miller of Plainview invites all District 2-T2 Lions to attend the July 31 Cabinet Meeting at Texas Boys Ranch, 4810 N County Road 2800, in Lubbock. Shallowater Lions Club is hosting the meeting.
Registration begins at 9 a.m. and the Cabinet Meeting begins at 9:30 a.m. Our special guest is PDG Scott Evans of Stephenville. He is the current chairman of the MD-2 Texas Lions Council of Governors
Lunch will be catered by Ron Johnson of Shallowater. The cost is $15 per person. Lions need to RSVP by noon on Tuesday, July 27 to Lion Barbara Norton, Secretary of the Shallowater Lions Club.
New Club Presidents, Secretaries, and Treasurers are encouraged to attend officer training held as part of this meeting.
---
JULY ISSUE OF THE WINDMILL NOW AVAILABLE
CLICK HERE for the July 2021 issue of THE WINDMILL.
---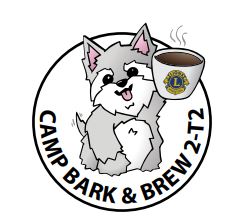 SAVE THE DATE! CAMP BARK & BREW IS SEPT. 19, 2021
We're thrilled to announce that our second-ever Camp Bark and Brew event is set for Sunday, Sept. 19, 2021.
It will be from 1:00 to 6:00 p.m. at Two Docs Brewing Co., 502 Texas Avenue, in Lubbock.
CLICK HERE for more Bark and Brew information!
This is a dog-friendly, family-friendly, fun-filled half-day event hosted by the Lions Clubs of District 2-T2 for the purpose of raising awareness of Texas Lions Camp at Kerrville, TX, Leader Dogs for the Blind at Rochester, MI, and World Services for the Blind at Little Rock, AR.
---
IT'S A NEW LIONS YEAR! -- WEBSITE UPDATE IN PROGRESS
July 1 marks the start of the 2021-2022 Lions fiscal year. We are in the process of updating information on the District 2-T2 website. We appreciate your patience and understanding during this time.
---
DISTRICT 2-T2 GOALS FOR THE YEAR
●   Approximately 35 percent of District 2-T2 club officers will attend/participate in training sessions for their respective offices.
●   District 2-T2 will have a gain of 25 members by June 30, 2022.
●   District 2-T2 will charter one new Lions Club, one new Leo Club and one new Specialty Club by June 30, 2022.
●   At least 40 percent of District 2-T2 Lions Clubs will report their membership and activities on a regular basis.
●   The District Governor will make official visits to each District 2-T2 Lions Club.
●   At least 40 percent of District 2-T2 Lions Clubs will participate in Lions Clubs International Foundation (LCIF) Campaign 100.
●   District 2-T2 Lions Clubs will strive to raise $17,000.00 for LCIF by June 30, 2022.
---
INTERNATIONAL PRESIDENT DOUGLAS ALEXANDER
●   CLICK HERE to meet our 2021-2022 Lions Clubs International President Douglas X. Alexander of the Brooklyn Bedford Stuyvesant Lions Club in Brooklyn, NY.
Lions Clubs International is the world's largest service club organization with more than 1.4 million members in approximately 46,000 clubs in more than 200 countries and geographical areas around the world.