DISTRICT 411-B TANZANIA & UGANDA
LIONS CLUBS INTERNATIONAL
The International Association of Lions Clubs (Lions Clubs International, (LCI), is the largest and most active voluntary organisation in the world, with a membership of over 1.4 million men and women in more than 46,000 clubs, in more than 210 countries and geographical areas of the world. In July 2017, this Association will be celebrating 100 years of existence.
Lions around the world are united by a spirit of giving and dedication to helping others. As the official funding arm of LCI, Lions Clubs International Foundation (LCIF) supports Lions' compassionate works by providing grants to their local and global humanitarian efforts.
These include combating vision problems, responding to major catastrophes, providing valuable life skills for youth, partnering with governments to fight preventable diseases through immunisations and other health interventions.
| | |
| --- | --- |
| | District Governor of 411B Lion Venie and 1st Lady Lion Florence Tinkumanya. |
DISTRICT GOVERNOR WELCOMES SECOND INTERNATIONAL VICE PRESIDENT TO UGANDA
On behalf of the Lions of Uganda, and on my own, I would like to warmly welcome the Second International Vice President Gudrun Bjort Yngvadottir and her spouse, to Uganda. This is the first time in more than a decade that a high ranking officer of our Association visits our country.
We are therefore extremely excited to receive the Vice President, who will soon become the first ever Lady International President of our 100 year old Organization.
SECOND INTERNATIONAL VICE PRESIDENT VISITS LION
CLUBS OF UGANDA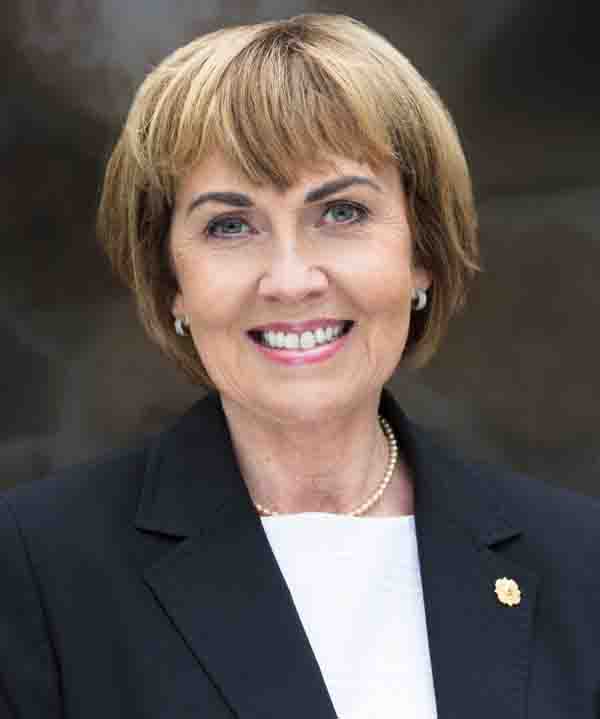 Second International Vice President, Lion Gudrun Bjort Yngvadottir, will on 6-8 February, 2017, visit the Lions of Uganda and participate in service activities at various places in Kampala. They include Feed the Hungry activity at Kampala School for the Physically Handicapped in Mengo, a Centennial Environmental Project at Makerere University, and a meeting with all Lions of Uganda at Serena Hotel. Lion Gudrun Bjort Yngvadottir, who hails from Iceland, is Past International Director, Lions Clubs International. She hopes to become International President in the Lions Year 2018-2019. She will be the first ever female President for the then 101 year-old Association. "My vision is to grow our membership for both men and women, develop more leaders for both men and women, and to expand our service so that we help more people than ever before!" Lion Gudrun Bjort Yngvadottir when she sought the Lions mandate. "With your support, we will accomplish all three," she pledged.
Lion Gudrun Bjort Yngvadottir will be accompanied by her spouse Past International Director, Lion Dr. Jon Bjarni Thorsteinsson. A banquet has been organized in her honour at Serena Hotel. During her stay in Uganda, Lion Gudrun Yngvadottir will meet His Excellency, the President of the Republic of Uganda, Yoweri Kaguta Museveni, the covic leadership in Kampala, and officials from the Ministry of Health. Lions Clubs International has been a key partner in the health sector through construction of hospitals, eye care services, prevention of river blindness, and measles immunization programmes.
SECOND INTERNATIONAL VICE PRESIDENT IN UGANDA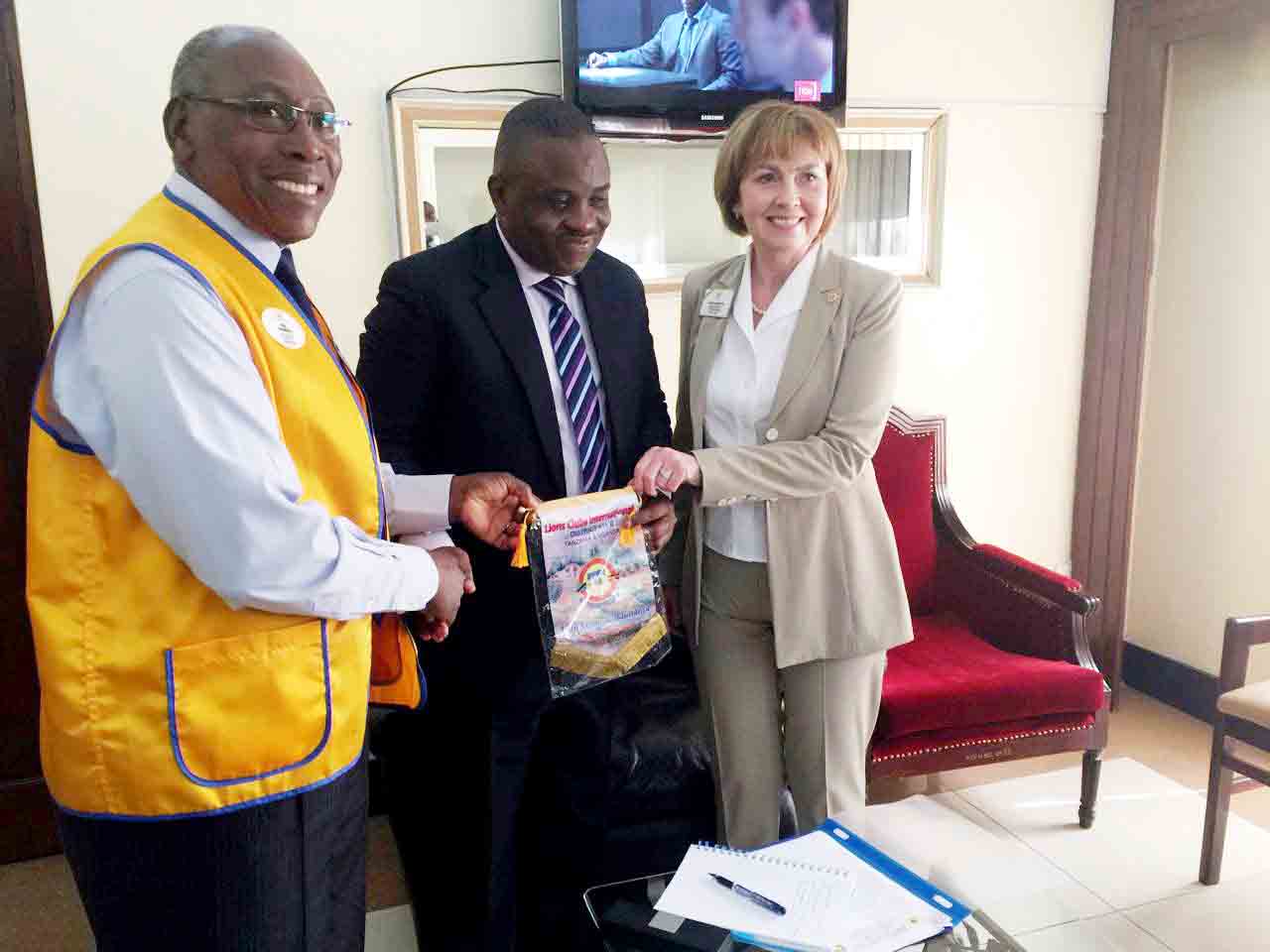 Left to right District Governor Lion Venie Tinkumanya, Kampala Lord Mayor Erias Lukwago, and Second International Vice President Lion Gudrun Bjort Yngvadottir during her visit to the Lord Mayors Office.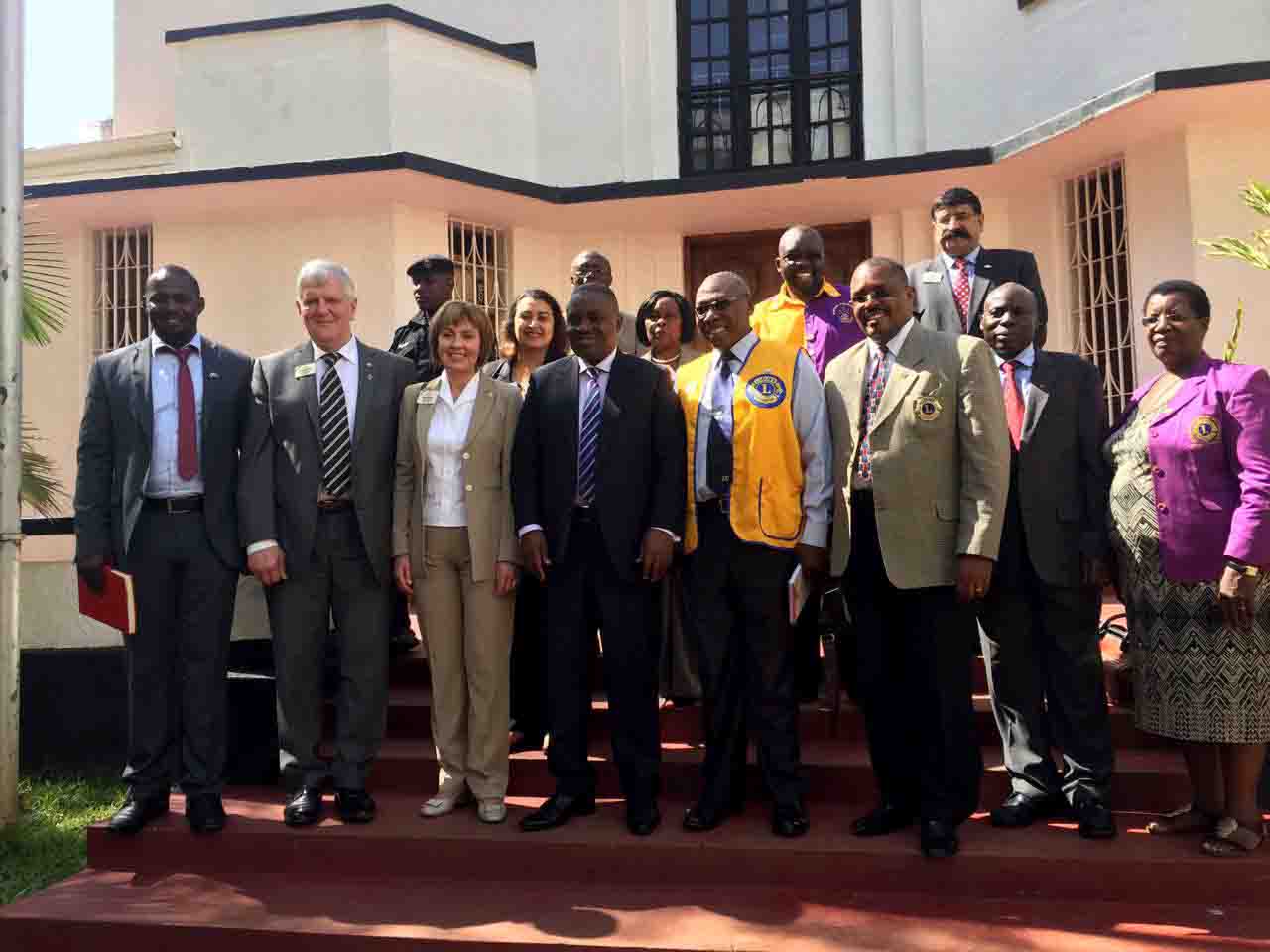 Some District 411-B Officials with the Second International Vice President and Kampala Lord Mayor pose for a group photo.
Lions Clubs International is the world's largest service club organization with more than 1.4 million members in approximately 46,000 clubs in more than 200 countries and geographical areas around the world.