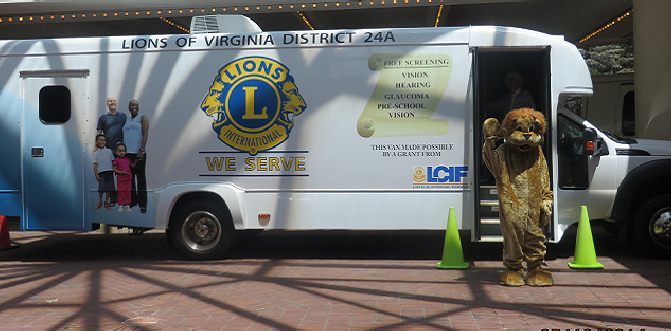 An Urgent Message For All Lions
The Sight & Hearing Vans Corporation was founded in 1976 to provide the various Lions Clubs with the ability to conduct sight and hearing screening services. In recent years, the demands for our services have decreased as Clubs have obtained their own sight and hearing screening equipment. Public schools are turning to other organizations for their screening requirements. 11 years ago, we booked over 300 van runs. We have been in decline since then, and last year we only did 87 runs. With the restrictions caused by the COVID-19 virus, we will do many less than that this year.
The Northern Virginia Lions Mobile Sight And Hearing Screening Unit organization has reached a point where our continued operation is being called into question. To be blunt: Do the Lions of Northern Virginia still need us to stay in operation, or can the Clubs now take care of all the screenings that we as Lions are requested to do?
Like any Lions Club, our organization requires donations and volunteers to stay in operation. Operating our two Mobile Sight and Hearing Units is expensive. We need new Board members, and we need drivers. For the past several years we've been using monetary reserves to cover shortfalls in donations, and we are now down to just six Board members and one driver. If we continue to do business as usual, we will be bankrupt in about three years, and if we can't get Lions to step forward as volunteers to serve on the Board and become drivers, we will be forced to cease operations even sooner.
At our annual meeting with the Clubs at the 2020 Fall Conference, these needs will be addressed. In the meantime, this provides a great opportunity for Lions Club members. Our organization is in need of people who would be willing to work to revamp our operation for the new realities we face today.
Do you have members who enjoy a challenge? 44 years ago, some Lions got together to address an urgent need to provide screening services to our communities, and this great organization was formed. We need that same feeling of commitment today to revamp and streamline our operation for the current enviroment. This is your chance to be part of building something new that could serve Lions Clubs for the next 44 years.
Will the Northern Virginia Lions Mobile Sight And Hearing Screening Unit organization continue on as a useful part of the Lions of Northern Virginia? Or will it end? That answer is up to each LIon reading this.
Thank you.
Lions Clubs International is the world's largest service club organization with more than 1.4 million members in approximately 46,000 clubs in more than 200 countries and geographical areas around the world.