A directory is given to each district officer, region & zone chairs, club presidents and secretaries, past international officers, 35-O PDGs, and our Entities. (Typically this occurs at the first District Meeting of the year. )
Extra directories are sold.
Please report any Updates to the District Secretary
Changes to the Directory are published in the monthly Distict Newsletter.
CONFLICT OF INTEREST POLICY
LCI MEMBERSHIP DUES (Updated 06/30/2015)
The six month billing of membership dues is as follows:
Regular Members Family & Student Members
LCI $21.50 $10.75
MD35 $11.00* $11.00* (students $5.50*)
District $ 4.00 $ 4.00
---------------------------------------------------------------------
Totals (6 months) $36.50 $25.75
A $35.00 new member fee is charged by International for each new member.
The fee is waived for reinstated members who rejoin within 12 (twelve) months of being dropped.
If a dropped member does not rejoin within the 12 months, the new member free is charged again.
Charter Member New Member Fees are also $35.00
( *Note: Club dues, if any, are not included in the above. Check with your club secretary or treasurer for local dues) .
DIABETES SCREENING - NEW FORMS
The Diabetes Foundation and Retina will be using the same new form.
The front page will be on the tablet, signed on the tablet, and never used for routine diabetes screening. The second

page will be used for all screenings. If doing routine Blood Sugar (BS) Screening
only page 2 will be used. Most critical is that this form is as complete as possible!
BS screeners please ask the participant questions if they have not filled them in.
This is critical for our grant to have complete information

.
DIABETIC RETINOPATHY SCREENING PROJECT
WEBSITE
By Lion Norma Callahan, PDG;
lionnormacallahan@yahoo.com
; 386-479-9896
We need the complete MD-35 support in our Lions Diabetic Retinopathy Screening Grant proposal with LCIF. We are looking for volunteers and we need your help. Information is on our website:
http://lions-drs.weebly.com/
Four categories of positions are available for volunteers with a wide range of talents or interests. For more information or to apply go to the website:
Screening Organizer (organize screenings in your District)
Screening Follow-up Coordinator (conduct follow-up with subjects; ensure they receive a referral)
Screening Follow-up Supervisor (requires medical background; assist with complex cases)
Fundraiser Chair (organize fundraising events to support ongoing operations)
We will conduct all interviews via web conferencing using Zoom. You will be sent the link prior to the interview. The job descriptions are on the website and please read them thoroughly. Also if you know of someone who may fit any of the positions, please forward this information to them.
LIONS OF DISTRICT 35-0 HEARING PROGRAM
District 35-O Hearing Program

is in great need for used hearing
aids to be refurbished for those who are hearing impaired.
Important! The Hearing Program
has a NEW APPLICATION (2017).
The club is to fill in their own information section.. This way, the club is assured to receive the application from the client. Please include interviewing Lion's email as they will be receiving the information to send to the client. The club will then send the application with the $25 check made out to Lions of District 35-O Hearing Program to Lion Dana Comeau. Lion Dana Comeau's address is 6 Woodfield Cir. Homosassa, Fl. 34446. His email: k1gvq.fl@gmail.comand phone #:352-601-3206. Please start using the new applications immediately and discard old applications. When client is accepted or denied, interviewing Lion will be contacted by email. $25. Will be refunded if client is declined. The interviewing Lion will then contact client with hearing center and phone number to make appointment. Please make sure our clients are provided for.
Remember: Honorary Life Memberships for $100 are available! .
T R A I N I N G O P P O R T U N I T I E S
LIO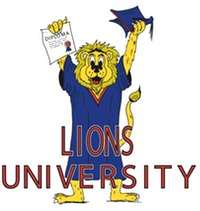 NS UNIVERSITY! http://www.LionsUniversity.org
As a Lions Club leader, you understand that building strong communities through volunteer service is our objective. The Lions University program is about making sure that you have the skills and resources to meet this objective. Through three degree programs, Lions Leaders will enhance their knowledge and skills to better serve their community. Click on the link above to find out how to earn your Bachelor of Lions Degree. Masters of Lions Degree or Doctorate of Lions Degree.
President & Secretary Training:
Lions University Courses (absolutely free) and some of the advanced leadership courses which the district is planning. To get the material, connect to the internet, and travel to LCI.
From the LCI Main Page select:
Member Center >
Resources >
Leadership Resource Center >
Training Materials / Resources >
That will take you into the "Independent Study Presentations" page.
(Or use this link to take you there)
Halfway down the page under "Club Officer Individual Training" title,
Click and download:
Club President Module And Club President Workbook
There are also Club Secretary and Club Treasurer modules that can be downloaded

.
Head over to the LCI webpage for webinars on many interesting topics!
CLICK ON UNDERLINED NAME TO ACCESS
FREE WEBSITE FOR YOUR CLUB
e-clubhouse.org
LCI provides Lions the ability to develop a professional looking website free of charge. The sites are very easy to use and feature five sections; a home page, calendar, projects, photo gallery and a contact page. Five additional pages can also be added to promote events and other newsworthy items. The site also has many helpful links to the Lions Online Learning Center, the LCI site and several social networking tools. And best of all – it's FREE!
Just go to
http://e-clubhouse.org/
and click on "Getting Started". Then complete the e-Clubhouse
application. Once approved you will receive an email with your login and instructions for updating your website. There is also an online
User Guide
to help.
Florida Lions District 35-O is on Facebook
.
You must like our new page if you want to get updated postings. To "Like" our page click on the "LIKE" box at the top of our facebook page just to the right of "Florida Lions District 35-O". This is where we post our Pictures.
A N N O U N C E M E N T S
Youth Need Service Hours!
NEW MEMBER KITS FROM LCI – ORDERING & OTHER CHANGES
The new member kits can no longer be ordered online through the LCI Store website. The website now states to call the LCI store to place your order. Club Supplies Sales Department (Lions Store): 630-571-5466 x440 or Toll Free: 1-800-710-7822 Monday - Friday 8:00AM to 4:30PM CST (Closed Holidays). Each kit now has an individual blank membership card, but no longer has the new member manual. This was done to save on shipping. The manual is available on the LCI website at this link: Form NM9.
INVOLVE A U.S. VETERAN PROGRAM
Ask now! The program is still available to the first 5,000 certified U.S. veterans. Qualifying veterans receive an entrance or charter fee waiver when joining a Lions club. Eligible veterans include retired U.S. military personnel (i.e. Air Force, Army, Coast Guard Services, Marines, National Guard, Navy or Reserves) or those honorably-discharged from these services. Eligible persons may still be enlisted in the National Guard or Reserves. Veterans can be certified by completion of the Involve a U.S. Veteran Program Certification Form.
TOGETHER WE CAN GROW Website
While service is at the core of what every Lion does, being a Lion is also about leading your club, growing your club, and developing valuable skills that can help strengthen your club. The stronger your club is, the bigger of an impact you can make in your local and global communities. Check out the information available about club growth at this website!
GUARDIAN AD LITEM PROGRAM IS IN NEED OF BOOKS
Fellow Lions, The Guardian Ad Litem program is in need of books for all school children. The books will go to children in the program. These children are presently in foster care due to neglect, abuse etc. Many are behind in school because of their problems. If your Lions Club or any organization you may be involved in is concerned about illiteracy, please contact your local library. All the libraries put their older books up for sale. Sometimes it is ongoing and sometimes they have special sales. The books are good and usually sell for .25 per book. The Guardian Ad Litem program in Volusia County is a 501c3 for anyone needing to know. Lion Ray "Rocky" Siracusa PCC and myself are heavily involved in this project and can give you any more details.
Thanks,
Lion Wendy Wilson
386.738.1020
FLORIDA LIONS FOUNDATION WEBSITE
Announcing a fresh new look at the Florida Lions Foundation For The Blind website. Among the many new features is the availability of fillable Eligibility Application and Projects form. The Foundation is also on Facebook. Those Lions with a facebook account can find them
HERE
. (posted Feb 7)
Important Update from Lion Ed Werner (Lockhart Lions Club)
(Lockhart Lions Club), Effective September 2014, One Blood Inc no longer tracks individual accounts. The Lions Blood Bank along with thousands of other accounts are lumped into one. Now, when donating blood, you are giving it to your community. Please keep individual records and have your club post the donations on your Service Activity Reports. What happens to the over 300 pints of blood that were donated to the previous Lions Group A 32? The 300+ pints of blood will be in the One Blood account. Please understand that we always carried between 200-300+ pints available. But remember blood does not keep indefinitely. It's only a paper figure of a snap shot in time. Blood expires! If a Lion or a Lions family member who is not a donor needs blood is it still available to them? Anyone including Lions and their families can receive blood. Everyone would have use of it. You only pay the processing fee. This is not new. There was always a processing fee and that continues. One Blood Inc covers most of Florida and parts of Alabama and Georgia. Other parts of Florida are covered by other Blood Banks. Are any counties in District 35-O NOT covered by One Blood? The only counties in District 35-O not covered by One Blood are western counties. They have their own Blood Banks. One Blood covers 50 counties in Florida. For information concerning mobile and permanent locations or if you wish to sponsor a Blood Drive in your community go online to: www.oneblood.org or call 407-248-5472 I have enjoyed serving as Chairman of the Lions Blood Bank for the past 37 years and I thank all the Lions who have participated in the Blood program and hope you will continue to give the gift of life. If you require any assistance, you can call me, Lion Ed Werner, at 407-920-5401 or eMail; ed247@aol.com.

!!! ARE YOU A TISSUE DONOR? www.DonateLifeFlorida.org
This online registry verifies your donor status and makes the exact wishes of registered donors more accessible and current for organ, tissue and eye recovery organizations. (posted December 1)

ARE YOUR LIONS CLUB AND FOUNDATION PROTECTED?
Although most clubs feel their assets are secure, member theft can and does occur. Dishonesty Bonds, also called Crime/Fidelity Bonds, are a form of insurance protection that covers the policyholders for losses that they incur as a result of fraudulent acts by specified individuals. They usually insure an entity (Club/Foundation) for losses caused by the dishonest acts (such as theft) of its members. These insurance policies protect from losses of Club/Foundation monies, securities, and other property.
Policies are available through insurance agencies and are typically written for 1 or 3 years with discounted rates for a multi-year policy. If you have both a club and a foundation, make sure both are named on the policy or take out a separate policy for each. Also your Board of Directors should decide on the amount of the coverage needed to protect the assets of your organization(s). Rates may typically run about $250 for a 3 year policy with $10,000 coverage. Ask your insurance agent to provide you with a quote.
Also, LCI has arranged for a program of supplemental insurance coverage in which Lions Clubs, Districts and other authorized Lions organizations in the United States may apply to purchase certain coverage at discounted rates. Coverage is underwritten by Philadelphia Insurance and QBE Insurance.
STATUTES ON BACKGROUND CHECKS FOR HEALTH SCREENINGS
Provided by Lion Dr. Howard Freeman, MD35 Sight Chairperson
If volunteers don't spend more than 10 hours a month in child care centers, they do not need background checks. (posted December 1)
LIONS COMMEMORATIVE COIN BILL NOW LAW
The "Lions Clubs International Century of Service Commemorative Coin Act" was signed into law on Oct. 5, 2012, providing a worthy tribute to the millions of Lions who have served their communities during the last 100 years. The $1 coin will be available in 2017 to celebrate LCI's 100th anniversary. A surcharge of $10 for every commemorative coin sold will be donated to LCIF.
COIN WAITING LIST: Now that the legislation is passed and signed into law, please add your name to the waiting list using this link on the LCI website. (posted October 30)
Places To Visit