The Reading Action Program
The Tree Planting Campaign
The Reading Action Program (RAP)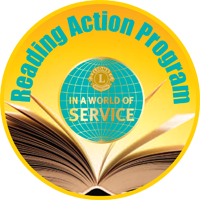 So Lions, are you ready to expand our impact by jumping on board the Reading Action Program?
There are many ways Lions can help in their respective communities.
Consider the following:
• Developing after school reading programs
• Reading to children at local libraries
• Contacting your local school and asking how you can help
• Donating books and/or computers to your local school or library
• Volunteering as tutors through a local school
• Working with local literacy experts and agencies
• Working to promote Braille literacy
Or, perhaps your club can come up with its own program. However you choose to approach the problem of illiteracy, be pro-active, not reactive!

Click the link(s) below to access Literacy Stories from around District 412.
SOUTHERN LEO CLUB GETS RAP OFF THE GROUND

Tree Planting in District 412
The District participated in the Global effort to plant one million trees in 2011 – 2012. The target for District 412 was to plant just 500 trees throughout the District! The total number of trees planted by the end of the Lionistic year was 14172 trees. The breakdown of participants is shown below;
| | |
| --- | --- |
| Lions Club Name | Number of Trees Planted |
| Lions Club of Bwaila | 1000 |
| Lions Club of Kasungu | 1000 |
| Lions Club of Mangochi | 1000 |
| Lions Club of Salima | 700 |
| Lions Club of Harare West | 310 |
| Lions Club of Mzuzu | 400 |
| Lions Club of Gaberone | 250 |
| Lions Club of Rusape | 200 |
| Lions Club of Sebakwe | 136 |
| Indian Women's League | 100 |
| Lions Club of Redcliff | 58 |
| Lions Club of Chiredzi | 45 |
| Lions Club of Kadoma | 20 |
| Lions Club of Mutare | 20 |
| Trust Academy Leos | 20 |
| Lions Club of Nyanga | 100 |
| Lions Club of Lilongwe | 2500 |
| Lions Club of Capital City | 5000 |
| Lions Club of Karoi | 200 |
| Lions Club of Zvishavane | 280 |
| Lions Club of Kwekwe | 103 |
| Lions Club of Molepolole | 10 |
| Gun Hill Leo Club | 580 |
| Francistown Nyangabwe | 100 |
| TOTAL | 14172 |