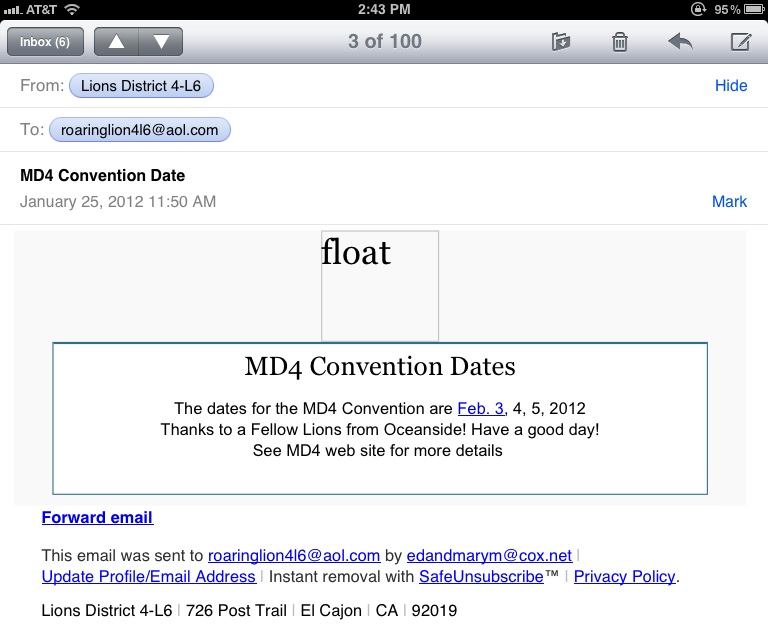 Lions Clubs International
Multiple District Four
Lions District 4-L6
San Diego & Imperial Counties, California
---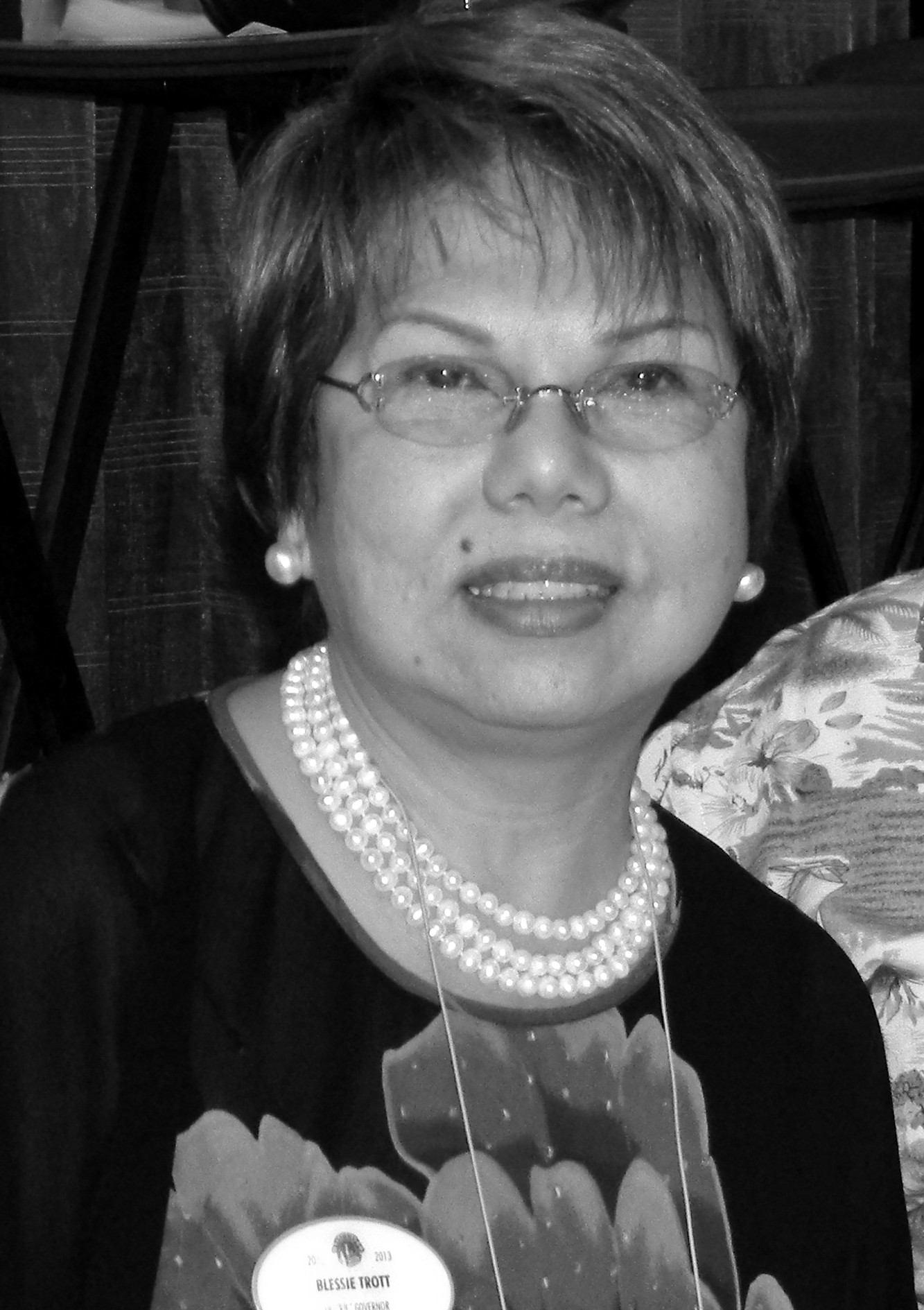 A Note of Gratitude to all the Delegates and
Attendees to the 71st Annual
District 4-L6 Convention
Congratulations to District Governor-Elect Napoleon White and the new members of his cabinet for Lion Year 2013-2014.
It was indeed heartwarming to see a record number of attendees to the 71st Annual District 4-L6 Convention. I would like to thank the Presidents of the Lions Clubs in our district for encouraging their delegates to attend and particiapte in the various convention events.
I recieved from all our visiting dignitaries, very inspiring comments and words of gratitude for the warm hospitality that our district has shown them.
International Director Stephen Glass and his lovely wife Cindy shared their heartwarming impressions about District 4-L6 and how they enjoyed the Friday Fellowship Night and the Saturday Gala Night. He said "this is one of the best District Conventions that we ever attended."
It was your presence and support that made all the difference.
DG Blessie S. Trott
---
District 4-L6 Student Speaker Going to MD4 Finals
Aaron Dykstra, sponsored by the La Mesa Lions Club, finished first last Saturday at the Area Student Speaker Contest held in Brea, CA. He will compete in the MD4 Finals on June 1, 2013 in Torrance, CA. The Student Speaker contest will be held at 2:00 PM during the Council of Governors Meeting at the Torrance Marriott South Bay located at 3635 Fashion Way - Torrance, CA 90503
---
District 4-L6 Top District in California
The "Spirit of Aloha" and the spirit of the late Kay K. Fukushima, Past International President (2002-2003) pervaded the Double Tree by Hilton in Sacramento as more than 600 Lions and guests gathered for the 94th Annual Multiple District Four Convention on February 9-10, 2013. The event was highlighted by the presence of PIP Sid L. Scruggs III and Lion Judy Scruggs, who were the guests of honor at the International Presidents Luncheon.
At the beginning of the first business session, Elizabeth Crooke, Council Chair introduced the Councils and PID Robert "Bob" Smith presented a report from Lions Clubs International. It was at this time when the delegation from District 4L6 rose and applauded the announcement that District 4L6 is the Number One District in Multiple District 4. District Governor Blesila S. Trott, smilingly stood up to receive the crystal plaque and to acknowledge the warm applause.
---
El Cajon Valley Lions Eyeglass Program

featured in Union/Tribune
---
2013 Melvin Jones Fellow Luncheon
The 2013 Melvin Jones Fellow Luncheon was held on Saturday, February 16, at the Pearl restaurant in Rancho Bernardo. Over 70 Lions attended, including District Governor Blessie Trott, Past International Director Bill Crawford, Past Council Chair Bill Dunlevy and his wife Margaret, Past Council Chair Roger Powell and his wife Judy. The event was co-hosted by District 4-L6 LCIF Coordinator Dave Roberts and Immediate Past District Governor Brad Weeks.
The following Lions were awarded Melvin Jones Fellows and now are part of the 818 District 4-L6 Lions who are also Melvin Jones Fellows:
1. Donna "Sunshine" Smith (Encinitas)
2. Peter Erwin (Heartland)
3. Henry McAdams (LaMesa)
4. Randy Rynearson (West Shores)
The following Lions were awarded their Progressive Melvin Jones Fellows and now are part of the 86 District 4-L6 Lions who are also Melvin Jones Fellows:
1. Betty Jean Dye (Rancho Bernardo)
2. Napoleon White – 2 Diamond (San Diego Majestic)
3. Dave Roberts – 2 Diamond (Del Sol)
4. Blessie Trott – 5 Diamond (Escondido Host)
To be a Melvin Jones Fellow, $1,000 must be donated to Lions Clubs International Foundation. Additional $1,000 donations earn Progressive Melvin Jones Fellow awards, with a total of 100 levels of awards. Please contact LCIF Coordinator Dave Roberts at dave@daveroberts.org if you have questions on the Melvin Jones Fellow program.
District 4-L6 has decided to host an auction of Melvin Jones Fellow and Progressive Melvin Jones Fellow awards. Any District 4-L6 Lion in good standing may submit up to ONE bid to Lion Dave Roberts at dave@daveroberts.org. Bids must be at least $600. The higher you bid, the better your chance to win an award. The Lions bidding the highest amount will be awarded Melvin Jones Fellows or Progressive Melvin Jones Fellow awards until the award fund is used up. Awards will be announced at the District 40-L6 convention in May. This is a great way to secure a Melvin Jones or Progressive Melvin Jones award for less than $1,000. Good luck!
Dave Roberts
North West Region Chair (2012 – 2013)
District 4-L6 LCIF Coordinator (2012 – 2015)
---
District 4-L6 Officers
LY 2013-2014
District Governor
Napoleon White - San Diego Majestic Lions Club
1st Vice District Governor
Mary Rynearson - West Shores Lions Club
2nd Vice District Governor
John Ruiz - San Diego North County Lions Club

---
Lions Clubs International Century of Service Commemorative Coin Act signed into law
In recognition of our 100th Anniversary in 2017, LCI led efforts to have 400,000 silver dollar commemorative coins minted by the U.S. Treasury. Sales of the coins will raise millions to support our global mission areas for the visually impaired, disabled, youth and those affected by disaster. Lions from all over the globe are exploring similar commemorative campaigns locally.
Through the hard work and grassroots advocacy of many Lions, the "Lions Clubs International Century of Service Commemorative Coin Act," S. 1299/H.R. 2139 achieved 295 sponsors and co-sponsors in the U.S. House of Representatives and 70 sponsors and co-sponsors in the U.S. Senate before its passage by Congress. President Barack Obama signed the Lions Clubs International Century of Service Commemorative Coin Act into law on October 5, 2012.

---
Lions Clubs International

Vision Statement
To be the global leader in community and humanitarian service.
Mission Statement
To empower volunteers to serve their communities, meet humanitarian needs, encourage peace and promote international understanding through Lions clubs.
---
Lions International Purposes
To Organize, charter and supervise service clubs to be known as Lions clubs.
To Coordinate the activities and standardize the administration of Lions clubs.
To Create and foster a spirit of understanding among the peoples of the world.
To Promote the principles of good government and good citizenship.
To Take an active interest in the civic, cultural, social and moral welfare of the community.
To Unite the clubs in the bonds of friendship, good fellowship and mutual understanding.
To Provide a forum for the open discussion of all matters of public interest; provided, however, that partisan politics and sectarian religion shall not be debated by club members.
To Encourage service-minded people to serve their community without personal financial reward, and to encourage efficiency and promote high ethical standards in commerce, industry, professions, public works and private endeavors.
Lions Code of Ethics
To Show my faith in the worthiness of my vocation by industrious application to the end that I may merit a reputation for quality of service.
To Seek success and to demand all fair remuneration or profit as my just due, but to accept no profit or success at the price of my own self-respect lost because of unfair advantage taken or because of questionable acts on my part.
To Remember that in building up my business it is not necessary to tear down another's; to be loyal to my clients or customers and true to myself.
Whenever a doubt arises as to the right or ethics of my position or action towards others, to resolve such doubt against myself.
To Hold friendship as an end and not a means. To hold that true friendship exists not on account of the service performed by one to another, but that true friendship demands nothing but accepts service in the spirit in which it is given.
Always to bear in mind my obligations as a citizen to my nation, my state, and my community, and to give them my unswerving loyalty in word, act, and deed. To give them freely of my time, labor and means.
To Aid others by giving my sympathy to those in distress, my aid to the weak, and my substance to the needy.
To Be Careful with my criticism and liberal with my praise; to build up and not destroy.
---

FOR THE RECORD - As of June 30, 2012, Lions Clubs International had 1,347,454 members in 46,318 clubs and 753 districts in 208 countries and geographic areas. There were 332,965 MJF recepients and 61,872 PMJF recipients. (Lion Magazine, April 2012)
---
Read the latest issue of The Roaring Lion
October 2012 - Roaring Lion PP 1-4
October 2012 - Roaring Lion PP 5-8

October 2012 - Roaring Lion PP 9-12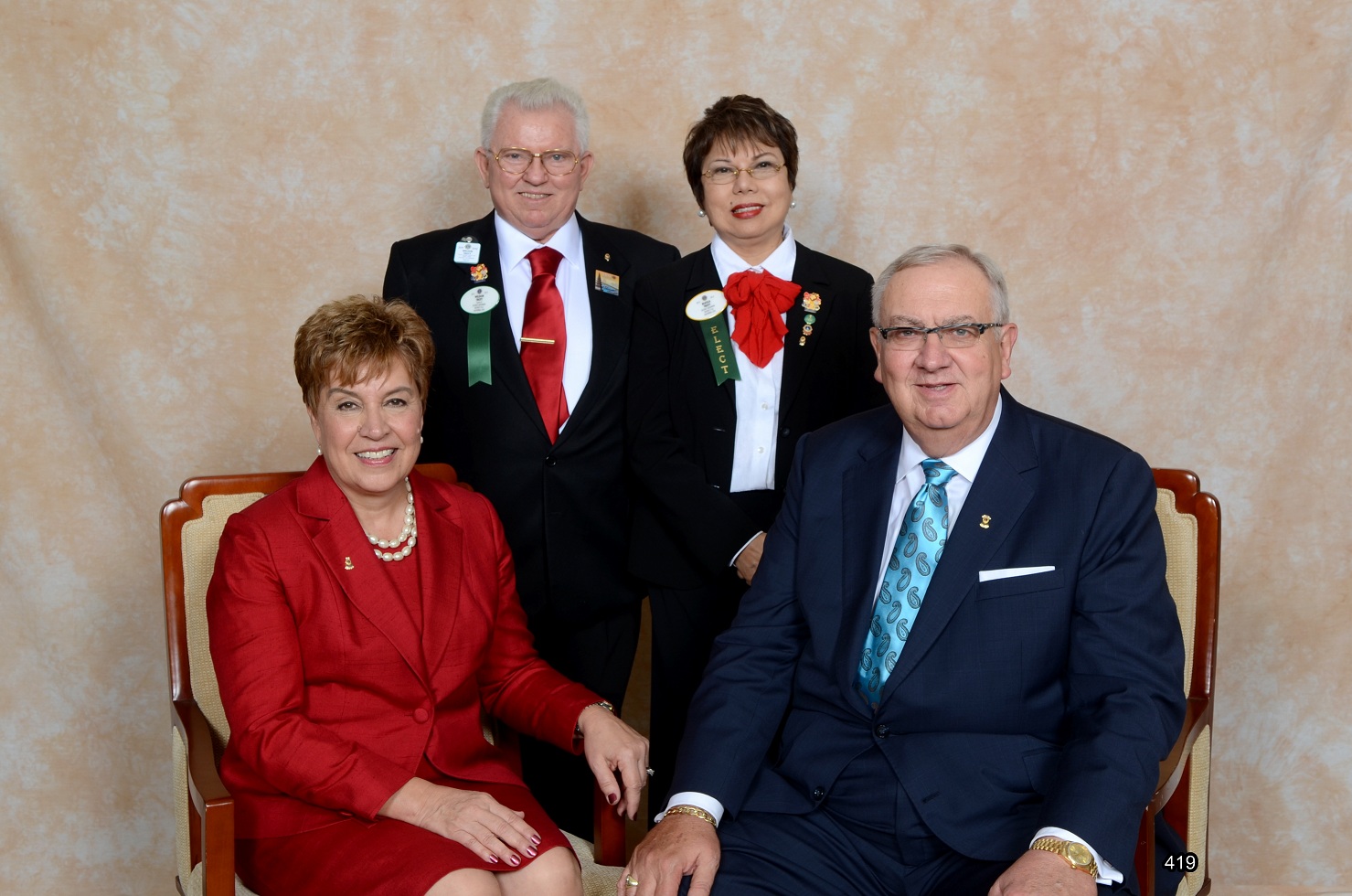 DG Blessie Trott and her husband Weldon with International President Wayne Madden and his wife Lion Linda (seating) at the Lions Convention in Busan, Korea
---
Join the Lions
Clubs are always looking for men and women who want to serve their community, while enjoying fun and fellowship with friends.
We can arrange a visit to a club near your home or work. E-mail the Website Administrator and we will connect you with the club of your choice.
Find out more about what Lions do. Read the publication I Am a Lion and also Lions Make a Difference.
Clubs, E-mail the Webmaster to post your upcoming
activities and/or Newsletters

ERRORS AND/OR OMISSIONS ARE NOT INTENTIONAL,

PLEASE EMAIL WEBMASTER FOR CORRECTIONS, COMMENTS OR SUGGESTIONS
Lions are an international network of 1.3 million men and women in 205 countries and geographic areas who work together to answer the needs that challenge communities around the world.