---
OCTOBER 2017
From Gov. Rick Calhoun
Jennifer Rice has said: "If each of us chooses to take ownership of our small section of the vast social fabric that ties us all together, to tighten it up and halt the unraveling not just with technology, but with our own authentic goodness..our society can be irrevocably changed for the better."
Another person has urged us to have compassion for everyone we meet even if they don't want it. We do not know what wars are going on down there where the spirit meets the bone.
The Lions of 6 SE are doing some amazing things to change our world for the better. Thanks to all of the clubs who have already made a donation to LCIF for disaster relief. Thanks in advance to you who still will make such a gift.
I have been traveling across the district and I'm so pleased with all that is going on. We have some amazing clubs and lions in 6 SE. Please continue to work hard and make life better and easier.
Hats off to Pueblo Charter Club. They have screened over 1200 children since August. Please share your clubs news with us on this face page.
September, 2017
Hello Lions of 6 SE,
After Labor Day many of our clubs will be getting back to regular schedules. I look forward to visiting with you all. Thanks for everything you do to make your communities better places.
Just now we are all watching the Hurricane Harvey News from Texas. So far thirty five thousand persons are in rescue shelters. One hundred thousand homes have been damaged or destroyed. Tragically there has been loss of life. I know the Lions of Texas are busy helping their neighbors. I would like to encourage every club in our district to make a donation to LCIF tagged Hurricane Harvey Relief. Everything helps. Please take a special offering, go to your Board of Directors, visit with other Lions. We need to step up and help our neighbors in Texas.
This month I will visit Olney Springs on Sept 7th. Cotopaxi on Sept. 18th, and Nob Hill on the 26th. I would like to schedule at least two more visits for Sept. If you are interested in having me visit your club please call.
Looking ahead: Our second cabinet meeting will be Oct. 28th, 2017. We will meet at the Colorado Lions Camp. The meeting will begin at 9:30. I encourage committee chairs to submit a written report. If you would like to make a verbal report let me know so I can get you on the agenda. I would like to keep all reports to five minutes.
Happy Fall. See you around the district.
Rick Calhoun, Dist. Gov.
---
Hello Lions of 6 SE,
I am just concluding my first month as your District Governor. Five clubs have invited me to visit with them this month. I will induct six new members and receive two transfer members. I believe Lions is among the best kept secrets in the universe. Let's serve and invite others to serve with us.
If you have an event you would like me to attend, please let me know. I will do my level best to accommodate your wishes. And if I don't hear from you, I will be calling your president or secretary for a meeting date.
Congratulations to Avondale Vineland Lions Club. They just presented 100 back packs full of school supplies to be used by foster children in Pueblo County. I know lots of good things are happening in all our clubs. Please report them to LCI and to the District.
Our first Cabinet Meeting is Sat. Aug. 12. The meeting will begin at 9:30 and is hosted by the Colorado City Rye Lions Club. I promise you this will not be just another business meeting. Please send a representative from your club. The site is the Community Church in Colorado City. It is on the right side of the highway as you enter the community.
Keep up the good work. I'm proud of you all.
Your District Gov. Rick Calhoun

---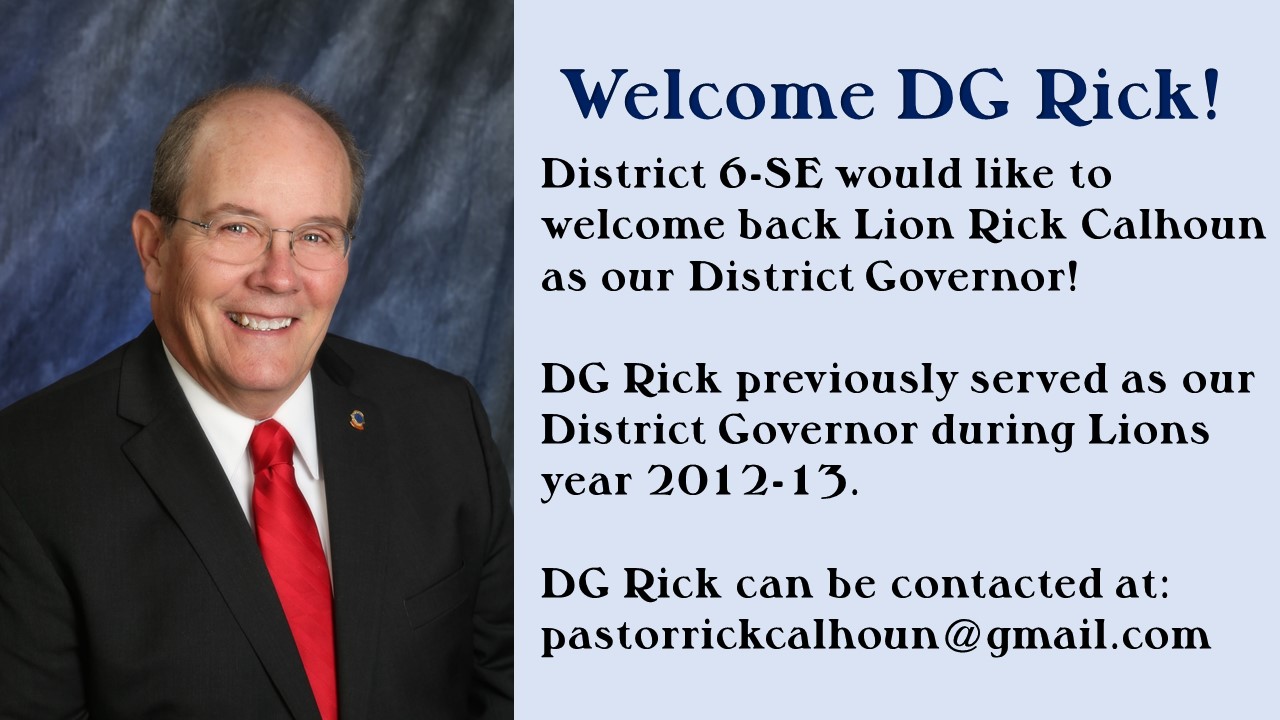 ---

---

News from Cathy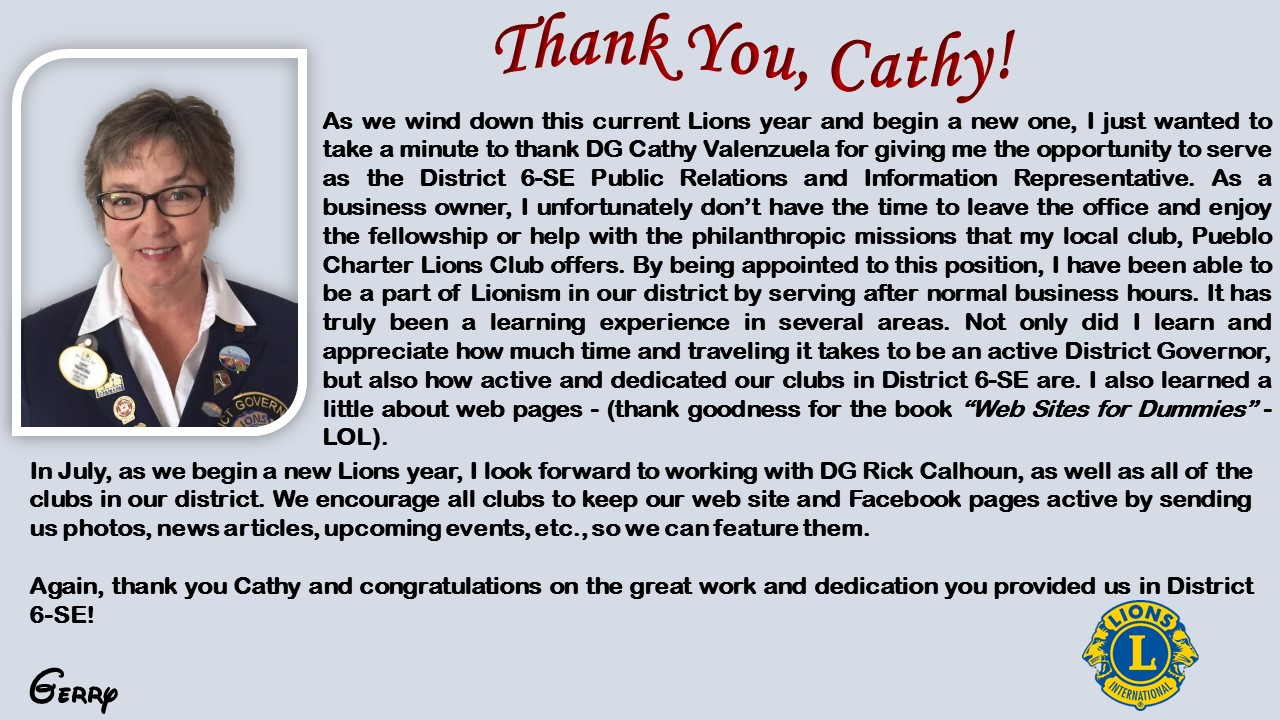 ---
June, 2017
What a bittersweet time of year! The season of celebrating Mothers, Fathers, graduations and weddings, and of course, the changing of the guard of our Lions leadership in clubs, districts, states, and internationally.
Thanks to all of you for the wonderful year I've had serving the Lions of 6SE, while constantly learning about all for the reasons we should be proud to be Lions. We serve in so many ways, in so many styles, and I'm thankful for the education I've received about our LCIF efforts, our small town contributions, our large scale projects to eradicate blindness and hunger, and the willingness to serve in each of you.
My hope is that this year has renewed your enthusiasm, too, and that more new Lions are taking roles in your clubs and our districts than ever before. I know there are more new Lions out there than we've had in many years, and my heartiest congratulations to each Lion who has spread the word about how awesome our association is!
All the clubs in our district have been visited at least once, with many reporting increased interest for Lions work in their communities. We spread the word about celebrating the centennial by encouraging small acts of service each month, giving all cabinet meeting attendees a Centennial car sticker, handing out MD6 Centennial State bandannas to our 4th cabinet meeting celebrants, giving Centennial coins to 5 award recipients, etc.
Our district website was expanded this year, including photos from all the club visits and projects, calendar updates monthly, links to our state and international projects, a memorial page, and more. Our webmaster was also extremely active on Facebook with encouragement, news, and fun to keep our Lions actively participating.
We are currently encouraging club officer reporting, and online training of new club officers. June will have time for working with individuals on training needs, especially club secretaries.
I am very proud of the work our council has done to move the state forward as well. We have a better understanding of tax reporting responsibilities, and had an audit conducted for the first time in many years. Our policy manual update is the first step to making information more clear, and more accessible. More fine-tuning awaits the next council!
I am also very hopeful our consolidated convention led to better education, more fellowship, and an increased pride in the work of the Lions of Colorado. I know the 225+ attendees certainly had fun, whether at the fantastic concert by Minor Key Trio +1, or with the hilarious night of magic and humor by Brad Montgomery on Saturday evening. And who couldn't help but be inspired by PIP Joe Preston's singing, with us, his theme song "Strengthen the Pride'?! What a terrific time!
Best wishes to all of next year's cabinet and council members, committee chairman and board officials. I, for one, will be here to support you any way that I can. And I look forward to continuing to serve the people of Colorado as a member of the largest volunteer service organization in the world. SERVICE. EVERYWHERE. EVERYDAY.
Yours truly,
DG Cathy Valenzuela, 6SE
---
May, 2017
My fellow Lions,

I am so pleased to have served you as our District Governor this year. And you have shared your spirit of service with others to the tune of 21 net new Lions as of today! Thank you for all you do.

I look forward to seeing many of you in Greenwood Village at our District/State convention on May 19th and 20th - what a great Centennial Celebration we'll have!

But the year is not over yet; we have time to do new club officer training in June so please let me know what you and your officers would like to have happen. We can come to you, walk you through reporting over the phone, send you links to resources, etc.

Have a great spring and remember Service. Everywhere. Everyday.

DG Cathy
---
April, 2017
Dear Lions of 6SE,
We have three more months in this Lions year, and I hope you will all join me in opportunities for celebration, learning and fun!
First up is our final Cabinet Meeting, which will also be our District Awards luncheon and Youth Speech Contest. We will pay tribute to the Lions Clubs International April theme of Environment with a talk on water and sustainability from our own La Junta Lion Joe Kelley, a presentation on district history from our two Centennial clubs- Pueblo Charter and Colorado Springs Downtown, and youth representatives from all over the district. Please plan on joining us for the great food, fellowship and door prizes on April 22nd at 10AM in the historic Goodpasture Barn, 7970 Hwy 78, Beulah. Club secretaries, will you please give us an estimate of how many members will attend so we have enough food for the FREE lunch? Thank you.
In May we have our consolidated District/State Convention at the Doubletree Hotel in the Denver Tech Center. Our district nominations and voting will take place on Friday morning May 19th, with service projects, inspirational speakers, breakout education sessions and state reports to follow all the way through May 20th. Our fantastic international guest is Past International President Joe Preston from Arizona. He'll be speaking at lunch on Saturday.
Please remember it is your duty and honor to send delegates to the convention for voting on important issues such as our district dues increase. If cost is an issue, I hope your club will consider paying at least a portion of the registration and food costs for your delegates to attend. I know clubs that pay up to $100 per person so that interested Lions may attend the convention. Your delegates will return with new knowledge, fun ideas, and information about state projects. It is an investment in the future of YOUR club.
We will spend June focused on training of new (and old!) club officers. Many clubs are behind on reporting membership, activities, centennial projects, etc. We'll be contacting each club to see how we can help, whether it is bringing information to you or as simple as sending a link to resources for new officers.
And my last request to you: Please help our district BEAT the other three districts in our Hunger project at the state convention! We want to build a fantastic canned food sculpture of a Lion to win the canned food display contest and win a prize (plus bragging rights!) We ask that you buy as many cans of Hunt's Manwich Sauce as you can find and either bring them to the April 22nd event, or the May convention. If you want to help, but no one from your club is coming to either function, let me know and we'll pick up your cans.
Thank you for all the amazing things you do in your communities. Service. Everywhere. Everyday.
Cathy
719-252-0297
---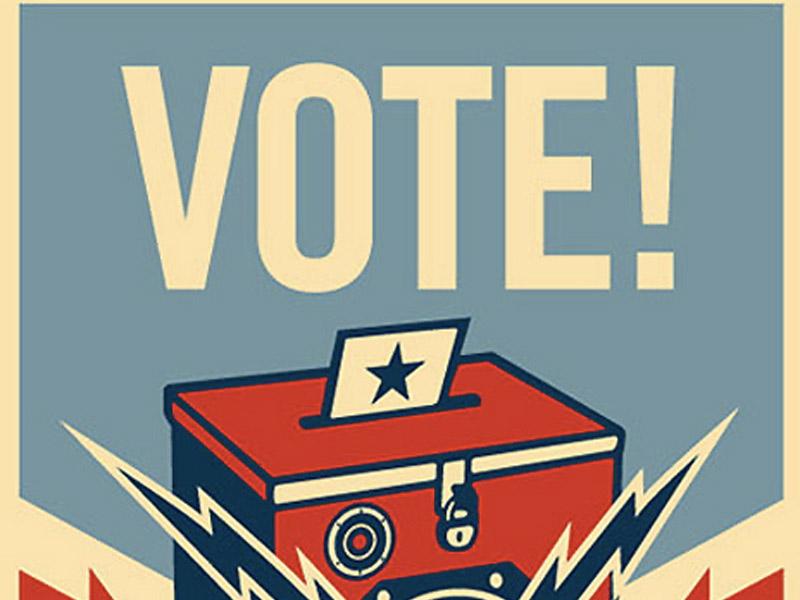 Our voting for 6SE at the District/State Convention will be on the following items:
District Governor - Rick Calhoun from Pueblo Charter
1st Vice District Governor - Sharon Agun From Calhan
2nd Vice District Governor - OPEN
Colorado Lions Camp Board - Dave Prejean from El Paso County-Tri Lakes
Rocky Mountain Lions Eye Institute Foundation - OPEN
Proposal for a District dues increase - Currently $7.00 per member per year, increase to $10.00 per member per year.
RMLEIF board meetings are usually held bimonthly beginning in July, on the 2nd Saturday. Kidsight board meetings are held quarterly. Colorado Lions Camp board also meets quarterly. Please let me know if you have any interest in any of these positions, and I'll be happy to talk with you about them. Also, please encourage any Lions in your clubs you may be willing to serve to give me a call or send me an email with an intent to run. You must notify me before April 18th to be on the ballot.
The dues increase proposal was approved at our cabinet meeting in January. District 6SE dues have not been increased in many years. Our district leadership feels an increase is necessary in order to provide an adequate budget for district training programs, mileage and materials. In order for all Lions to have a chance to serve our district, we need to make sure leadership positions don't costs Lions money out of their own pockets. Please call or email me with the feedback from your clubs, and any thoughts you may have, so that we can address concerns and answer questions. Again, this is only a $3 increase per year per member, something I think all of us can absorb with no trouble.
All of the open positions and questions on our ballot need inout from each of us, and all of our club members. PLEASE plan to attend our convention so that all voices can be heard. Our district voting will take place on Friday morning, May 19th at the Doubletree Hotel in Greenwood Village. This will be a GREAT convention and I hope to see you all there.
Cathy Valenzuela

---
March News
Two fabulous events coming up, our District Centennial Celebration on April 22nd, which will include a brief cabinet meeting along with our district Speech Contest, awards, door prizes, discussion of the Lions Environmental Service Challenge and LUNCH!
And our State/District Convention on May 19th and 20th. Please take a look at everything that will be included and make plans to attend both events now!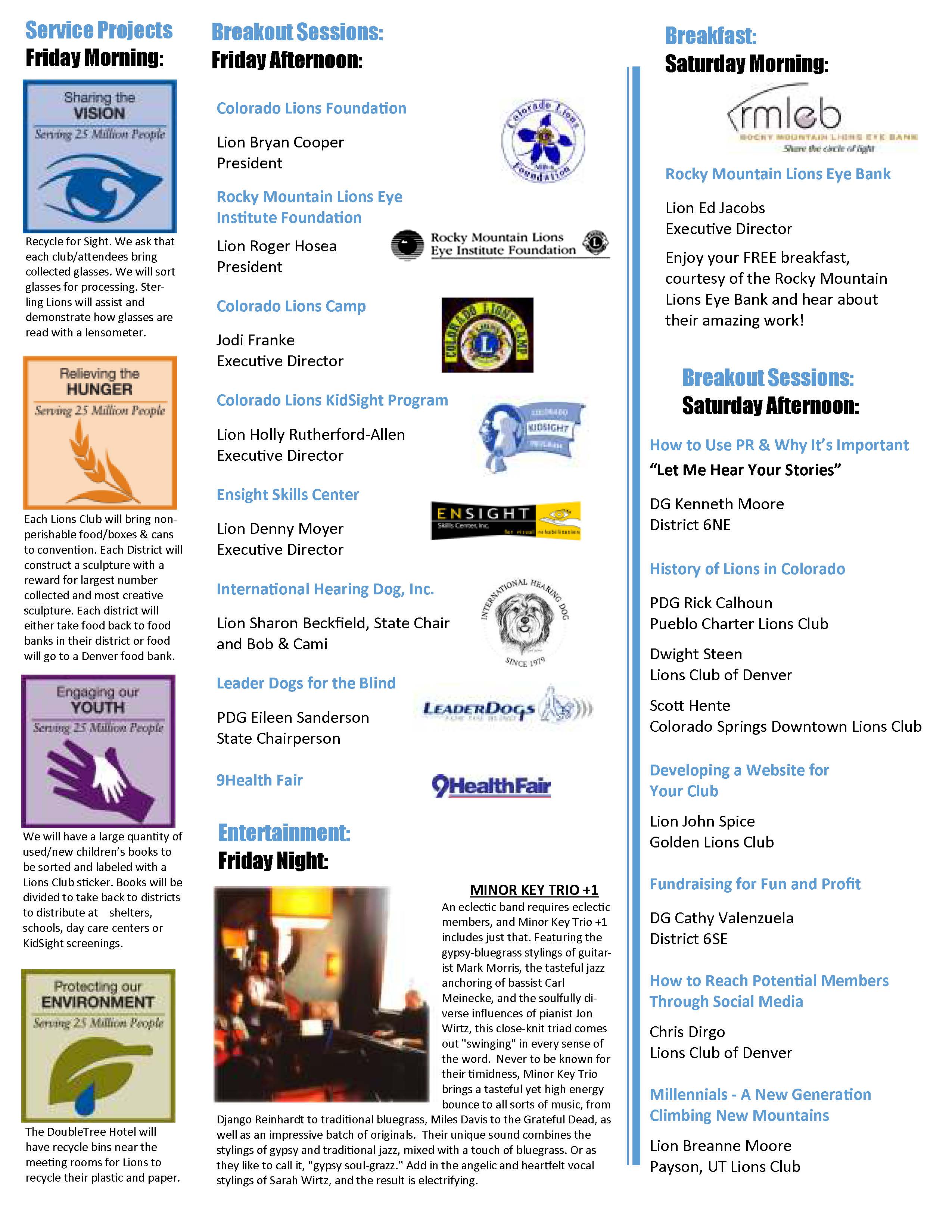 ---

---
February News
Our district has continued moving forward in solidifying our leadership team. As you know, we recently had turnover in our 1st VDG and I'm am pleased to say that we met to appoint PDG RIck Calhoun to the position this past Saturday. His experience and enthusiasm for Lions will be a great asset to the district and to those he mentors.
We have also have great news from GMT Monty Whitney. Monty has been a part of chartering 7 new clubs in 6SE, and we look forward to having a new club in place in the next few months, with plans for several more. Please see our special announcement on this page.
PDG Eileen Sanderson has also volunteered to be a member of the Long Range Planning Committee, so we look forward to hearing about goals and action steps our districts can take both in the short and long term.
There are three clubs still to visit for the DG team, and those are scheduled to take place soon. That leaves plenty of time for mentoring of our new leaders, as well as revisiting with some clubs to seek out new zone chairs, 2nd VDGs, committee participants, etc. We will also be delivering membership award letters and chevrons to clubs this spring.
Though the recent January dues statements led to a drop in members, we expect to continue adding new Lions for the remainder of the year. Cheers to the following clubs which added members during the last reporting term: Avondale-Vineland added 3, Calhan added 3, Canon City Noon added 7, Colorado Springs Downtown added 1, Security added 6, T-Gap added 1, Tri-Lakes added 5, Florence added 2, Lamar added 3, Las Animas added 1, Pueblo added 1, Rocky Ford added 2, SPringfield added 1, and Woodland Park-Pikes Peak added 1. Not shown on reporting yet, but I've heard that Flagler just added 6! Congratulations to all.
Thank you.
Respectfully submitted,
DG Cathy Valenzuela
---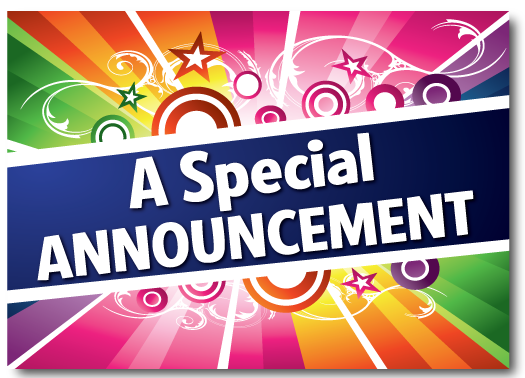 District 6SE GMT team along with Tri-Lakes Lions Club has begun organizing the first new Lions Club in Briargate. The Tri-Lakes Lions Club will be the sponsoring club and provide guiding Lions. All Lions in 6SE are asked to help with this exciting endeavor. If you have contacts or are aware of potential candidates, please forward the information to GMT Chair PDG Monty Whitney – 719-347-2368- mbwhitney@skybeam.com or Lion Dave Prejean - 719-434-7031 – dprejean@farmersagent.com. We have commitments from two Past Council Chairs. If you would like training on the district's canvassing and recruiting process, contact PDG Monty. A kickoff meeting will be scheduled soon. Stay tuned.
---
Joyous and heartfelt greetings to each of you.
On this cusp of a new year, a new century, a new opportunity to serve, I wish each of you the grace and energy to make an even greater difference in your communities. In this New Year, let's make a promise to ourselves. A promise to be more thoughtful human beings, less judgemental of others, and most importantly a better citizen for our country through our Lions service.
I hope you plan to celebrate Lions in all that your club does this year; don't forget to challenge each other to use '100' as a goal for serving others each month. And remind yourselves to be proud of what the Lions have accomplished across the globe. You are part of the greatest service organization in the world!
Thank you for all that you do.
Happy New Year!
Cathy
---

December Message
I hope you all had a very nice Thanksgiving, filled with food, fun and laughter. In this December season of wonder and praise, I find this prayer even more meaningful in its call to peace and acts of service:
"Be generous in prosperity, and thankful in adversity.
Be fair in thy judgment, and guarded in thy speech.
Be a lamp unto those who walk in darkness, and a home to the stranger.
Be eyes to the blind, and a guiding light unto the feet of the erring.
Be a breath of life to the body of humankind, a dew to the soil of the human heart, and a fruit upon the tree of humility."
As Lions, we are leaders. We have served and accomplished so much in the last 100 years. Now we are on the cusp of leading service in the next century of Lions. I'm excited to see what our International Headquarters is creating for us to move forward. This is a wonderful video to help us all build excitement about our next steps as an organization: https://www.youtube.com/watch?v=MIP4UnAmEgg
Wishing you joy and a Merry Christmas,
Cathy
---
2016 Peace Poster Contest Winners!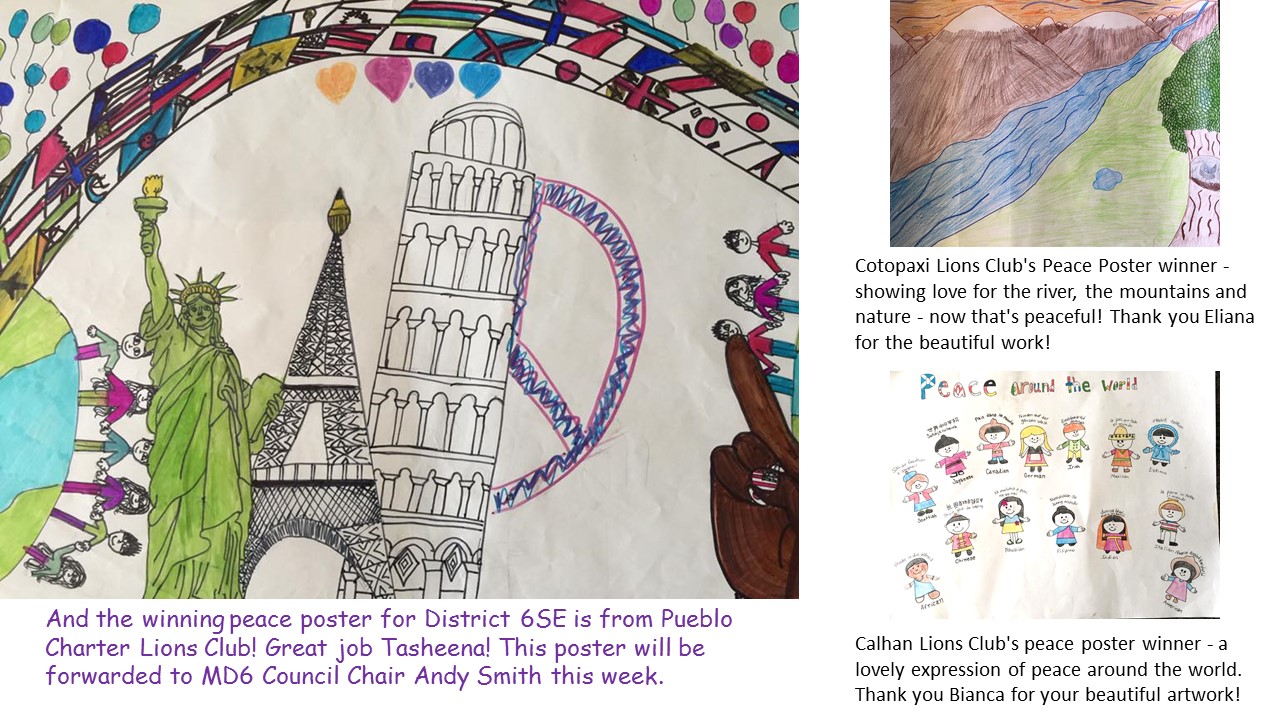 ---
My dear fellow Lions.

I was so happy to have so many of you at our cabinet meeting yesterday. I hope you had as much fun as I did!

For those that missed it, we also have some very big news: the cabinet voted to appoint a 1st and 2nd VDG! Please welcome to our leadership team Lion Nancy Lodge from Colorado Springs Nob Hill as our 1st Vice District Governor, and Lion Sharon Agun from Calhan as our 2nd Vice District Governor.

Please include them in any district correspondence and invitations to holiday festivities. Let's all give them a giant Lions Roar!

1stVDG Nancy Lodge:

nflodge@gmail.com





2ndVDG Sharon Agun:

lionniles@q.com



Thank you!
Cathy
Cathy Valenzuela
District Governor 6SE
Lions Clubs International
Service. Everywhere. Everyday.

http://e-district.org/sites/6se/
https://www.facebook.com/District6SE/



---
We are pleased to announce the appointment of the following Lions as First Vice District Governor and Second Vice District Governor:
2561 N. Ellicot Hwy
Calhan,CO 80808
Home 719-347-2870
E-mail lionniles@q.com
Thank you 1st VDG Nancy and 2nd VDG Sharon for stepping into these leadership roles!
Cathy Valenzuela
Report to Cabinet DG Cathy Valenzuela Great news:
PDG Monty Whitney has agreed to be the GMT coordinator for the remainder of this Lions year, a position that opened up when Lion Terry Sullivan moved out of state. I have visited 20 of our 29 clubs already, and the remaining 9 are scheduled to be visited before mid-December. On my visits I've been discussing our International theme of "New Mountains to Climb", 2017 convention, redistricting, and celebrating the Centennial. I give each club a print out of Centennial service suggestions, and list of reminders about why they should be proud to be Lions! They also are very pleased to sign the Centennial banner which will be taken to the Lions International Convention in Chicago next June. In my spare time, I've been to a Golf Tournament, Bingo, Chili Supper, our Branch Club in Parkdale, and the Colorado Lions Camp Haunted Trails event as a zombie! We held a zone chairman training on October 1st, with 5 of 6 zones represented. Their assignment for the year was to find their own replacement! We discussed ways to encourage and communicate with the clubs in each zone, and how recognize them for the good work that they do. One other focus area of the Lions year so far has been communication. I have a fantastic Public Relations and Information chairman, Gerry Montgomery, who keeps our district website and Facebook page up to date and looking good at all times. It helps that I always ask the clubs I visit to pose with a Centennial banner and get lots of photos to put on our pages. USA/Canada Lions Leadership Forum was educational and fun. We were all thrilled to learn that LCI was nominated for the Nobel Peace Prize, and attend the many seminars. Some of my favorites were about redistricting, collaboration with community partners, and millennials and philanthropy. Best news for last: Our PDG Association has been hard at work contacting all eligible Lions to fill our 1st VDG and 2nd VDG positions.
Respectfully submitted,
DG Cathy Valenzuela
---

---
October, 2016
Best news first: Our PDG Association has been hard at work contacting all eligible Lions to fill our 1st VDG and 2nd VDG positions. I happy to report we may be able to appoint two Lions to those positions very soon!
We have also recently confirmed that PDG Monty Whitney has agreed to be the GMT coordinator for the remainder of this Lions year, a position that opened up when Lion Terry Sullivan moved out of state.
Our first cabinet meeting was held on August 22nd, and hosted buy the Olney Springs Lions. 11 clubs were represented by 26 Lions. In keeping with my theme of 'Service. Everywhere. Everyday.' I asked that all Lions attending the meeting bring school supplies to support the Olney Springs Lions in their school supply drive benefiting Youth - the Centennial Service Challenge service area for August. Our Lions, as always, were very generous in their support. We had a service project and fundraising project brainstorming session following our reports. And we awarded two tickets to the Security Lions Camp Benefit Banquet to four clubs that were eligible in a drawing by sending representatives to the meeting.
As requested by the Calhan Lions who will be hosting our 2nd cabinet meeting on November 5th, we will have a demonstration by Leader Dogs for the Blind in recognition of the Centennial Service Challenge area of Sight. We will also have a presentation on Millenials and philanthropy and a short Your Club, Your Way session after our reports.
I have visited 15 of our 29 clubs already, and the remaining 14 are scheduled to be visited before mid-December. On my visits I've been discussing our consolidated convention, redistricting, and celebrating the Centennial. I think our Lions appreciate the Centennial service suggestions I give them, and the reminders about why they should be proud to be Lions! They also are very pleased to sign the Centennial banner which will be taken to the Lions International Convention in Chicago next June.
We held a zone chairman training on October 1st, with 5 of 6 zones represented. Their assignment for the year was to find their own replacement! And they will also be highlighting one of the clubs in their zone at each cabinet meeting by bringing that club's representatives and giving them an award. This encourages attendance by those who would not otherwise attend.
USA/Canada Lions Leadership Forum was educational and fun. We were all thrilled to learn that LCI was nominated for the Nobel Peace Prize, and attend the many seminars. Some of my favorites were about redistricting, collaboration with community partners, and millennials and philanthropy.
Redistricting is a main topic of discussion with the 6SE Lions. Though I believe it is a reasonable thing to do, I understand that many Lions within 6SE are not in favor of the idea of 6SE merging with 6C. I plan to send out a email outlining pros and cons before our next cabinet meeting, and ask that you let me know your thoughts before we decide whether or not to put the proposal on the state ballot.
Thank you for all you do!
Cathy
---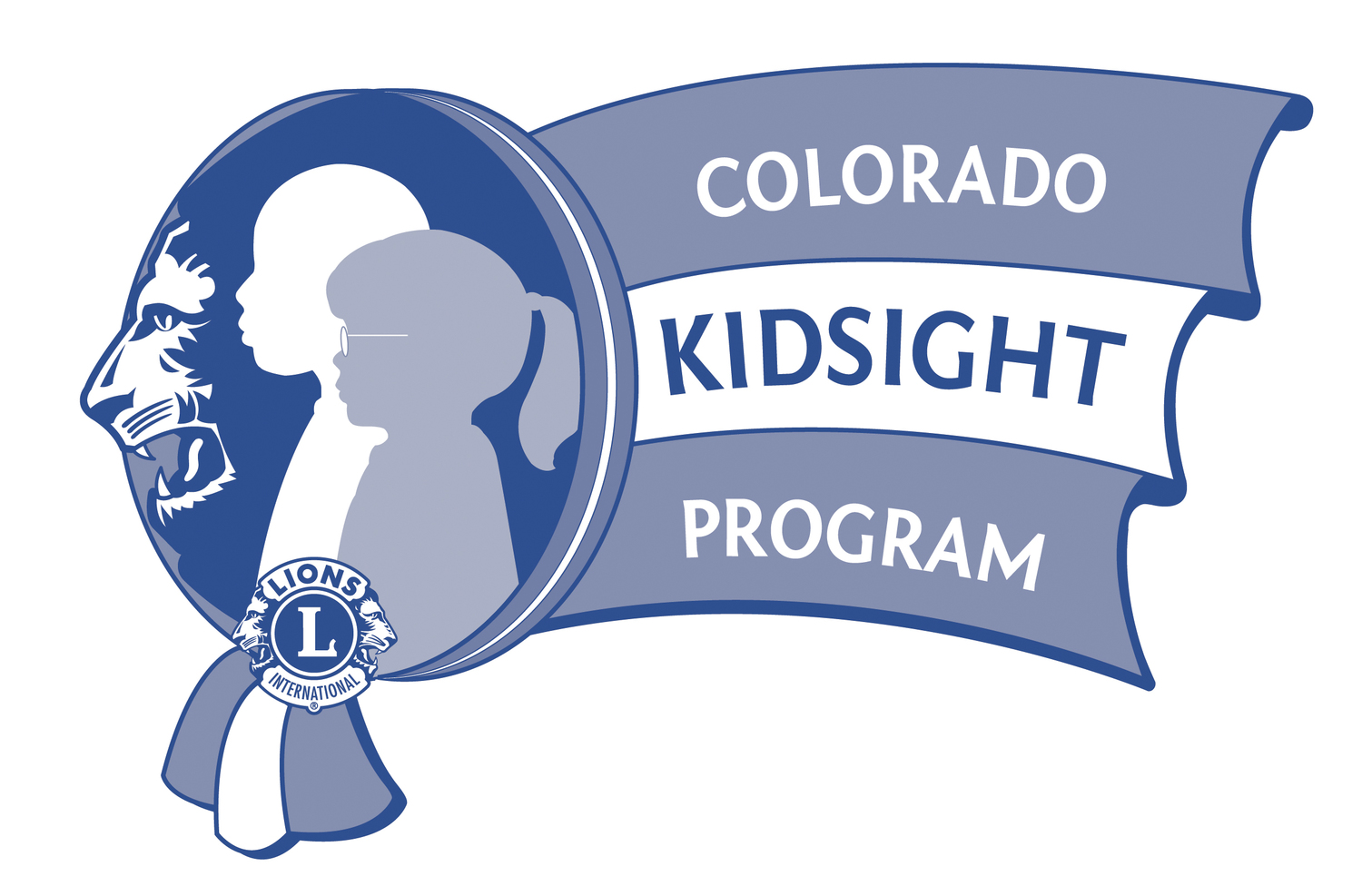 Colorado KidSight Training-October 23, 2016-1-3pm,Golden Age Center-728 Main St., Canon City.
The training will be for all involved in the CO KS project. It will be on the PlusOptic screener with Director Holly Rutherford-Allen conducting the training.
Please contact Lion Eileen Sanderson-
719-269-8274
if you are planning to attend.
---
SEPTEMBER 2016
The deadline is approaching to participate in the International Peace Poster Contest. Please consider joining in the fun this year in honor of our Centennial!
Your club can do this very simply by contacting even just one middle school art teacher. I bet someone in you club knows one! You can, of course, invite as many schools to participate that you'd like, but if that seems intimidating, try starting with just one.
The age of the entrants is 11-13, so what a great way to connect with some families in your community.
For more information, click on this link and order your kits today!

Oct 1st is the Deadline to order peace poster contest kits
Nov 15th Postmark deadline for a club to send one winning poster(per contest sponsored) to the District governor
Dec 1st Postmark deadline for a Governor to send one winning district poster to Multiple District Council Chairperson
Dec 15th Postmark Deadline for the multiple district Council chairperson to send in one winning poster to the Public Relations Department at International Headquarters
Feb 1st International winners notified on or before this date.
Thank you!

August, 2016
"Service is our most important objective - without service all we do is meet."
My objective is to promote increased service in District 6SE during the 2016-2017 year. As we know, each Lion can have a positive effect on 50 community members.
The two obvious goals to accomplish this objective are:
1) training leaders using all tools available to us
2) increasing membership through both retention and recruitment
Actions we will be taking in 6SE to accomplish these goals are as follows:
Training
-Hold Zone Chairman training in conjunction with 6C by 9/30
-Lead a Your Club, Your Way workshop for all club leaders 8/20
-Actively recruit for a first and second VDG at all times!
-Work with GMT and GLT to achieve their goals
-Identify and train 3 guiding Lions by 10/30
-Distribute and monitor use of "Blueprint for a Stronger Club"
Membership
-GMT goals and action plan with GMT
-Develop plan with 6C by 9/30
- Charter two new clubs in 2016-2017
Some tools we will be using include promoting the Centennial, listening to some of our younger members about what drew them to Lions, and focusing on our individual connections to our LCIF international good works. For instance, at every cabinet meeting I will ask our LCIF Coordinator to make a presentation about what grants and activities LCIF has been involved with most recently. I will also be inviting a younger Lion to speak about how they came to be a Lion. In addition, at every cabinet meeting we will have a service project to assist the host club with the LCI Centennial Service Challenge focus of the quarter (Youth, Sight, Hunger, Environment) We will also be encouraging using '100' for a service project focus each month of the Centennial year.
Additional goals for this year include:
-finalizing the 6C and 6SE redistricting plan with the leadership of 6C, using the Merger Plan developed by PCC Bob Selle,
-assisting CC Andy with the planning for our consolidated District and State Convention 2017
-preliminary planning for the 2018 State Convention
Let's have a great year LIONS OF 6SE!!!
Cathy
---
July, 2016
Hello fellow Lions of Colorado District 6SE.
I am so honored to be serving as your District Governor for 2016-2017, and I hope you will join me in celebration of all you accomplish in your communities during our Centennial year. I am here to support each of you in being the best Lion and Leader you can be, so please let me know if you ever need any help, suggestions, resources, etc.
I encourage each of you to send club news, project photos,community events to our Public Relations and Information chairman this year, Lion Gerry Montgomery. He will post all your news, notes and pics on both our Facebook page https://www.facebook.com/District6SE/ and on our District 6SE website http://e-district.org/sites/6se/ .
Send your information to: Gerry.lions6se@gmail.com
And please plan to attend our 6SE Cabinet Meetings. We will have a new format with learning, brainstorming, service projects and fun. Here are the dates and locations to put on your calendar now:
August 20, 2016 10AM Olney Springs
November 5, 2106 10AM Calhan
January 28, 2017 10AM Colorado Springs Downtown
April 22, 2017 10AM Pueblo
Also, I'd like to ask that if you have not responded to our survey about throwing an awesome convention in 2017, please do so by going to:
Please send in your thoughts and ideas.
Looking forward to a great year with your support,
Cathy 719-252-0297

Cathy Valenzuela
6SE District Governor
Lions Clubs International
Service. Everywhere. Everyday.
https://www.facebook.com/District6SE/
http://e-district.org/sites/6se/
---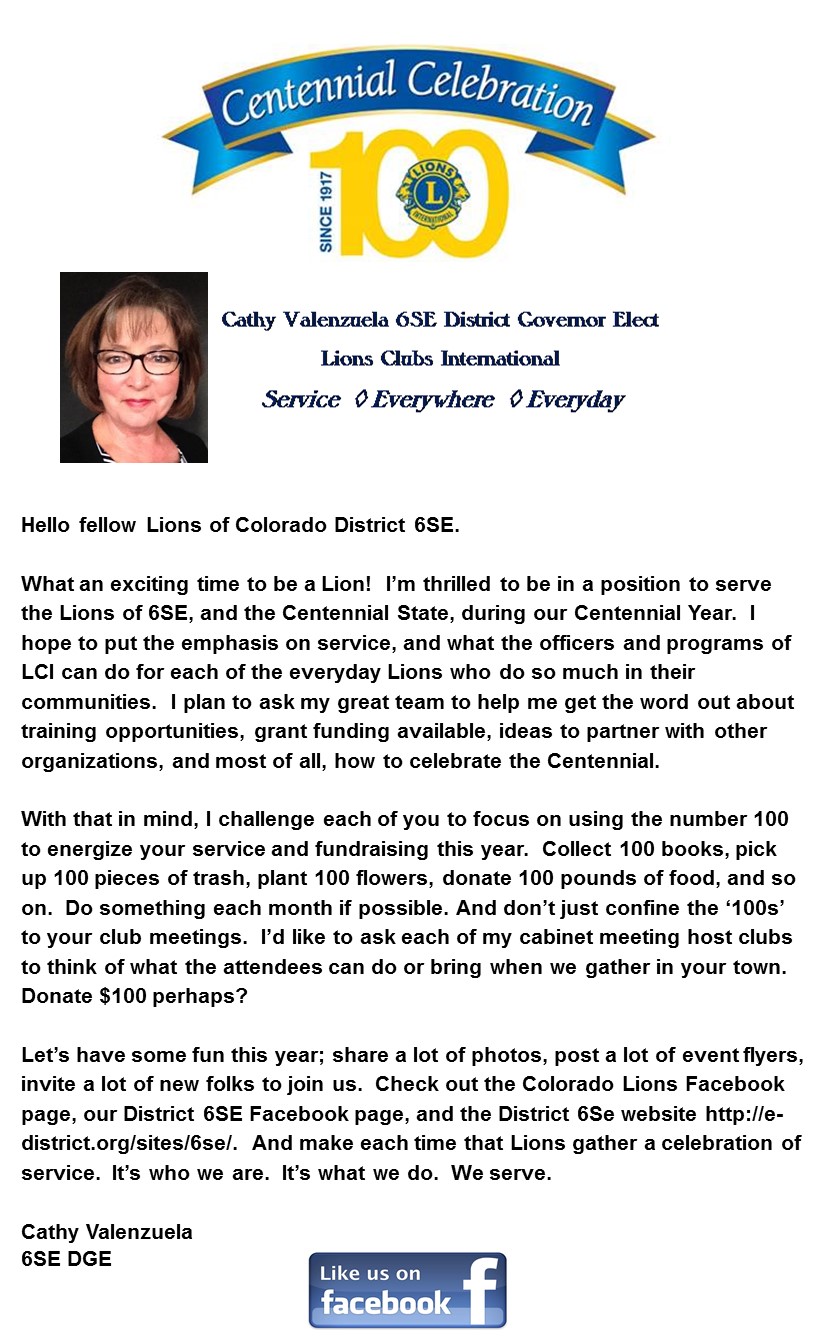 Lions Clubs International is the world's largest service club organization with more than 1.4 million members in approximately 46,000 clubs in more than 200 countries and geographical areas around the world.