Oscoda Lions club held there annual souper Dinner, The members and friends provided over 20 variety of soups. The Children from Richardson Elementary in grades k-5th art class made the bowls.The children sold the bowls and the money raised went to a charity of their choice. The Lions money went to their charities. We want to thank everyone in the community who participated.We couldn't have done it without you.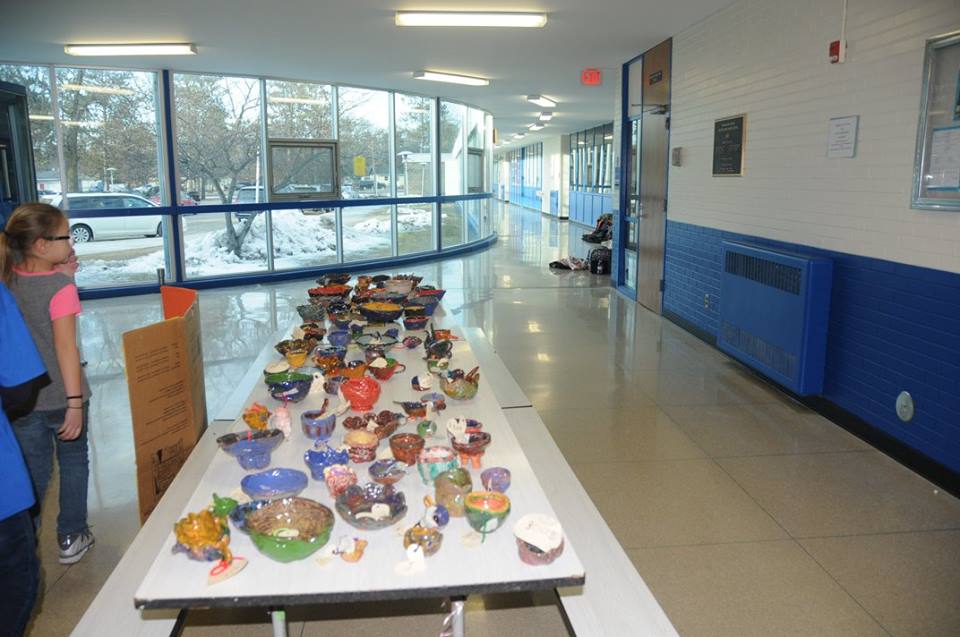 Oscoda Lions Club held their annual bowling fund raiser at the Vista Lanes on Saturday. We sold out the lanes. There were prizes for everyone. Our own Lion Tony Priebe had a high game of 298, GREAT GOING Tony!! We would like to thank ALL our sponsors and everyone who participated. We could not have raised over $2,000 without you.


The Houghton Lake Lions Club participated in the Tip-Up Town Parade on Jan 21, 2017

SAD NEWS
Life member. Lion Bill Yingling of the Indian River Lions Club passed away January 17, 2017 at McClaren Northern Michigan Hospital. Funeral services will be held Saturday January 21, 2017 at Stones Funeral Home in Petoskey Mi. Viewing at 10am with service at 11am. RIP Lion Bill you will be truly missed.

KidSight Trailer
District 11E-2 has been honored to receive a KidSight Trailer from the Lions of Michigan Foundation. This trailer has beautiful graphics (see the photos on the Photo Gallery page. It is available to any club for use as a portable KidSight Project lab. It will make a great float for the various parades around the state. Right now the trailer is parked at PDG Barb Durflinger's in Rogers City. We are actively seeking a more central location for it.
Lions of Michigan help Victims of Fire
The Beaverton Lions Club communicated the following to us: Impressive initiatives by the Beaverton Lions Club set in motion an amazing act of kindness that included not only the Beaverton Lions Club but other Clubs in northern Michigan as well.
On Saturday, March 26, 2016, the day before Easter, an early mornig fire broke out at the Village North Apartments in Gladwin, MI. Although the people all made it out safely, nearly all of the 20 unit building was completely destroyed. There were 19 families involved in that fire. Most of them lost everything and had no renter's insurance.
The Beaverton Lions Club immediately contacted GLD Management, owners of the apartment complex, to find out the best way to help. Knowing that the needs would be more than any one group could provide, Beaverton Lions reached out to other area Lions groups to assist. They were thrilled with the respoonse!
The Lions of Michigan Foundation generously contributed $3,000 while the District 11-E2 Emergency Fund gave another $1,000 to the cause. Finally the Beaverton Lions together with other Lions Clubs of nothern Michigan brought in another $2,470.
Lion Craig Wolfe of the Beaverton Lions Club worked directly with Sylvia of GLD Management and Beulah of Gladwin County Christmas Kindness to purchase and deliver the many items needed by these families. Larger items included several beds and mattresses, dressers tables and chairs, sofas, end tables, lamps, etc. Some of the smaller items included replacing clothing, coats, hats, gloves, blankets, bedding, pots and pans, dishes, etc.
In addition to these purchases and deliveries, our Lions Clubs were able to provide a $150 gift card for each of the 19 families affected by the fire.
GLD Management has not ceased to express their gratefulness for the overwhelming generosity of our District's Lions Clubs! They want all of us to know that they wouldn't have wanted to go through this tragedy without us! Thank you all for caring for the needs of these families.
An additional comment from District Governor Bob Gingerich: "It's what we do! WE SERVE"
NEWS
DISTRICT CONVENTION 2014
The 2014 District 11-E2 Convention was held in Grayling at the Ramada Inn on May 2, 3 and 4. Honored guests were International Director Steve Tremaroli and his wife Marianne. Lion Barb Durflinger of the Roger City Lions Club was elected as District Governor for 2014-15. Lion Brian Rowland of the Beaverton Lions Club received the Melvin Jones Fellowship. PDG Lewis Moeller received the John S. Noel Award. Lion Pam Stewart received the Ken Lautzenheiser Award. See photos in the photo gallery. See you in Mackinaw City in 2015.
Oscoda Lions Pancake Breakfast
The Oscoda Lions Club held a very successful Pancake Breakfast on Saturday, April 6th. Nineteen Lions mixed and flipped pancakes, cooked sausage, waited tables, washed dishes and cleaned up making the 7th annual Pancake Breakfast a success. Thecommunity again supported our project. A special thank you goes to Bill Tait for ordering the food, letting us use the restaurant and for all of his assistance. PDG Lewis Moeller kept us organized again this year.
Oscoda Lions, Bill Gaines, Chuck Andrina,Tony Priebe, and Tony's son Nick constructed this ramp December 20 and 21, 2016. The ramp is on the base and serves a lady who lost a leg and might lose the other one in the near future. We Serve!!!