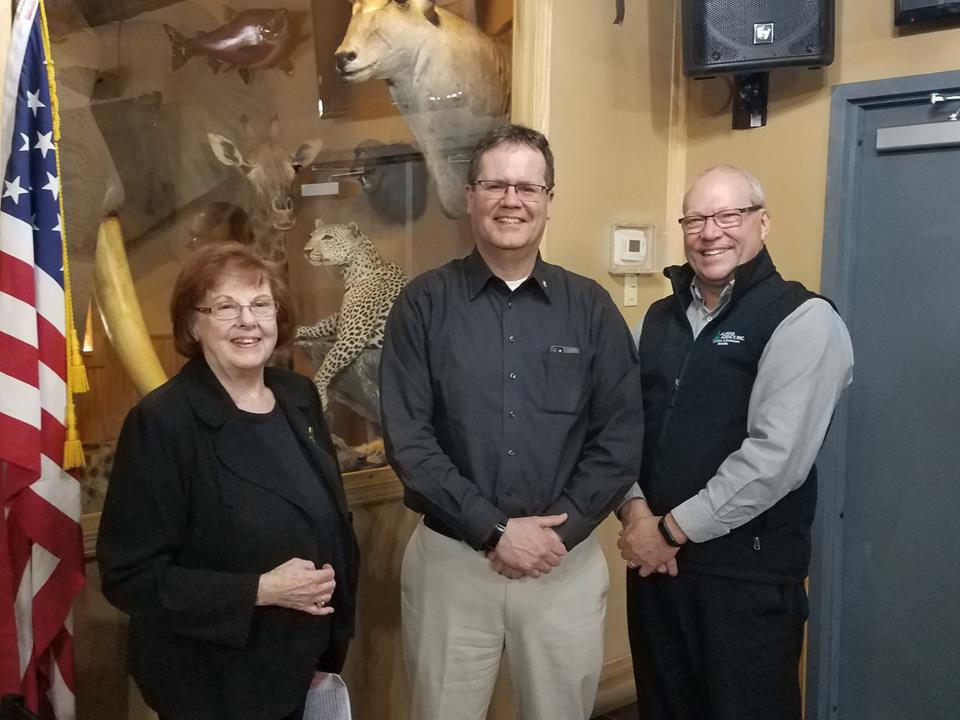 PDG Bev Bodem inducted a new member, Scott Kreinbring, into the Alpena Noon Lions Club. His sponsor is PDG Dave Zeller.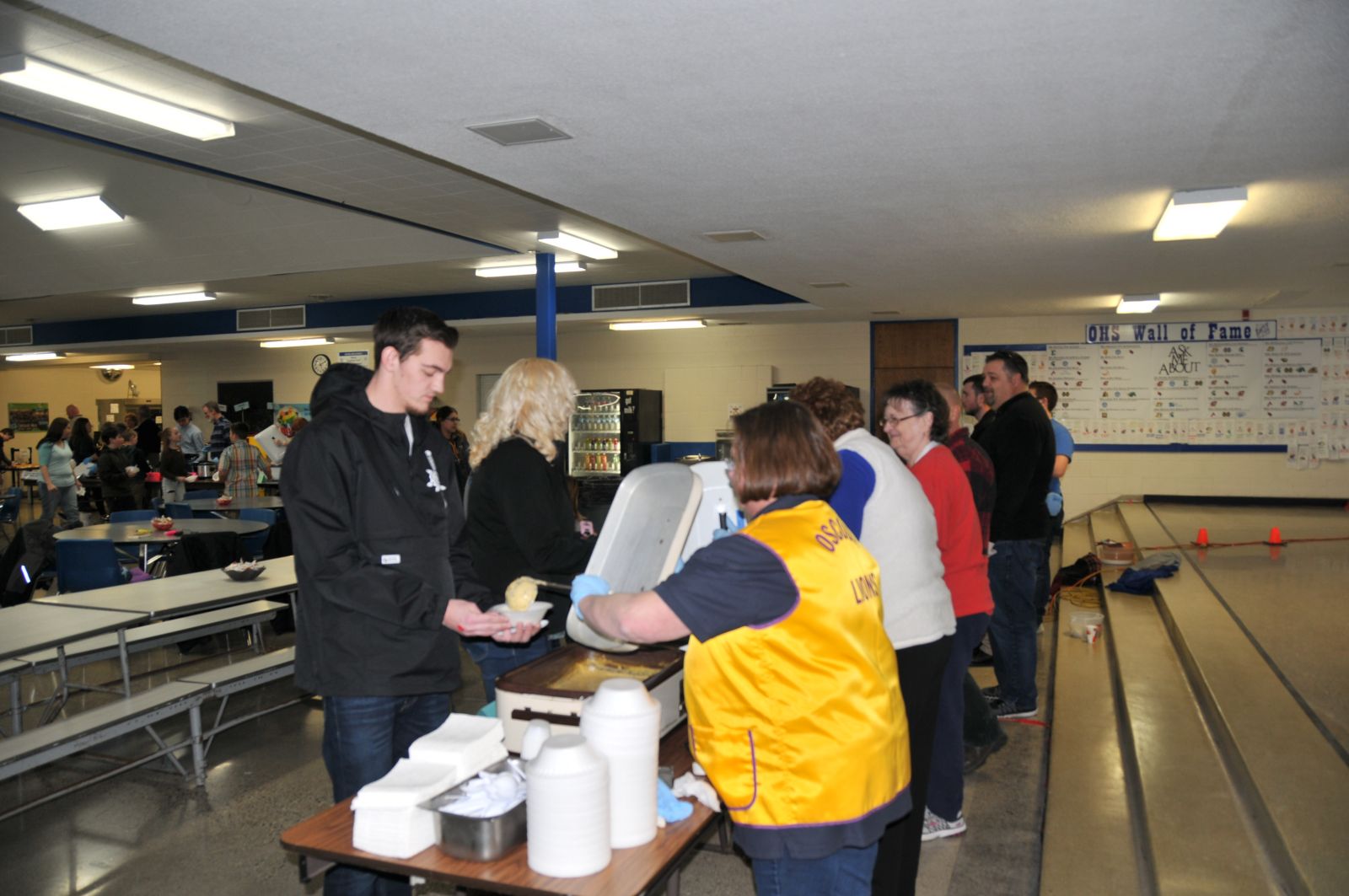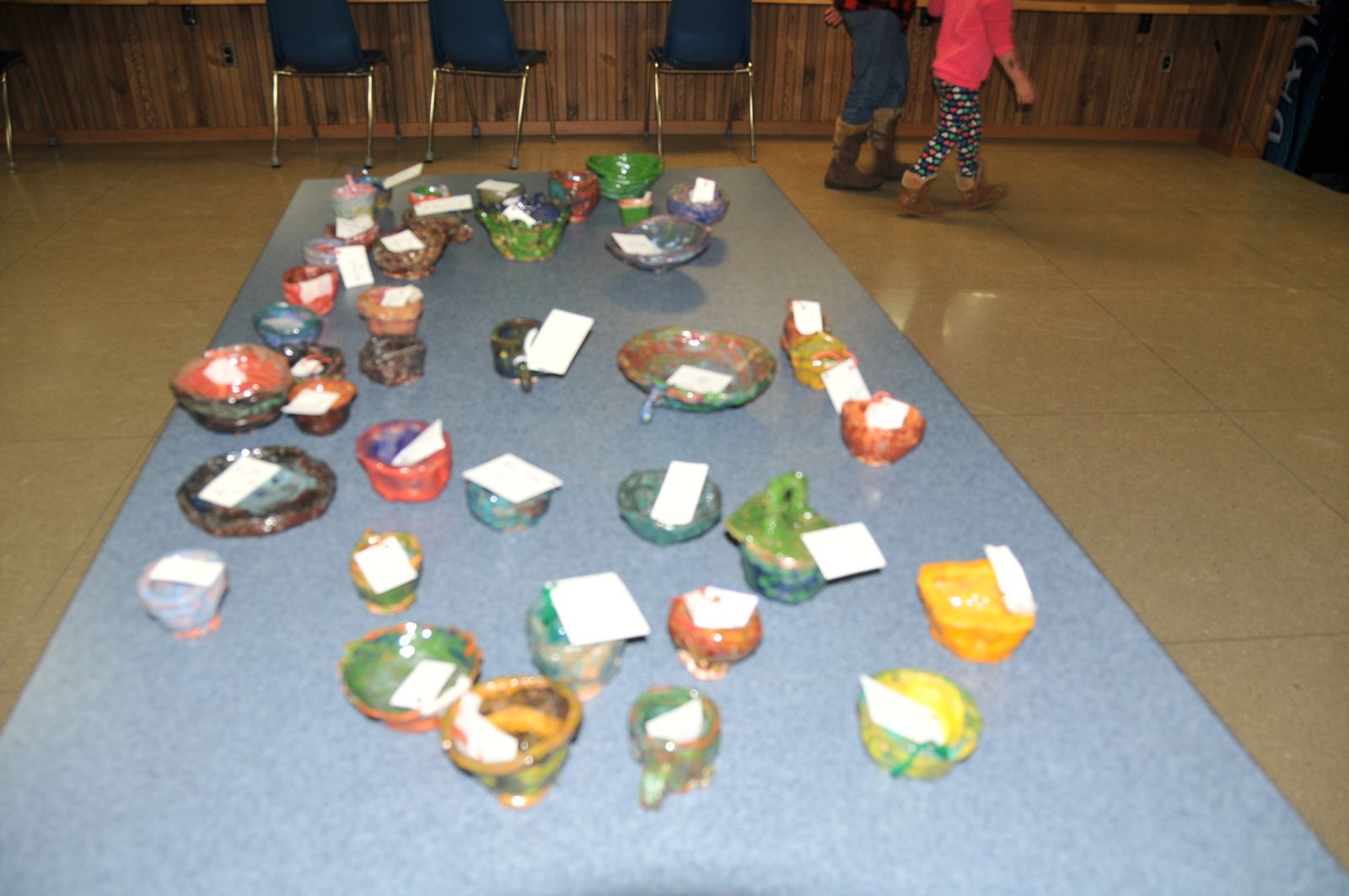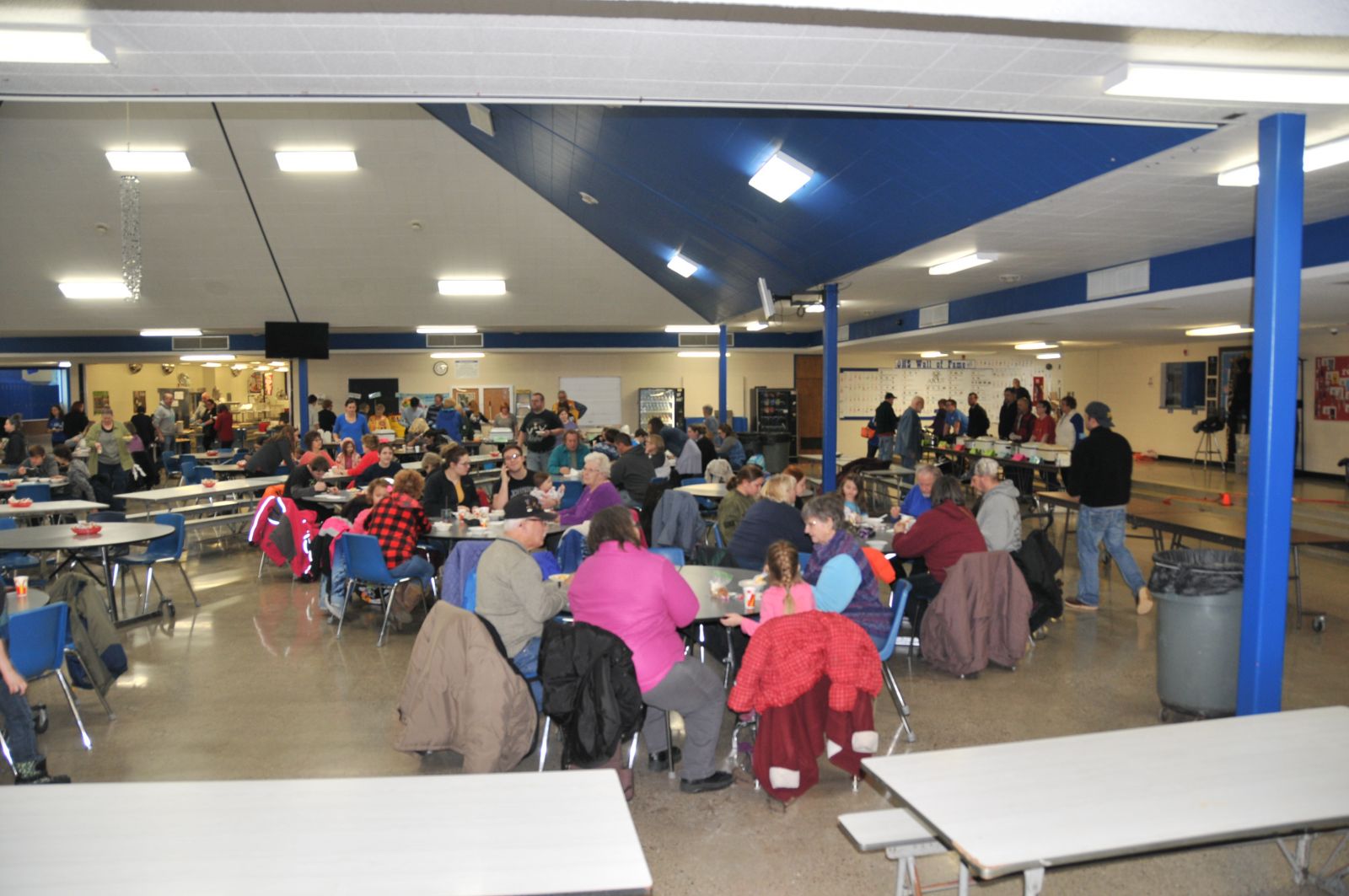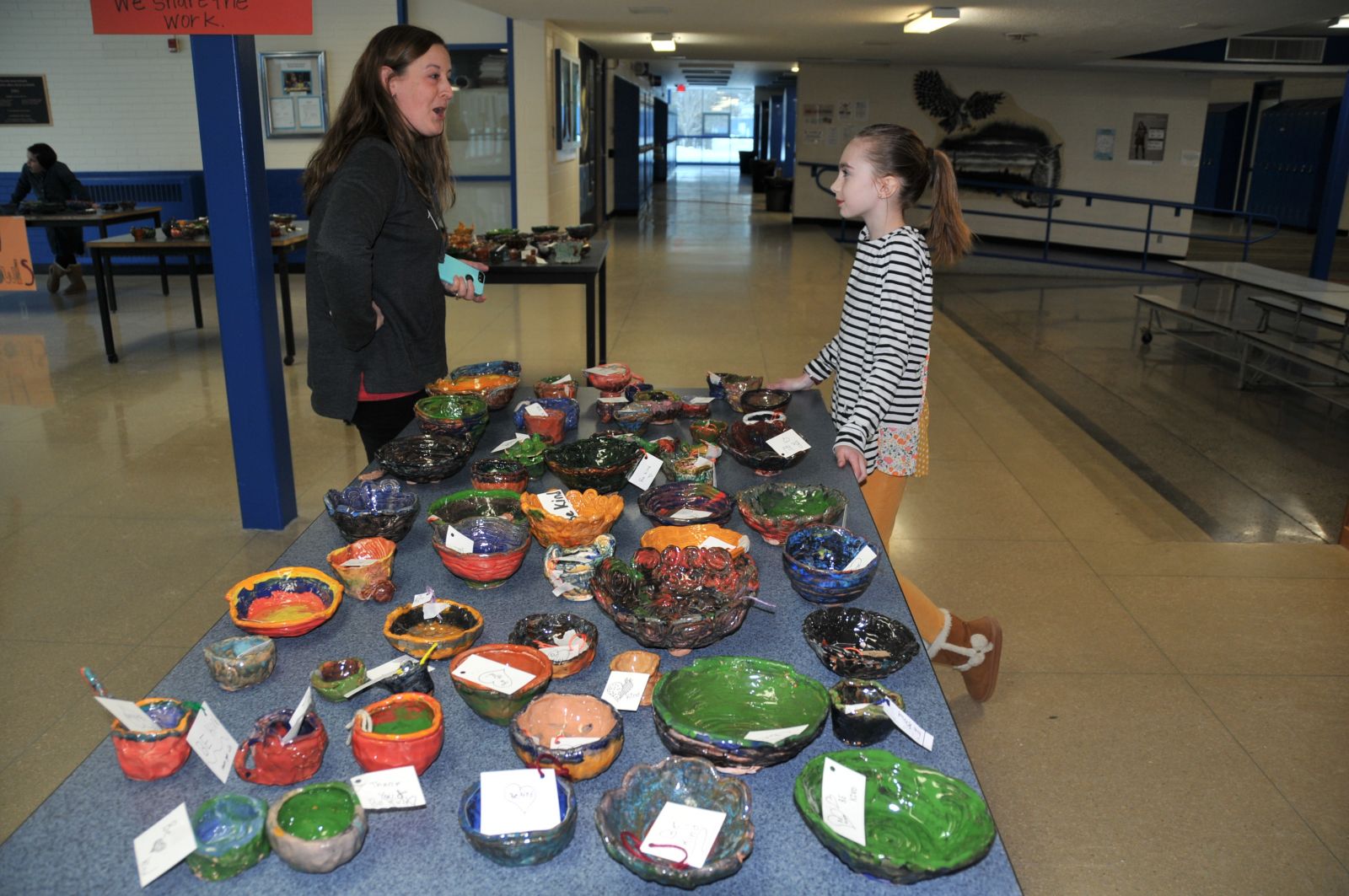 Oscoda Lions and Richardson Elementary held their annual souper supper and art show Friday Feb. 15th. We had a great turn out, everyone enjoyed a great soup supper provided by the members of the Lions club. Plus they had a chance to see and buy bowls that were made by the Elementary kids. All the money raised went to charities.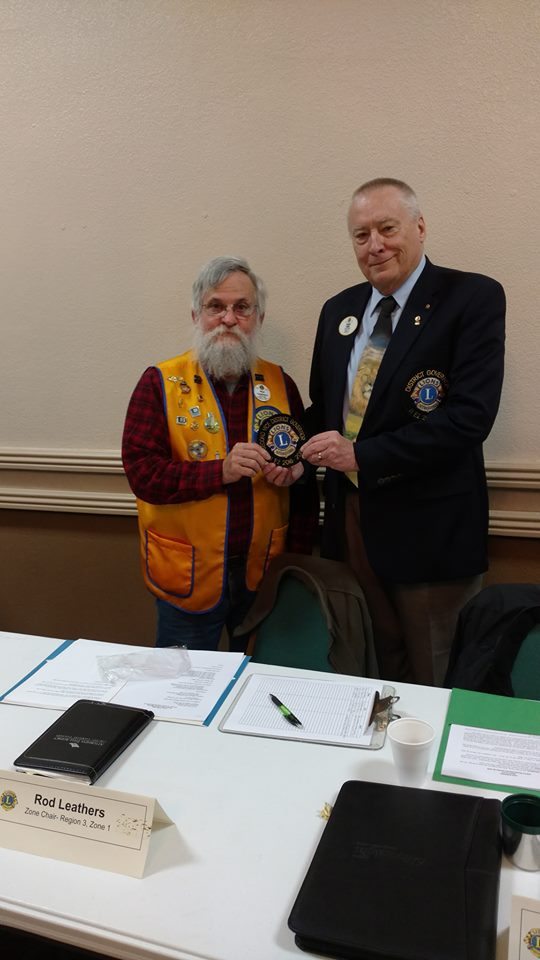 DG Gordon Harris presents the 2nd VDG crest to newly installed Rod Leathers of the Central Lake Lions Club.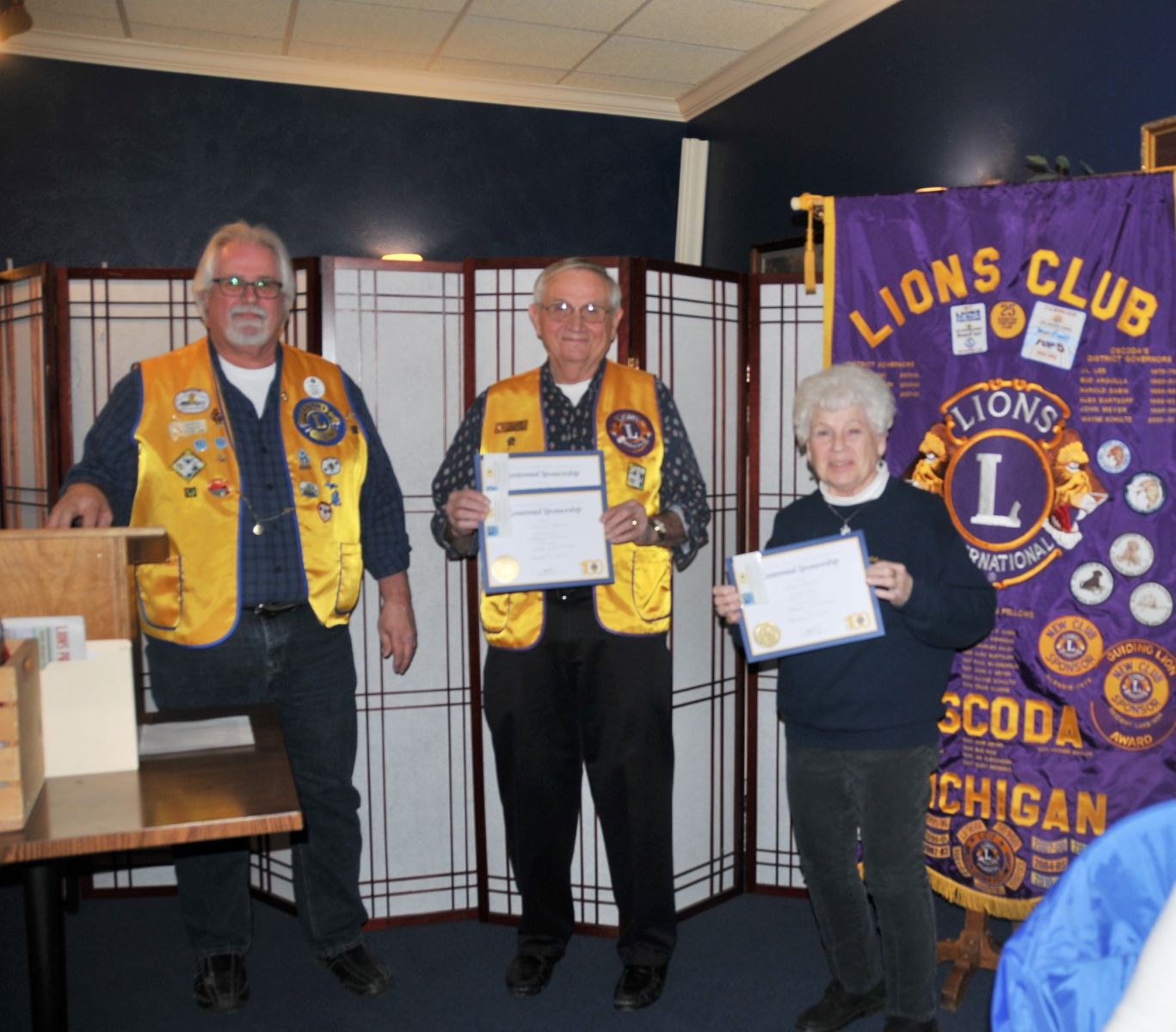 Oscoda Lions Club members Jane Meyer and Bill Gaines receive a centennial award for sponsoring new members from Pres. Robert Tasior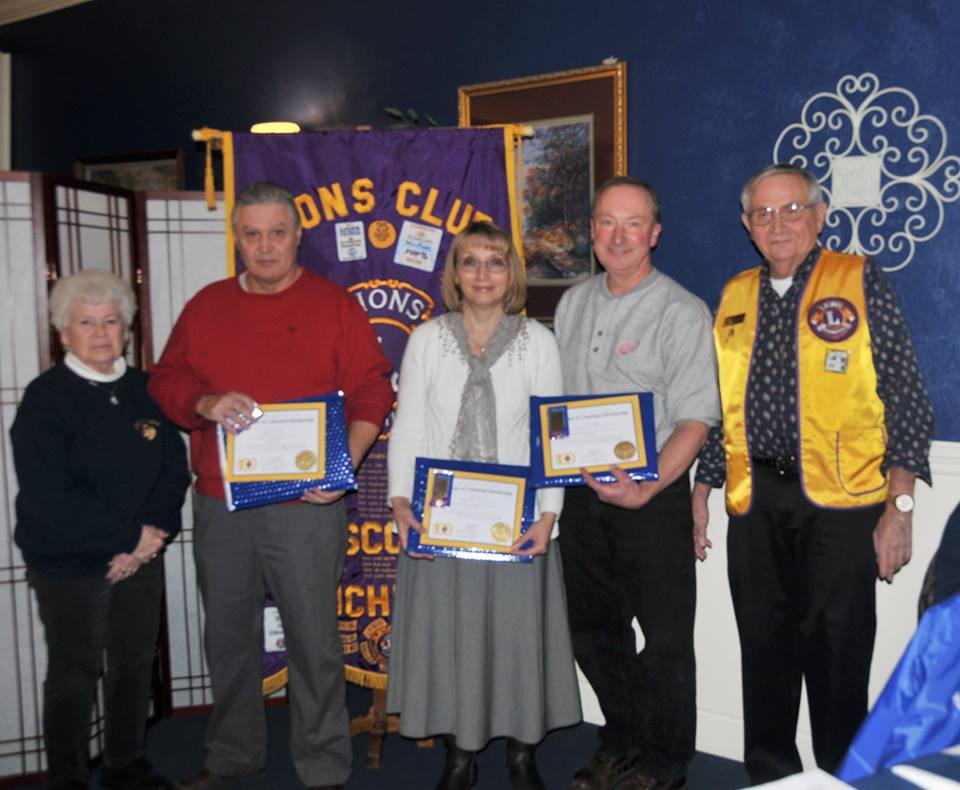 Oscoda Lions installed 3 new members in to the club. Lion Bill Gaines installed Kevin Hill, Tamara and Marvin Pichla. Jane Meyer, sponsored Kevin Hill; Bill Gaines sponsored Tamara and Marvin Pichla.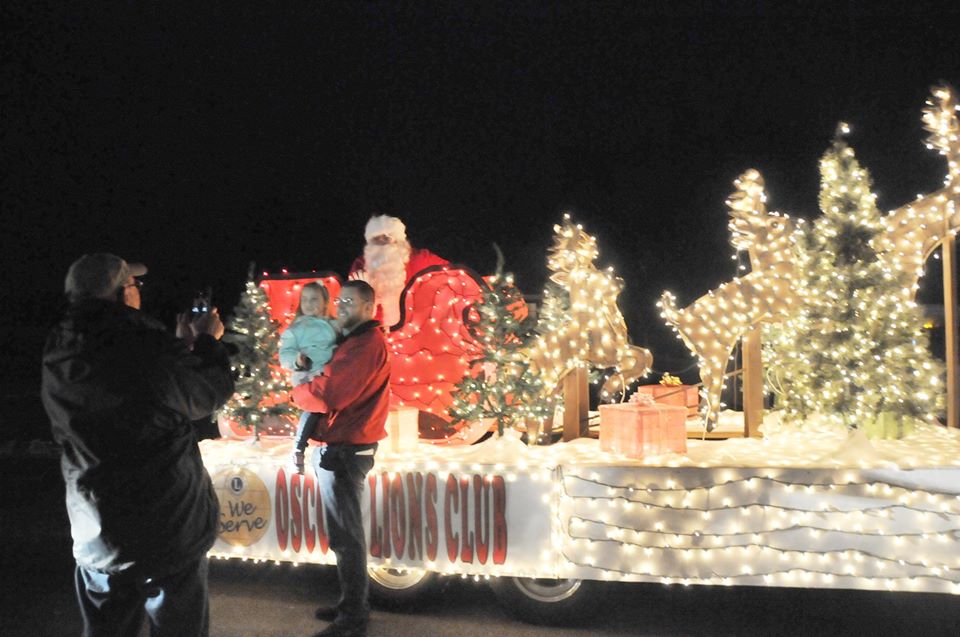 Oscoda Lions held their Annual Lunch with Santa on Saturday. Beside seeing Santa and telling him what they wanted for Christmas there were games, coloring and many more things for the children to do. Over 240 children saw Santa and received a gift from Him. Over 340 lunches where served. Santa was also in the Northern Lights parade that night. WE SERVE! More photos are available on the 11E2 Facebook page.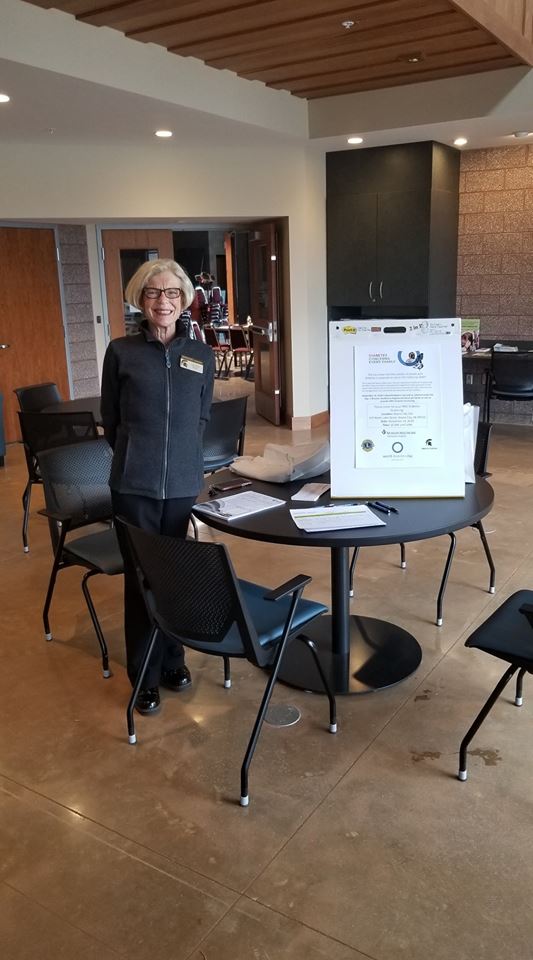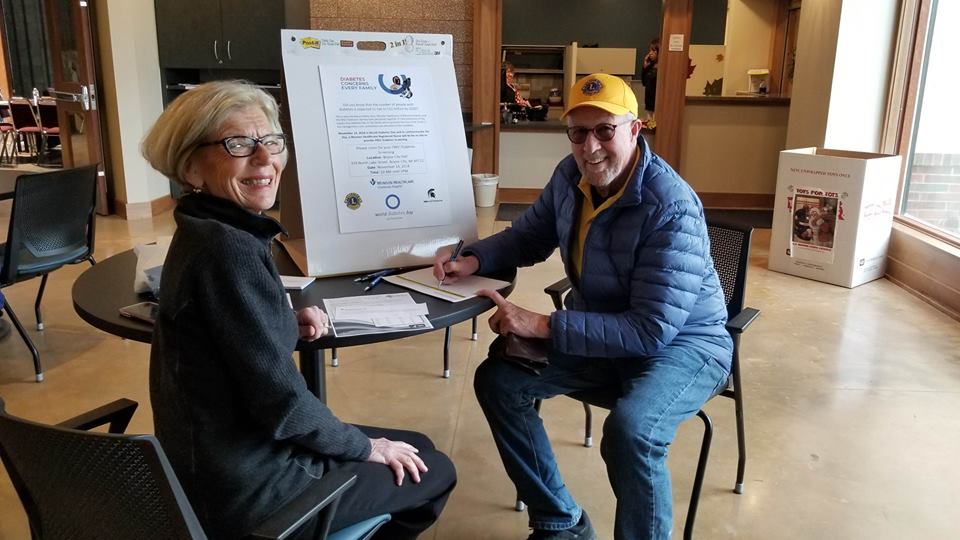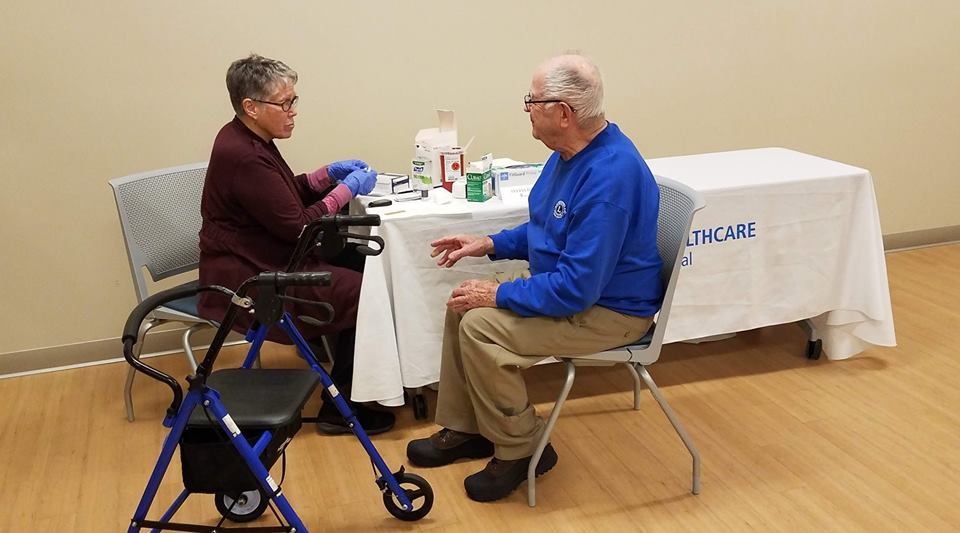 November 14 was world diabetes day and the Lions partnered with Munson Healthcare Charlevoix Hospital and MSU Extension Services and screened 25 people for diabetes. Diabetes ranks as the 8th most deadly killer in the world. Thanks to all who came in for screening today, and may all remain happy and healthy.


Elk Rapids Lions showing off school children's ginger bread houses during their free community dinner, tonight from 5-7 pm at the Elk Rapids middle school!




Fairview Comins LC Christmas wreaths project is going very well. For sale for 25$

Oscoda Lions ramp crew was at it again, this time in Tawas City where they build for the first time an Aluminum ramp. It was in two sections totaling 34' and a 5"x5' platform. Lions Tony, Rick, Bill, and Chuck took 4 hours to complete. Great Job guys. We Serve

The Grayling Lions Club gave out picture frames to kids who had their photos taken with Santa at the Christmas Walk on November 17 at the Artisan Village. Here Lions CarlaJean Gingerich and Carolyn Rakoczy are handing a picture frame to Onna Parker.
The Lewiston Lions' $15 raffle calendars are out and about. They are available from Lions in Lewiston, Gaylord, Mio, and Atlanta. They are available until they are gone! There are only 900 to sell! Last year demand was greater than supply, don't be left out, 365 winners!
https://www.facebook.com/photo.php?fbid=10215237411545965&set=gm.2318756594818623&type=3&eid=ARDTpADhV5K2f1mEt_sJqstbmhD0a23ynyygYKR0Lf9_-vBxh22CkAt3c2Y7GYTXhyrxAfmuhJivD53C&ifg=1
District Governor Gordon Harris presenting Lion Roger Nesburg with his 10 year Chevron, Lion Dave Robinson his 10 year Chevron..Lion Bill Gnodtke his 20 Chevron; Lion Larry Levengood his 30 year Chevron and Lion Dr. John Lignell his 55 year Chevron! Not present were Lions Bob Grupp and Mark Hess , Chuck Unbehaun 10 years, Lions Tim Bruce, Nick Kling, Vance Wood 20 years, Lions Jay Balsaz, John Hess 25 years, Lion Barney Way 30 years... well done Charlevoix Lions, "we serve"



The Oscoda Lions club was inspired by the Alpena Lions club's Handicap swing that they built , to build one for the Oscoda Beach Park. The team of Tony Priebe, Bill Gaines and Lewis Moeller built one and is now in the park ready to be used. We serve!!!


Oscoda Lions President Robert Tasior presented Chevron Membership awards to Lions Newana Visser(15), Nancy Andrina (10) Yvonne Mallak (15) PDG Wayne Schultz (40) congratulation!!! We Serve!


The Grayling Lions Club was pleased to host Governor Gordon & First Lady Veda Harris at their dinner meeting on Thursday, October 18th. President Carolyn Rakoczy presents Governor Gordon with a Lions of Michigan Foundation Challenge Coin.
The speaker for the Sept. 22 meeting of the Oscoda Lions Club was Karen Hayes a foster home Licensing Specialist for Michigan Department of Health and Human Services. She talked about the need for foster homes. One point to remember is the fact that we have in Michigan 14,000 children in need of foster care and not enough homes or foster parents. Please consider becoming a foster parent. You can call Karen at 989-254-3779 for more information. A lot of these children come to the homes with just the clothes on their back so they have a fund called unmet needs to help. The Oscoda Lions club presented Karen with a check for $250.

Meet the newest members of the Oscoda Lions Club. Carolyn and Gary Wojcik, and their sponsors Devon and Robert Tasior.

The Grayling Lions Club held an appreciation dinner for IPDG Bob Gingerich at B.J. Restaurant in Gaylord on September 15th. It was a nice evening and guest enjoyed their buffet.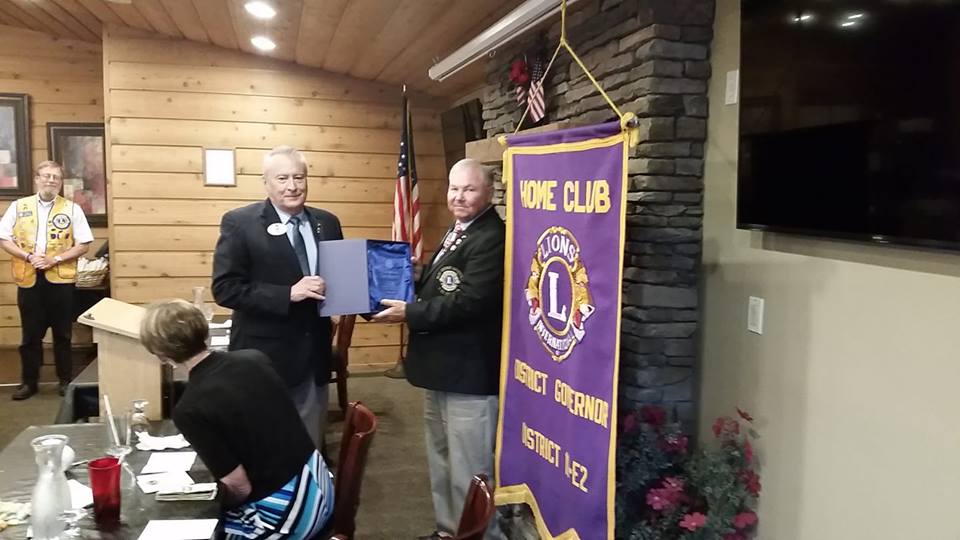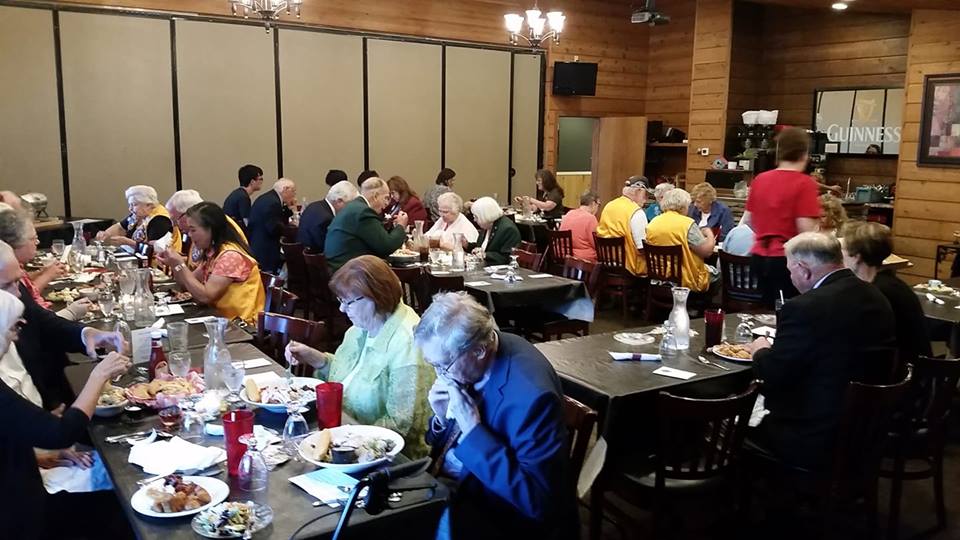 The Lewiston Lions' raffle calendar is "out" and can soon be purchased from a Lion in Lewiston, Gaylord, Atlanta, and Mio.
Oscoda Lions Club held its annual Paul Bunyan Festival "5K" Raffle. 5 winners won $1,000 each. The winning tickets were pulled by Kelsey, Logan, and Abby Kloska. Over 2900 Tickets were sold. We would like to thank everyone who participated . We could not have done it with your support.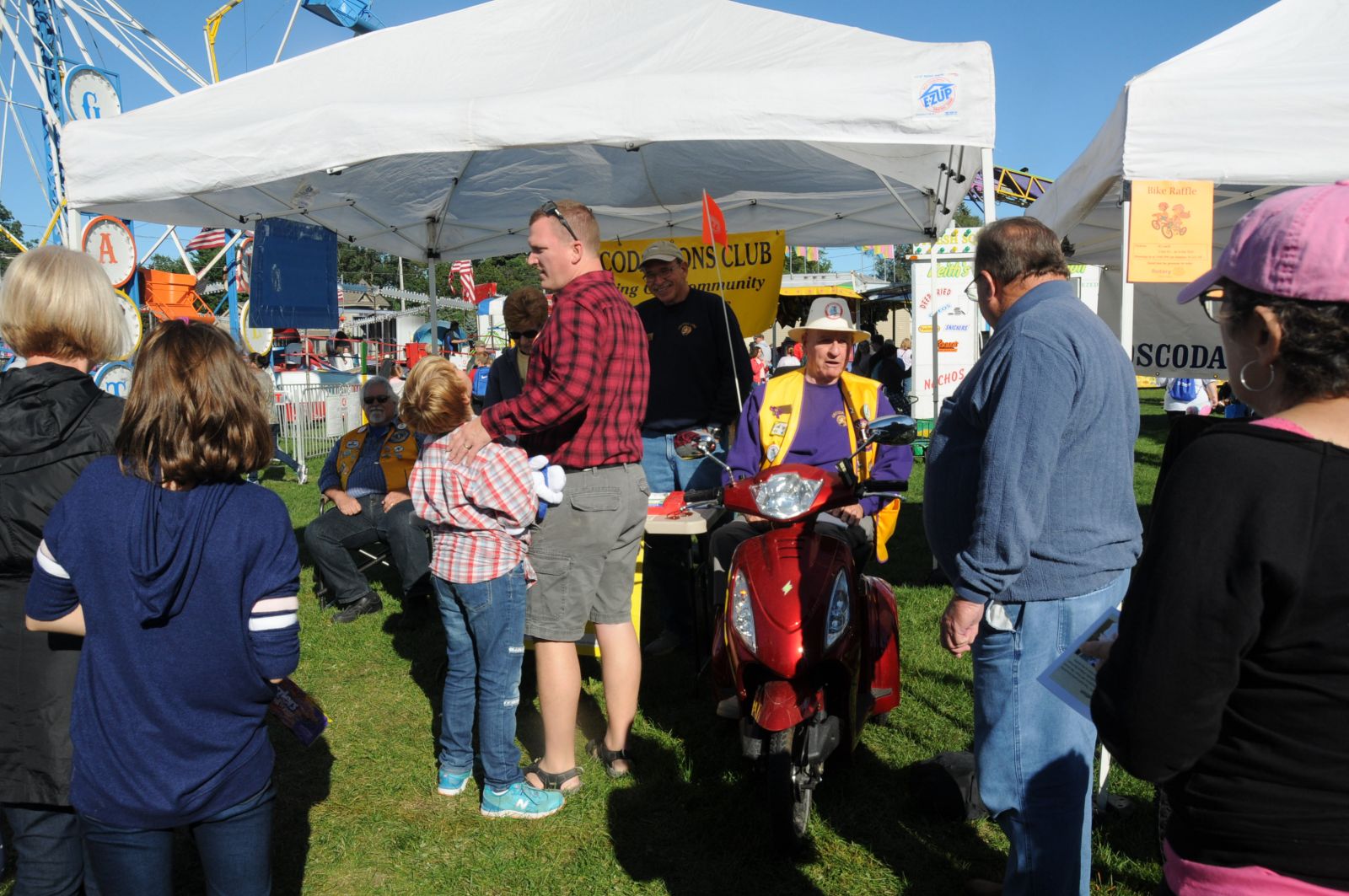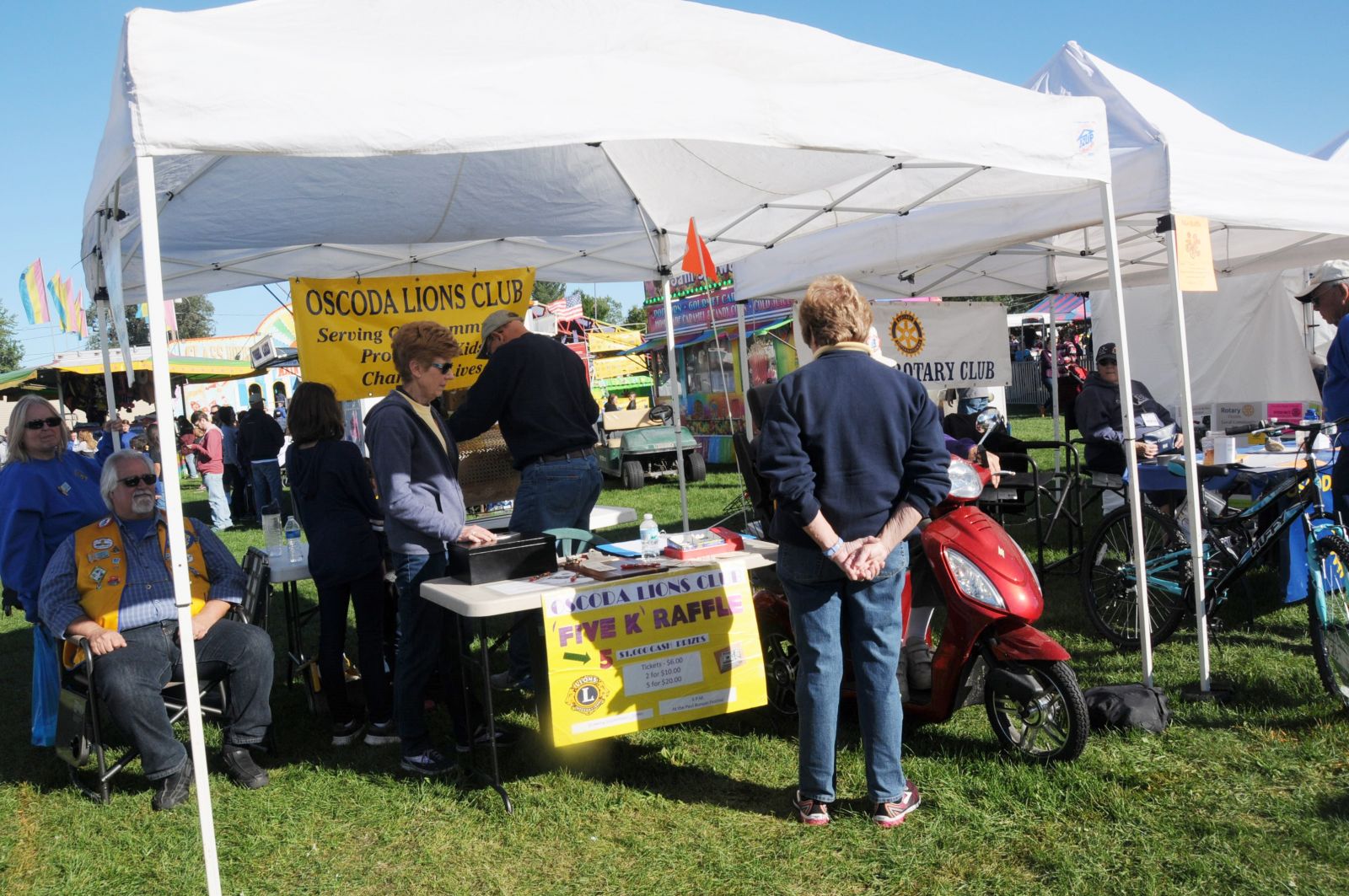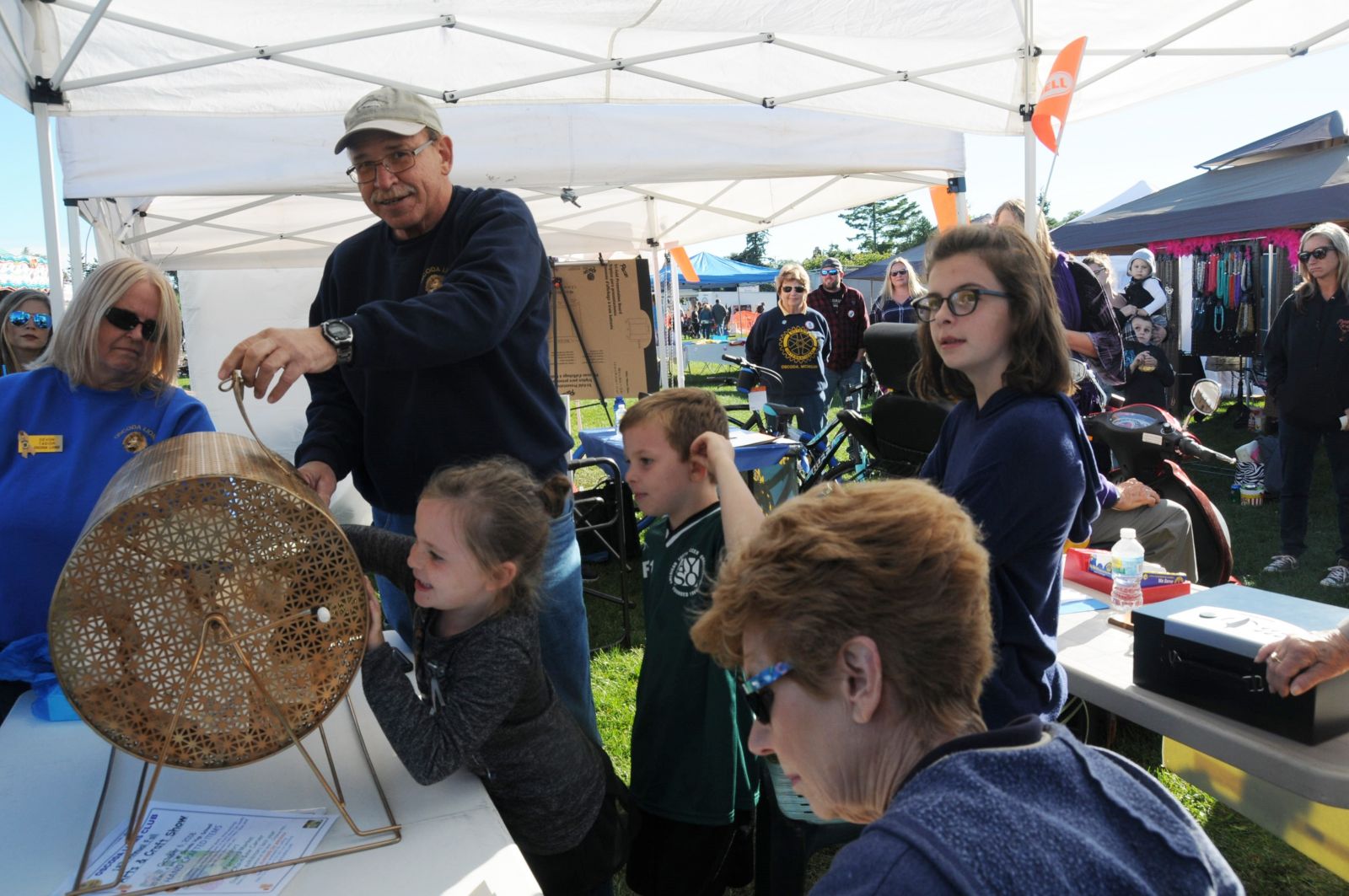 Defense Against Diabetes (A Primer)
The 2017-18 Council of Governors were presented with the results of a $45,000.00 Grant from Lions Clubs International Foundation to District 11E1 which resulted in a program which developed and implemented a pilot program for diabetics. It involved a comprehensive plan that provided diabetic retinopathy screenings, A1C screenings and nutritional educational training for diabetics. The original projection for the number of participants was 400 and that goal was surpassed by 30% and actually served 524 participants. Based on the information that was presented to the COG, they approved a statewide (MD-11 and SD-10) project to apply for a $250,000 matching grant. The amount to be raised is $62,000.00 and the matching amount would be $188,750.00. At the first cabinet meeting for 2018-19, a vote was taken and the cabinet approved our participation in this project. We have submitted our proposal and budget to the steering committee for submission to LCIF.
Each district is asked to provide $5,681.00 and will receive $17,045.00 for a total of $22,726.00 to use toward the project. In District 11E2 we have 32 Lions Clubs and eight Lioness Clubs. Each club is asked to contribute a minimum of $142 and they can expect a return of $568.00 to provide these services in their community. Clubs are expected to provide volunteers to do the A1C screenings. This would be accomplished at stand alone events promoted by the club or at health fairs sponsored by hospitals and clinics in the district.
The time line on this project is that we must submit our application to LCIF by October 9, 2018 and LCIF will approve or deny the grant in early 2019. We should be planning to sponsor events to hand out information and conduct screenings in April, 2019 and beyond. All of the funds must be used within one year of the grant being approved.
If you have any questions about this project, please don't hesitate to contact me.
IPDG Bob Gingerich
July 12th PDP Carol Diffin, member of the Au Gres Lioness presents our Scholarship winners each a $500 check.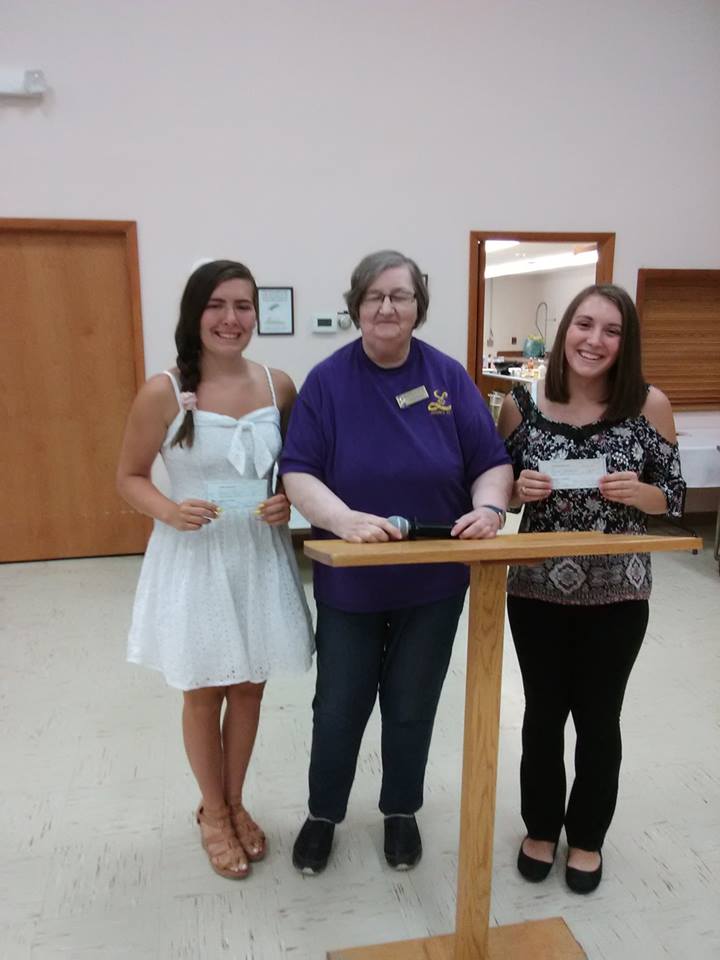 The Roscommon- Higgins Lake Lions Club went to the Margarette Gahagan nature preserve in Roscommon last Tuesday. The mission to do some fact-finding in regard to a future project. Working with Thomas Dale the centers director, the plans are being made to provide a 1/3 of a mile nature trail experience For Sight impaired people. We are hoping to come up with an estimate on cost and the work that needs to be done. We are hoping other groups will join in to help us create this n...eeded experience. There is only one such trail in the entire state of Michigan near Alden . Ideas include a rope the entire length of the trail for people to follow, Braille signs with computer codes that can be read by smart phones, reconstruction of Parts of the boardwalk are all in the planning. Lions Clubs in MI and especially 11-e2 are invited to be part of the planning committee and to get involved.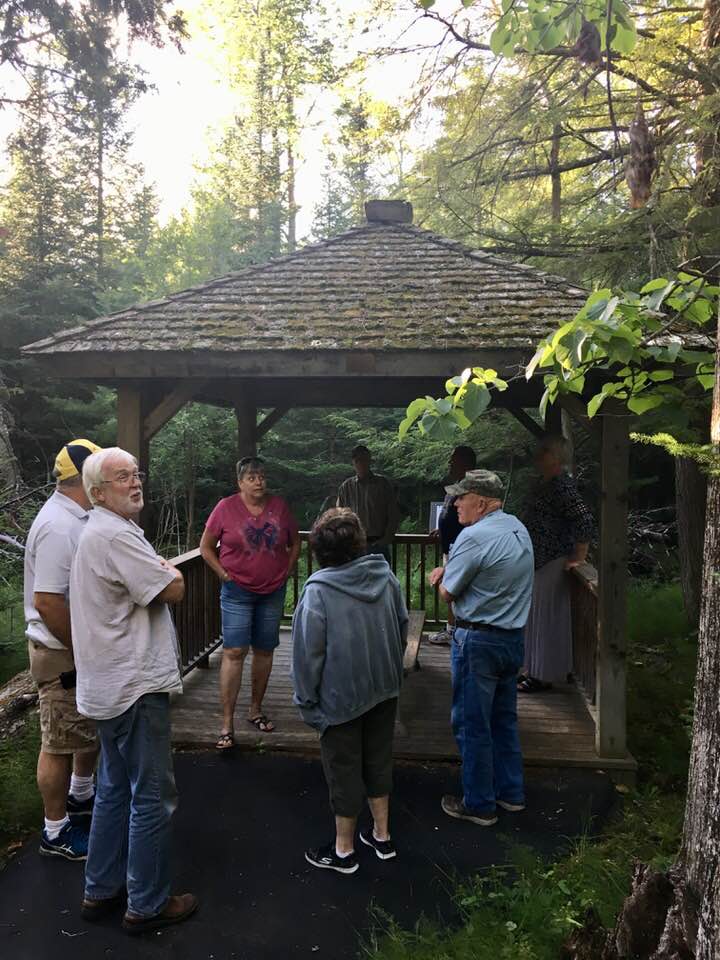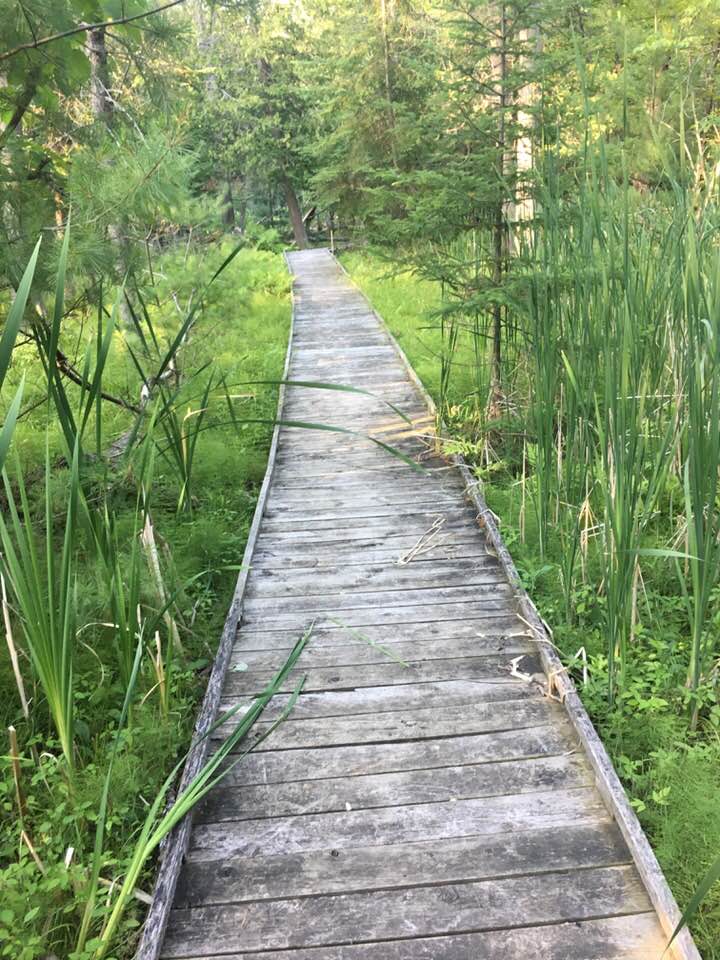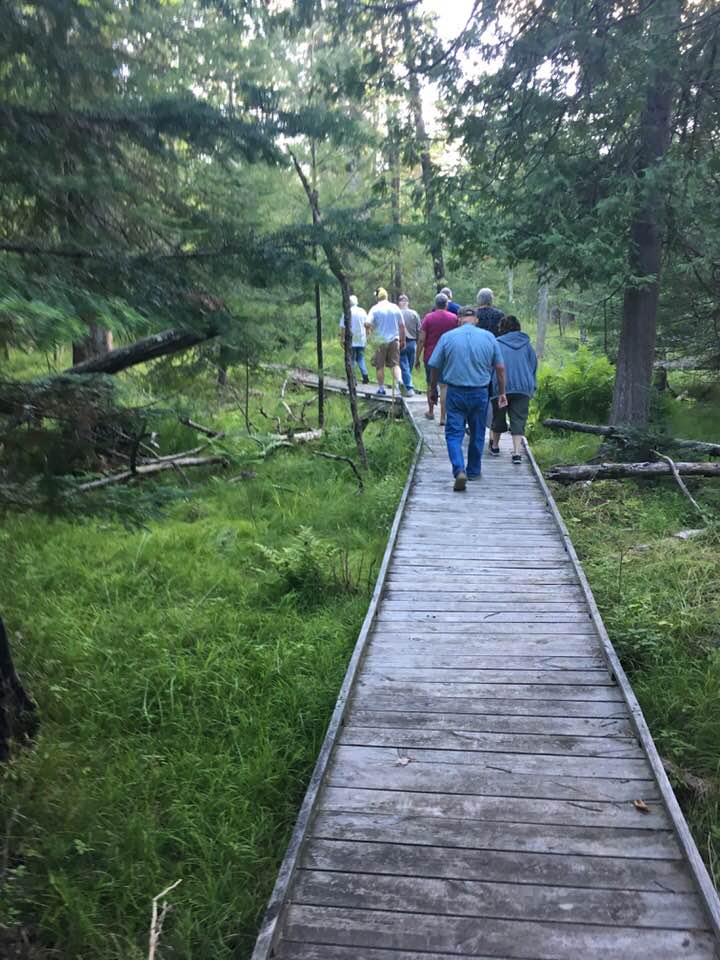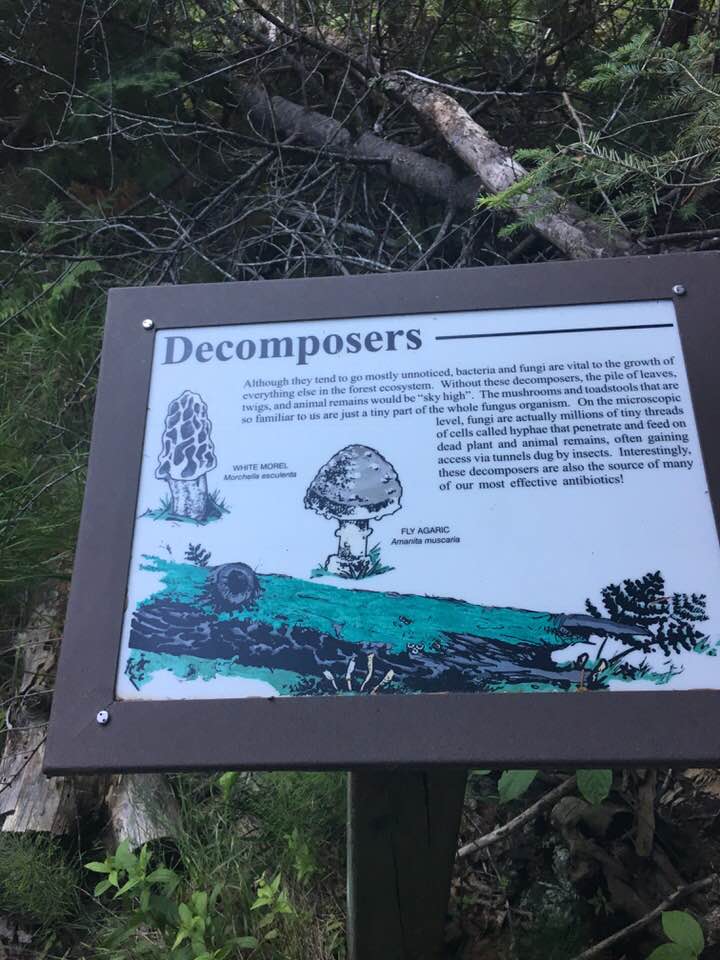 Fairview/Comins Lions Club had a very successful 3rd of July serving food at the Comins event center. Thanks for the continuing community support.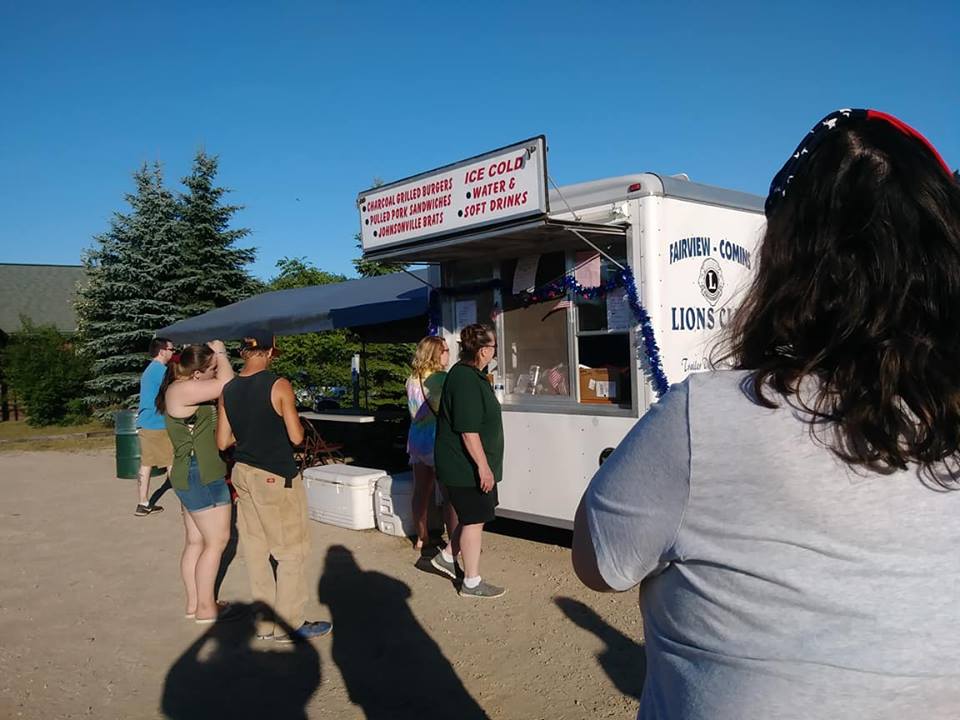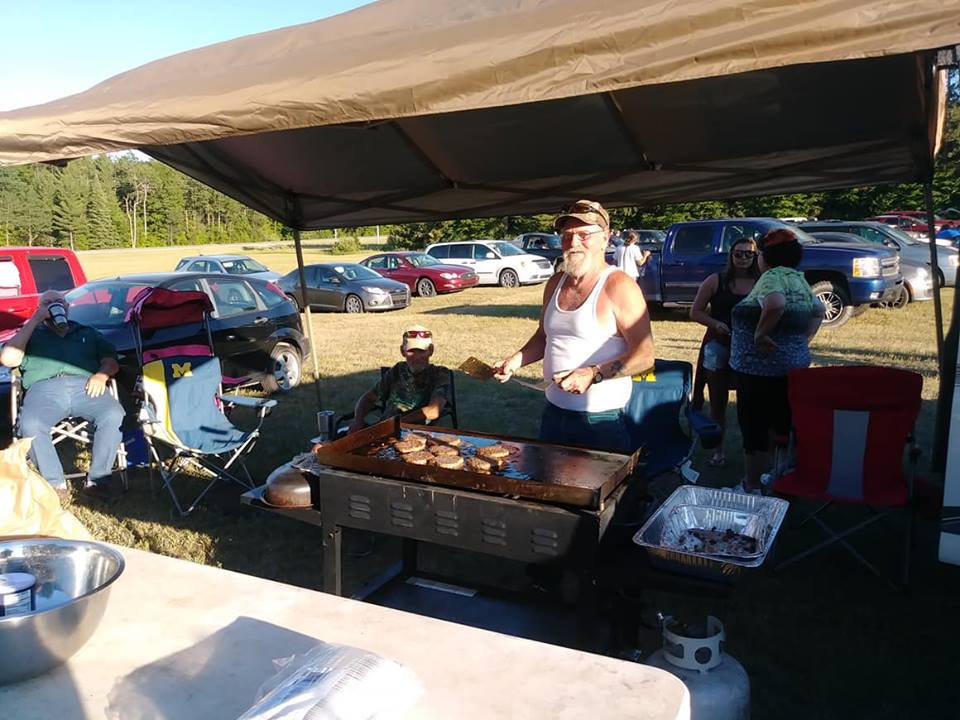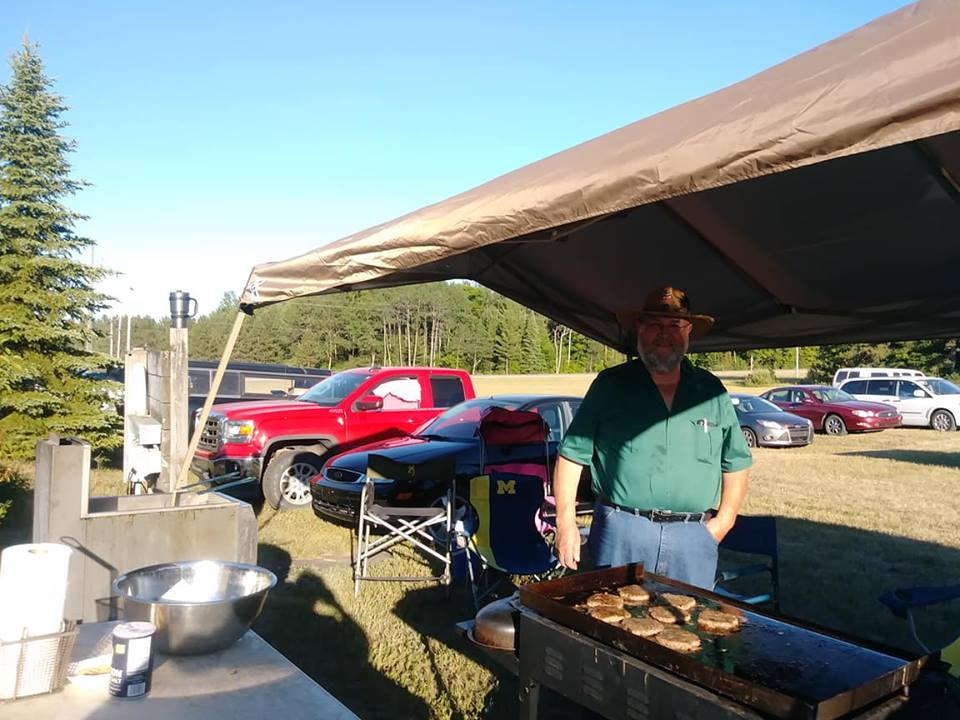 Charlevoix Lions Club PP Kim Kolb receiving a Lion Trophy from Lion Trent Kutsch for her service...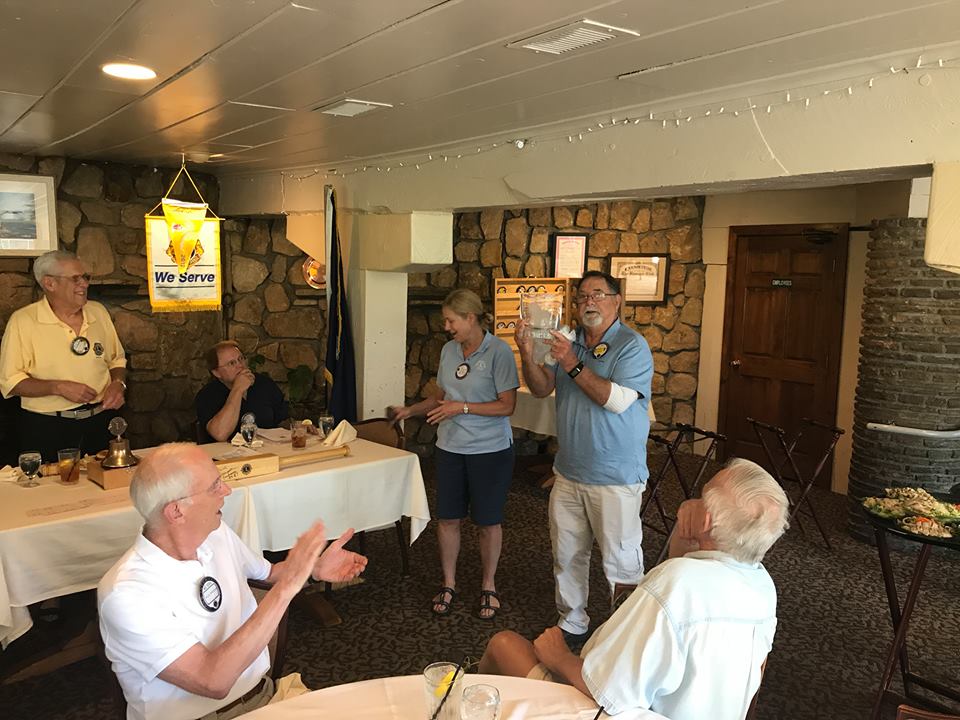 PDG Zeller inducted two new Hillman Lions. They are increasing their membership, are you?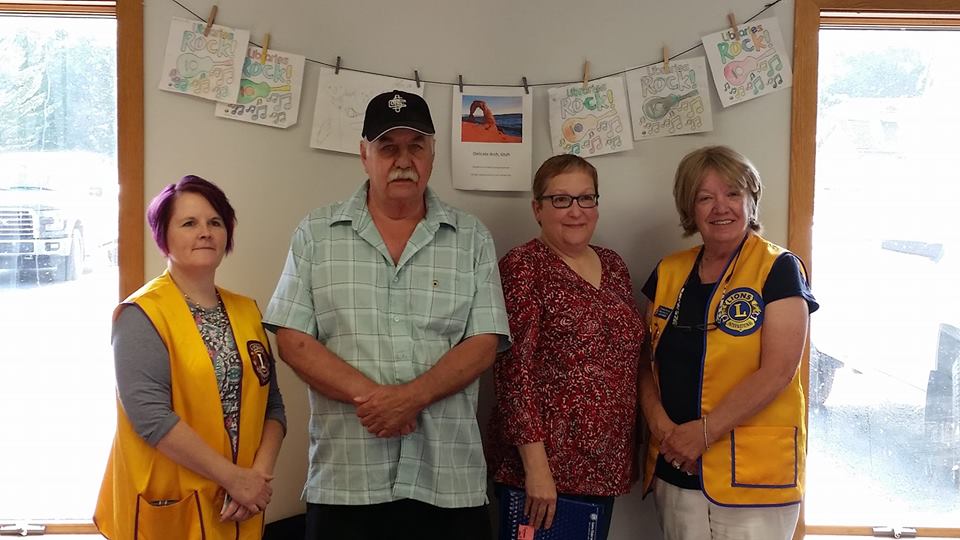 Central Lake Lions Club signature event, the 4th of July chicken BBQ dinner.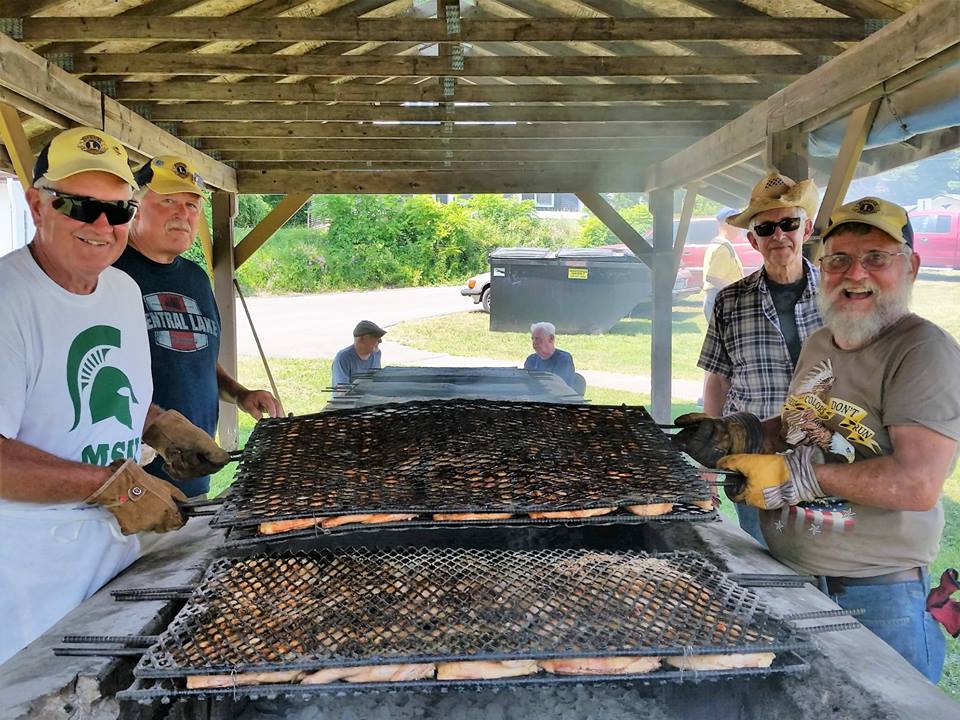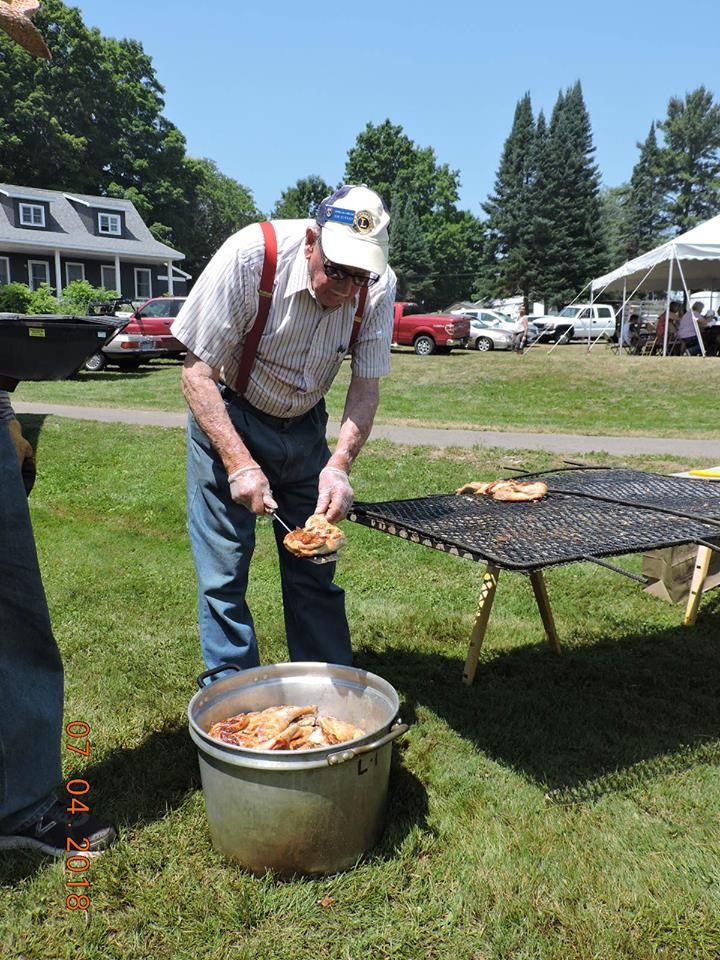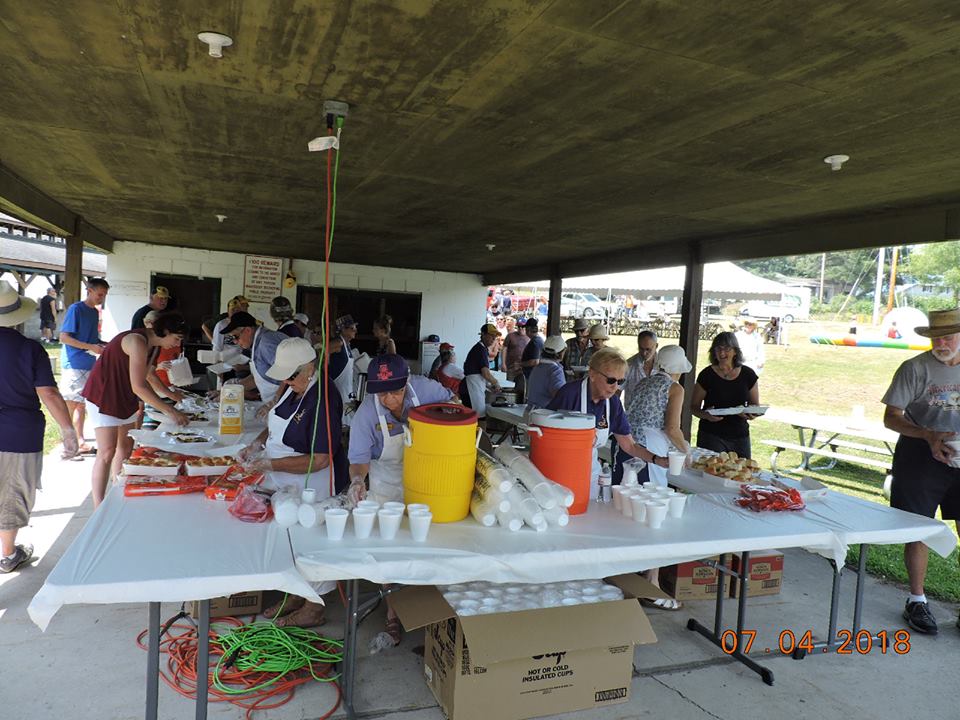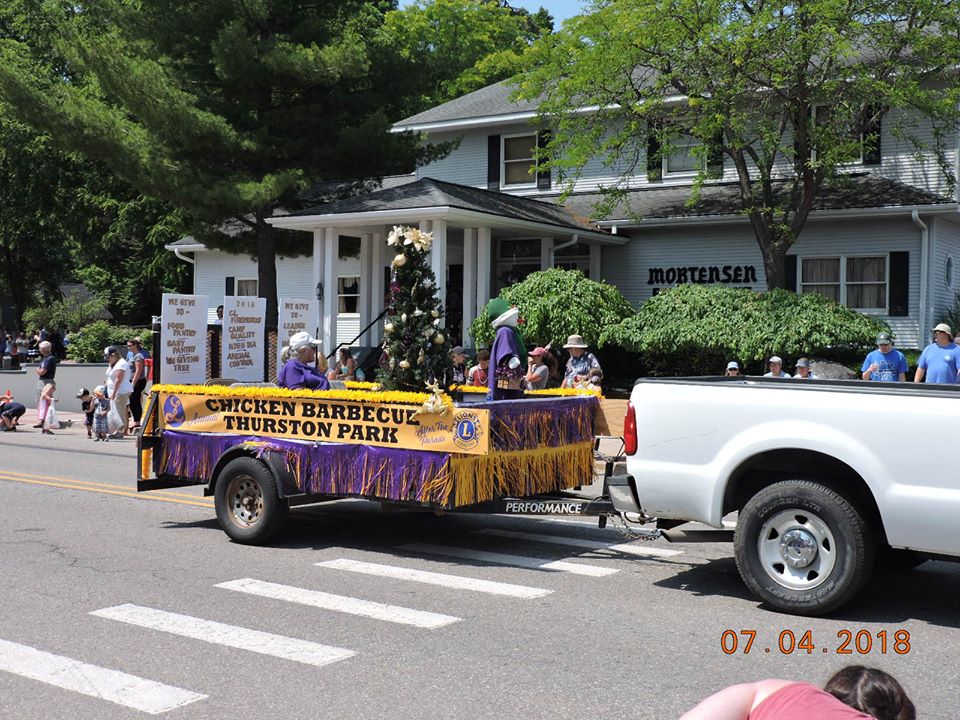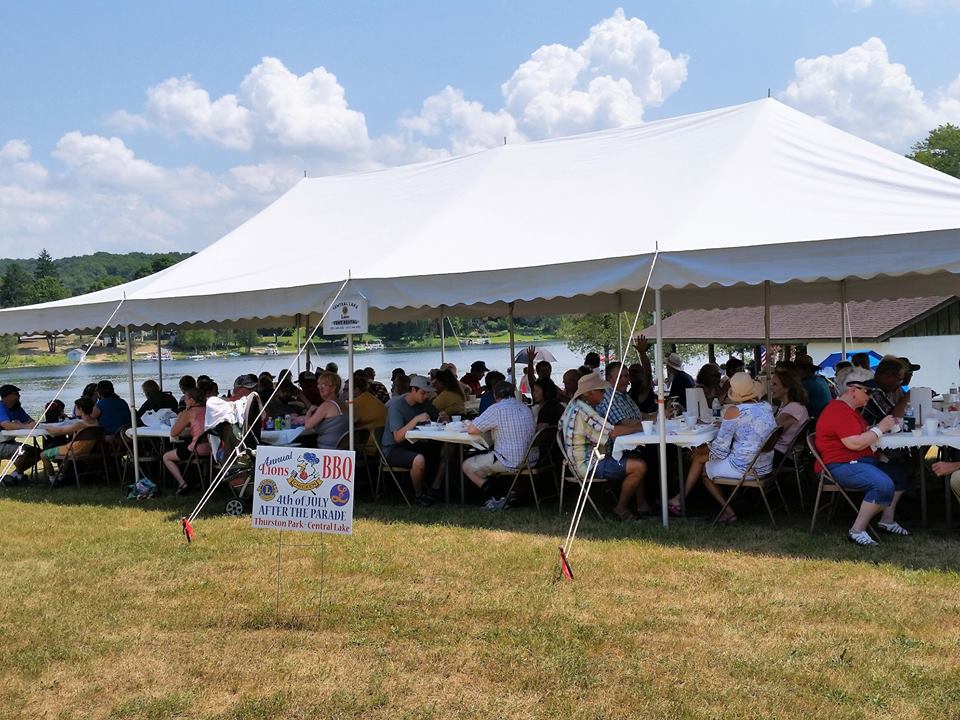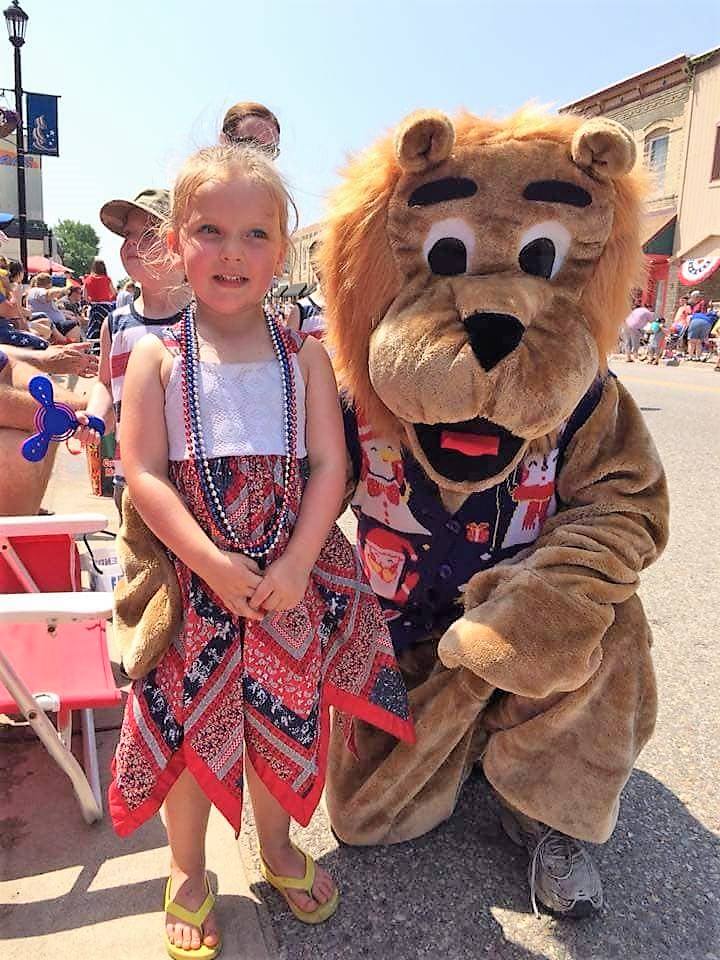 Elk Rapids Lions Club SERVES: hot dogs and fresh made Village Market bratwurst at the Elk Rapids Evening on River Street every Wednesday from 6-8 pm until Aug 1. Tonight's special guests were Paws with a Cause. Why not put on your Lion hats and make a trip to Elk Rapids on a Wednesday and support them - together WE SERVE!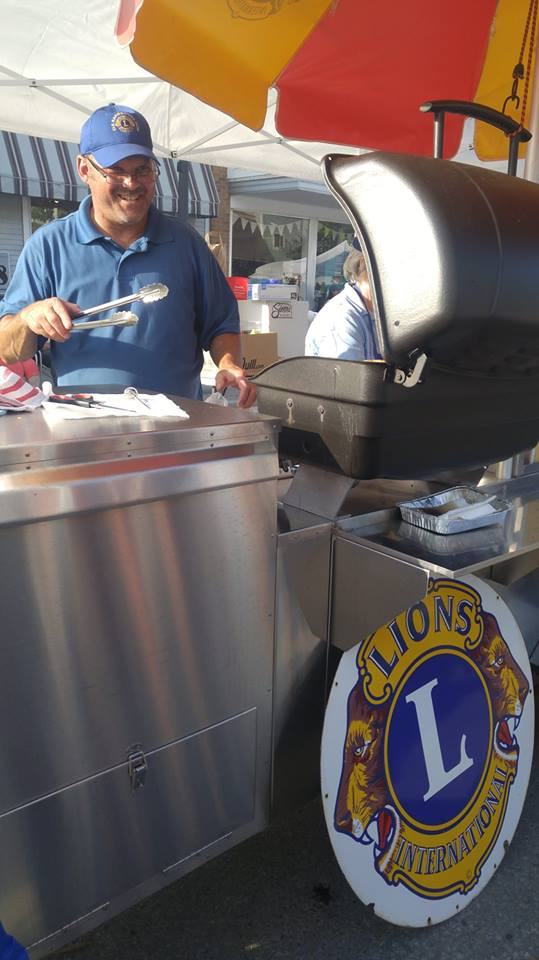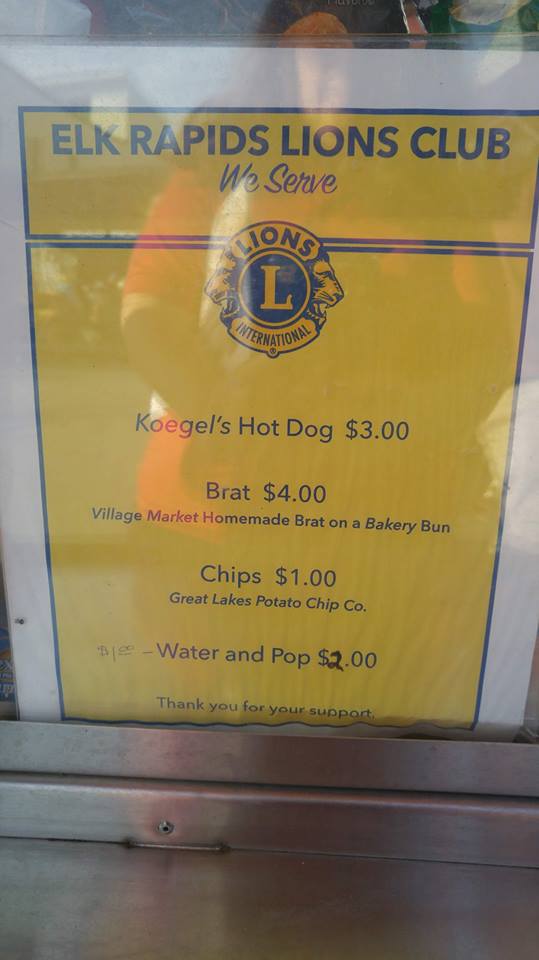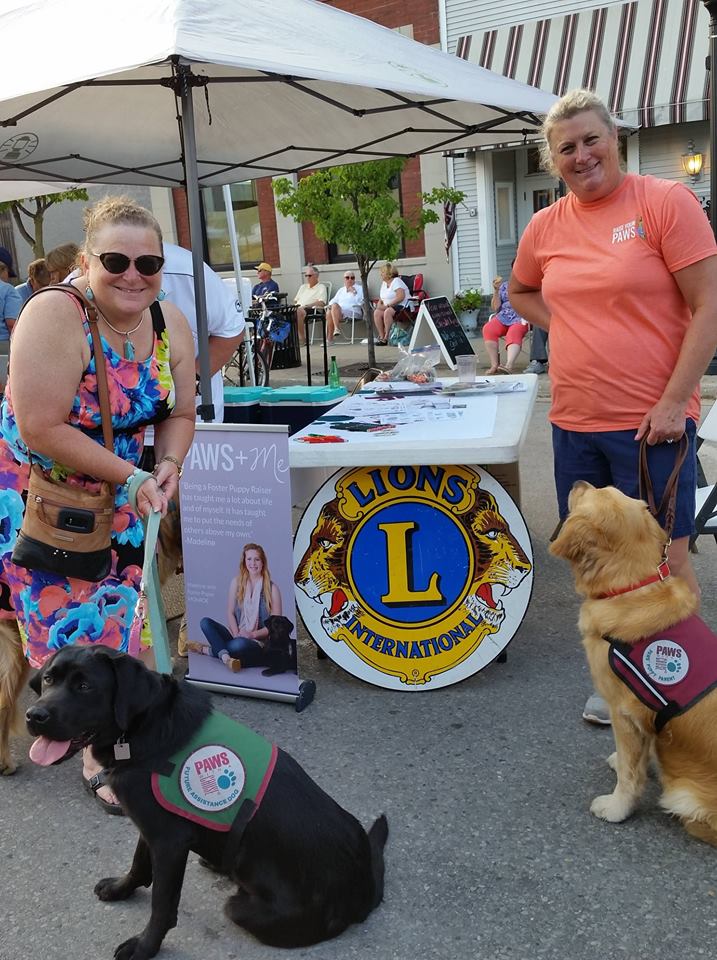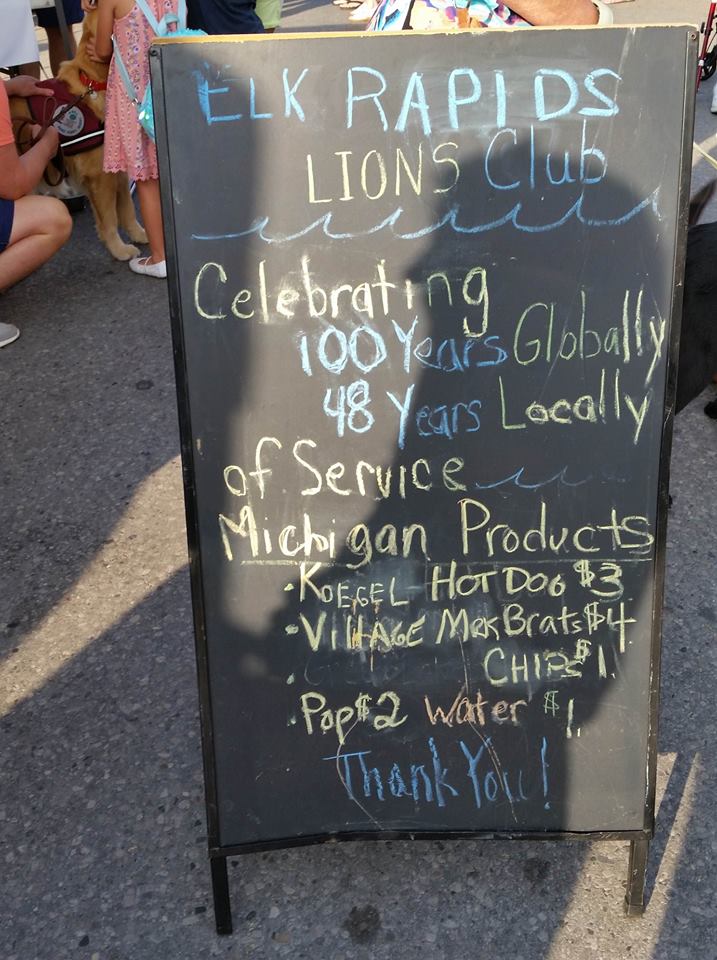 Lion ramp builders of Oscoda did it again, Today they finished building the ramp on one of the hottest day of the year. The homeowners where very appreciative and made them sandwiches and served a lot of ice water. Lions Tony, Chuck, Ann, Rick F., Bill and Dave worked on it over two days. Thank You Oscoda Lions for another great job.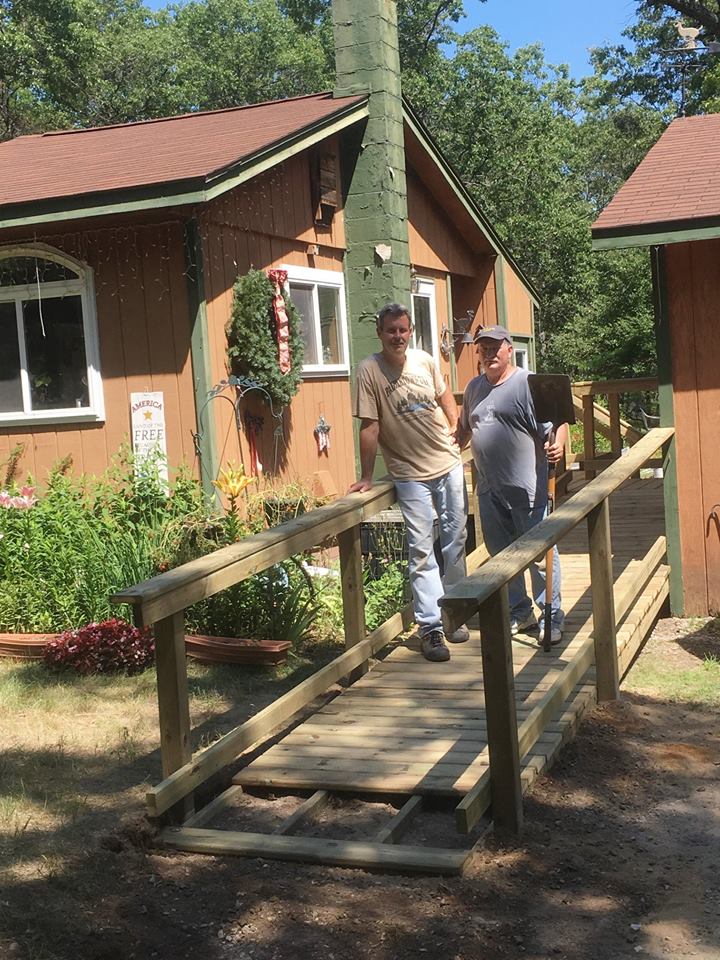 What an awesome time at the Jesse Besser Museum For Northeast Michigan today! Thank you to the Hillman Lions Club for sponsoring today's event - the kids and adults had lots of fun learning about the night sky, our Native American history, animals and then digging for fossils.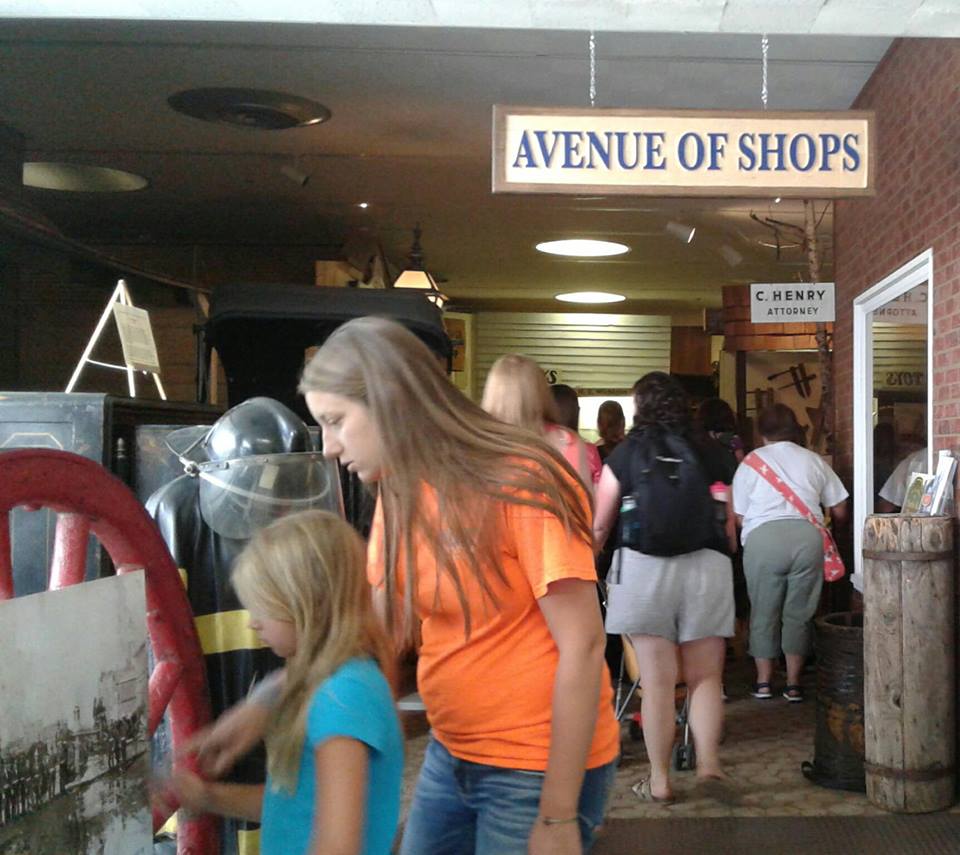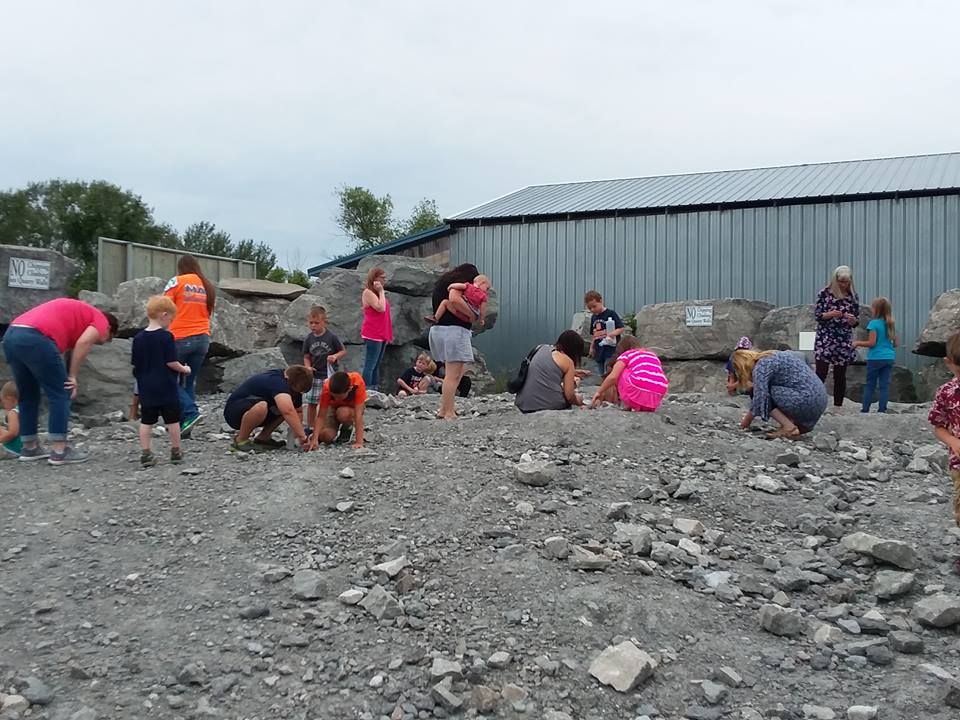 I was honored to have PDG 11-E1 Lynnwood Mast induct me as the President of the Boyne Valley Lions Club for 2018-2019. Thankful for such an awesome mentor (48+ yrs as a Lion) and an even better father. I look forward to serving our organization and community over the coming year. Lion Jill Drury!



Hall of Famer PDG Lion Don Seifried inducted Central Lake's first 6 lady Lions. L to R: Lions Kris Roberts, DiAnn Platt-Roberts, Sarah Leathers, Rod Leathers, Marie Leathers, Diane LaBeau, Bob LaBeau, Sara Goldberg, Jeff Goldberg, DGE Gordon Harris, Veda Harris and PDG Don Seifried.

The East Jordan Lions Club 50th Anniversary Celebration on Monday, June 18th from 5-7PM. This will be a Community Open House at the East Jordan Tourist Park Pavilion Building. Lite refreshments will be served.
Oscoda Lions Ramp crew completed a ramp on 23 just south of Camp Inn today. Lions Tony, Bill G, Dave B, and Chuck worked from 8am to 1pm on it. A 5x5 platform with 14' ramp. The family member is arriving tomorrow from rehab. He is double amputee due to diabetes. Great Job. We serve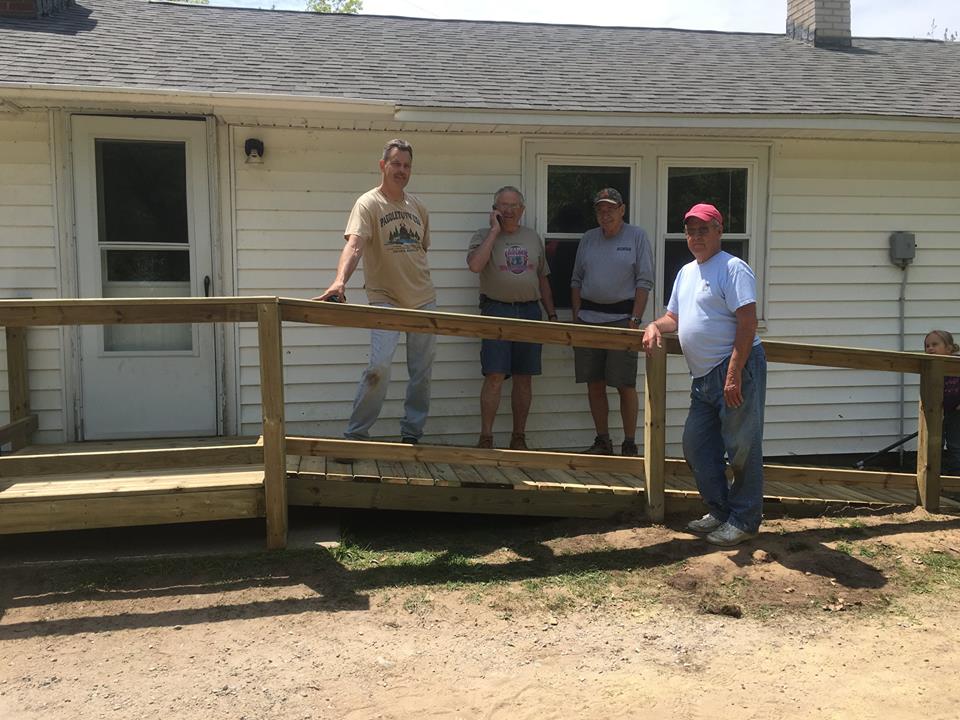 Fairview Lions Club visited Leader Dogs for the Blind and presented a check to them.]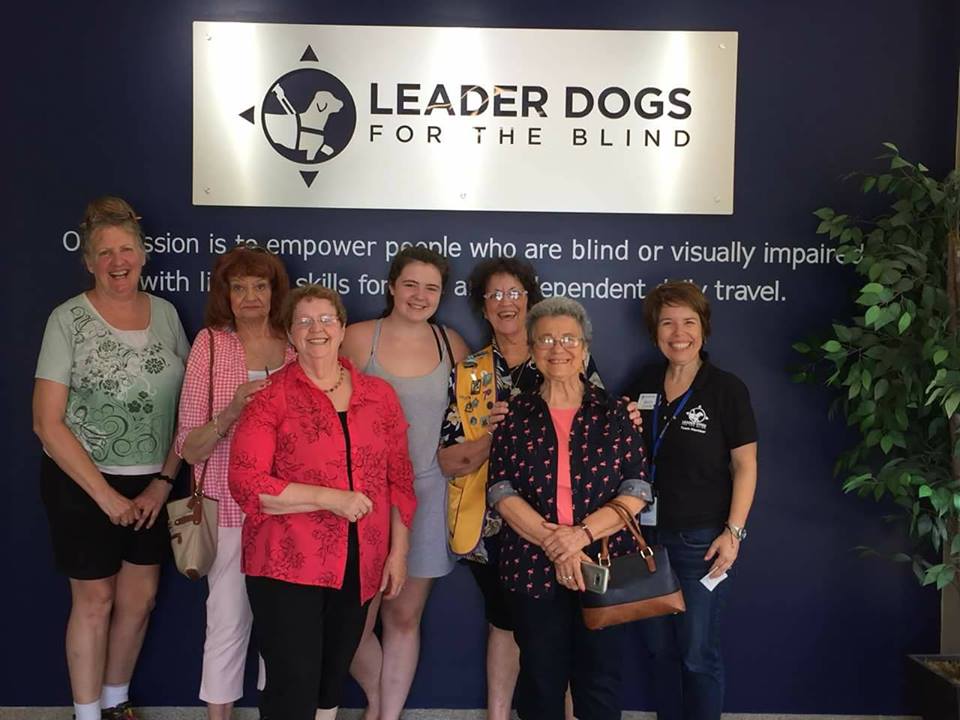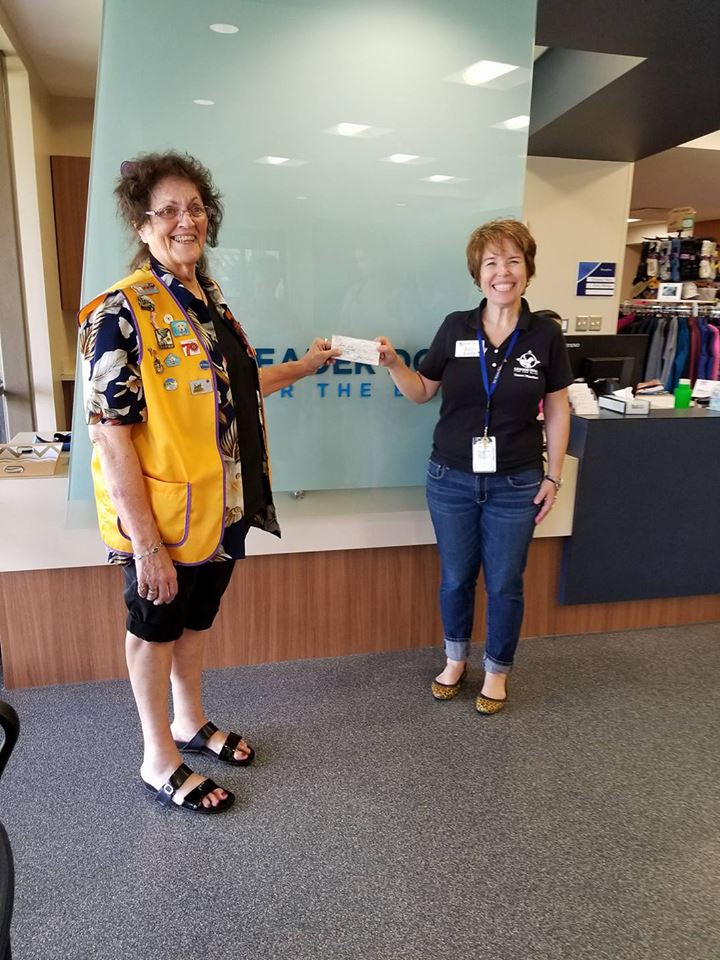 MD 11 LIONS OF MICHIGAN
2018-2019
Council of Governors Meetings
AUGUST 3-4, 2018
*Note: VDG Training, Friday, Aug. 3 10-4
MD 11 Council of Governors Meeting
CoG Meeting begins Friday @ 7:00 pm; Saturday @ 9:00 am
Crowne Plaza Hotel
5700 28th St. SE
Grand Rapids, MI 49546
616-957-1770
AUGUST 4, 2018
LMF Hall of Fame Dinner
Crowne Plaza Hotel
5700 28th St. SE
Grand Rapids, MI 49546
616-957-1770
OCTOBER 5-6, 2018
VDG Training Oct. 5, 10-4 pm
MD 11 Council of Governors Meeting
Friday: 3-5 pm MD 11 Convention Training-Governors
Friday: 7:00 pm Full CoG meeting begins
Saturday: 9:00 am Full CoG meeting begins
Quality Inn
561 Boulevard Dr, St Ignace, MI 49781
Phone: (906) 643-9700
NOVEMBER 9-11, 2018
Leadership Institute
Ralph A. MacMullan Conference Center
104 Conservation Dr., Roscommon, MI 48653
NOVEMBER 30-DECEMBER 1, 2018
VDG Training, Nov. 30
Election of Council Chair, 2019-20
MD 11 Council of Governors Meeting
Friday: 7:00 pm Full CoG meeting begins
Saturday: 9:00 am Full CoG meeting begins
Holiday Inn Gateway Centre
5357 Gateway Centre Dr.
Flint, MI 48507
810.232.5300
FEBRUARY 22, 2019
*Final VDG Training, 10-4
Forum Service Project- 7:30 PM
FEBRUARY 23, 2019
Michigan Lions Forum
Holiday Inn Gateway Center
5353 Gateway Center Dr., Flint, MI 4850
FEBRUARY 23-24, 2019
MD 11 Council of Governors Meeting
Holiday Inn Gateway Centre
5353 Gateway Center Dr., Flint, Michigan 48507
MAY 17, 2019
MD 11 Council of Governors Meeting
9:00 am
*No VDG Training
Centerpoint Marriott
3600 Centerpoint Pkwy
Pontiac, MI 48341
MAY 16-18, 2019
MD 11 Lions Convention
Centerpoint Marriott
3600 Centerpoint Pkwy
Pontiac, MI 48341
Entrance Fees Waived for New Members
I would like to share this special fee waiver announcement with you as a
district and international leader. I will also be sending the following
message to your club leaders and then to members. Please join me in
encouraging our clubs to take advantage of this unique opportunity so we
can make June our best membership month of all time. We're so close to
our historic goal of 1.5 million members, so let's keep pushing to the
end of the Lion year.
*Entrance fees waived June 7-30!*
To close out our incredible Centennial Celebration in style, *we're
waiving entrance fees for new members who join between June 7 and June
30! *For more than 100 years, we've delivered hope and change to the
world. Now, as we prepare for an innovative second century of service,
there has never been a more exciting time become a Lion, and we want to
make it as easy as possible for new members to join us.
So how does it work?
*Invite* family and friends to join your club between June 7 and
June 30.
*Report* your new member to Lions International by 11:59 p.m. CDT on
Saturday, June 30.
*Save* money when your club billing automatically reflects this
special promotion
*Earn* a Centennial Sponsor Pin for inviting a new member, and wear
it with pride.
This is a limited offer that does not apply to new members added prior
to June 7 or after June 30, 2018. No exceptions will be approved.
Charter and transfer charter fees do not qualify for this special
waiver. If you have any questions, please contact
membershipdev@lionsclubs.org .
Invite your family and friends to join the greatest service organization
in the world as we write the history of our second century together.
Sincerely,
Dr. Naresh Aggarwal
Your International President
On Memorial Day, the Atlanta Lions are having their pancake breakfast. We are serving from 8 AM to 11 AM. We will be located in the pavilion of the Briley Township park which is down on the river. We serve pancakes, sausage. coffee, juice and milk. The cost is by donation. Not much better than having pancakes, sausages and hot coffee out in the fresh air. All you can eat. If you are really lucky you just might see the world's greatest sausage server at work. That would be my humble self!! So please join us.
Alpena Evening Lions presenting Scholarship to Mallory LaLonde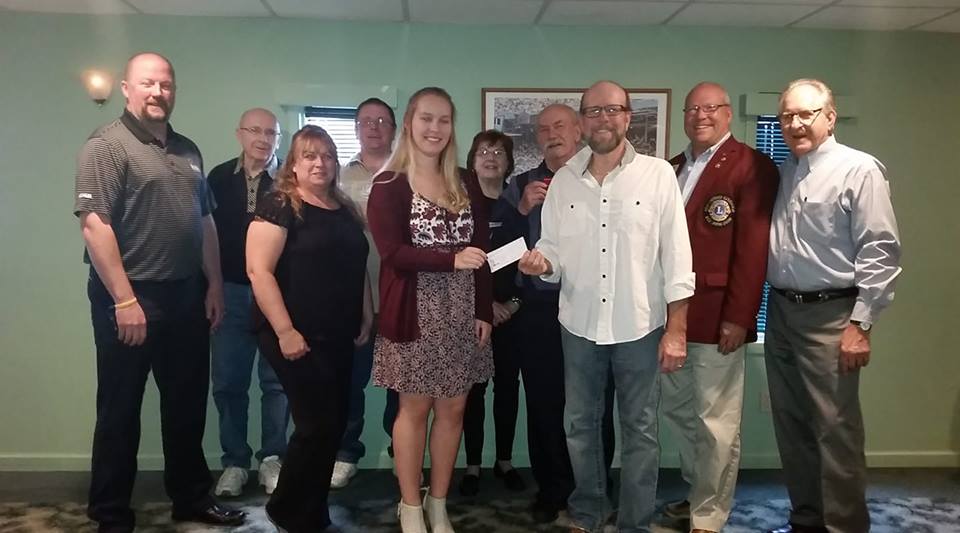 Receiving scholarships from the Grayling Lions Club on Wednesday, May 15th were Grayling High School students Olivia Schreiber and Destiny Schans. Presenting them were Lions Bob and CarlaJean Gingerich.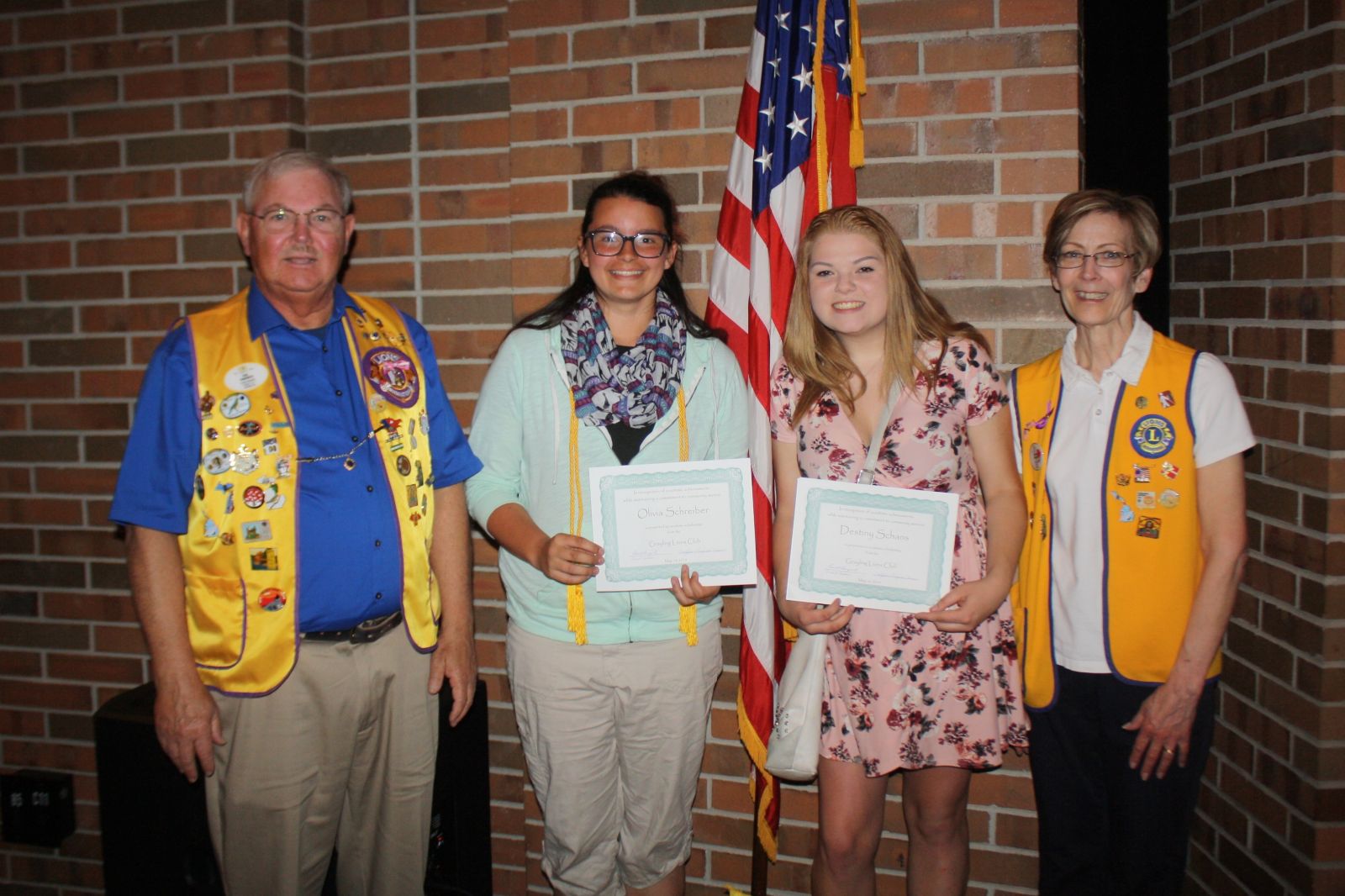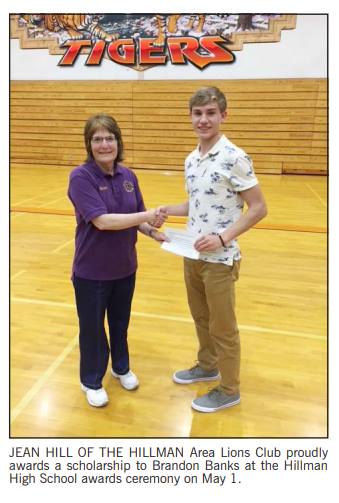 Zone Chair Training
Saturday June 16, 2018
Location: 710 Spruce Street, Grayling, MI
Time: 10 AM- Noon
To all Club Presidents, Club Officers and Appointed Zone Chairs
We will have a Zone Chair training session to update you on the goals and responsibilities of being a Zone Chair. Everyone is invited to attend to see what this volunteer job entails and to consider stepping up in the future.
Zone Chairs are an important function of our District and we need leaders!
Thanks!
GLT PDG Dave Zeller
dzeller@alpenaagency.com
A group of Central Lake Lions are shown with three corn hole games they recently constructed. The games were a popular attraction at the Lions District Convention held recently at Shanty Creek Resort and will also be used for local Lion and community events.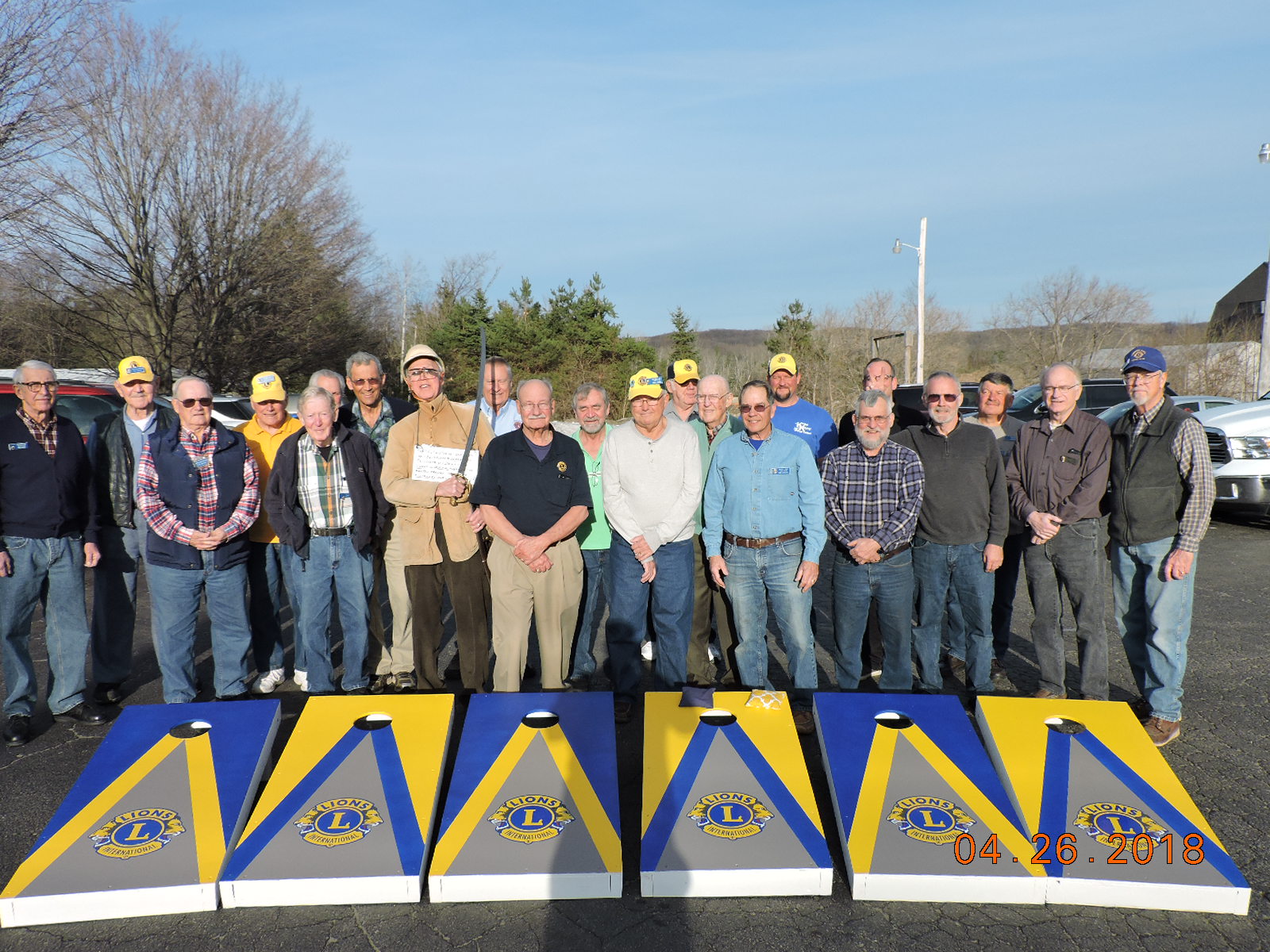 Two weeks ago we held a benefit Dinner for Ava Nordeen and Brody Story. I'm letting everyone Know that a little over $10,,000 was raised. We presented them with a Check for $10,000 plus last week. Thank you again, We could not do this without the communities support. Also out ramp builders Tony and Bill did a small job of putting up a hand rail on the front and back porches.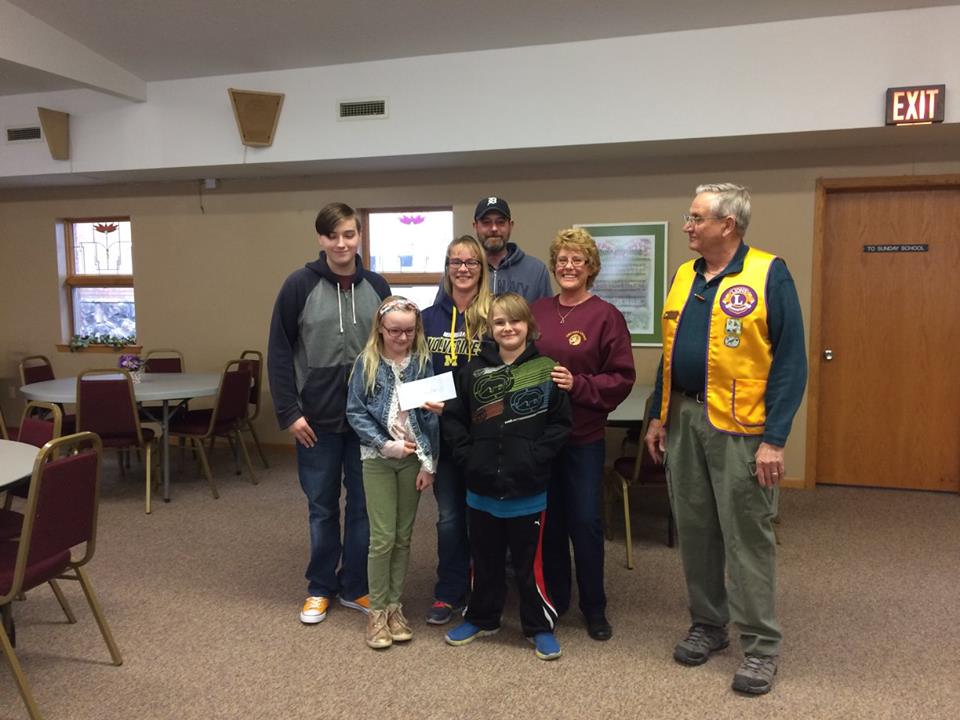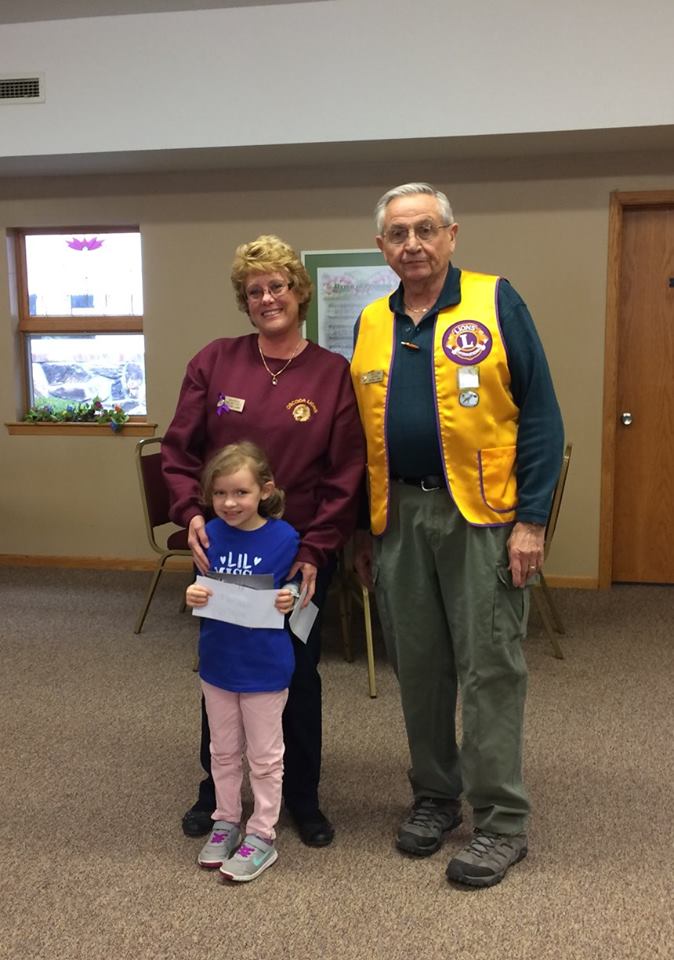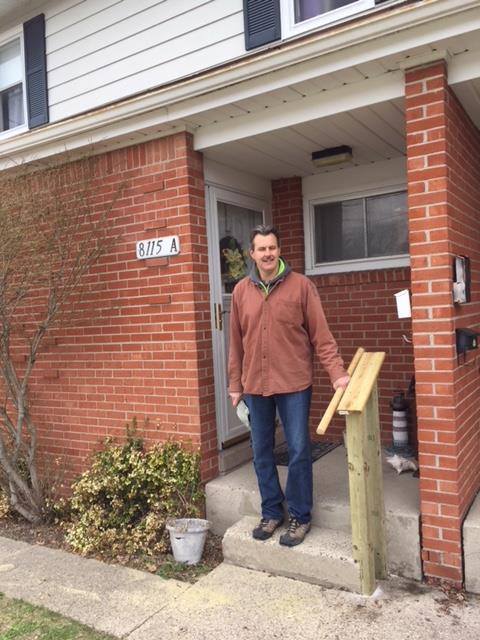 Lions All,
The status of Lioness Clubs was discussed at our DGE Area Training in Indianapolis in February. As stated, this topic was going to be an ongoing discussion with the International Officers and Board. Currently this is the status.
To help attract more women, the "Join Together" program has been extended until June, 2021. However, as a GREAT incentive, there is no longer a minimum number of members or a charter fee to bridge to Lions. Consequently, you may want to try to encourage some of your long-standing Lioness clubs to consider joining and getting the credit that they deserve. By joining, they will have their own $2 million insurance policy, all of their years of service (after completing the proper paperwork), the possibility of being recognized with Presidential Awards, and the opportunity to be leaders at all levels of our association.
For those of you having Lioness Clubs in your districts, this seems like a perfect opportunity to focus on engaging women who understand service.
Best regards,
Jama
Jama Wahl
GLT Area Leader 1C
Zone Meeting Scheduled
Attention all Lions and Lioness in Region 1: There is a Zone Meeting at 10:00 am on April 21, 2018 at the Indian River Lions Club at the A.M. Schneider Memorial Bldg., 4439 Kateri Lane, Indian River, MI. Kateri Lane is just east of Indian River on M-68 on the south side of the highway. Region 1, Zone 1 Zone Chair is Lion Art Clark of the Indian River Lions Club. The following Clubs are in Region 1, Zone 1: Cheboygan, Cheboygan Lioness, Gaylord, Indian River and Mackinaw City. Region 1, Zone 2 Zone Chair is PDG Bev Bodem. The following clubs are in Region 1, Zone 2: Alpena, Alpena Evening, Hillman, Hubbard Lake, and Rogers City. All Lions and Lioness are welcome and encouraged to attend. The last time the Indian River Lions Club hosted a Zone Meeting, a nice luncheon was provided.
Lion Dean Deliyanides presenting Julie Waldron with a bike again this year for the Annual Indian River cimmunity Easter Egg Hunt! Thank you Lion Dean for the hard work you put into finding such a great bike. "WE SERVE"
Paste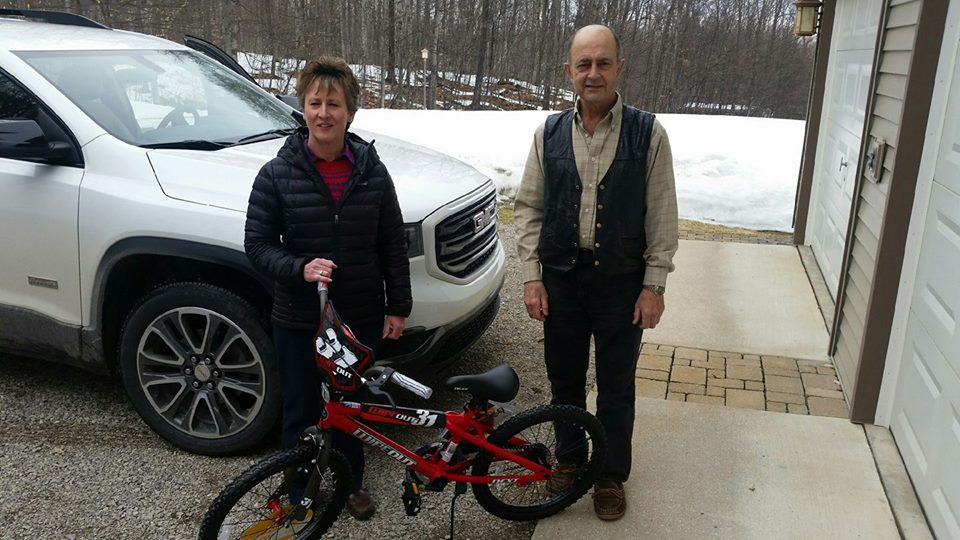 2018 District 11E-2 Convention Schedule
Date Time Event Location
Apr. 27 All day Various Displays Lakeview Lobby
4 pm - 6 pm Convention Registration Lakeview Lobby
4 pm – 6 pm Delegate Certification Lakeview Lobby
5:30 pm – 7:30 pm Dinner on your own
6:00 pm VIP Dinner Fireside Parlor
7:30 pm – 10:30 pm Mixer, Cash Bar, Snacks Parlor C
8:00 pm – 10:30 Private Room Mixer 346
Apr. 28 Breakfast on your own
8:00 am – 3:00 pm Various Displays Promenade
8:00 am - ? Coffee Service Promenade
7:30 pm – 11:45 pm Convention Registration Promenade
2:00 pm – 4:00 pm Convention Registration Promenade
7:30 pm – 11:45 pm Delegate Certification Promenade
2:00 pm – 4:00 pm Delegate Certification Promenade
8:15 am – 9:15 am Lioness Cabinet Meeting Bellaire Room South
8:15 am – 9:15 am Lions Cabinet Meeting Bellaire Room North
9:30 am – 10:20 am Website & Social Media Training Parlor B
10:30 am – 11:20 am Presidents Training (Dave Zeller) Parlor B
10:30 am – 11:30 am Secretary Training (Bob Noll) Bellaire Room South
10:30 am – 11:30 am Treasurers Training (Barb Durflinger) Bellaire Room North
11:30 am – 12:00 pm Q & A w/ PID Mike Molenda Parlor B
12:00 pm – 1:30 pm Luncheon Parlor C
1:45 pm – 2:45 pm State & District Project Forum Parlor B
3:00 pm – 4:00 pm Special Presentation – Darkness to Light
A program about prevention of child sexual
abuse. Parlor B
4:00 pm – 4:45 pm District Raffle / Cash Bar Parlor D
5:30 pm – 6:15 pm Social Hour/ Dinner Music by Al Bondar Parlor C
6:15 pm – 8:30 pm Lions Awards Banquet Parlor C
8:30 pm – ? Hospitality Room (Central Lake Lions) Room 346
Apr. 29 8:00 am – 8:45 am District Memorial Service Parlor A
9:00 am – 10:30 am Lioness Awards Breakfast Parlor C
11:00 am – 12:00 pm Lions District Elections Parlor B
11:00 am – 12:00 pm Lioness District Elections Parlor A
12:00 pm Convention Adjourns
District Convention Delegates
Credentials Chair Lion Bob Nelden has advised me that only 14 clubs have submitted delegate lists for the 2018 convention in Bellaire. I am disappointed. If I were to say that I expected 100% of the clubs to submit lists, I would be lying but I expect a better number than 40% of clubs participating. To allow only 14 clubs to control what happens in the district is astonishing. The attached list of clubs shows the number of approved delegates for the Lions Clubs International Convention in Las Vegas in late June but is close to what we approve for the District. Club Secretaries can find the exact number of delegates allowed for the District Convention by going to MyLCI.org and looking for the membership that they reported at the end of February, 2017. The reason is that according to the District Policy Manual a delegate must be a member for at least 1 year and 1 day in the month prior to the convention. One delegate is allowed for each 10 members reported. You should round up if the fraction is 5 or more and down if it is 4 or less. For example 36 members allows you 4 delegates and 4 alternates. 34 members allows 3 delegates and 3 alternates. Alternates only vote if delegates are not present. Please poll your membership and see who is attending the convention at Shanty Creek and ask them to show for voting at 11:00 am on Sunday morning. While the delegate list asks for the form to be submitted by April 1st we will accept them up to the day of the voting. Submit to Lion Bob Nelden of the Central Lake Lions Club. It is an obligation that should be taken seriously.
GST PLANS SERVICE PROJECT TO BENEFIT SUMMER CAMPS
All districts in Multiple District 11 and Single District 10 are being asked to supply items for back-packs to be donated to summer campers at Lions Bear Lake Camp, a project of Multiple District 11, and Bay Cliff Camp, a project of SD 10.
The 6th Annual Convention Picnic will be held at Bear Lake Camp this year, showcasing this outstanding camp for people of all abilities. Bear Lake Camp's mission is to provide outdoor recreational/educational opportunities for persons with special needs.
They offer a unique, outdoor-focused community that allows individuals to grow no matter what your abilities may be.
Bay Cliff is a year-round, nonprofit therapy and wellness center for children and adults with physical disabilities. Bay Cliff's priority program is a seven-week, summer therapy camp session serving children with orthopedic, speech, hearing, and vision disabilities.
A list of items to be supplied will be included in the MD 11 Lions Convention packet. Contact your District GST or IPCC Justin Faber, MD 11 GST Chair, with any questions you may have. IPCC Faber can be reached at spcfab@hotmail.com or call 989.600.9009
DISTRICT NEED GST CONTACT
SD10 Small Kleenex Packets………………………….………..IPDG Matt Doney
A1 Wash Cloths.……….……………………………………. .DG Terry Treppa
A2 Sunscreen..………………………………………………... Lion Bill Stevens
B1 Hand Sanitizer……………………………………………...CCE Barry Allen
B2 Band-Aids……………………………………………….PDG Marsha Brown
C1 Toothbrush Holder with a Toothbrush……….……...……PDG Diane Wehby
C2 Soap Holder with Soap………………………………………DG Brent Beracy
D1 Miniature Flashlight.…………………………..………..Lion Joe Gwizdala III
D2 Water Bottle…………………………………………….IPDG Dave Wineman
E1 Insect Repellent………………….………………………….Lion Sheila Ferrel
E2 Lip Balm………………….………………………DG Bob Gingerich
District 11E-2 has been tasked with providing lip balm. I am asking clubs to provide either sticks of lip balm or a few dollars each to provide this to the project. Clubs should send monetary donations to Sec/Treas Barb Durflinger and make check payable to District 11E-2. Note that the donation is for the MD-11 Convention Service Project. If you have lip balms to donate, contact me. We are aiming to put 600 packs together. Together WE all SERVE.
DG Bob
I would like to announce that Lion Thom Seymour has agreed to run for 1VDG at the District Convention in Bellaire. It is great to have someone step forward to fill an important District position. Thanks Thom!
Just in case you didn't receive the March Lion Pride you may find it here:
http://lionsofmi.com/lion-pride-magazine/
Convention Chair PDG Bill Stenback advises Lions who are planning to attend the District Convention at Shanty Creek to make their reservations as soon as possible. As of March 27th the discounted rate of $75 per night will rise significantly, possibly as high as $250. This is due to other local events happening in Bellaire on that weekend.

Oscoda Lions held their 11th annual bowling event on Saturday. We had 96 bowlers. We would like thank everyone who participated and all the businesses that donated prizes. Without your generosity we could not do what we do for the community.


The Fairview/Comins Lions Club had a fun and successful Reading is Fundamental book giveaway.We also received thank you cards for the sending them to the Shrine circus.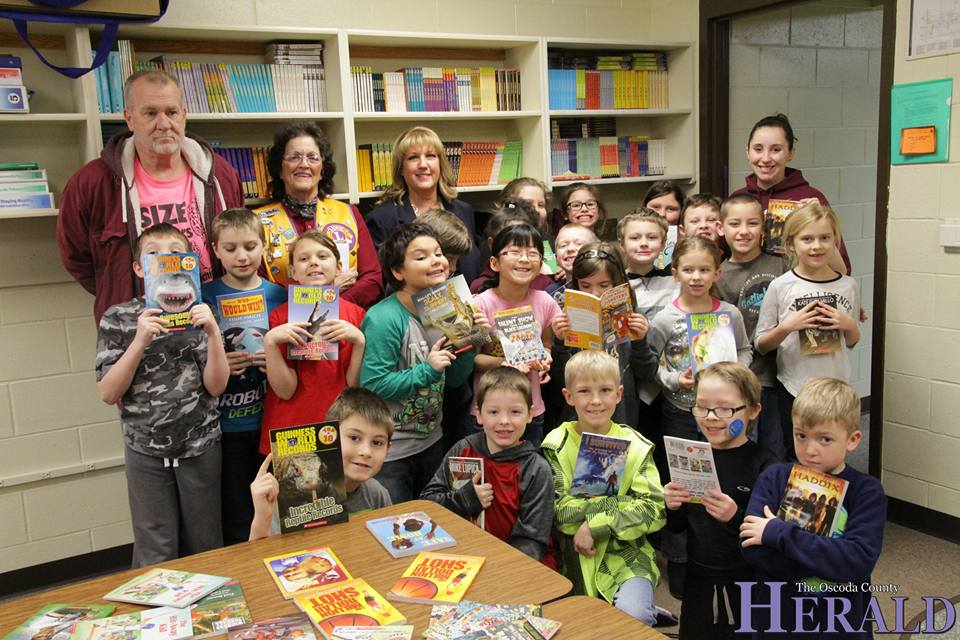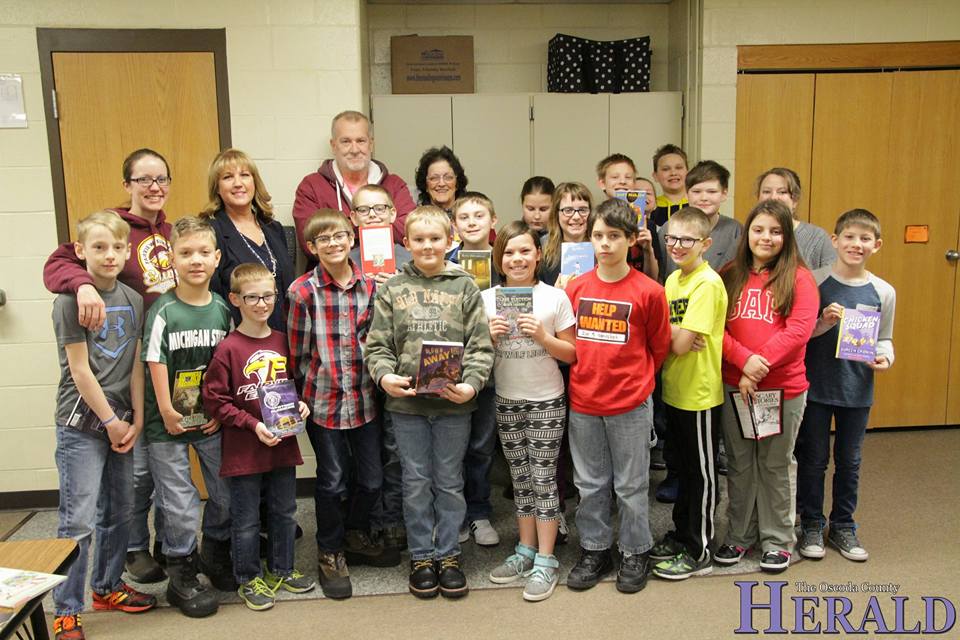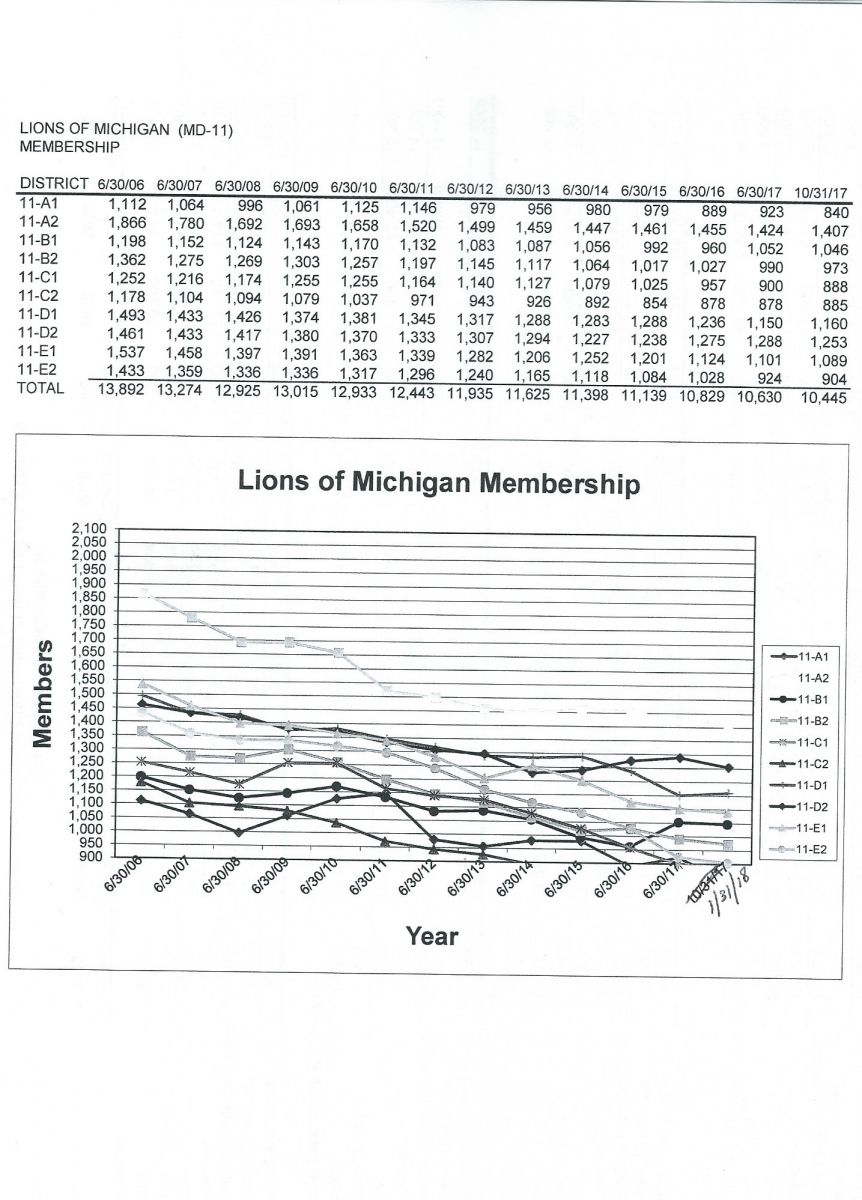 The Rogers City Lions Club sponsored a fun art day with their 5th grade class at Rogers City Elementary School.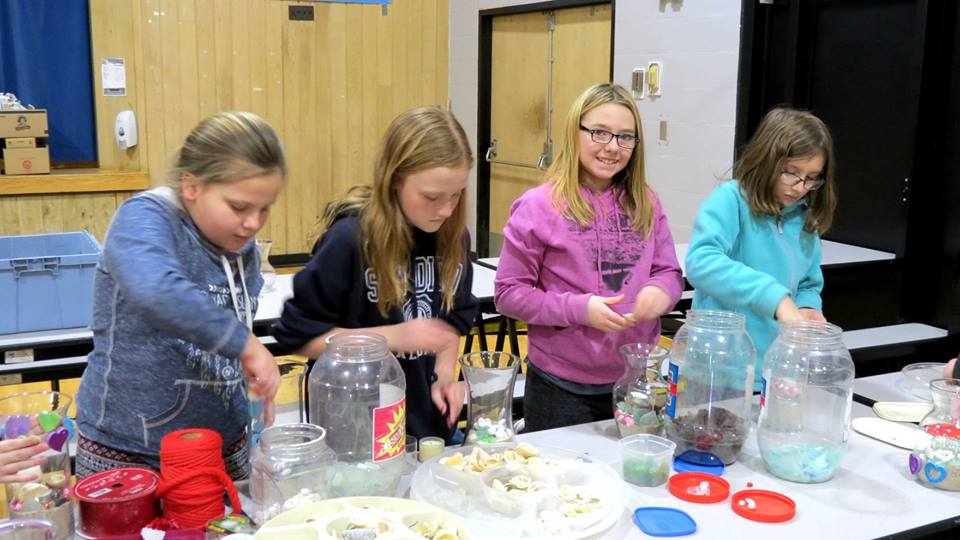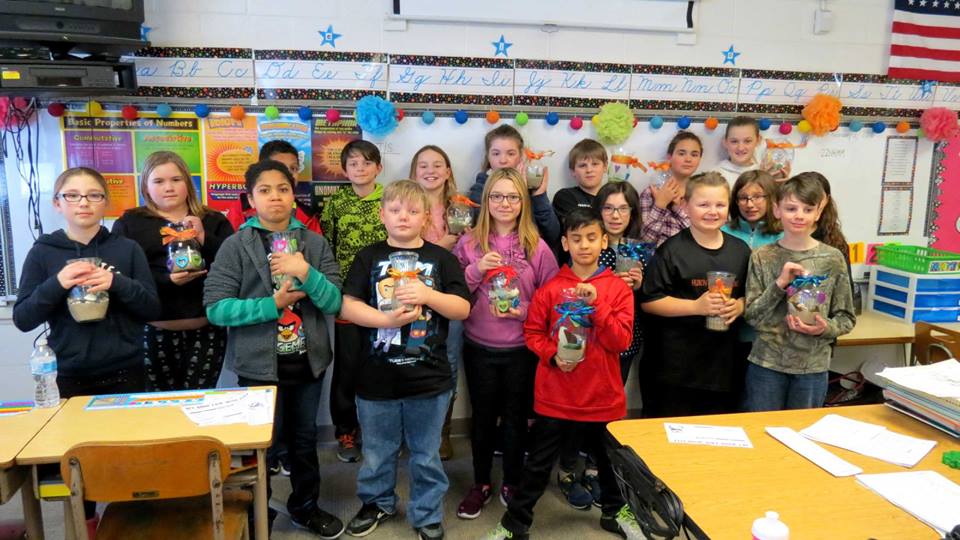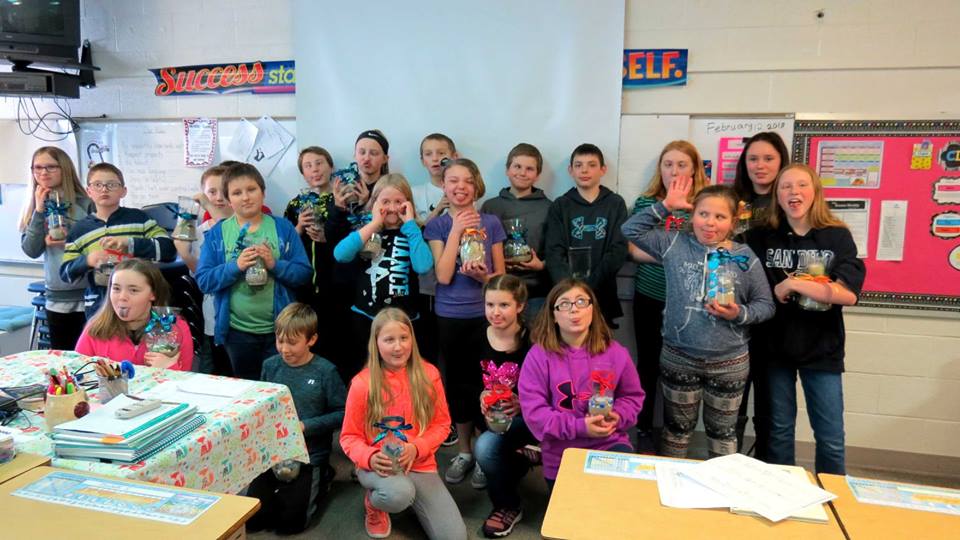 2018 Oscoda Lions Club Souper Supper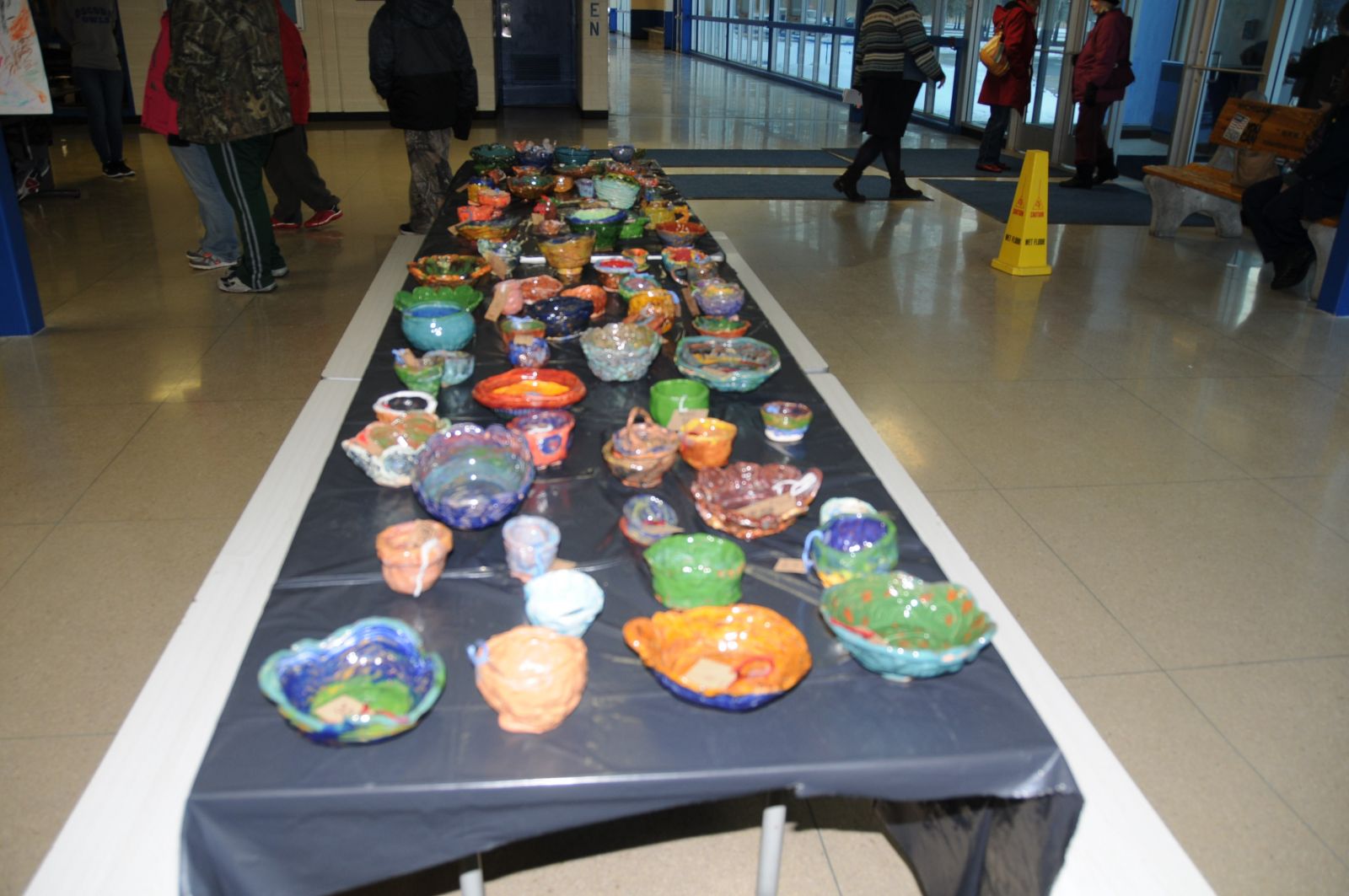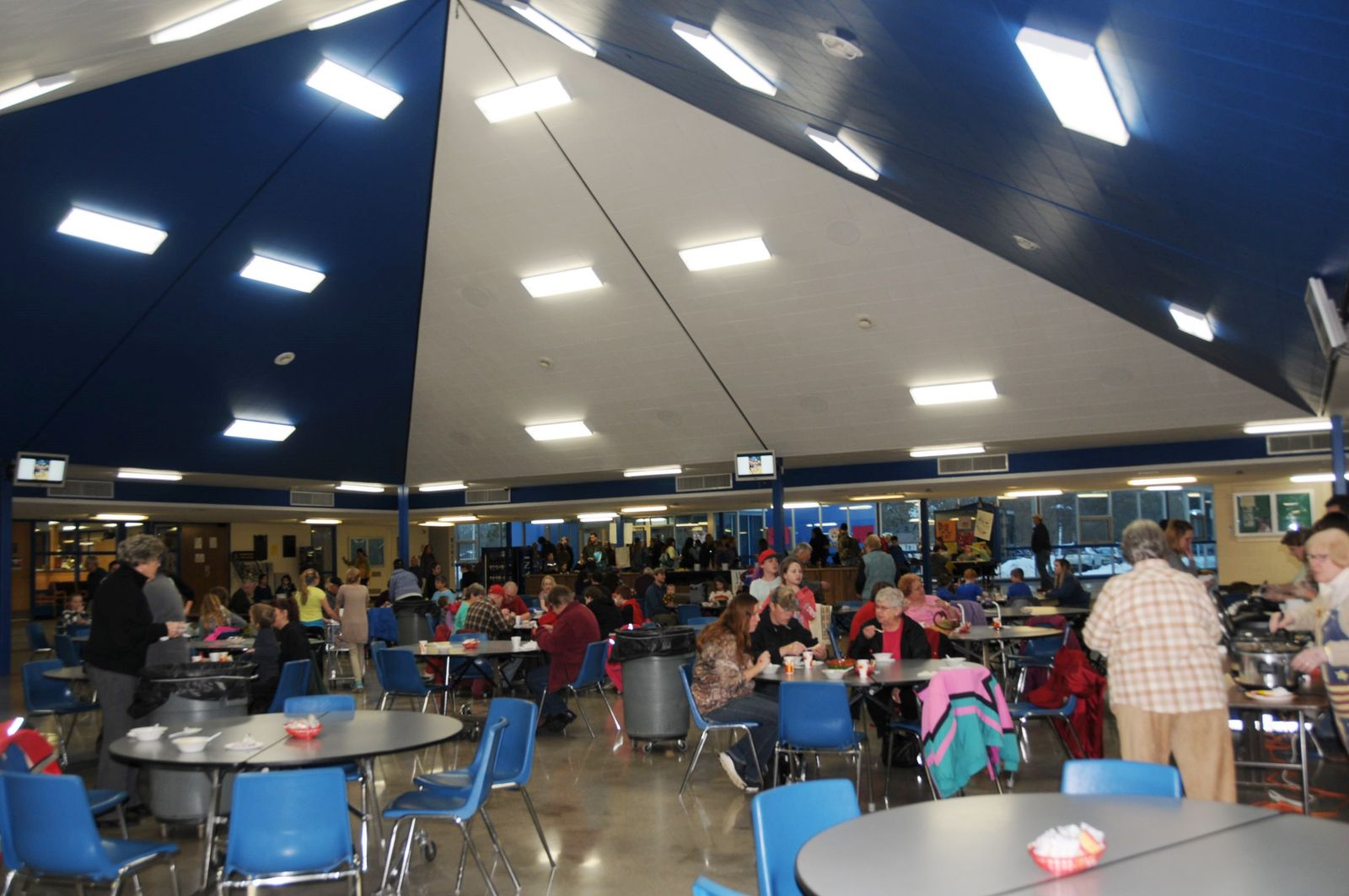 7th Annual Souper Supper was held Friday. The Oscoda Lions served home made soups to over 350 people. The Kids from Richardson Elementary art classes sold their hand crafted bowls. The money raised went to a charity of their choice
Convention Information
The District 11-E2 Convention will be held at Shanty Creek Resort, Bellaire on April 27, 28 & 29, 2018. Details will be out soon.
The MD-11 Convention will be held at Holiday Inn Flint, Grand Blanc area on May 18 & 19, 2018. Information will be out soon.
The Lions Club Internaitional Convention will be held in Las Vegas, NV on June 29 - July 3, 2018 at the MGM Grand. Go to lionsclubs.org and click on the LCICON tab for more info.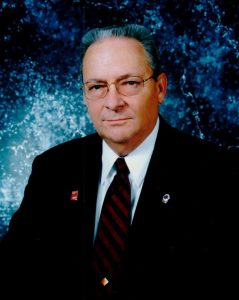 PDG Al Kelpinski
1933 - 2018
Aloysous "Al" F. Kelpinski, age 84 of Hale, MI, formerly of Prescott, passed away on Monday, January 22, 2018 at St. Mary's Medical Center in Saginaw. He was born on May 14, 1933 in Bay City to Louis & Cecelia (Dozik) Kelpinski. He graduated with a Bachelor's Degree from the University of Detroit. Al served in the US Army during the Korean War. He retired from Ford Motor Company in 2000 after 37 years of service as a plant manager. He married Florence Surma on May 18, 1957. Al was a member of St. Pius X Catholic Church in Hale and the Knights of Columbus. He was a member of the Oscoda Lions Club and had served as the District Governor in 2000-2001. Al loved to go hunting and fishing.
Al Is survived by his wife; Florence of Hale; children, Carol (Dennis) Turner of Prescott, Elizabeth (Pete) Myers of Tawas City, Joe (Mary) Kelpinski of Owosso; grandchildren, Kevin (Erin) Turner of Lansing, Ashley Brettrager, Matthew (Andrea) Turner of Ludington, Thomas Myers of Lansing, Elizabeth (Tim) Westcott of Tawas City, Eric (Megan) Myers of National City, Jeff (Kayla) Brettrager of Tawas City, Andrew Kelpinski of Owosso, Matthew Myers of Tawas City, Josh Kelpinski of Owosso and 9 great grandchildren. Al was preceded in death by his parents.
Arrangements are as follows:

Visitation
Thursday, January 25, 2018, from 2:00 p.m. to 8:00 p.m.
Buresh Funeral Home on M-65 (just south of the light)
121 South Washington St.
Hale MI 48739
(989) 728-2571
Website: bureshfuneralhomes.com
Map to Buresh Funeral Home, Hale


Visitation and Funeral Mass
Friday, January 26, 2018
Visitation from 10:00 to 11:00 am.
Funeral Mass at 11:00 a.m.
St. Pius Catholic Church
3900 N. M-65 (just north of Hale)
Hale, MI 49739
Phone: 989-728-2278
Map to St. Pius Catholic Church

Memorial contributions can be made to:
Lions of Michigan Foundation
5730 Executive Drive
Lansing, MI 48911
or
Kelpinski Family
2450 N. Towerline Road
Hale, MI 48739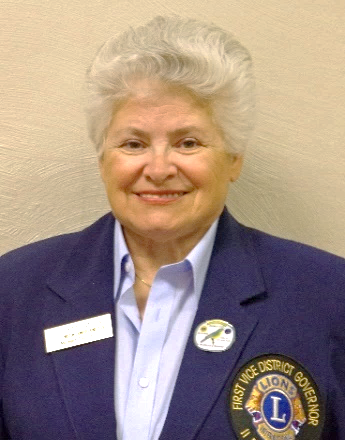 PDG Carol Athan
1945-2018
Carol Athan, 73, from Lewiston, MI, passed away on Wednesday, January 10, 2017. She died at her daughter's home in Belleville, MI, following a two-year battle with an extremely rare form of eye cancer.
Carol Frances Litinski was born on December 9, 1945, and lived in Allen Park, MI. She graduated from Allen Park Community High School in 1963 and married Terry Athan, in 1964. Carol and Terry were blessed with one daughter, Cheryl.
She is survived by her husband of 54 years, Terry; daughter Cheryl (Randy) Parker; grandson Bryan (Carrie) Parker; granddaughter Stephanie (Chris) Gray; great-grandchildren Carson Gray and Avery Parker, all living in Belleville, MI. Her parents, Walter and Lois Litinski, preceded her in death.
Visitation will be Monday, January 15, 2018, from 1:00 to 8:00 p.m. at the Michigan Memorial Funeral Home located at 30895 W. Huron River Drive, Flat Rock, MI, 734-783-2646. Cremation will follow at "The Witness Crematory" located inside the funeral home. Friends can leave an online condolence message at www.mimemorial.com. In lieu of flowers, the family asks that you consider a donation to Leader Dogs for the Blind at www.leaderdog.org.
A memorial service is planned in Lewiston at 10:00 a.m. on Saturday, January 20, 2018, at the Lewiston United Congregational Church, 3191 Kneeland Street, Lewiston, on Saturday, January 20, 2018 (989-786-1094, www.lewistonucc.com).
With deep sadness I must report that IPDG Carol Athan lost her battle with cancer on Tuesday, January 10, 2018. Please keep her husband Terry and the whole family in your prayers. A small family funeral is planned for downstate and a memorial service to be held later up north in Lewiston. I will post more details when they become available.
This is a lot for one person to remember every day. With a little education and preventative measures, diabetes could be avoided all together. Please share and help us spread the word on November 14, #WorldDiabetesDay! #LionsWDD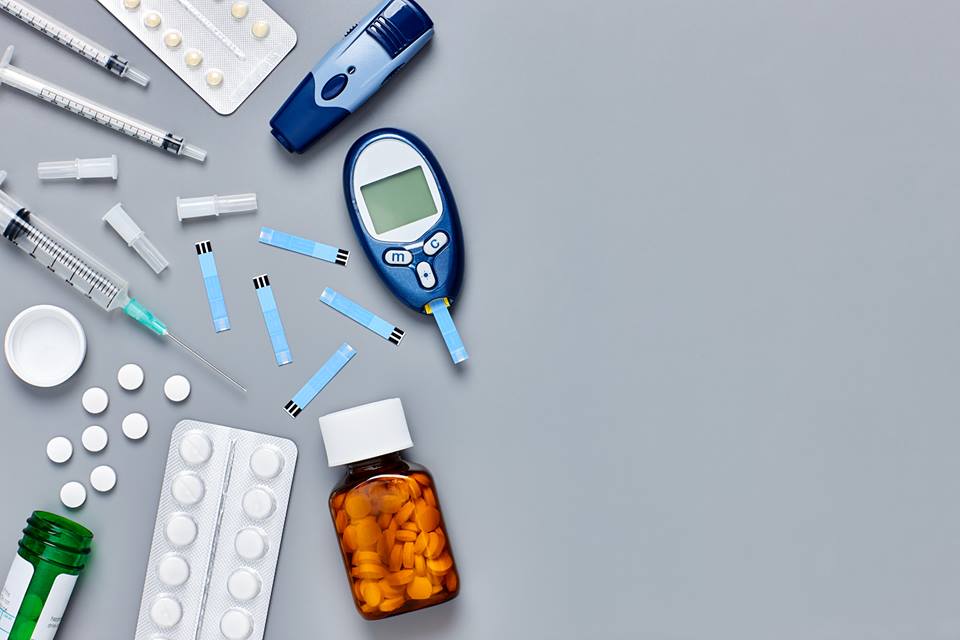 The Lewiston Lions and Lioness Lions 2018 Raffle calendar is available for purchase. It is still only $15 and can be purchased from any Lewiston Lion or Lioness Lion or at Huston Realty in Lewiston. They make great gifts! Fewer then 1000 have been printed.
Oscoda Lions Club has a new member. Lion Sherry Prouix was inducted into the club by Lions Dustin Clare, and Marilyn Popworth was her sponsor.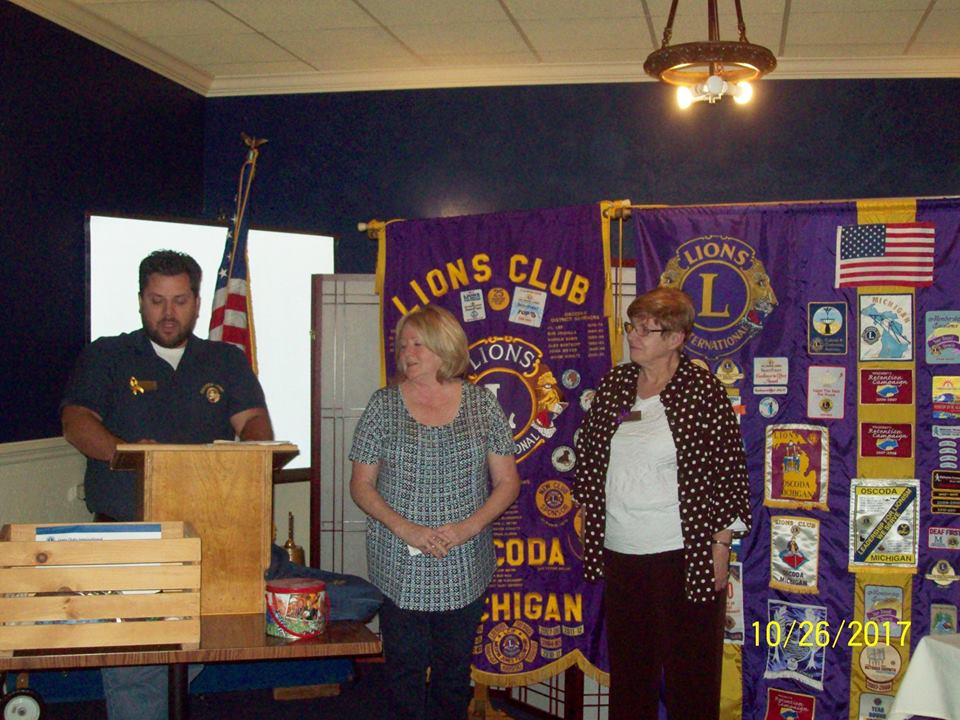 The Rogers City Lions are so excited about our weekend food backpack program. Special thanks to Presque Isle Electric for their generous contribution towards feeding our needy kids
PDG Dennis Richardson was presented the Doc Barr Knights for Vision Fellowship for his outstanding work with Eversight and his local club the Central Lake Lions. Great job PDG Dennis. The Award was presented by his Club.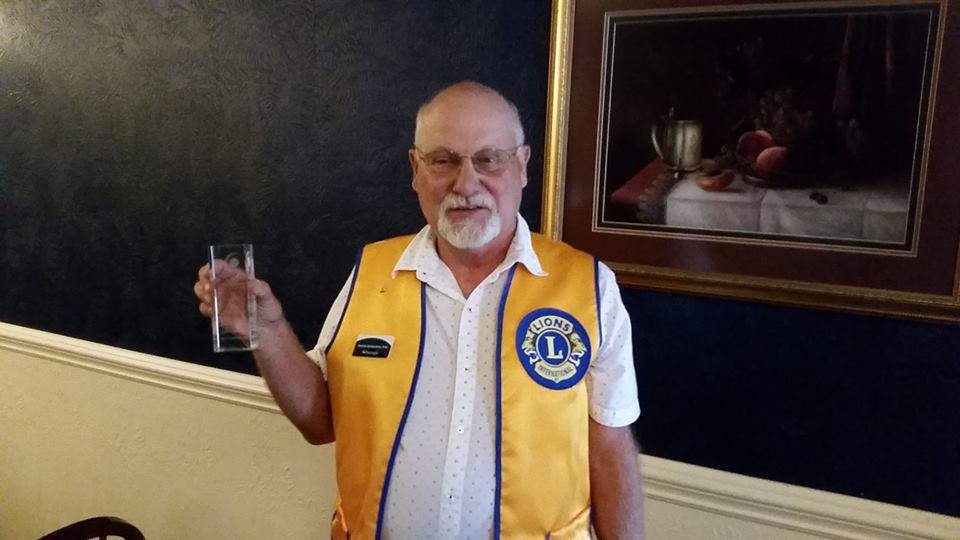 Indian River Lions Club is having their 9th annual arts & crafts & flea market on the 11th of November 2017, from 9:00 am till 3:00 pm. All are welcome and if you would like to have a table for selling please contact Grace Campbell @ (989) 688-6450. Hope to see all of you there.
Mackinaw City LC will host its 10th Annual Soup Bread Bowls Supper on October 25th. 4:30 pm to 6:00 pm. At the Pancake Chef Restaurant, 327 E Central Ave., Mackinaw City, Michigan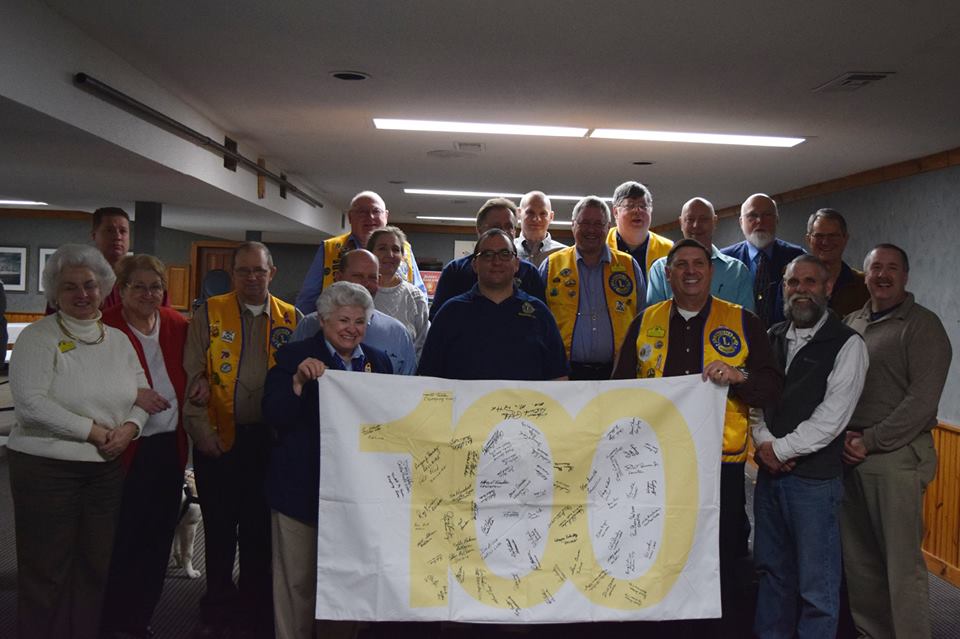 The Charlevoix Lions Club sold hotdogs at the Apple Fest. Cooler Apple Fest this year sold 800 hot dogs and netted about $1650. Unsold food donated to a local food pantry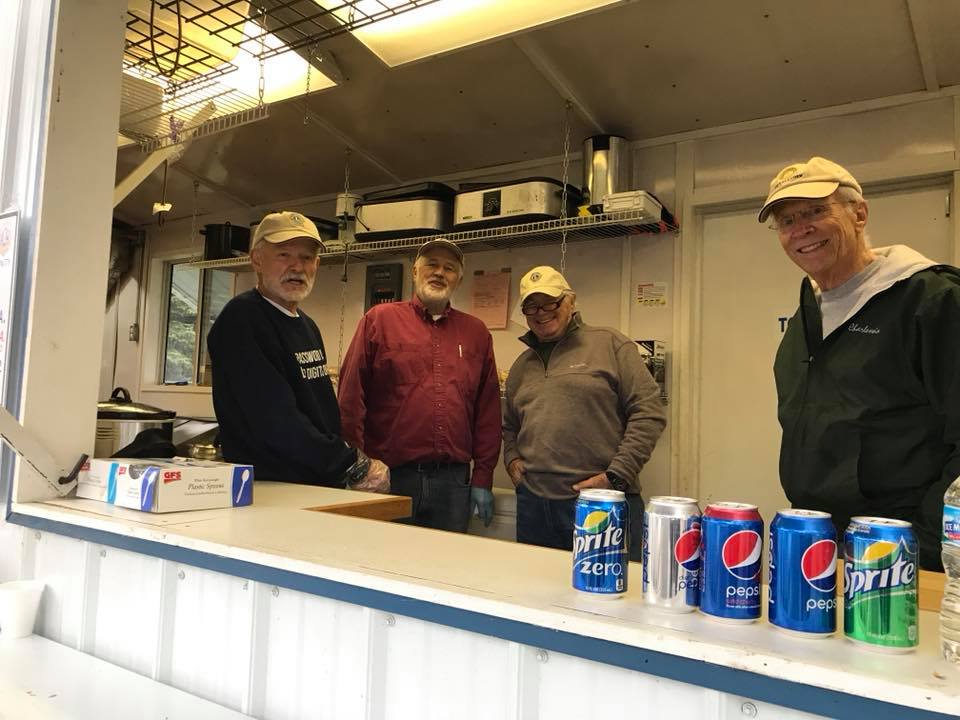 IPDG Carol Athan received a thank you plaque from Leader Dogs for the Blind for her support during her year as Governor. Presenting the plaque at the October 14th cabinet meeting for Leader Dog was Lion Julie Haase of the Petoskey Lions Club, District Representative to Leader Dog and a puppy raiser for Leader Dog.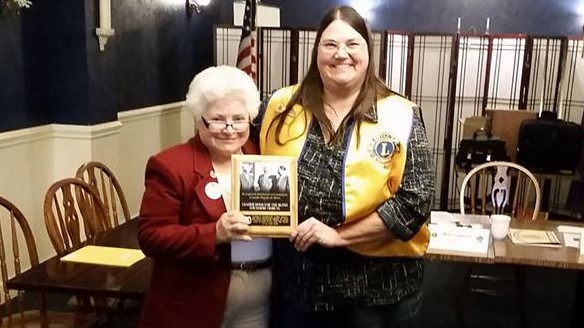 OSCODA LC HOLDS $5,000 RAFFLE
On Saturday the Oscoda Lions club held their Annual Paul Bunyan Festival "5K" Raffle. We gave away 5 $1,000 prizes, the winners were from Tawas (3) Oscoda (1) and one person from Maryland who bought the ticket on the day of the drawing.. We would like to thank everyone who participated in the drawing, without your help we could not help the community in the way we do.. Thank you again!!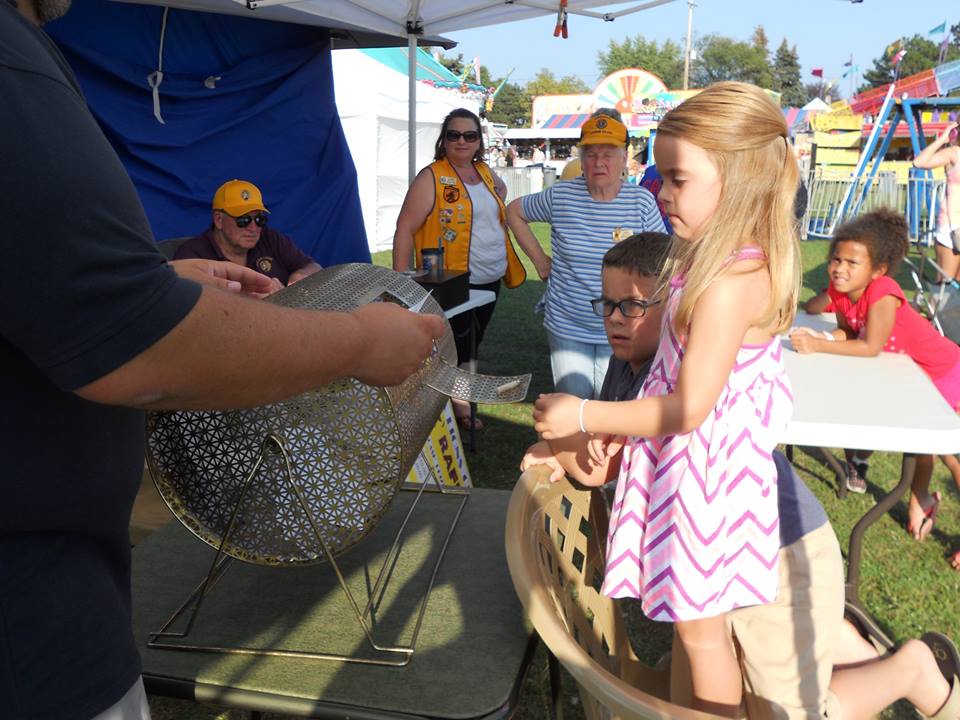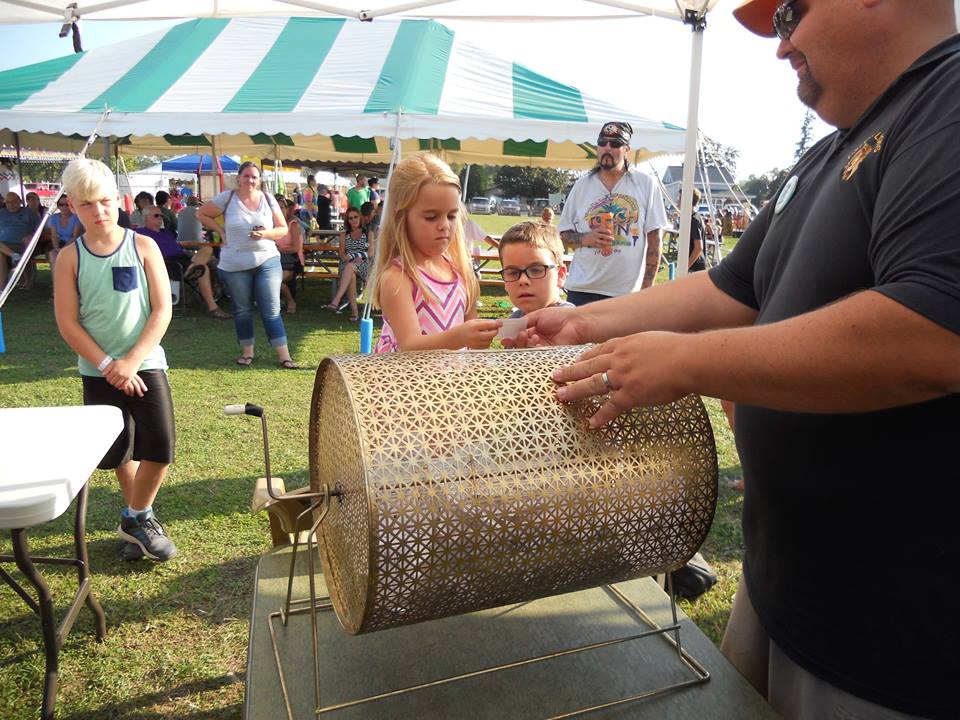 Howard Taylor of Wellington Farm Park, 6944 S. Military Rd., Grayling shows the schematic of the corn maze that is a salute to Lions Clubs. Tickets are $7.00 per person and are available from Grayling Lions Club members.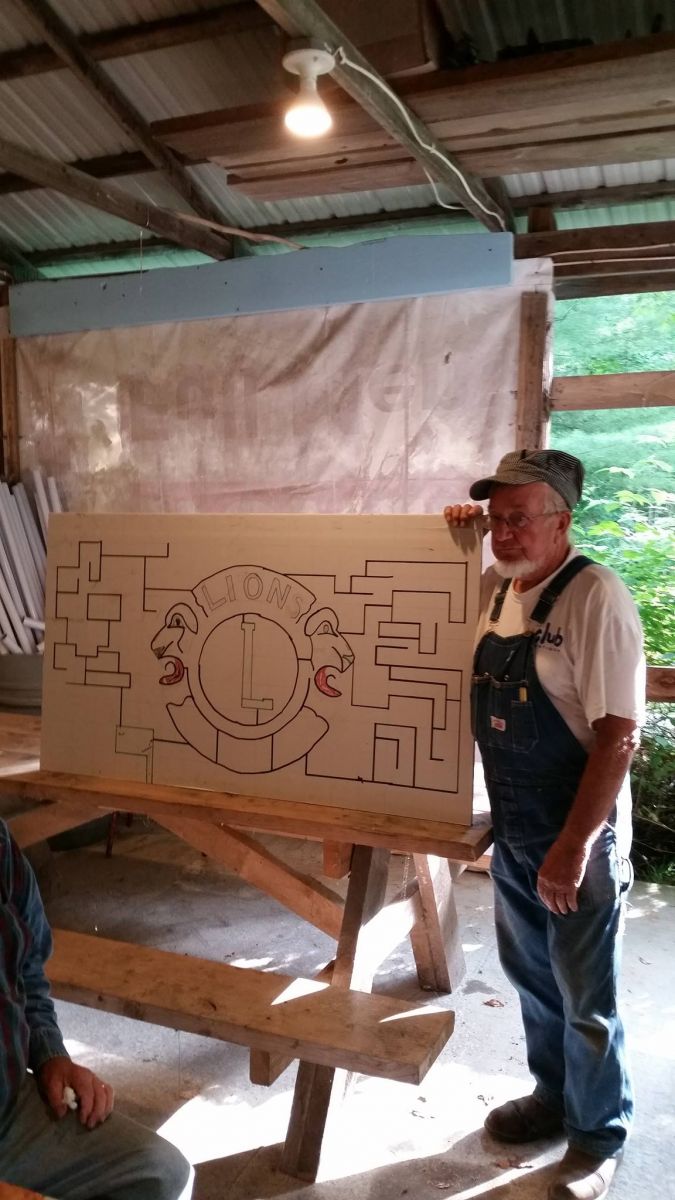 Rose City Lions Club has a new member. Margaret Winslow was inducted by DG Bob Gingerich. Her sponsor on the right is Stuart Bedell.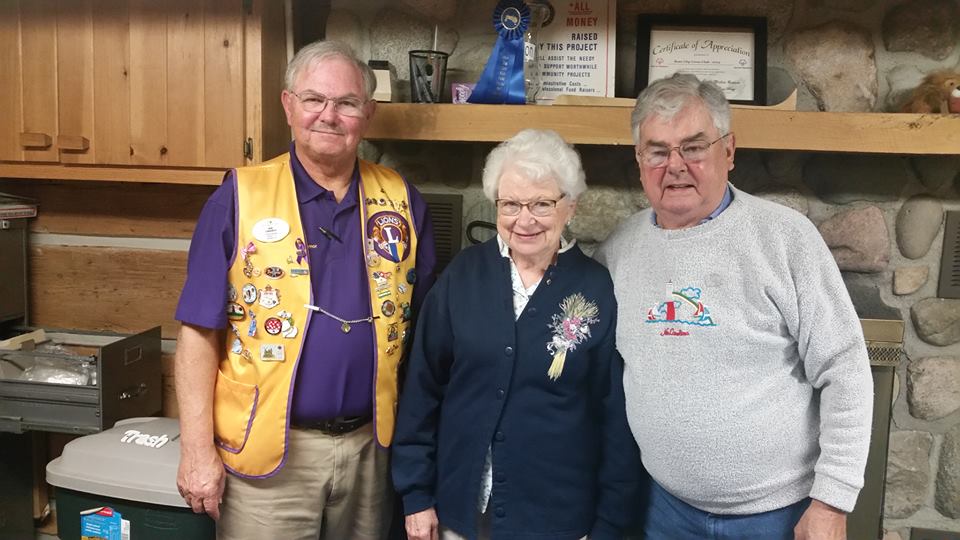 The Fairview Lions Club held a sucessful KidSight Screening. Shown are an unidentified Lion on the left and Lion Linda Smith on the right. The bottom photo is Lion Lonnie Crampton of the Lincoln Lions Club who travels the eastern side of the district doing screenings.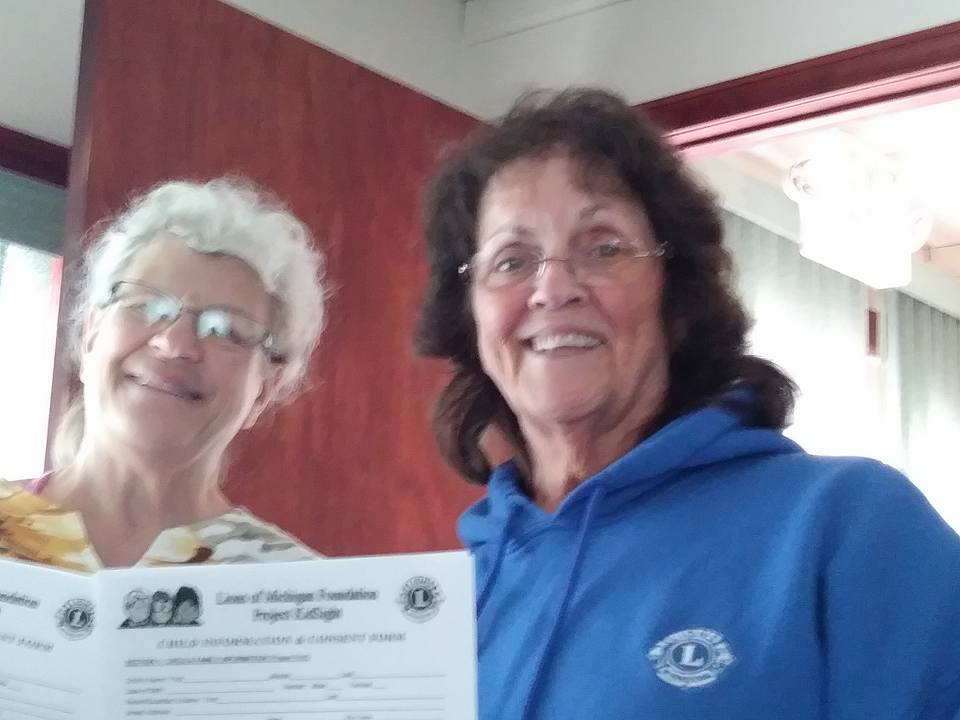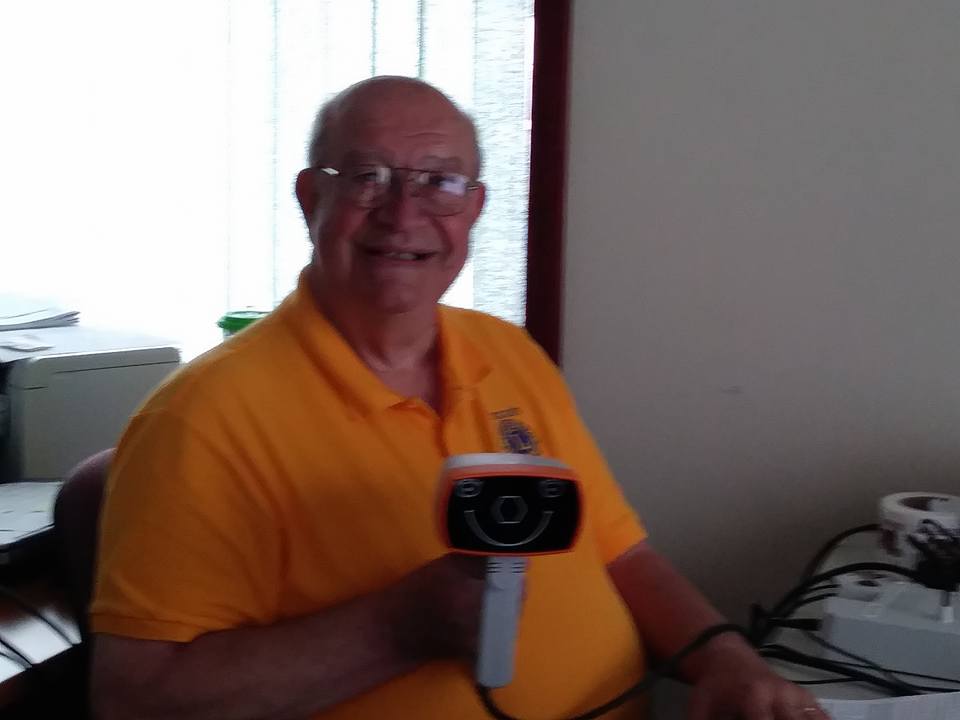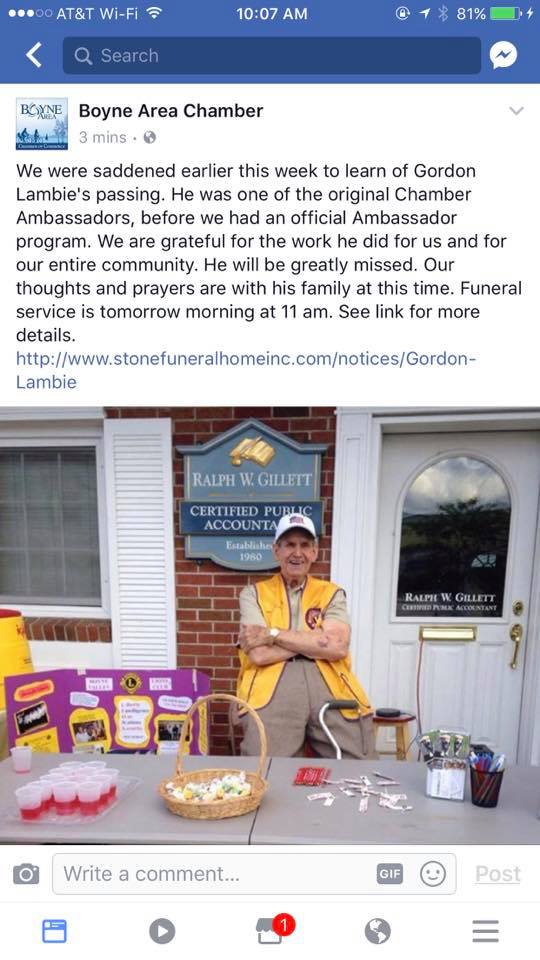 King Lion Janelle Legg of the Roscommon Higgins Lake Lions Club presents Lion Tom Richardson with his 25 year membership pin! Thanks for serving Tom!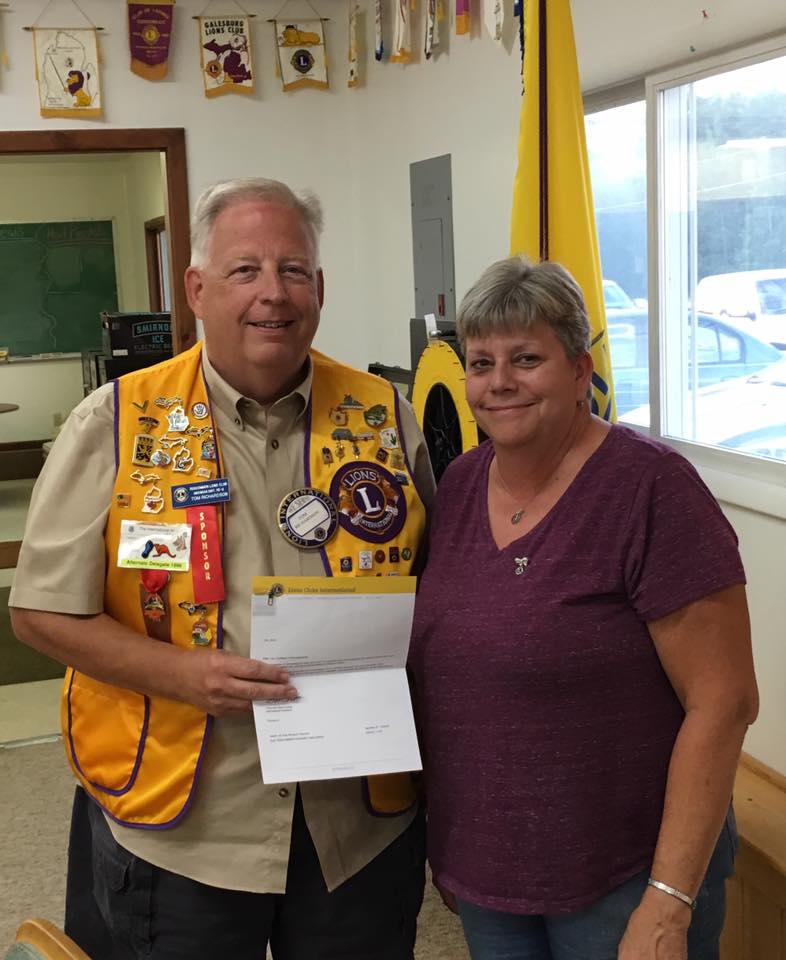 Lions Thom and Ann Seymour of the Atlanta Lions Club provided this picture of their granddaughters; Zenzi (left) and Mirabelle (right). They were at the Lions International Convention in Chicago as Leos. They belong to the Hanover Hancock Leos Club in District 11-B1. Mirabelle was selected as the Leo of the year and was acknowledged at the MD-11 Convention in Traverse City.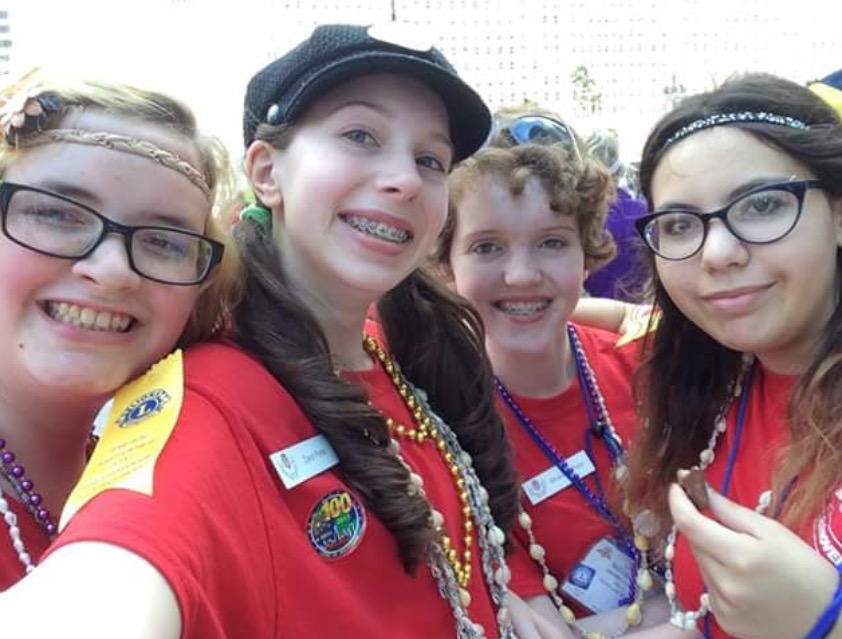 Hillman Lions Club during our annual Hot Dog / Brat Sale during the V-J Day Celebration. 100+ hot dogs / brats sold!!!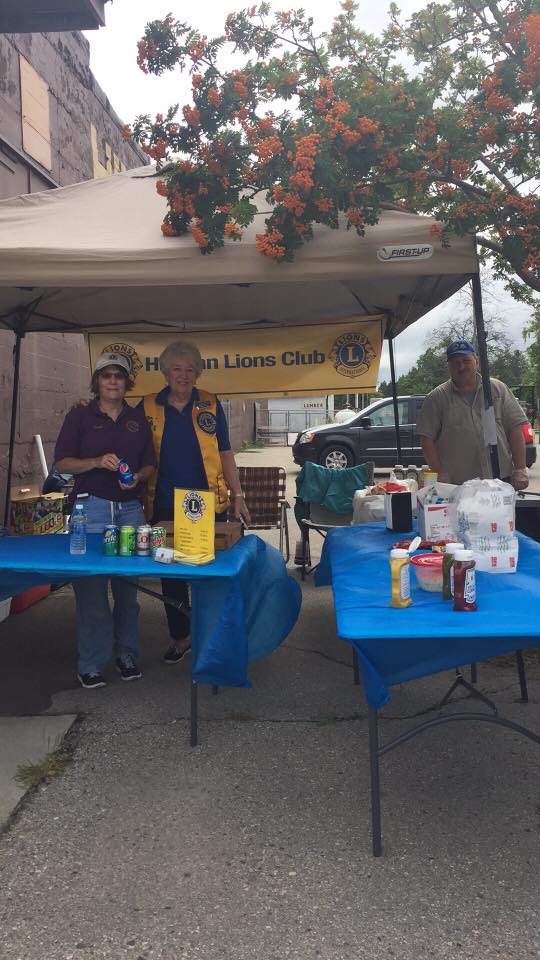 Oscoda Lions ramp builders were at it again. Lions Tony, Bill, Jeff, Rick, and Chuck. Plus Jody the homeowners son also assisted. They build a 33' ramp plus a 4x4 and a 5x6 platforms. They start at 9am and finished around 5:30pm. Some tired guys but they got it done. Where's the hot tub?? The homeowner, his son, and daughter in law were all very appreciative. The homeowner was actually in tears that he'd be able to get out of the house now without having to be carried. We Serve!!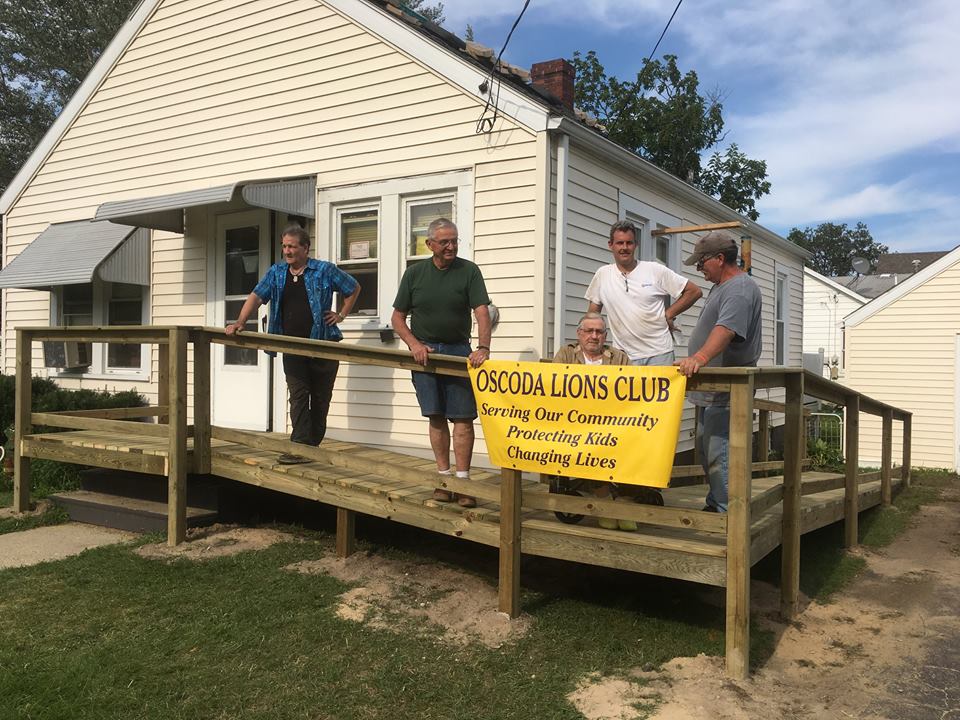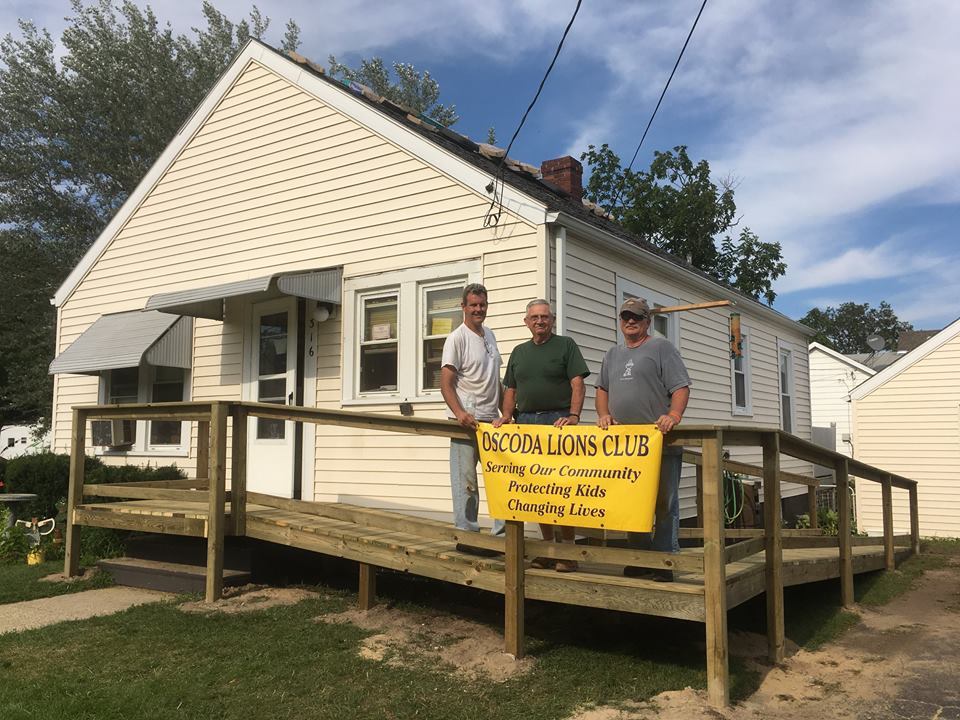 Charlevoix Lions Club member Bill Trubilowicz.doing annual White Cane fundraiser.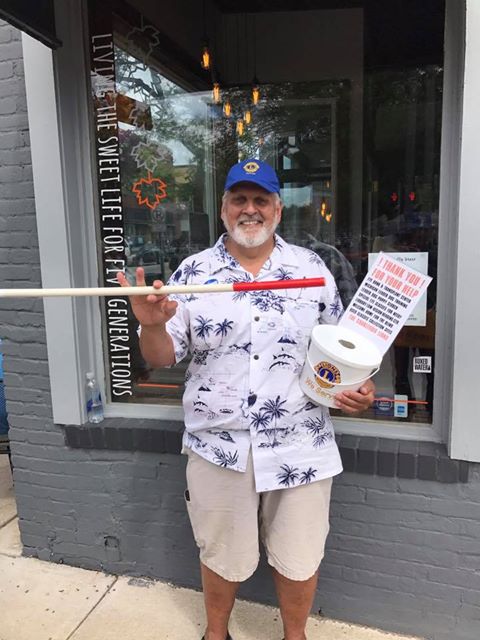 Charlevoix Lions Club preparing 500 chicken meals for St. Marys School.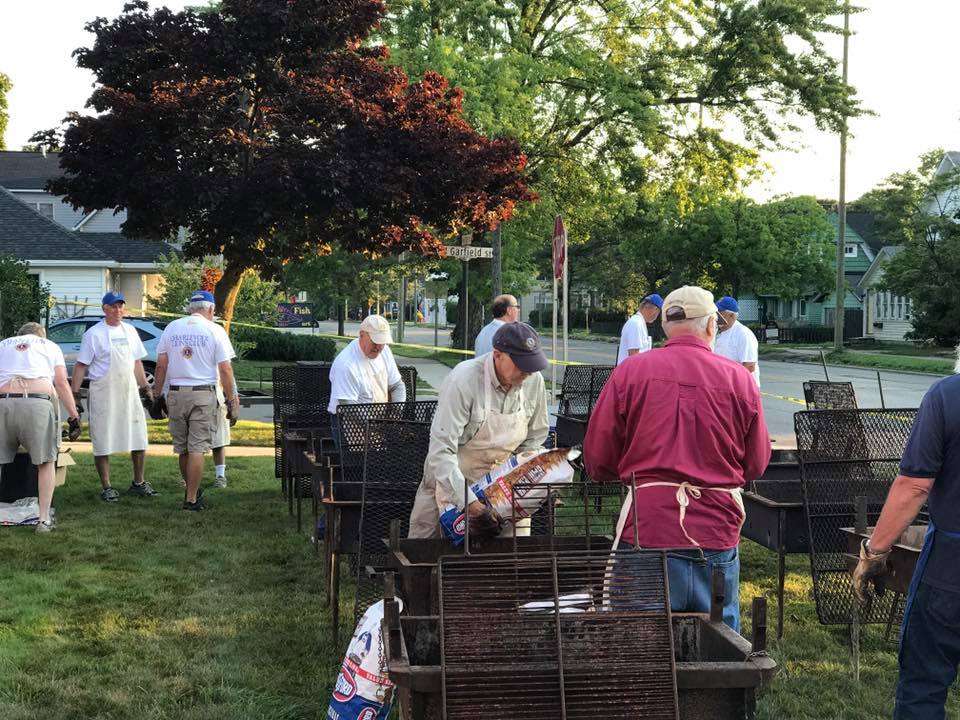 International Director Jenny Ware sent this email to the Michigan Council of Governors today.
"I am pleased to inform you that the Executive Officers reviewed the recommendation of the Advisory Committee and have recommended that PID Brian Sheehan from MD5, Minnesota, be brought forth to the board in November for endorsement for 3rd Vice President at the 2018 LCI Convention in Las Vega, Nevada!!! After the Board votes on this in November, I will follow up with you. Please feel free to inform Lions of PID Sheehan's endorsement by the Executive Officers. You can also obtain preliminary endorsements from your Cabinet. This will show Michigan's support of PID Sheehan."
Lion Lonnie Crampton of the Lincoln Lions Club is presented the International President's Certificate of Appreciation by IPDG Carol Athan at the District 11-E2 cabinet meeting. The certificate states: "In Recognition of Distinguished Achievements if Fulfilling the Mission of Lions Clubs International to Affirm the Appreciation and Gratitude of The Association. I Have Hereunto Affixed my Signature during this Lions Year 2017-2018." Signed by Chancellor Bob Corlew, International President.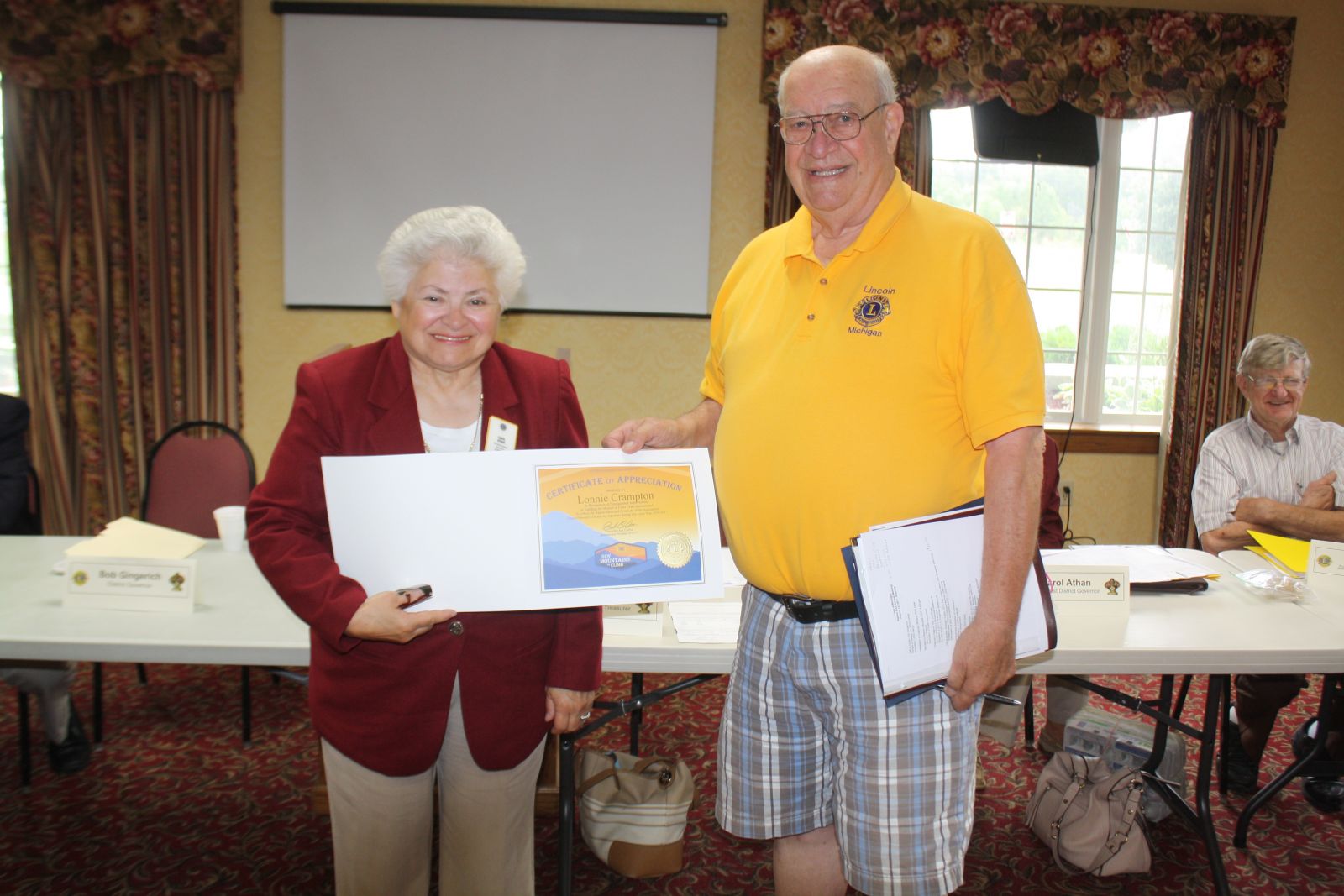 Alpena Lions make donation of handicap wheel chair accessable swing to Mayor Matt Waligora, Mayor City of Alpena. "We Serve"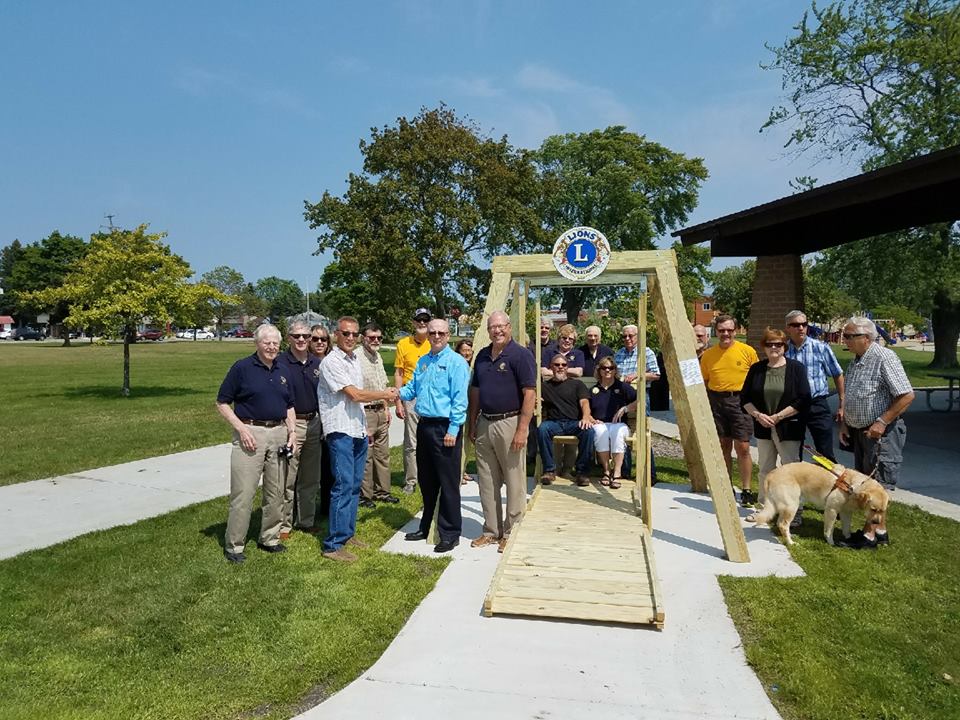 DID YOU KNOW
Many Club Secretaries know that it is required that fundraising and service projects statistics are to be reported to LCI on the MyLCI.com website, however, it is also important that the statistics for sponsored Lioness and Leo Clubs also be included in the monthly report. Therefore, Lioness & Leo Clubs should report to the sponsoring Lions Clubs activities and fundraisers to be included in the report that month.
DG Bob
Lions of District 11-E2:
The first cabinet meeting of the LY 2017-18 will be held at the Days Inn, 2556 Business Loop South, Grayling, MI 49738 on August 12th at 10:00 am. . All District Lions are welcome to attend. Club Presidents and Secretaries are expected to attend or assure that a representative of the club attends. All cabinet members are expected to attend the training session at 8:30 am at the same location. If you are not able to attend, please advise GLT Dave Zeller and DG Bob Gingerich.
DG Bob
2017-18 International President
Upgrading Our Service to You—as a Lion
Namaste! The divine in me salutes the divine in you. Welcome to our new century. My goal over the next 12 months is very simple—to reach a new level of service to Lions and from Lions. Before I ask you to reach a new level of service, Lionism will reach a new level of service to you.
So how can I serve our 1.4 million Lions? I cannot give everyone senior positions. I cannot give you money. I cannot meet all of you. However, I plan to touch all of your lives with the power to serve.
So let's examine every stage of one's Lionistic career and how I can help. The first stage is becoming a new member. When I became a new member 43 years ago, I suddenly felt as if I had left my hometown and become a man of the world. This year, I want every member to download our new mobile app. This will connect all our members on one global platform.
The next stage is beginning to serve. As a member of the Batala Smile Lions Club in Punjab, India, I was proud of how the community began to respect me. This respect depended on the number of people I served and how many people were aware of this service. We now have a new Global Service Team. Your District GST leader will identify projects that serve the maximum number of people per dollar and per hour. They will also train Lions on how to convert a normal project into a Legacy Project via Lions branding and public relations.
The third stage is aspiring for leadership. While I enjoyed rising up the Lions' ladder, I sometimes wished that our leaders focused more on work than on long speeches. A new awards system will incentivize the efforts of Lion leaders in the right direction. We plan to reward retention of members, hence keeping the focus on you—our existing members. New awards will also be given for involving over half the club in service and for creating the most Legacy projects.
As a global leader of Lionism, I want to keep every Lion connected to Lionism. Our new Welcome Home program is an international online club for members unable to attend club meetings. Meetings and fee payments are conducted entirely online.
The last stage is now. I want to give every Lion the same goal for the next 12 months. My dream is that every Lion will serve 10 people each month. If this happens, we will serve 170 million people this year— a big increase from our current level of 100 million and a big step toward our goal of serving 200 million annually by 2020. This is the focus of all my meetings around the world.

All the best. See you as I travel around the world.
Naresh Aggarwal
Lions Clubs International President
This was received from PCC Justin Faber today. We should all give him a vote of thanks for persisting to get this law enacted.
It is my pleasure to inform you that HB4160 has been signed into law by Governor Snyder and is now Public Act 112 of 2017. Congratulations to each of you. Just a reminder that a provison in the bill that we fought hard for is that a local community can NOT ban our members from the roadways; however, they CAN regulate us (or tell us where we can not stand). Please also note the safety and provision changes. (must be over 18, minimum of $500,000 liability insurance, high visibility safety apparel that meets American safety Equipment Association Standards, has to have a traffic device i.e.. stop sign or traffic light, and no work zones,) If your local community did not have a local ordinance banning solicitation then you may solicit immediately. If they did have one on the books then they have 60 days to come into compliance with the new state law.
God Bless,
Lion Justin
Legislative Committee Chairman
Congratulations to the Lions of Michigan ! Governor Snyder signed HB 4160 today. This will allow our clubs to once again raise funds by soliciting along our roadways! This has a one million dollar impact to helping those in most need. Thank you to Representative Hernandez for sponsoring the bill ,Senator Pavlov for making the fixes in the senate , and of course Lion Matt Sowash for his due diligence in making it happen. It's great day to be a Lion.
You may view and save photos of District 11-E2 Lions and Lioness functions over the past sereral years at Duane Durflinger's website at http://comdac.com Just scroll down until you see the 11E-2 Lions and Lioness Photographs or just click on the links.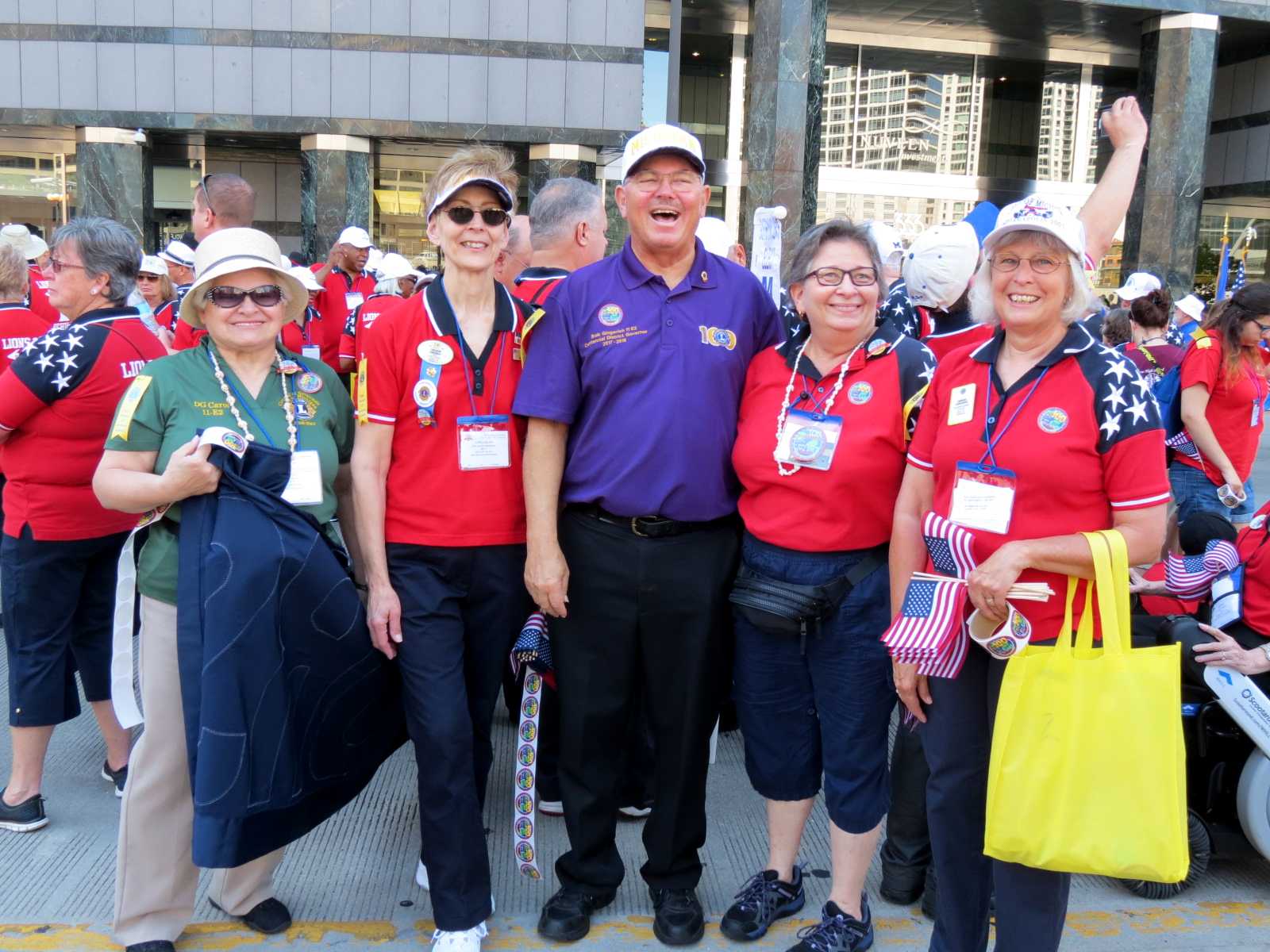 L to R DG Carol Athan, Lion CarlaJean Gingerich, DGE Bob Gingerich, PDG Lynne Jauss, PDG Barb Durflinger at the International Parade in Chicago July 1, 2017.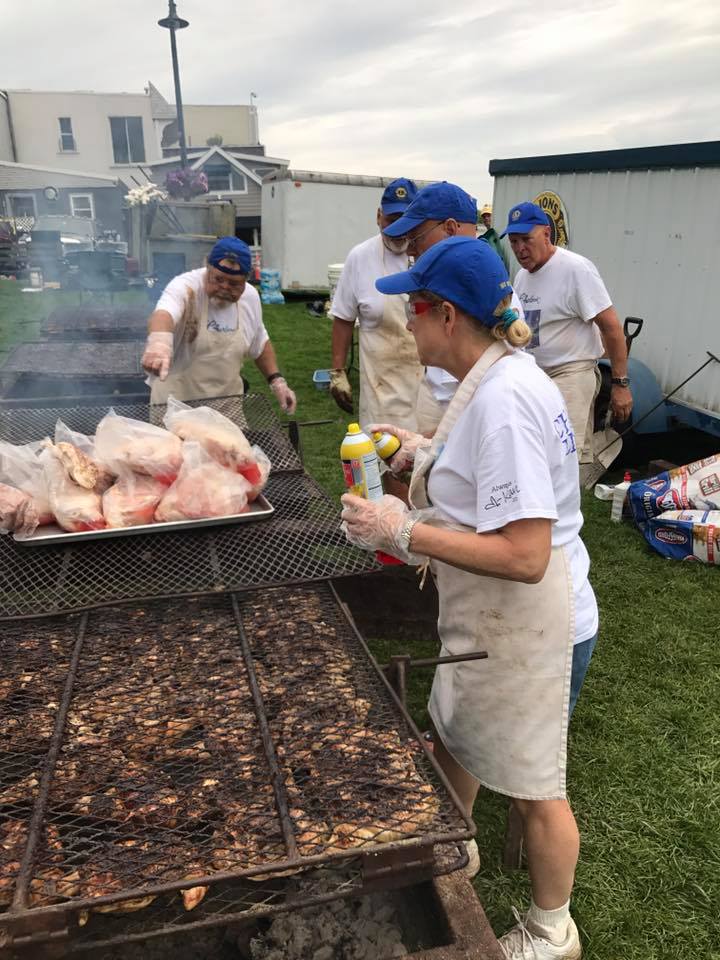 Lions Kim Kolbe, John Dixon, Trent Kutsch, Mike Carland and Bill Trabillawitz.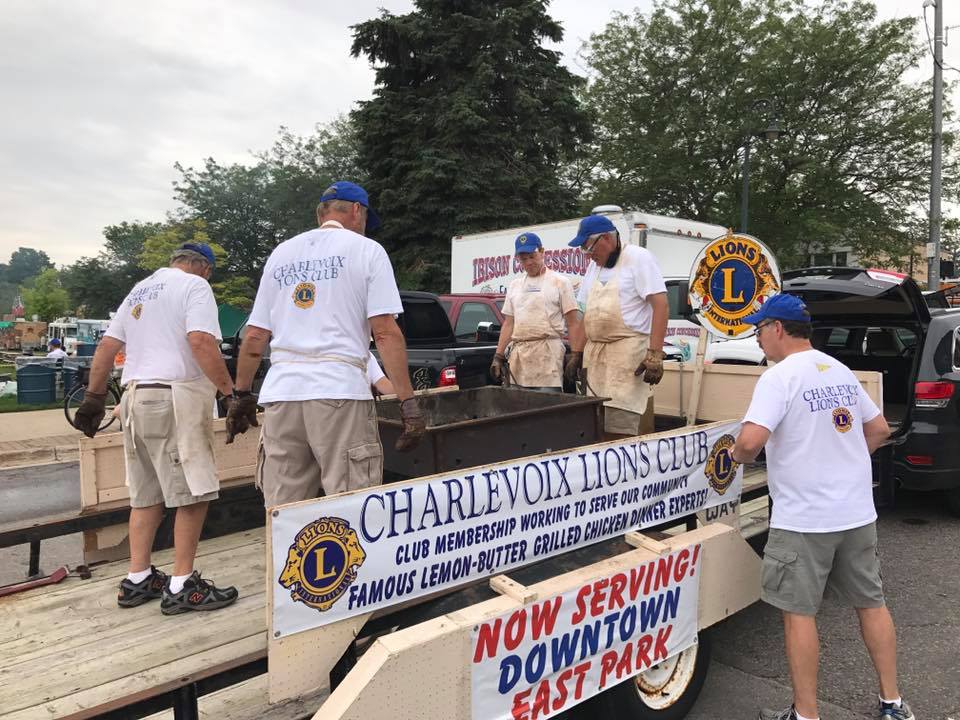 R to L Lions Steve Michaels, Steve Silberhorn, Hugh Hansen, Paul Brendto, & Vance Wood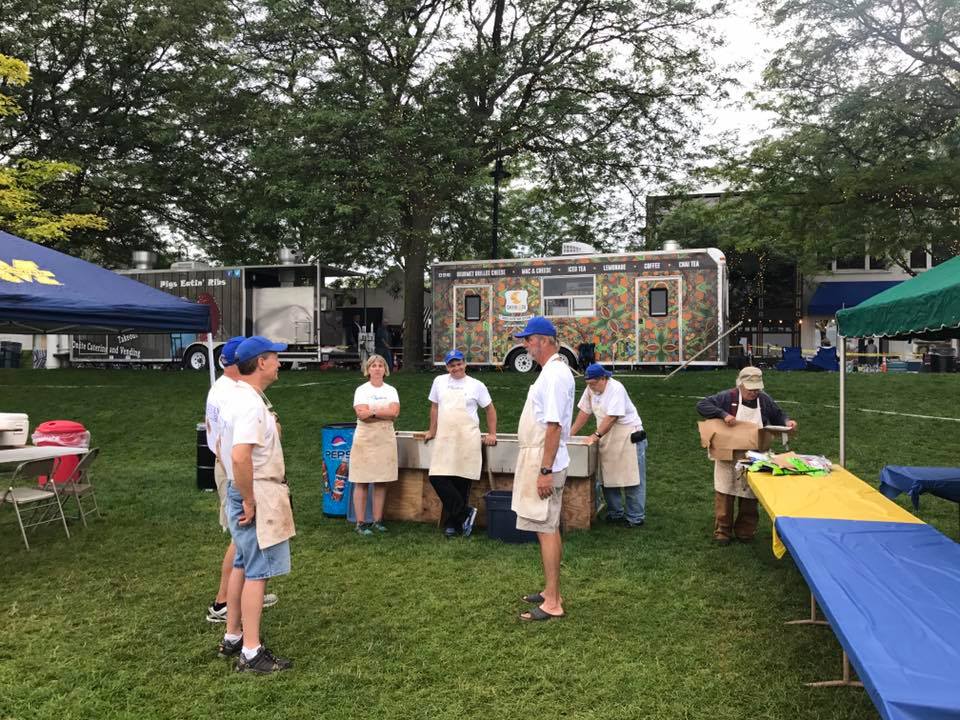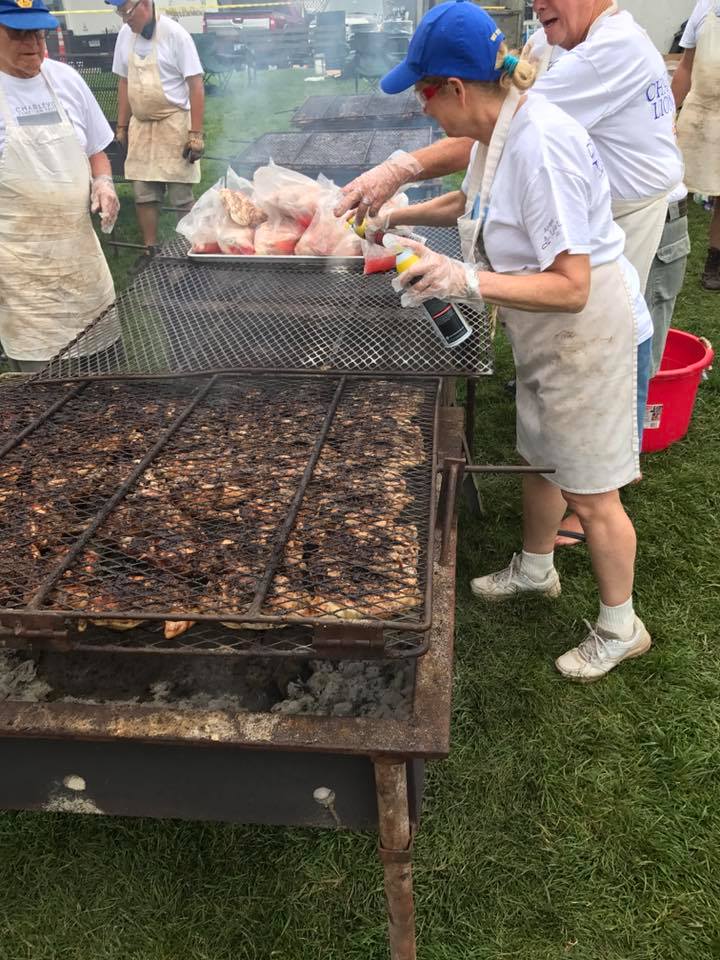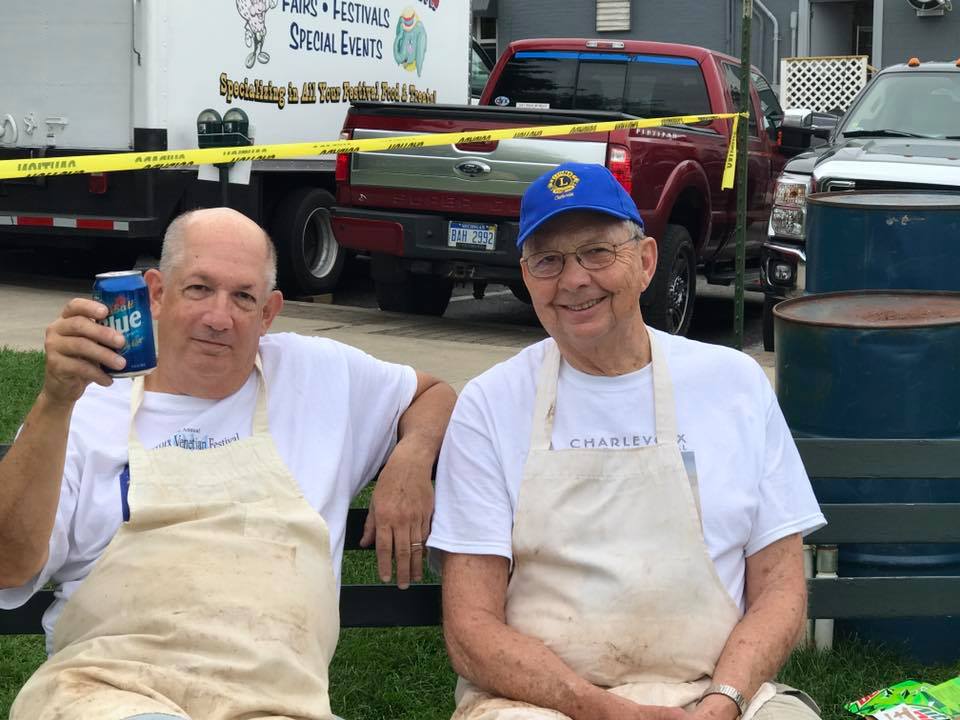 L to R Lions Duane Lawgton & Bruce Herbert
650 chicken lunches at Charlevoix Venetian festival..big day.
12 Jul 2017
House passes Rep. Hernandez bill allowing charitable fundraising on public roads
Categories: Hernandez News
'Fill the boot' bill advances to Gov. Rick Snyder
The Michigan House of Representatives gave final legislative approval today authored by state Rep. Shane Hernandez which will allow charitable and civic organizations to solicit funds on and near Michigan roadways.
"Groups like the Lions Club of Michigan and local firefighters have been safely doing this kind of fundraising for generations," said Rep. Hernandez of Port Huron. "This longtime practice of fundraising will legally continue."
The bill allows for fundraising if:
· The charitable or civic organization is registered as a nonprofit with the state or U.S government;
· Solicitations are made during daylight hours;
· The individual doing the fundraising maintains at least half a million dollars in liability insurance;
· The person fundraising is 18 years of age or older;
· The person is wearing high-visibility safety apparel that meets the International Safety Equipment Association standards; and
· The fundraising area is not a work zone and is within an intersection where traffic control devices are present.
Also included in the bill is language which ensures local municipalities will have the ability to regulate fundraising activities within their communities.
House Bill 4160 now advances to Gov. Rick Snyder for consideration.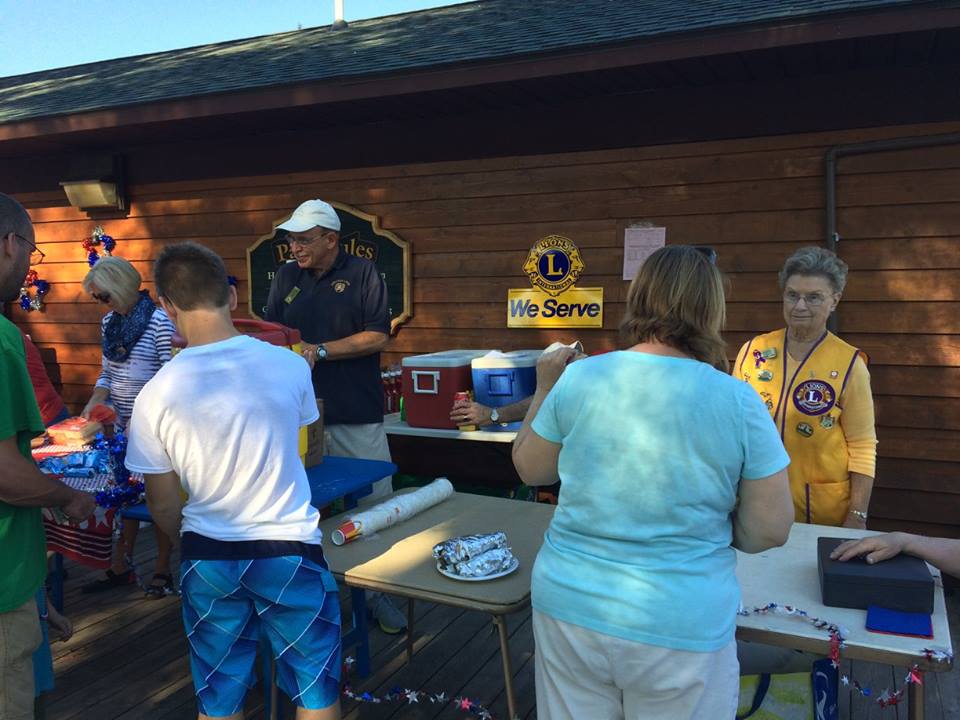 Oscoda Lions / Rotary 5th annual 4th of July Family picnic at the Oscoda Beach. This is held for the whole community. Everyone is invited. There were games for the kids and other activities. We served over 450 hot dogs.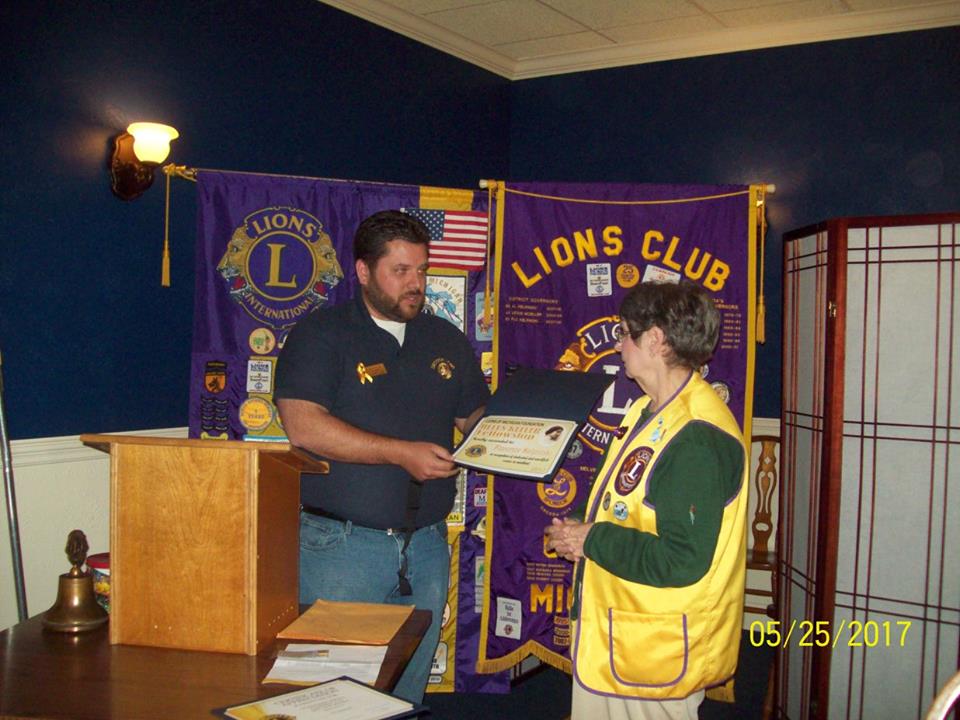 Lion Flo Kelpinski of the Oscoda Lions Club received a Helen Keller fellowship award again for outstanding service to Lionism.
Lions Al and Flo Kelpinski received a Certificate on Appreciation for outstanding service to District 11E-2.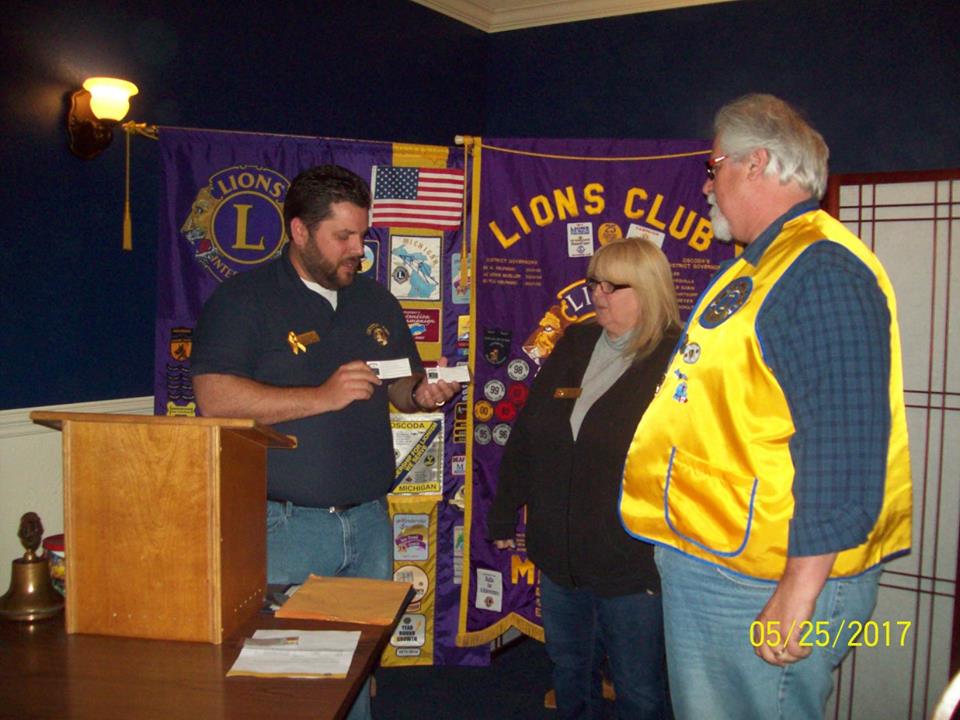 Lions Devon and Robert Tasior of the Oscoda Lions Club received a silver 100th anniversary pin for the new members they sponsored. Presented by President Dustin Claire.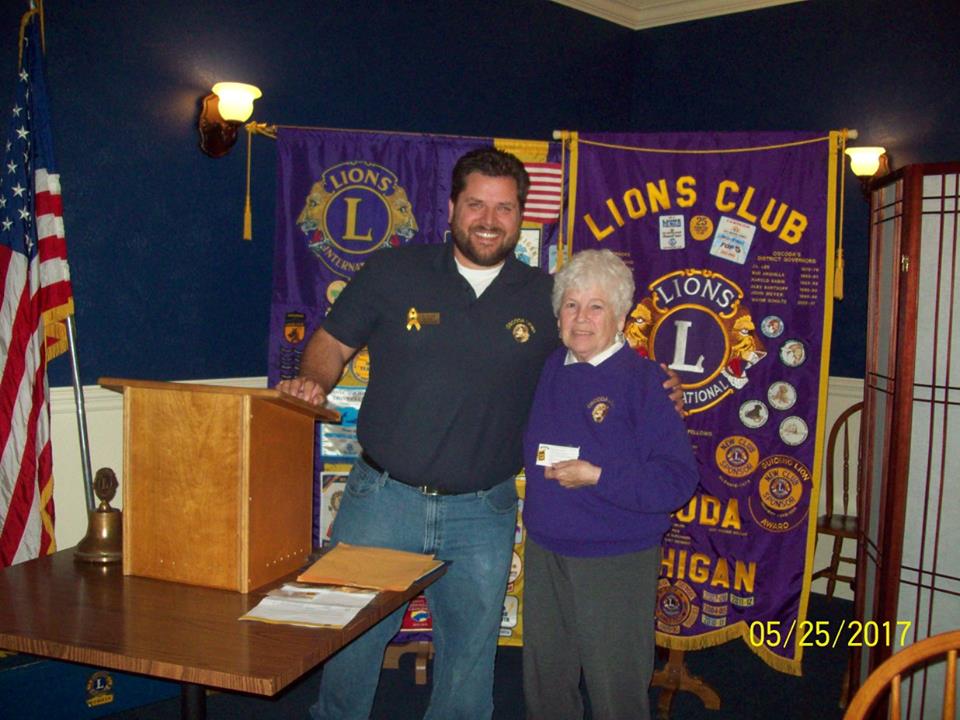 Lion Jane Meyer of the Oscoda Lions Club receives a Centennial pin for recruiting new members during the Centennial Year. Presenting the pin is Club President Dustin Claire.
Oscoda Lions club held there annual souper Dinner, The members and friends provided over 20 variety of soups. The Children from Richardson Elementary in grades k-5th art class made the bowls.The children sold the bowls and the money raised went to a charity of their choice. The Lions money went to their charities. We want to thank everyone in the community who participated.We couldn't have done it without you.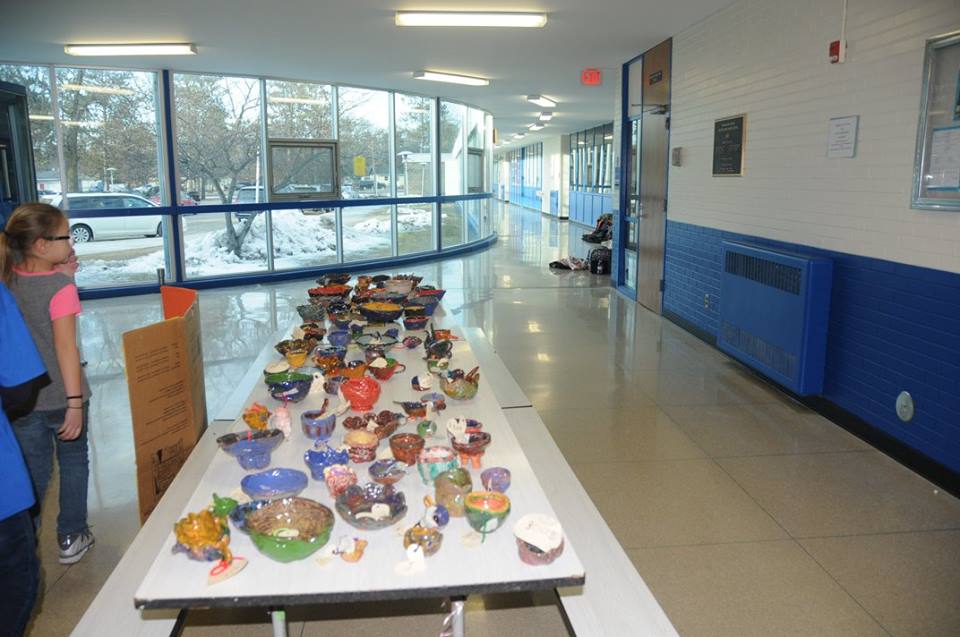 Oscoda Lions Club held their annual bowling fund raiser at the Vista Lanes on Saturday. We sold out the lanes. There were prizes for everyone. Our own Lion Tony Priebe had a high game of 298, GREAT GOING Tony!! We would like to thank ALL our sponsors and everyone who participated. We could not have raised over $2,000 without you.


The Houghton Lake Lions Club participated in the Tip-Up Town Parade on Jan 21, 2017

SAD NEWS
Life member. Lion Bill Yingling of the Indian River Lions Club passed away January 17, 2017 at McClaren Northern Michigan Hospital. Funeral services will be held Saturday January 21, 2017 at Stones Funeral Home in Petoskey Mi. Viewing at 10am with service at 11am. RIP Lion Bill you will be truly missed.

KidSight Trailer
District 11E-2 has been honored to receive a KidSight Trailer from the Lions of Michigan Foundation. This trailer has beautiful graphics (see the photos on the Photo Gallery page. It is available to any club for use as a portable KidSight Project lab. It will make a great float for the various parades around the state. Right now the trailer is parked at PDG Barb Durflinger's in Rogers City. We are actively seeking a more central location for it.
Lions of Michigan help Victims of Fire
The Beaverton Lions Club communicated the following to us: Impressive initiatives by the Beaverton Lions Club set in motion an amazing act of kindness that included not only the Beaverton Lions Club but other Clubs in northern Michigan as well.
On Saturday, March 26, 2016, the day before Easter, an early mornig fire broke out at the Village North Apartments in Gladwin, MI. Although the people all made it out safely, nearly all of the 20 unit building was completely destroyed. There were 19 families involved in that fire. Most of them lost everything and had no renter's insurance.
The Beaverton Lions Club immediately contacted GLD Management, owners of the apartment complex, to find out the best way to help. Knowing that the needs would be more than any one group could provide, Beaverton Lions reached out to other area Lions groups to assist. They were thrilled with the respoonse!
The Lions of Michigan Foundation generously contributed $3,000 while the District 11-E2 Emergency Fund gave another $1,000 to the cause. Finally the Beaverton Lions together with other Lions Clubs of nothern Michigan brought in another $2,470.
Lion Craig Wolfe of the Beaverton Lions Club worked directly with Sylvia of GLD Management and Beulah of Gladwin County Christmas Kindness to purchase and deliver the many items needed by these families. Larger items included several beds and mattresses, dressers tables and chairs, sofas, end tables, lamps, etc. Some of the smaller items included replacing clothing, coats, hats, gloves, blankets, bedding, pots and pans, dishes, etc.
In addition to these purchases and deliveries, our Lions Clubs were able to provide a $150 gift card for each of the 19 families affected by the fire.
GLD Management has not ceased to express their gratefulness for the overwhelming generosity of our District's Lions Clubs! They want all of us to know that they wouldn't have wanted to go through this tragedy without us! Thank you all for caring for the needs of these families.
An additional comment from District Governor Bob Gingerich: "It's what we do! WE SERVE"
NEWS
DISTRICT CONVENTION 2014
The 2014 District 11-E2 Convention was held in Grayling at the Ramada Inn on May 2, 3 and 4. Honored guests were International Director Steve Tremaroli and his wife Marianne. Lion Barb Durflinger of the Roger City Lions Club was elected as District Governor for 2014-15. Lion Brian Rowland of the Beaverton Lions Club received the Melvin Jones Fellowship. PDG Lewis Moeller received the John S. Noel Award. Lion Pam Stewart received the Ken Lautzenheiser Award. See photos in the photo gallery. See you in Mackinaw City in 2015.
Oscoda Lions Pancake Breakfast
The Oscoda Lions Club held a very successful Pancake Breakfast on Saturday, April 6th. Nineteen Lions mixed and flipped pancakes, cooked sausage, waited tables, washed dishes and cleaned up making the 7th annual Pancake Breakfast a success. Thecommunity again supported our project. A special thank you goes to Bill Tait for ordering the food, letting us use the restaurant and for all of his assistance. PDG Lewis Moeller kept us organized again this year.
Oscoda Lions, Bill Gaines, Chuck Andrina,Tony Priebe, and Tony's son Nick constructed this ramp December 20 and 21, 2016. The ramp is on the base and serves a lady who lost a leg and might lose the other one in the near future. We Serve!!!