Welcome to Lions Clubs District 1-A,
where Lions Clubs began!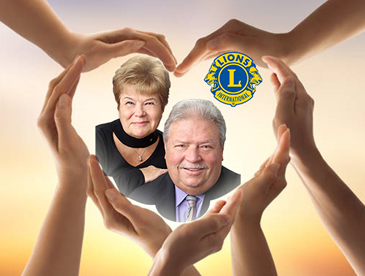 District 1-A is comprised of approximately 1700 Lions and 73 clubs. The District provides community service to the Chicagoland area and suburbs.
It is an honor to be the Governor of this District for a term of 1 year beginning July 1, 2021 through June 30, 2022.
The theme for this Lions year is "Shopping for Lions in Service" So what does that mean? It is our goal to increase our membership, to be able to provide service to our communities in need through numerous Service Projects that will be planned during the Lions year.
By promoting Service, it is my hope to not only help our communities, but also to reignite the energy and passion of our current members so that they can attract new members to our organization.
This can only be accomplished with the help of the wonderful Lions of District 1-A.
Please join me to promote "The 3 C's of Lionism".
Communication: Clear and timely communications to all District 1-A Lions from the Governor Team.
Causes: Promote your passions in service, which could evolve into new and exciting service project
Comradery:
Network with your fellow Lions and exchange ideas.
Remember "Save a Lion you might get another Lion"
Looking forward to a successful year with your help!
Governor Gail - GG
A Message From Governor Gail
Quick Links
To Print out the LITE Version of the District 1-A Directory: Open above link, print 2 sided and flip or bind on short edge. This will print out on 8 1/2" x 11" paper and fold in half to form a booklet.
About the Club Visit Reports and RC / ZC Reports
* As you visit your clubs, please fill out the "District Club Visit Report" each time. This includes In Person visits and Virtual visits. Save a copy and send it to the District GAT Email at district1aglobalactionteam@gmail.com
** As you prepare your monthly report for your Zone and Region, please fill out the "District 1-A Region Chairperson/Zone Chairperson Monthly Report" every month. You will be receiving a new file every month (to use for your reports) from the District GLT Coordinator once available from LCI and compiled with needed information. Once Complete, please save a copy and email it to: district1aglobalactionteam@gmail.com
Please Note: The new Region Chairperson/ Zone Chairperson Reports will not be used until August 2021 (For July 2021 Data)
Contact Us
If you have a question, comment, or want to be involved, please contact us via email at LionsClubDistrict1A@gmail.com.
Lions Clubs International is the world's largest service club organization with more than 1.4 million members in approximately 46,000 clubs in more than 200 countries and geographical areas around the world.