District 1-A Service Projects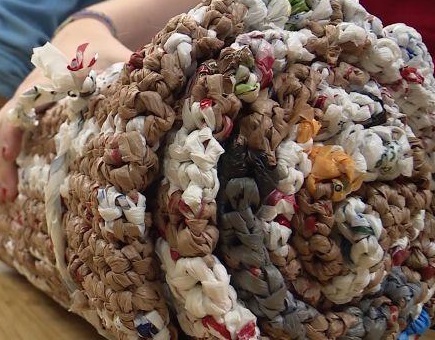 District 1-A Bags for Beds
Greetings District 1-A,
I hope all of you and your families are healthy and safe.
Over the last few months of the quarantine I have sent some emails out to the District regarding the saving of plastic grocery bags. I have partnered with IPDG Anne Ragsdale fro District CN (Southern IL) to collect these bags so that plastic mats can be made from them for the homeless. It takes approx. 450 bags to make a mat. IPDG Ann has the loom to weave the plastic bags into a mat. IPDG Anne needed more bags, and I thought what better way contribute while in quarantine but to save our grocery bags.
So now that we are having a LIVE cabinet meeting, what better time to have you bring these bags to the cabinet meeting so that I can collect them from you and then make plans for a road trip to Southern IL to drop off these bags to IPDG Ann.
Please take your bags and flatten them out and then place in one bag. You can fit 25-30 bags in one bag. This will help when transporting them.
Also please remember to add this service activity to My Lion for your club. Your secretary can enter this information for you
Include the following:
Service activity name District 1-A Bags for Beds.
Approx. number of bags collected.
Please also note that this will be considered a Environmental service activity.
If you have any questions, don't hesitate to contact me.
Please note, Phase 2 of this project will be to bring this project to the Chicago area. More on this later.
Contact Us
If you have a question, comment, or want to be involved, please contact us via email at LionsClubDistrict1A@gmail.com.