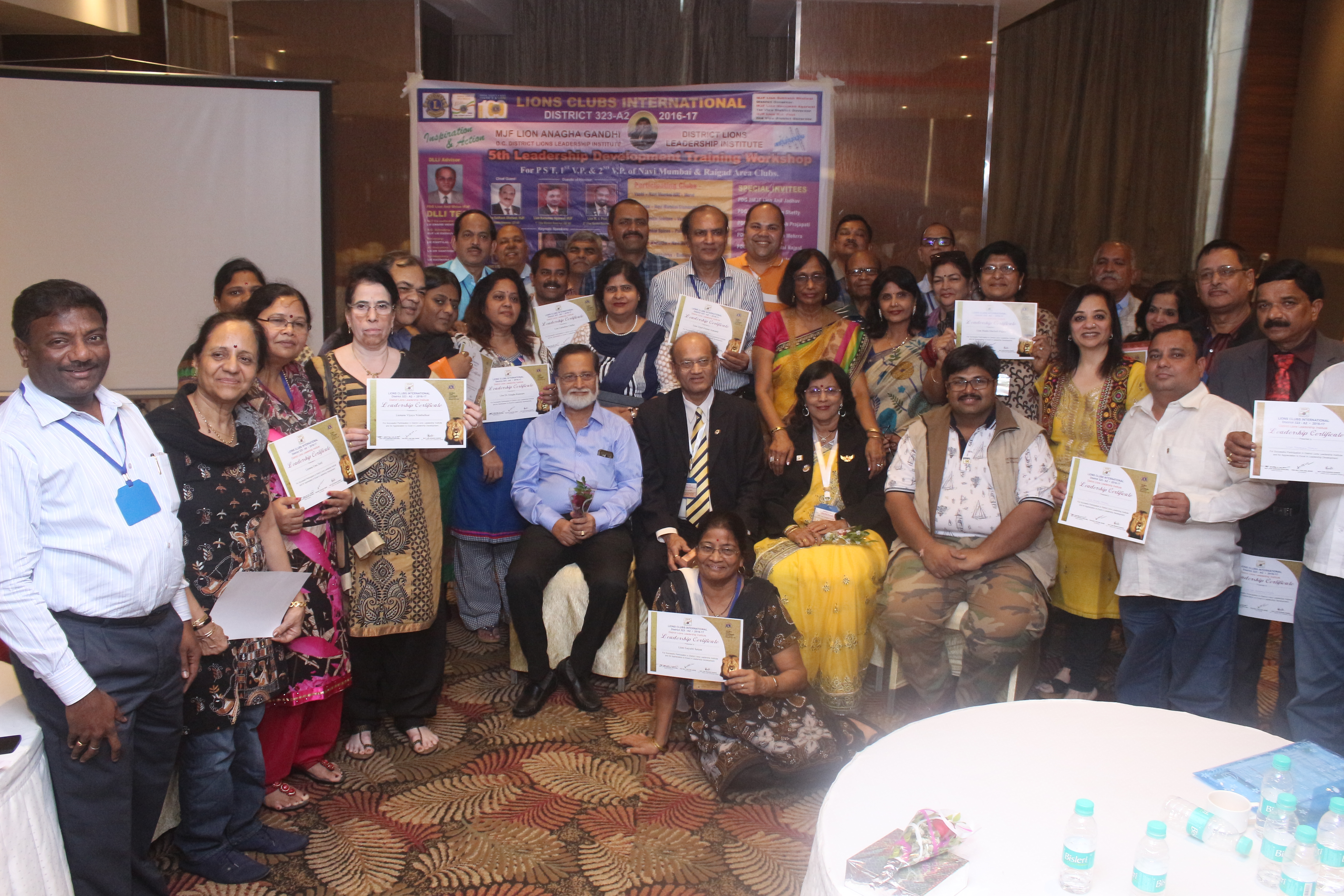 5th Leadership Development Training Workshop For Navi Mumbai & Raigad District Area
This Training Workshop was organized by District Lions Leadership Institute Committee on 27th November 2016 between 9 a.m. to 5 p.m. at Yogi Midtown, Near Turbhe Bridge, Navi Mumbai for Navi Mumbai & Raigad District area Club Leaders, i.e. for Presidents, Secretaries, Treasurers, 1st V.PS & 2nd V.PS of the clubs.
The following eminent Keynote Speakers having vast knowledge delivered the lectures on the following subjects -
1) PMCC, PDG PMJF Lion Santosh Shetty, Dist. 323 A3 – Subject – Good To Great Leaders
2) PMCC, PDG PMJF Lion Dwarka Jalan, Dist. 323-D2 - Subject - Leadership Skills
3) MJF Lion Ruchitaa Mehrra, FDI Trainer, Dist. 323A2- Subject – Team Building
4) PMJF Lion Rajpat Tiwari, D.C. – Swachha Bharat , Subject - Sharing Experience of " A Successful story of a Medical Centre of L C Than North.
5) Lion Vilas Mungekar – Life Coach & Corporate Trainer, Subject - Public Speaking
6) Lion Anand Mehta – F D I Trainer & D.Co. – GLT , Subject – Collaborative Leadership .He has explained it through Exercises, Assessment, Evaluation .
The Programme was graced by Chief Guest, District Governor, Lion Subhash Bhalwal, by Guests Of Honour, 1st VDG, Lion Hanuman Agarwal & 2nd VDG Lion K.J. Paul, DLLI Advisor, PDG Lion Anil Bhise, Special Invitees PDG Lion Omi Arora, Dist. Cabinet Sec. Lion Mukesh Taneja, Principal Advisor Lion L. J. Tawari, Jt. Dist. Cabinet Secretary, Lion Jaya Jadwani , Dist. PRO Lion Namita Mishra & other dignitaries from Dist. 323A2. Total attendance of Lion members was 72 Nos. & 48 Club Leaders were highly inspired & motivated by this Leadership Development training workshop & satisfied.
The Leadership Development Manual / Book , prepared by MJF Lion Anagha Gandhi, D.C. – DLLI, with Folder & Dist. Cabinet Officers' Mini Directory, were given to every participant. The certificates of Leadership Development Training Workshop were distributed among all participants at the end by the worthy hands of PDG MJF Lion Anil Bhise.The Programme included Breakfast, Tea & Lunch & concluded with Group Photograph & Tea.
MJF Lion Anagha Gandhi
D.C. – DLLI, Dist. 323A2, LCI
A govt. Accredited Trainer & an Industrial Consultant,
Home Club - Lions Club of Thane Kopri,
Mobile – 9819070166,
Email – lionanagha@gmail.com