MD60 Council Chairperson
Lion Rudolph E. Augustine MJF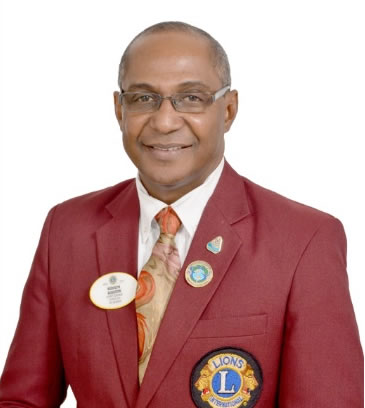 Lion Rudolph Augustin from Suriname, was elected to serve as District Governor of District 60A at the Multiple Convention held in Antigua & Barbuda, on May 10th, 2018. At the recent Multiple Convention in Guyana in May 2019, he was elected as Council Chairperson for Multiple District 60 for 2019-2020.
Council Chairperson Lion Rudolph is a Consultant in Human Resource Management and holds a Bachelor's degree in Economics and a Master Degree in Human Resource Management with specialization in Strategic Human Resource Management. He is married to Sandra and has two children, Shivaïd and laïsha
In addition to Lionism, he was and is still socially active in various positions;
Vice President of the Foundation "de Mantel" a day care for senior citizens
President of the Lions Food Aid Foundation in Suriname
He was also a board member of the Caribbean Volleyball Federation
Past President of the National Board of the Junior Chamber International (JCI) in Suriname. From this organization he received the highest award, namely Senator.
He has been a member of the Paramaribo North Lions Club since June 2001 and has held a number of positions within his Club, of which the highest as President.
In the Fiscal Year 2008-2009, he held the position of Zone Chairperson 1B and in the FY 2011-2012 the position of Region Chairperson. In recent years he held various cabinet and multi-cabinet Chairperson positions. Lion Rudolph received his Bachelor's and master degree from Lions University at the USA-Canada forum
In recognition for his service, he received two District Governor Awards, a Centennial Excellence Award, Lion of the Year Club Award, Board member of the year award and he also received several times the 100% Attendance Award, since he has joined the Association. Council Chairperson Lion Rudolph is also a Melvin Jones Fellow.