Photo Gallery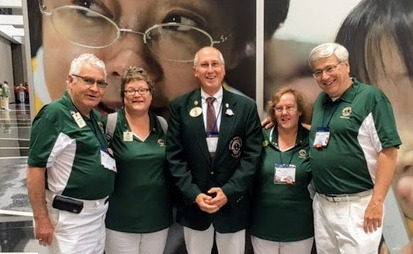 PDG John Griffie, 1st VDG Lisa Griffie (Left) and Lion-Lioness Deb McKnight and IPDG Kerry McKnight (Right) join DG Dennis Cope (Center) in enjoying their time at the 2017 LCI Convention in Chicago. Congratulations to DG Dennis!
---

DG Kerry opened the 2017 Convention with the reading of a Certificate of Recognition from PA Gov. Tom Wolf for the 100 years of Lions services
---

PDG George Reisinger and PDG George Hilsinger discuss who will win the many baskets.
---

2nd VDG Elect Lisa Griffie is presented with a International Presedient's award by PID Cindy Gregg
---

PCC Gus Fridenvalds, left, and Lion Pastor Reed conduct the annual Necrology service.
---

PID Cindy Gregg receives a LCIF progressive pin from Lions-Lioness Deb McKnight
---

A tree is planted at the York Windham to recognize Lions. Left to right are DG Kerry McKnight, Convention Chair PDG Shirley Starner and PID Cindy Gregg.,
---

Once again DG Kerry drew a great CHEER from everyone!
---

LEOs enjoy "Dinner in the Dark
---